Arts & Entertainment October 2023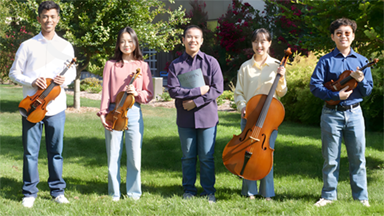 Big Horn Brass Classy Afternoon Concert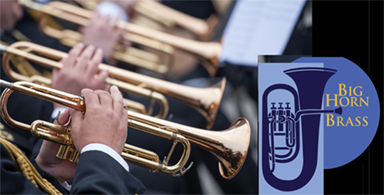 Saturday, October 7, 3-4:30 pm, St Matthew Lutheran Church, 10390 SW Canyon Road, free
Join the Big Horn Brass and the Exaltation Handbell Ensemble for a "Classy Afternoon Concert" that includes: Copland's "Fanfare for the Common Man"; Martin Luther's "A Mighty Fortress"; a classy melding of Bach's "Jesu Joy of Man's Desiring" with Fanny Crosby's "Blessed Assurance" to a classic "Great Is Thy Faithfulness", and other classical works.
The Exaltation Handbell Ensemble from St. Matthew Lutheran Church keeps the bronze instruments in motion as they handle over 60 chromatic handbells and almost 80 handchimes (the largest almost five feet tall). The Big Horn Brass is a 16-member large brass professional ensemble founded in 1983 by Andrew Harris. Performing members come from symphonies, bands, and brass ensembles across the Portland/Vancouver area.
The concert is a gift to the community from the St Matthew Lutheran Church Foundation and the Erik Weswig Memorial Fund. Erik was a Sunset Senior who enjoyed playing the baritone. The Memorial Fund was established to support activities that he enjoyed. For details, visit the Big Horn Brass website.
Annelies: The voice of Anne Frank
Saturday, October 14, 7:30 pm; and Sunday, October 15, 3 pm, The Reser, 12625 SW Crescent St., Beaverton, tickets $26 available here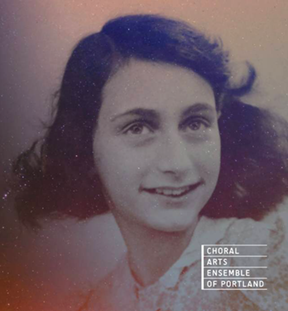 Choral Arts Ensemble of Portland brings to life the diary written by Anne Frank and has been described as "woundingly beautiful." Set to music in 2005 by James Whitbourn, "Annelies" takes the teenager's remarkable and penetrating observations, written while hiding in an Amsterdam attic, as the basis of its extraordinary and moving libretto. The score reflects sounds of the Westerkerk bells and tunes heard on the radio in the Annexe, along with representations of Anne Frank's Jewish and German heritage—details that add to a score "whose respectful understatement is its greatest strength" (The Times).
"You can't listen to this incredible, emotional piece of music, and the important story it tells, and not be moved," says Artistic Director David De Lyser, a Cedar Mill resident. "We all need to hear this, and we all need to be reminded of this incredible and tragic story."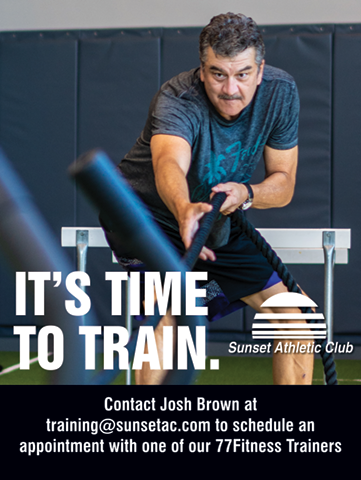 The event is co-sponsored by the Oregon Jewish Museum and Center for Holocaust Education (OJMCHE) with support from Congregation Beth Israel. "The mission of The Choral Arts Ensemble includes our commitment to build community, educate, and enrich audiences," De Lyser said. This work embodies all of this. We're grateful for the insights and collaborations we've enjoyed with Congregation Beth Israel and OJMCHE. They make our performances more impactful."
Washington County Open Studios Tour
Saturday and Sunday, October 21 and 22, 10-5, free
This is an event open to the public that takes place at over 50 artists' studios throughout Washington County. To start the tour, simply locate a studio on our website and you're on your way. Use a printed map available at each studio or use the interactive map on our website.
Euphonos Ensemble offers concert to benefit BSD Clothes Closet
Friday, October 27, 7 pm, Portland State University, Lincoln Recital Hall, suggested donation $10-20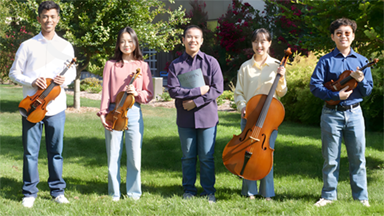 Five local high school musicians—Emily Seo, Andrew Lee, Luke D'Silva, Kaylee Nah, and Alex Tran formed Euphonos Ensemble and they are raising funds for Clothes for Kids, run by the Beaverton School District, which provides free clothes and shoes for BSD students in need. This organization holds a special place in our (Euphonos Ensemble) hearts because most of us either attended or are currently enrolled in BSD schools. We believe that every student deserves the opportunity to go to school with confidence, and having a fresh set of clothes can make a difference. That's why we have come together to support this cause, ensuring that students who may need new clothing can access the help they deserve.
As winter approaches, we've set our sights on ensuring that no child in our community faces the biting cold alone. Clothes for Kids desperately needs winter jackets to keep children warm and snug, both in and out of the classrooms. We invite you to be part of this heartwarming mission, to be the warmth that these kids so desperately need. Your generosity, no matter the size, is a beacon of hope in their lives. Help contribute to making a positive impact on the lives of students in our community, all while enjoying an evening of classical music.
We would appreciate donations to our GoFundMe and your presence at our Benefit Concert. More information can be found on the Euphonos Ensemble website and it has a link to the GoFundMe page as well.
A sampling of October events at the Reser
Please visit The Reser website for a full listing of all their events.
First Friday
October 6, 6-9 pm, artist demo 7-8 pm, free
Local artists Karl LeClair and Miroslav Lovric have many visual stories to tell along with their unique making processes. Demonstrating the elements of printmaking, artist Karl LeClair shows how the image is always imperfect, and always changing, much like the way our mind stores and retrieves information. Focusing on dreams and memories, artist Miroslav Lovric tells how these moments permeate the brushwork of his paintings.
Sona Jobarteh in concert
Friday, October 13, 8 pm, lobby opens at 6:30 pm, theater doors open at 7:30 pm, all ages, $41
Back by overwhelming popular demand, Soul'd Outs presents Sona Jobarteh! "Sona is Africa's first female griot kora virtuoso, and also a fine singer and composer, blending traditional music, blues and Afropop to impressive effect".
Jarabe Mexicano: Dia de Los Muertos
Friday, October 27, 7:30 pm, $30-$40
The vibrant celebration of Dia De Los Muertos hits the stage with Jarabe Mexicano in concert! This extraordinary ensemble ignites the atmosphere with the rich cultural sounds of Mexican music that honor the past while embracing the present. Jarabe Mexicano beautifully captures the nostalgic spirit of their roots, blending traditional melodies with a modern twist. Their lively and unforgettable performance showcases an eclectic mix of genres, from Mariachi and Bolero to Cumbia and Rock, creating a truly unique musical experience.
Diwali Bazaar
Friday, October 27, 4-8 pm; Saturday & Sunday, October 28-29, noon-6 pm, Hillsboro Futsal, 330 SW Walnut St., Hillsboro, free admission, free parking

Sushmita Poddar, WashCo Rising, and M&M Marketplace are very excited to invite you to celebrate at our Second Annual Diwali Bazaar Festival of Lights, open to the entire community.
Shop for clothing, jewelry, home décor, candles, soaps, packaged food, and handicrafts by local BIPOC vendors. There will be kids' craft activities too! Also enjoy Indian music, snacks, and delicious Mexican food at the M&M Market while celebrating community.
34th Annual Sunset Classic Marching Band Competition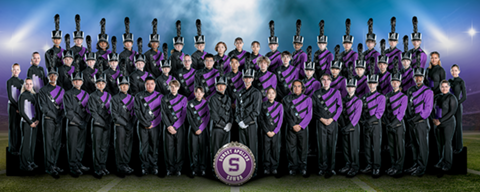 Saturday, October 21, 12-9, Sunset High School Stadium, 13840 NW Cornell Rd. Ticket prices will be announced via the Samba website before the event.
Experience the electrifying rhythms and vibrant performances at this dazzling showcase of talent, hosted by the Sunset Apollo Marching Band and Auxiliary (SAMBA). This event, made possible by the dedication of SAMBA volunteers and in partnership with the Northwest Association for Performing Arts (NWAPA), promises to be a celebration of music, teamwork, and community spirit.
Join us as bands from across Oregon and Washington, including our own SAMBA, take the stage to compete in categories like music, visual, and general effect. The exhilarating lineup includes Westview, Grants Pass, Kamiak (Seattle), Tahoma (Seattle), Sherwood, St Helens, Hermiston, South Albany, Crater, Sprague, and Skyview (Vancouver).
The festivities kick off before noon during the Opening Ceremonies, followed by thrilling preliminary performances. As the sun sets, the Finals performances begin around 5 pm, promising an evening of musical excellence that you won't want to miss. The schedule anticipates including a guest performance of the National Anthem by local middle school bands.
The Sunset Classic serves as a vital fundraiser supporting all band programs at SHS throughout the year. Under the visionary leadership of Greg Hall, Director of Bands, Sunset High School boasts one of the most esteemed band programs in the Pacific Northwest. Our students are enriched with a wide spectrum of musical experiences, including marching band and color guard, jazz band, funk band, and symphonic band.
The SAMBA Parents' club is committed to ensuring that these opportunities remain accessible to all students, regardless of their financial circumstances. It takes around $100,000 annually to sustain the Sunset High School band and color guard programs, as the school district cannot fully fund these activities. We rely on the unwavering support of our community to preserve these avenues for student participation and leadership.
SAMBA's existence is a testament to the generosity of our community, dedicated volunteers, and the remarkable talent of our students. As we prepare for the Sunset Classic, we extend our heartfelt thanks to all the volunteers, guests, and participating bands for their invaluable contributions. We also express our gratitude to those who donate cans and bottles monthly, our poster sponsors, and all the supporters of the band and color guard.
If you are unable to attend but wish to contribute to this noble cause, please visit the donation page on the SAMBA website. For any inquiries, don't hesitate to reach out to us at samba@sambanote.org. Your support fuels the dreams and aspirations of our talented young musicians and ensures that the Sunset High School band programs continue to shine brightly in our community.
Join us at the Sunset Classic and be part of the music, magic, and unity! Stay tuned for updated schedules and ticket prices, available soon at our website. Your attendance at the Sunset Classic is not only an opportunity to witness incredible talent but also a chance to make a meaningful impact on our community!
Cultural Coalition of Washington County 2024 Grant Applications Now Open
Deadline is Friday, October 20 at 11:59 pm, Apply through this new website portal.
It's fall which means that it's time to seek arts, heritage, and humanities program funding for the next calendar year. The Cultural Coalition of Washington County (CCWC) is one of Oregon's long-standing regional funders. CCWC has been the re-granting body for the Oregon Cultural Trust since 2006 for this northwest section of the state. Arts, heritage, and humanities nonprofit organizations based in and/or directly serving Washington County are invited to apply. Please visit the CCWC website for more information.
CCWC Grant Cycle Applications accepts applications for programs/projects taking place between January 1-December 31, 2024. Organizations can apply for one of three levels of funding ($1,000, $2,000 or $5,000) for activities or opportunities that address one or more of CCWC's five goals: Public Awareness; Audience Building and Participation; Support Existing Cultural Organizations; Increase Public Art Opportunities; Support Cultural and Heritage Learning; and/or Increase Youth Access to the Arts.
New this year, applications and the grant process will be managed through the new portal, available from the CCWC website. The new grants management software will make collaborating, saving applications, and filing documentation easier for applicants, and will also make the process easier for the volunteers from the community who review and score the applications.
Funding for this grant program comes entirely from the Oregon Cultural Trust, which distributes money to Oregon counties and tribes annually to support local community cultural programs. The Oregon Cultural Trust receives its support through a unique tax credit program. Any Oregon resident can donate to the Trust and then match that with a donation to a local arts, heritage or humanities organization. Then, when it is time to pay their Oregon taxes, the donation to the local organization qualifies as a charitable contribution, and the donation to the Trust can be deducted as a full Oregon tax credit (you get the whole match back). For details on the program or to make a donation, contact CCWC at or visit the Washington County site.
About the Cultural Coalition of Washington County
The Cultural Coalition of Washington County (CCWC) is the re-granting entity board for the Oregon Cultural Trust in Washington County, Oregon. Monies donated to the Oregon Cultural Trust come back to Washington County and are distributed as grants to cultural nonprofits per the Washington County Cultural Plan. The CCWC promotes the cultural identity, quality of life and economic vitality of Washington County and its arts, heritage and humanities organizations. Washington County is home to over 100 heritage, humanities and arts nonprofits.
TVC Artist Mingle
Friday, October 13, 5-6 pm, Breakside Brewery, 12675 SW 1st St, Beaverton
Join Tualatin Valley Creates (TVC) for monthly networking events—a casual way for creatives to connect. Participate in conversations with other local creatives and learn about new programs and opportunities for artists of all modalities and businesses. Each event brings new chances to introduce yourself and your creative background. We will also learn about local opportunities shared by our host and co-host and you can meet local peers in your discipline to exchange ideas, ask questions, and build connections.