Community News February 2022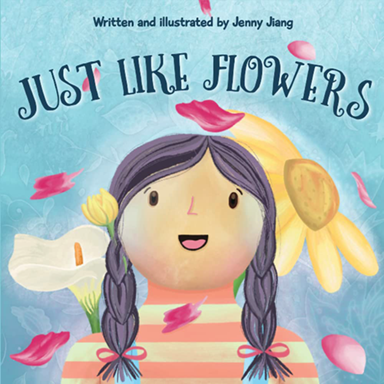 Just Like Flowers: a picture book for diversity
Jenny Jiang, a senior at Sunset High School, self-published a children's book to reflect our community's diversity. Just Like Flowers uses flowers as a metaphor for human differences. Jiang writes: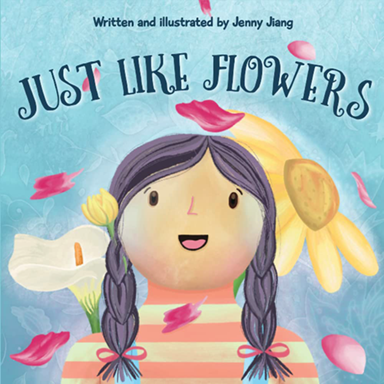 "While preparing for a zoom party for elementary students, I explored a lot of children's books for the storytelling station. When I flipped through the pages, my artist's eye noticed the lack of diversity in the characters. After the event, I went on Google, which confirmed the invisibility of children of color in children's literature: only 25% of picture books include children of color.
"When I saw the smiles of the children of color I read to, my heart urged me to step in and make my own children's book. This is how Just Like Flowers started. It features an Asian American girl as the main character with children of different races as side characters. The book is perfect for children of color to read to see themselves in a picture book and helps white children embrace multiculturalism.
Just Like Flowers is available for purchase through Amazon.
Enter the Our Big Backyard Photo Contest!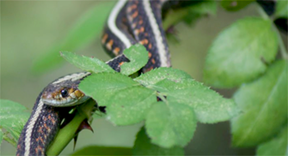 Submit your nature photos for the contest in Our Big Backyard, Metro's quarterly parks and nature magazine! Show us how you've been getting your nature fix—this could be in your backyard, in your local park, on a trail. Nature comes to us in many ways and many forms.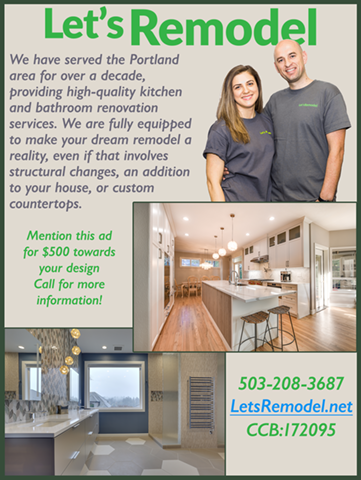 Visit the contest page on the Metro website for more information and the steps to enter.
In addition to the contest, the current issue of Our Big Backyard has a couple of interesting articles about birds commonly found at backyard feeders, and about snakes as an indicator of a healthy habitat!
Inside Washington County Radio
Rob Solomon interviews a variety of people engaged in pursuits affecting Washington County. Listen live or browse the archive on the website.
February 8: Forestry issues
February 15: County Emergency Services
February 22: Habitat for Humanity encore show
March 1: A conversation with Beaverton's City Manager
Listen to programs on our website, on KBOO 90.7FM on Wednesdays at 9:30 am, KXRY 91.1 and 107.1 FM Mondays at noon, and online at xray.fm and Westside's Greatest Hits every Saturday at 6:20 pm.
Love rocks? Volunteer with Rice Museum!
The Rice Museum of Rocks & Minerals is looking for volunteers to help engage with visitors on Thursdays and Fridays. Greet and welcome visitors, answer questions, and ensure a positive experience for all. There is also an opportunity for volunteers to work with the education team for training and guidance to give mini-tours and other presentations.
We are also looking for volunteers to help sort and prepare specimens for use in the rock pile and sale in the gift shop. Availability on Wednesdays and/or Thursdays desired. Tasks are performed outside and require occasional lifting of heavy objects.
Are you interested in helping the Rice? Visit the website and select Volunteer under "Get Involved."
Washington County Public Affairs Forum!
Mondays, February 7-28, via Zoom
The Forum continues with the second half of its 2021-22 season online, providing another engaging month of speakers! You can obtain the Zoom link to join these free events by visiting the Forum website. Forum members have the privilege of asking questions.
February Forum dates will be as follows, but we will continue to update the speaker schedule on our website:
Monday, February 7: State of the Cities, Part 1: Mayors Snider (Tigard) and Bubenik (Tualatin)
Monday, February 14: check the website
Monday, February 21: check the website
Monday, February 28: State of the Cities, Part 2: Mayors Callaway (Hillsboro) and Beaty (Beaverton)
Founded in 1956, the Forum provides a place for the interchange of ideas on civic matters. Each week the Forum brings together community leaders, members, and guests who care about what happens in Washington County, the Metro region, and our state.
Garage Sales at Skyline Grange
Fridays, February 25 and March 4, 9 am-7 pm; Saturdays, February 26 and March 5, 9 am-5 pm, Skyline Grange, 11275 NW Skyline Blvd.
Come check out the garage sales at Skyline Grange! The first weekend will feature books, clothing, kids' items, furniture, linens, arts & crafts, and pet items, and the second weekend will feature tools, home improvement, kitchen, home décor, exercise, and office items. These sales have a uniquely Skyline style with items donated by residents of our colorful Skyline neighborhood. Keep track of updates on the Skyline Grange website.
The Reser presents Grand Opening series
The long-awaited Patricia Reser Center for the Arts is excited to unveil our Reser Presents series for the Grand Opening in March 2022.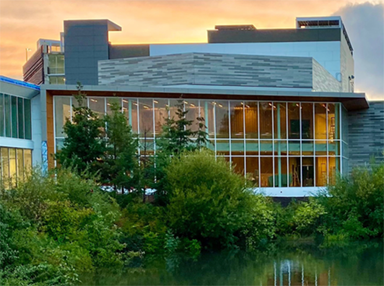 March 8: Nobuntu in commemoration of International Women's Day
March 12: The Legendary Count Basie Orchestra
March 13: Shine the Light: A Community Celebration. The Reser will welcome friends and neighbors to experience the new arts center. This free day-long event will feature performances and fun engaging activities for the entire family.
The Reser will also host performances from visiting presenters from across the metro area, including BodyVox/Chamber Music Northwest, Friends of Chamber Music, ISing Choir, Oregon Symphony, Portland Baroque Orchestra, Portland Gay Men's Chorus, White Bird, and Portland Piano International.
Tickets for many more events will be on sale soon, including Amadeus Chamber Orchestra, Beaverton Community Band, Beaverton Symphony Orchestra, Immigrant Story, Kalakendra, PDX Jazz, and Portland Youth Philharmonic. Visit our website as we add more performances.
Sunset HS Marching Band can & bottle drive
Saturday, February 12, 10 am-1 pm. Target parking lot (aka old Bales Thriftway), 12675 NW Cornell Rd.
Drop off your redeemable bottles and cans to help us raise funds for marching band and music programs at Sunset HS. Bring them in any container (or use the bags we provided), and we'll give you a new bag for next time. You can reach us at samba@sambanote.org with any questions.
Mark your calendar for the next events: March 12 and April 9 (weather permitting).
Brought to you by the Sunset Apollos Marching Band & Auxiliary (SAMBA), this fundraiser helps pay for travel expenses, entry fees, uniforms, specialized performance instruction, show design, instrument purchase and repair, purchase of new music and arrangements, and scholarships for students who otherwise would be unable to afford to participate. SAMBA is a 501(c)(3) public charity and supports all the comprehensive Band and Color Guard programs available at Sunset High School.
SHS Climate Change Club recycling drive!
Saturday, February 26, 10 am-2 pm, Sunset front parking lot
The Sunset High Climate Change Club studies a variety of issues that will affect everyone's future. They also perform the community service of collecting and taking materials to a recycling center. This month, they are accepting styrofoam, #6 plastics and batteries. For further information and guideline graphics, visit our website! Please email shsclimatechangeclub@gmail.com for any questions you may have.
ACMA February restaurant fundraising event
Thursday, February 17, 4-8 pm, Panera Bread, 3435 SW Cedar Hills Blvd
Help support Arts & Communication Magnet Academy (ACMA) by ordering dinner at Panera. Order online on the Panera website, selecting the Cedar Hills Store, and using the code PRFUND at checkout. Or bring a paper copy or digital version of the flier found at the AMCA PTO website.
Unfortunately, delivery services such as Doordash, Grubhub, Postmates, and Uber Eats will not qualify for this event. Thank you for your support of Arts & Communication Magnet Academy, a Beaverton School District school.
Viva Village Monthly Calendar: February 2022
Please RSVP for all events by contacting vivavillageevents@gmail.com or 503-746-5082.
Activities Open to the General Public:
Online Viva Village 101
Saturday, February 12, 10–11:30 am, via Zoom.
A fun and informational session about Village life for prospective members and/or volunteers.
Online Viva Village Book Club
Tuesday, February 22, 1–2:30 pm
Selected book: The Ride of Her Life: The True Story of a Woman, Her Horse, and Their Last-Chance Journey Across America by Elizabeth Letts.
Men's Coffee Break
Monday, February 28, 10–11 am, Ki Coffee, 4655 SW Griffith Dr #160.
Conversation and coffee.
Activities Open to Viva Village Members and Volunteers:
Online Women's Coffee
Tuesdays, February 8, 15, and 22, 10 am, via Zoom
Join members and volunteers for a morning of coffee and conversation.
Women's Coffee In-Person
Wednesdays, February 9, 16, and 23, 10 am, Jim & Patty's Coffee, 4130 SW 117th
Online Tai Chi Classes
Thursdays, February 10, 17, and 24, 10–11:30 am, via Zoom
Learn Tai Chi technique with certified instructor, Richard Chew.
Online Writers Group
Thursdays, February 10, 17, and 24, 4–5:30 pm, via Zoom
Join other Village writers for a time of sharing and inspiration.
Online Working Mindfully with Stress
Monday, February 7, 21, and 28, 2 pm, via Zoom
Martha McJacobs from Life by Design guides participants through exercises and discussions focused on using meditation techniques to reduce stress.
Dine Around Beaverton and Beyond
Wednesday, February 9, 1 pm, Wildfin American Grill, 2725 SW Cedar Hills Boulevard, #130
Join members and volunteers for lunch and conversation. Participants must be vaccinated. Space limited to 12.
Spanish Conversation Group
Friday, February 11, 10 am, private home in West Beaverton
Join other Viva Villagers to talk (in Spanish). Participants should have a basic knowledge of Spanish, though fluency is not required.
Online Travel Talks
Monday, February 14, 7 pm, via Zoom
Bill Zawacki will share stories about his cross-country adventure on a Vespa.
Online Living Solo
Thursday, February 17, 4 pm, via Zoom
A new group to share ideas and insights about solo living.
Online Movie Interest Group
Saturday, February 26, 5 pm, via Zoom
Movies are available on Kanopy streaming service offered by the Washington County Library.
Ask WSCO: What can I do to protect my car from thieves?
Over the last few months, there has been an increase in vehicle crimes in Washington County. Our community has experienced thefts of property left inside cars, thefts of vehicles left running unattended to de-ice or warm-up, and even thefts of car parts such as catalytic converters. You can help protect yourself from vehicle crimes by taking to the following precautions:
Park in well-lit areas and leave outside lights on at night.
Install and use anti-theft devices or audible car alarms.
Use a camera to help catch and identify thieves.
Do not leave your vehicle running unattended; remain with it as it warms up.
Always lock your vehicles.
Never leave valuables inside your car.
If anyone or anything seems out of place, is suspicious, or disconcerting, report it to non- emergency dispatch (503-629-0111) so law enforcement is aware and can respond accordingly. Get to know your neighbors and look out for each other by identifying suspicious behaviors, promptly reporting pertinent information to law enforcement, and reducing opportunities for criminals. If you witness a crime in progress, call 9-1-1 immediately. If you discover you are a victim after-the-fact, call non-emergency dispatch to report at 503-629-0111.
Virtual Law Enforcement Career Day
Tuesday, February 15, 9-11 am, online
Calling all Washington County high schoolers interested in learning about the unique field of law enforcement!
In partnership with School to Career, you'll hear from team representatives (like K9's, Patrol, Mental Health Response, Robots, and Forensics) to get an inside view of what it's like both on and off duty. For more information and to register, visit this page and scroll down to find the WCSO link. Many more career exploration links here too!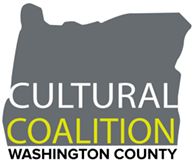 Cultural Coalition 2022 Grant Awards
The Cultural Coalition of Washington County (CCWC) recently awarded grants totaling $85,313 to 35 local organizations for cultural projects taking place between January and December 2022. Individual grants ranged in amounts from $670 to $2,000. Organizations were selected through a competitive process based on their proposed arts, heritage and humanities project serving CCWC's outlined goals based on the Washington County Cultural Plan.
Funding for this grant program comes entirely from the Oregon Cultural Trust, which distributes money to Oregon counties and tribes annually to support local community cultural programs. The Oregon Cultural Trust receives its support through a unique tax credit program. Any Oregon resident can make a donation to the Trust and then match that with a donation to a local arts, heritage or humanities organization. For details on the program or to make a donation, visit the Oregon Cultural Trust website.
The CCWC administers and distributes funds from the Oregon Cultural Trust to support locally based arts, heritage and humanities projects. For more information about the CCWC, visit the CCWC website. The Cultural Coalition of Washington County is fiscally sponsored by Tualatin Valley Creates, an Oregon nonprofit corporation.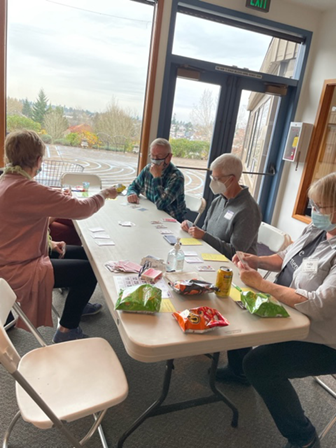 55+? Join the Friendship Circle!
Thursdays, February 17 and March 3, 17, and 31, 1-3 pm, St. Gabriel's Episcopal Church, 17435 NW West Union Rd, free
Want more fun and friendships? Like games? Join us for the (non-religious) Friendship Circle at St. Gabriel's Episcopal church. We will play games like Yahtzee, Uno, Bingo, etc. every other Thursday. All are welcome, so come one, come all! You might even win some silly prizes.
Please note that masks are required. Please contact the church office with any questions: office@stgabrielpdx.org or 503-645-0744.
TVC Artists Networking Event
Thursday, February 17, 5-6 pm, via Zoom, free with a suggested donation of $10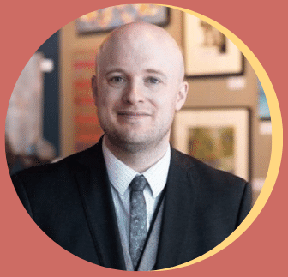 Tualatin Valley Creates offers classes and workshops to support arts in the valley. This month, we've teamed up with Mark Tindle, the Rental Sales Gallery Manager at the Portland Art Museum. Artists will have the opportunity to glean information about upcoming opportunities to show their work in the Member's Gallery.
Each networking event begins with an opportunity to introduce yourself and your art background. We'll then explore engaging, timely discussion questions. You'll have a chance to meet local peers in your discipline to exchange ideas, ask questions, and build connections. Register today!
New indicator option for drivers with hearing impairments
For drivers who are deaf or hard-of-hearing, being pulled over by police can cause more anxiety than just getting a ticket. The worry: The officer approaches the car, the driver doesn't respond to commands, and the situation escalates. That's one reason many states, including Oregon, are setting up ways to alert law enforcement that a driver is deaf or hard of hearing before an officer even approaches the driver.
Oregonians can add an indicator that they are deaf or hard of hearing to their vehicle registration, driver license, permit or ID card through DMV2U.Oregon.gov.
The option places an indicator on their record, allowing Oregon officers to see the indicator from their patrol vehicles when they run the license plate or license number. The indicator is voluntary, and you can sign up any time through DMV2U.
If you want to add an indicator to both your license/permit/ID card and your vehicle registration, you will need to do each separately at DMV2U. This new DMV service is part of ODOT's commitment to transportation safety and is a direct benefit of new technology investments that have accelerated DMV's ability to launch new services and better serve Oregonians.
Tri-County supportive housing planning body accepting applications
Applications accepted through February 18
Metro is convening this group to support regional alignment of local implementation plans. It will be made up of people from across the region with experience and/or expertise in being homeless, being part of a marginalized group such as people of color and others, serving houseless people, culturally specific services, business, philanthropy, racial equity, systems alignment, and related fields.
This group will help the county strengthen its coordination and alignment across the metro region and is a new opportunity, separate from both the Affordable Housing Bond Community Oversight Committee (which was recently opened to new members) and the Supportive Housing Services Regional Oversight Committee.
Be a vital link in the chain of survival for cardiac patients
As part of Tualatin Valley Fire & Rescue's commitment to create safer communities, our team continues to work with community partners to strengthen the chain of survival for cardiac patients. TVF&R remains dedicated in its efforts to work with community groups to teach hands-only CPR, encourage law enforcement partners to respond to cardiac emergencies equipped with automated external defibrillators, and invite community members willing to perform CPR to download TVF&R's free PulsePoint smartphone app so that they can be alerted when someone needs this lifesaving assistance. We believe that the strength of an entire community fighting side by side will ultimately prove to be more powerful than the nation's No. 1 killer—heart disease. Now is the time to learn about your risks for heart disease and stay "heart healthy" for yourself and your loved ones.
During American Heart Month, TVF&R invites you to join us in raising awareness of the signs and symptoms of a heart attack and the importance of immediately calling 911 in the event you or someone nearby experiences symptoms.
Unlike a sudden cardiac arrest that strikes suddenly and includes a loss of consciousness, a heart attack can develop slowly enough that you are not aware you are having a medical emergency. A heart attack occurs when the blood flow that brings oxygen to the heart muscle is severely reduced or cut off completely.
Symptoms typically include:
Chest discomfort in the center of the chest that lasts for more than a few minutes or goes away and returns. It can feel like uncomfortable pressure, squeezing, fullness, or pain.
Upper body discomfort, such as pain or discomfort in one or both arms, the back, neck, jaw, or stomach. Shortness of breath before, during, or after other discomforts.
Other signs, including breaking out in a cold sweat, nausea, or lightheadedness.
The most common heart attack symptom for women and men is chest pain or discomfort. However, women are more likely to experience other symptoms, particularly shortness of breath, nausea or vomiting, back or jaw pain, pressure in the lower chest or upper abdomen, dizziness, fainting, or extreme fatigue.
The heart is a muscle. It can deteriorate with each passing minute you delay medical treatment. Don't ignore your symptoms, and don't drive yourself to the hospital.
TVF&R crews responded to 4,115 cardiac-related calls in 2018. Our highly trained firefighter paramedics can diagnose a heart attack and start treatment right away. Crews can also relay your EKG information to the hospital, enabling its staff to activate special heart teams and prepare for your arrival.
For more information about PulsePoint, symptoms of cardiac emergencies, and CPR training, visit the TVF&R website. Thank you for your willingness to team up with our crews to save more lives and create a safer community.