Community News July 2021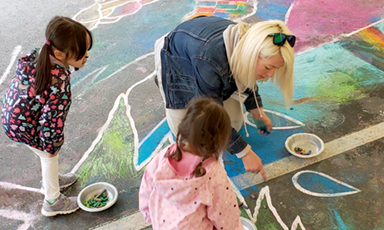 Parenting in the Digital Age: Keeping Kids Safe Online
Wednesday, July 14, 7-8 pm, free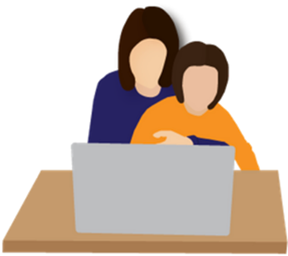 Do you know what warning signs to look for these days with our kids online on many devices? Are you concerned about how your kids are interacting in the virtual world? In this interactive virtual session you will learn tips to help keep your kids safe online. Washington County Kids bring us this program by Kody J.L.Harris, Community Education and Outreach Specialist from the Washington County Sheriff's Office, topics include setting boundaries, identifying potential problems, and engaging in positive conversations with your kids.
Register for the session on Eventbrite.
Lean more about Washington County Kids here.
Beaverton Community Band
Sunday, July 25, 6:15-8 pm, Stella Olsen Memorial Park, 22256 SW Washington St, free, donations will be accepted to help defray the band's costs.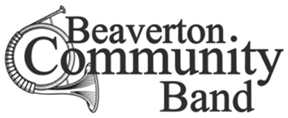 The Beaverton Community Band is pleased to share its music with a wider swath of Washington County—and indeed the entire tri-county area—by offering a free rehearsal to the public in a safe, socially distanced outdoor setting. Even though COVID-19 limitations still apply, the band has been able to meet outdoors for several rehearsals and is pleased beyond measure to be able to offer the public an opportunity to attend and share the joy of live music once again. Bring a blanket and a picnic meal, spread out on the grass in front of the stage, and enjoy this unique community gathering.
Visit the Beaverton Community Band website for more information.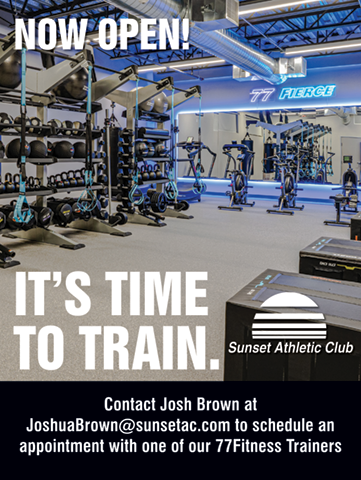 Portlandia Brass Ensemble performs at Springville Farms
Sunday, July 11, 5 pm, Springville Farms, 12821 NW Springville Rd, reservations required, $5 to hold your reservation, additional $20 door fee will be charged and given to performers.
Groupmuse live and in-person performances are back! This is the first one to be scheduled in the Portland area. Portlandia Brass Ensemble is thrilled to see you again. Come out for a summer concert at Springville Farms new outdoor amphitheater. We'll do some classical works, some show tunes, and a few surprises.
Reserve a seat. Learn more at the Portlandia Brass Ensemble website.
Urban Wildfire: Protecting your home this Summer
Wednesday, July 28, 7 pm, free, online, register here.
A free program by Cedar Hills Ready! & TVF&R. Remember last year's wildfires and evacuations? The Summer has started, and we live in a beautiful, wooded community, vulnerable to fire that could spread rapidly in a hot, windy environment.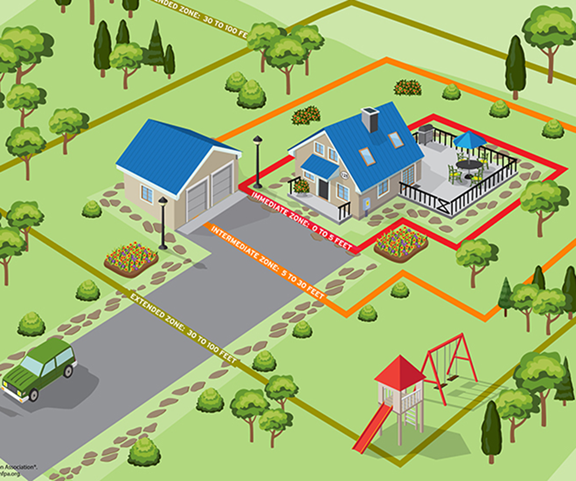 Learn about the Wildland-Urban Interface, how fires spread in heavily wooded neighborhoods, how to prepare your yard and house for the season, and how to put together emergency evacuation kits in case the worst happens. Cedar Hills Ready! and the Tualatin Valley Fire & Rescue will present an hour Zoom discussion of these topics at 7 PM, Wednesday, July 28, 2021. Join us for some good information and hints for survival. Everyone is welcome. Share with your friends and family.
Registration is required. For more information and to get on our email list, contact Karen or Lincoln at info.cedarhillsready@gmail.com or visit us at www.cedarhillsready.org.
The mission of Cedar Hills Ready! is to create caring, connected and resilient neighborhoods. We are committed to making sure every neighbor is prepared and has the best chance of survival in the event of a disaster.
Keep Washington County quiet and clean
Have you ever been annoyed by the dust and noise of a gas-powered leaf blower? Your annoyance might escalate if you knew how dangerous they are to our community's climate health. These small gas engines are overtaking cars as the leading source of air pollution in communities like ours.
Did you know that the pollution from one hour of gas-powered leaf blowing emits the same amount of hydrocarbons as driving a car for 1100 miles, the distance from Portland to San Diego? In addition, these blowers increase our risk of cancer, respiratory, cardiovascular, and neurological disease. There are—right now—readily available battery powered leaf blowers that are excellent alternatives to their gas-powered counterparts. What we need is the community will and supportive infrastructure to use them.
We'll have a Facebook page soon, so we hope you join us in our efforts to hasten the transition here in Washington County. We know change is coming, so let's be one step ahead. Share your thoughts, questions, and experiences with us at quietcleanwc@gmail.com.
Chalk is popping up across Portland-Metro this summer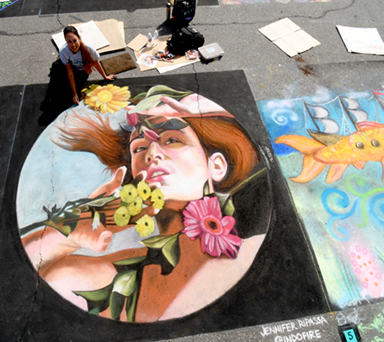 The nonprofit arts organization, 2D4D has been collaborating with partners across Beaverton and the Portland-metro area to coordinate art pop-ups as we enter into summer. This summer will see various chalk activities in front of businesses and inside parks as we all emerge from the monotonous quarantine of Coronavirus.
2D4D focuses on "bridging artists with non-arts industries to recognize that each supports the other," says Board President, Raziah Roushan. "These pop-up and community exhibitions create ways for us to commission artists while bringing engaging happenings to people's front door, quite literally." Pop-ups between June to August are focusing on a theme of Reconnection and Emergence.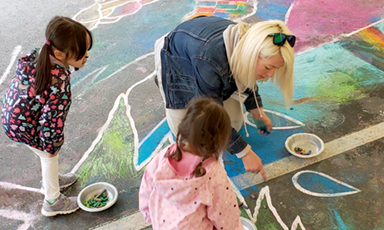 The artists involved come from many different backgrounds. For example, one of 2D4D's artists, Brittany Resch, comes from the graphic design industry. Her community-based drawings hinge between anamorphic inspirations and representational blendings. Other artists will create unique ephemeral drawings throughout the area over the coming weeks.
Each pop-up is free and open to the public. Below is when and where these pop-ups will happen locally!
Saturday, July 17, 11 am-1 pm, Jan's Books, 12320 SW 1st St.
Thursday, July 29, 10 am-2 pm, in front of Powell's Books, 3415 SW Cedar Hills Blvd.
Friday, July 30, 10 am-2 pm, in front of Starbucks Mall Entrance, 3205 SW Cedar Hills Blvd.
Saturday, July 31, 1-5 pm, in front of Wild Fin Grill, 2725 SW Cedar Hills Blvd.
Thursday, August 5, in the morning, Beaverton City Library, 12375 SW Fifth St.
2D4D's activities are made possible by the generous support of Patricia Reser, City of Beaverton, Cedar Hills Crossing Management, Boom Arts Theatre, and other local sponsors. Visit 2D4D's website for more information.
Sunset HS Marching Band Can & Bottle Drive
Saturday, July 10, 10 am-1 pm, old Bales Thriftway parking lot, 12847 NW Cornell Rd.
We are currently taking your drop offs "curbside," bring us your deposit bottles & cans!
If you picked up Green bags from us last time, please fill and bring them back to us! If you have more bags than will fit in your car, please email us at samba@sambanote.org.

Washington County Fair
Friday, July 23- Sunday, August 1, near 801 NE 34th Ave, Hillsboro.
The Washington County Fair is coming back in 2021! Attractions and events will run during the fair's opening hours. This annual fair is family friendly, and exact plans will develop based on COVID-19 Oregon Health Authority requirements. Applications are live now for fair vendors. More details will be available in the weeks to come. Updates and fair hours can be found at the fair website.
Pasifika Unity Festival
Saturday, August 7, 9 am-6 pm, Gordon Faber Recreation Complex/Ron Tonkin Field.
The first annual Pasifika Unity Festival is presented by Utopia PDX and the Oregon Pacific Islander Coalition. This free community event features two-time Grammy winner and Nā Hōkū Hanohano Award winner Kalani Peʻa. There will be a vaccination site, health and human services resources, food carts, and more. For more information, visit the Ka ʻAha Lāhui O ʻOlekona Hawaiian Civic Club of Oregon and SW Washington (KALOHCC) website.
Free summer events through THPRD
Tualatin Hills Park and Recreation District (THPRD) will host several free small-scale outdoor events this summer, including Hike & See Scavenger Hunts, Frozen and Superhero themed celebrations, guided walks, and more! These events will be held at various THPRD parks and will offer opportunities for both volunteering and participation. For a complete schedule and information, visit the THPRD event webpage.
5-Week Computer Science Workshops for Middle School Girls
Unix Workshop
Thursdays, July 15 to August 12, 7-8:30 pm, free.
The Oregon Chapter of ProjectCSGirls, a program that works to close the gender gap in STEM careers by targeting interest in technology at an early age, will hold classes that will teach the basic Unix commands and have a brief introduction to Linux systems.
To learn more about ProjectCSGirls Portland Chapter, check out their site. For any questions about the program or the workshop email projectcsgirlsportland@gmail.com.
Sign up for the classes with this form.
Python Workshop
Tuesdays and Fridays, July 13 to August 13, 5:30-7 pm, via Zoom, free.
The Tech4Girls organization, a non-profit that works to close the gender gap in STEM careers by getting girls interested in coding during middle school, will run a five-week workshop for girls in the area to teach them the basics of a specific programming language. This year's language is Python!
For more information, check out their flyer or email tech4girlspdx@gmail.com.
Sign up for the classes with this form.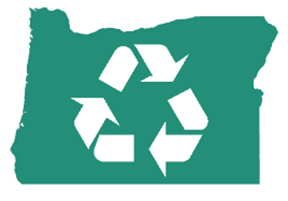 Modernizing Oregon's Recycling System
The Oregon Legislature passed the Plastic Pollution and Recycling Modernization Act (Senate Bill 582) during the 2021 Legislative Session. The Recycling Modernization Act will overhaul Oregon's outdated recycling system by building on local community programs and leveraging the resources of producers to create an innovative system that works for everyone in the state. This comprehensive update puts Oregon at the forefront of recycling innovation once again!
Learn more about SB 582 with the SB 582 flyer and Oregon.gov.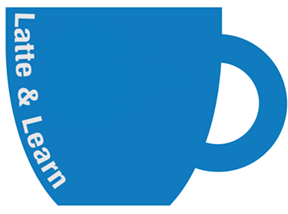 Latte & Learn Series
Tuesday, July 27, 8:30 am, via Zoom, registration required
Join us for the next Latte & Learn featuring Tualatin Valley Water District and learn about water conservation for your business or property. Register now!
And if you missed the last few virtual Latte & Learn events, don't fret! We have them recorded and available to watch anytime in the Latte & Learn archives. Learn about transportation, electric vehicles, school sustainability programs, safer cleaning products, and much more!
Aging & Veteran Services Advisory Council Seeking New Members
Thursday, July 8, 10 am-noon, via zoom
pwd=NGptdEJubFN1c0tSbXovY0xtdzdhUT09; meeting ID: 873 7737 5687; Password: 683933; Join by phone: 1-253-215-8782
We welcome guests and invite public comment on the issues and needs facing older adults and veterans in our community. Members of the public who have an interest in joining the advisory council can find more information here.
Visit the DAVS calendar for updated event information.
Chlorine shortage doesn't affect Tualatin Valley Water
The west coast chlorine supply situation is being monitored closely. Oregon's Office of Emergency Management, Oregon Health Authority and Oregon Department of Environmental Quality, will be providing regular updates on the situation. For additional details, please visit the TVWD website.
Currently, TVWD water source providers—the Portland Water Bureau and Joint Water Commission—have adequate supplies of chlorine, which is used in the water treatment process for disinfection. TVWD is part of a statewide emergency response network that works together collaboratively, as needed, to provide mutual aid, should that become necessary. The Willamette Water Supply System (WWSS) will provide additional protection because it is being constructed with the modern seismic standards. The new state-of-the-art treatment plant will include multiple treatment methods, including enhanced coagulation and sedimentation, ozonation, granulated activated carbon filtration, sand filtration, ultraviolet disinfection, and chlorination. You can learn more about the WWSS via the WWSS webpage on reliable water.
"Events like the chlorine supply shortage illustrate the importance of strong regional and statewide partnerships that allow for coordination to continue to supply our communities with a safe and reliable water supply. Tualatin Valley Water District, the City of Hillsboro and the City of Beaverton have a strong partnership that is currently working on a joint project to increase the reliability of the water supply to the region with the construction of an additional water supply to seismic standards," said Tualatin Valley Water District CEO Tom Hickmann.
During this time, customers are encouraged to continue using water efficiently. The water conservation webpage can provide tips for indoor and outdoor water conservation.
Water interruptions are rare but can happen at any time, and as a precaution, customers should construct an emergency kit at home and work to prepare for unforeseen events. Visit TVWD's preparedness page for tips on storing water and preparing for emergencies.
BSD Bus Driver Hiring Events
Wednesdays, July 7, 14, and 21, 9 am-1 pm, parking lot of the Capital Center located on the corner of 185th and Walker Road.
Have you ever wondered what it's like to drive a school bus? The Beaverton School District needs bus drivers. We're holding three Bus Driver Hiring Events to give folks a chance to test drive a career as a bus driver.
The events will offer people the opportunity to drive a bus and participate in on-site interviews. With full benefits and a flexible schedule, being a school bus driver is a perfect fit for a recent retiree, a stay-at-home parent, or a person in need of a second job.
Oregon FBI Accepting Applications for its 2021 Fall Citizens Academy Program
Nominations due by Friday, July 16, Classes held on Wednesdays, September 15, 22, 29 and October 13, 20, 27, Friday, October 8; 6 pm-8:30 pm.
The FBI in Oregon is now accepting applications from business, religious, and community members for its Citizens Academy Program. The Citizens Academy allows leaders to come together to explore the work of the FBI, both in Oregon and around the world. Over the course of seven weeks, participants will have a chance to engage with FBI leadership, case agents and professional staff as they learn about what it is really like to live the Bureau's mission to "protect the American people and uphold the Constitution of the United States."
Applicants may nominate themselves for a participant slot at this link. Nominations are due by Friday, July 16. Acceptance into the program is competitive. Selections will be made by the field office.
"The Citizens Academy program gives the people we serve a rare chance to see the FBI in action. This is a great opportunity not only for leaders in our community to learn, ask questions, and really engage with our people, but it is also an opportunity for us to learn more from those we serve," said Special Agent in Charge of the FBI in Oregon Kieran L. Ramsey.
Those who apply will be notified of their status no later than August 6. Once selected, applicants must complete a background check and return the required paperwork by Friday, August 13. The intention is to hold the class in-person (pending any health restrictions) for people in the Portland area. Those who live in other parts of the state may participate virtually through an online platform. For further information, contact Community Outreach Specialist Antonia Kreamier at ajfabiankreamier@fbi.gov.
National Night Out
Tuesday, August 3
National Night Out (NNO) is an annual community-building campaign that promotes police-community partnerships and neighborhood camaraderie to make our neighborhoods safer, more caring places to live. Through social gatherings, NNO enhances the relationship between neighbors and law enforcement while bringing back a true sense of community. It provides a great opportunity to bring police and neighbors together under positive circumstances. Plan a block party, build community, and make your neighborhood a safer place! Learn more at the Washington County Sheriff's Office website.
Virtual Social Justice Camp for Youth
Tuesday, August 3-Friday, August 6, 11 am-12:30 pm, online. Registration required.
Funded by a generous donation from the Rotary Club of Sherwood, this online camp gives children the opportunity to learn about empathy and peace-building. Washington County youth coming into grades 3-5 are invited to participate in this free online Social Justice Camp, based on "Reading to Make a Difference: using literature to help students speak freely, think deeply, and take action," by Lester L. Laminack and Katie Kelly. Each participant will receive a kit with a book, activities and crafts.
This camp is presented by Sherwood Public Library. Register for a spot at the library website.
Viva Village activities
Please come participate in Viva Village's July events! RSVP is recommended for all events by calling 503-746-5082 or emailing vivavillageevents@gmail.com. More information regarding these events can be found at the Viva Village calendar page!
Activities Open to the General Public
Online Age Café
Friday, July 9 and 23, 11am-12 pm
Small group conversations exploring topics of interest to older adults. Sponsored by Viva Village, Beaverton City Library, and Wash. Co. DAVS.
Online Viva Village 101
Saturday, July 10, 10-11:30 am
A fun and informational session about Village life for prospective members and/or volunteers. RSVP for the Zoom link.
Men's Coffee Break
Monday, July 26, 10-11 am, Ki Coffee, 4655 SW Griffith Dr #160.
Conversation and coffee.
Online Viva Village Book Club
Tuesday, July 27, 1-2:30 pm
Selected book: A Gentleman in Moscow by Amor Towles. RSVP for the Zoom link.
Activities open to Viva Village members and volunteers
Writers Group
Thursday, July 1, 8, 15, 22, 29, 1 pm
Meet in a private home with other Village writers for a time of sharing and inspiration. Participants must follow Viva Village current guidelines. RSVP for the address and to reserve your spot.
Online Tai Chi Classes
Thursday, July 1, 8, 15, 22, 29, 10–11:30 am
Learn Tai Chi technique with certified instructor, Richard Chew. RSVP for the Zoom link.
Patio Picnics
Friday, July 2, 16, 30, 11:30-1 pm
Enjoy conversation and lunch on outdoor decks and patios with 4–6 other members and volunteers. RSVP for more information and to indicate if you want to host or be a guest.
Viva Village Nature Walk
Saturday, July 3, 9:30 am, Summerlake Park, Meet in the parking lot, 11450 SW Winter Lake Dr.
A masked and distanced morning walk with Viva Village members and volunteers.
Online Mindfulness Course
Mondays, July 5, 12, 19, 26, 2 pm
Introductory techniques in meaningful meditation techniques to reduce stress. RSVP for the Zoom link
Women's Coffee
Tuesdays, July 6, 13, 20, 27, 10:10 am
Meet in a private home for a morning of conversation with other members and volunteers. RSVP for the address and to reserve your spot.
Online Movie Interest Group
Wednesday, July 14, 5 pm
Selected movies for July: Life, Animated (a documentary), Trumbo, (the feature film), and Fatherhood. Watch one or all three movies; join the discussion and share impressions. Movies are available on Netflix or Kanopy, the streaming service offered by the Washington County Library.
Online Volunteer Happy Hour
Friday, July 23, 2 pm
RSVP for the Zoom link.
ArtPass Membership Program Launching this July
Tualatin Valley Creates (TVC) is excited to announce the launch of its new ArtPass Membership Program this July! The ArtPass offers special deals and discounts at local arts and culture businesses such as individual artists, coffee shops, galleries, restaurants, retailers, and theaters. These are located throughout Washington County's cities of Aloha, Banks, Beaverton, Bethany, Cedar Mill, Cornelius, Durham, Forest Grove, Gaston, Hillsboro, King City, North Plains, Sherwood, Tigard, and Tualatin.
TVC created the ArtPass Membership Program as a way to engage and connect consumers to local businesses across the county's 16 cities and unincorporated areas. As the state prepares to re-open after being shut down for several months, revitalizing the arts and entertainment industry is more important than ever. TVC's goal is to help in this effort while creating an intentional community connected to its 20-year strong organization. Members are able to engage in conversation with each other on the TVC website by commenting on their experiences at participating ArtPass businesses and through other membership opportunities.
A yearly membership is only $25 and is open to the public for purchase. Funds are used for TVC's operational costs to keep Washington County's creative community informed, engaged, and growing! For more information about the ArtPass Membership Program and its upcoming launch, please visit their website.