School News July 2021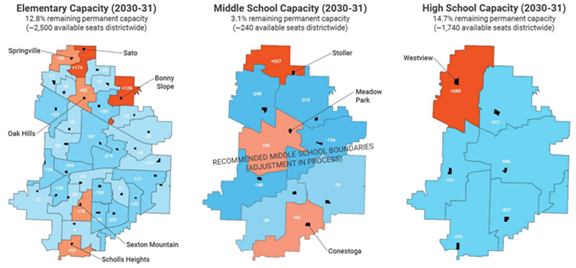 Possible future bond funding for BSD
In June the Land Use & Housing Committee of the Westside Economic Alliance met virtually with the Beaverton School District's (BSD) Steven Sparks, Executive Administrator for Long Range Planning, who provided an update on the district's Long-Range Facility Plan.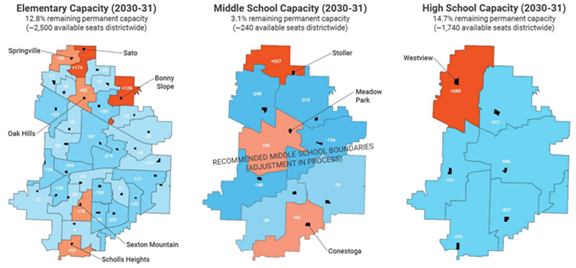 This plan looks at future BSD needs. Two big ticket items in the plan are the replacement of Beaverton High School, which is 105 years old, and Raleigh Hills Elementary, which is 93 years old.
Beaverton High has faced numerous challenges, including starting the school year with a fire, and in 2018, when dangerous cracks found in the roof supports of the gym nearly resulted in condemnation.
The district has identified more than $610 million in deferred maintenance needs across the school district, including $268 million in seismic deficiencies. There are 10 schools that fall into the worst seismic category.
To pay for this, BSD will likely turn to voters to ask for either a renewal of its current bond measure or a $0.25 per $1,000 increase.

To read more, see Sparks' slide deck
ACMA will welcome students back this fall

Arts & Communications Magnet Academy students have been using the new middle school building in Cedar Mill while their school was being completely rebuilt. They're currently moving equipment to the new Center Street building in Beaverton in anticipation of fall classes.
Tumwater Middle School ready for students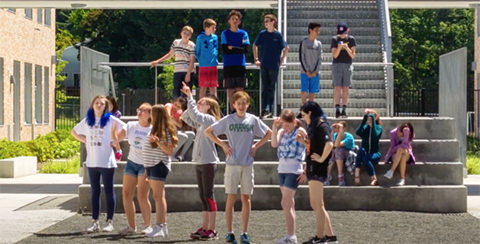 After serving as a "swing school" for several district school populations whose schools were either being rebuilt or remodeled, the time has finally come for the newly-named school (Tumwater means waterfall in the Chinook jargon native language) to welcome middle school age kids. New boundaries were set late last year, following a public-involvement process.
Digital summer resources to prevent "summer slide"
Do you want to strengthen your child's reading ability and other academic skills while school isn't in session? BSD has put together a Digital Summer Resources webpage to keep students engaged with digital learning resources throughout the summer. These resources cover a variety of subjects and are available in English, Spanish, Arabic, Korean, Chinese, and Somali.
BSD 2021 parent survey
BSD received more than 5,700 responses to the 2021 Parent Survey—this is an increase of more than 40% from 2019. In this year's survey, 76% of parents reported being confident in their ability to support their child's learning at home. District-level results for the survey are posted on the Research & Reports webpage.
ParentSquare chat replaces Messenger
BSD has launched a new communication platform called ParentSquare to replace SchoolMessenger. This three minute video explains how ParentSquare is a "safe, secure, and modern approach to communication and collaboration between school and home."
ParentSquare will replace SchoolMessenger and any other texting/messaging apps (like Remind or Talking Points) that individual schools and teachers may be using. It will not replace ParentVUE, StudentVUE, Canvas, or Seesaw.
For more information about about ParentSquare, visit the BSD's ParentSquare webpage.
Rent Assistance
The Oregon Emergency Rent Assistance Program is now taking applications for rental assistance. Families are eligible if at least one person in the household had a financial impact from the pandemic (lost job, decrease in income) and their household income is at or below 80% of the area's median income (about $77,000 for a family of four in the Portland metro area).
Tenants can be approved for up to 12 months of past-due rent and three months' upcoming rent. The payments will go directly to landlords, property owners and utility companies. The money will be allocated based on need, so everyone who applies for the program will undergo a review process. Assistance is offered to all renters, regardless of citizenship or immigration status.
Visit the Oregon Rental Assistance Program webpage for information on how to apply.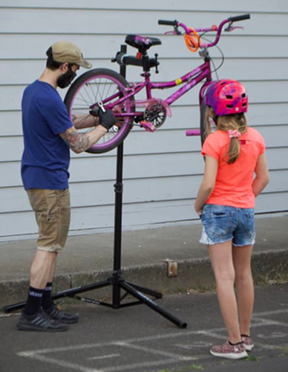 For more information, contact Lisa Mentesana at 503-356-5071 or Lisa_Mentesana@beaverton.k12.or.us.
Summer bike rodeos
Wednesdays, July 7-August 4, 10:30 am-12:30 pm, various high schools.
Join Safe Routes to School on Wednesdays this summer at one of BSD's high school meal program sites. BSD will provide bike tune-ups, helmets for those who need them, and a fun safety/skills course. All ages are welcome at this free community event. Some dates and event locations are:
July 7 at Beaverton High School
July 28 at Sunset High School
August 4 at Westview High School
Visit the summer bike rodeo webpage for more information.