THPRD News August 2020

THPRD Announces Refunds on Deluxe and General Passes

Due to the ongoing closure of Tualatin Hills Park & Recreation District (THPRD) facilities because of the COVID-19 pandemic, the district announced in mid-July that all deluxe and general pass holders will receive a pro-rated refund for their pass.
"At this point, with the extended closures of facilities, we felt it made sense to issue refunds to patrons," said Doug Menke, General Manager. "We really appreciate passholders' patience with us as staff begin the work of processing 2,700 refunds."
Credits will be prorated through March 13, when the closures began. All passholders will receive the full value of their pass for the time facilities have been closed. Staff are estimating that all refunds should be processed and received by August 15. Patrons will receive a virtual gift card for the value of their refund. If passholders would prefer a check instead of a credit to their account, please contact the district at 506-645-6433.
The district will discontinue the sale of deluxe and general passes for the remainder of 2020 and will re-evaluate pass sales in the next year. Daily use admission passes will still be available and for sale once facilities reopen.
Facilities Reopening
THPRD is working on plans to reopen some facilities for limited use in late August and September. Details, opening dates, and program offerings, will be updated on the district's website, thprd.org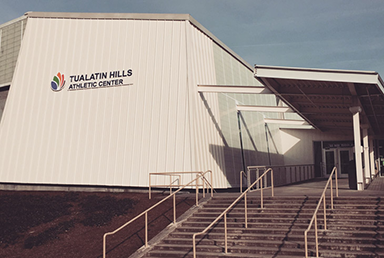 The first facilities expected to reopen are Conestoga Recreation and Aquatic Center (pool and splash pad will remain closed) and the Tualatin Hills Athletic Center. Our maintenance and risk management teams are hard at work ensuring the facilities are safe. We're performing indoor air quality assessments, and adapting our facilities and programs to reflect State of Oregon and Oregon Health Authority guidance. Class sizes and activities will be limited to ensure the health and safety of all participants.
While it is exciting to know some of our facilities will be opening, it is important to share that it will take longer to open other facilities. After our initial openings, we will look to open the Cedar Hills Recreation Center, the Babette Horenstein Tennis Center, and the Tualatin Hills Nature Center, tentatively scheduled in September. All of our other facilities will remain closed for the remainder of 2020, and will hopefully be brought back online in 2021. This includes several of our smaller swim centers, the Garden Home Recreation Center, and the Elsie Stuhr Center.
Further staff reductions
THPRD program revenues have dropped by 65%, or more than $4.1 million for January-June 2020, compared to the same time last year. THPRD's busiest season is the summer and early fall, and at this point we are estimating an additional revenue loss of more than $6.5 million, or a total of $10.6 million loss in revenue by October due to the pandemic.
In March, when the closures began, the district had 968 employees. Today, we have about 28% of our typical workforce employed, with 138 full-time employees and an additional 15 full-time on furlough through October. With outdoor summer camps that began in July—at 25% of our normal capacity—we have been able to employ 135 part-time staff to help with summer camps and seasonal maintenance needs.
The district shared it's reasoning with staff in the weekly newsletter: here's an excerpt. "As you know, the Management Team has been working on critically analyzing our ongoing staffing needs. As the COVID-19 pandemic continues to unfold, we are faced with changing conditions that are affecting our operational realities. In the past month we have seen case counts rise in Oregon, as well as nationally. It is important to note that the rising numbers are occurring in the midst of summer; as we look ahead to fall and winter, when we enter the typical flu season, the projections become even more worrisome."
"Based on where we are at right now, it is clear that we will not be able to open many of our facilities to the public in 2020. The second issue is public participation. We are not experiencing the participation numbers we had hoped for in our summer camps, which means our revenues will be lower than our initial projections. This seems to be a strong indicator that the virus is impacting people's ability or willingness to participate in recreation programs."
We all look forward to the time when THPRD can once again provide us with excellent sports, recreation, and community programs. In the meantime, the trails and open spaces are maintained and are a great way to get outside and still maintain safe distancing.