Business News July 2020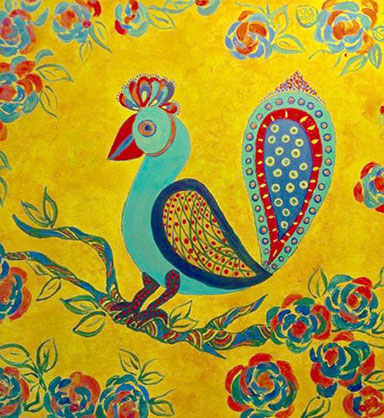 Second Edition opens for Sidewalk Sales!
Coming in mid-July, the Cedar Mill Library Second Edition Resale shop will re-open for outdoor shopping only. Displays will be spaced for safe distancing, we will require shoppers to wear masks, but you will find the same high quality merchandise, value pricing, and great selection Second Edition is known for.
The first week will be a blow-out, 50%-off-everything sale to welcome shoppers back and clear the decks for a new season and lots of great fresh merchandise. We know that times are a little tighter, so we will be trending towards lower prices, specialty sales, and maybe even the reappearance of the bag sale!
With clothing for everyone, housewares and decor, toys, and other items that are always fun, funky and functional, we want you to be able to shop Second Edition safely, comfortably and enjoyably. Keep an eye on the library website library.cedarmill.org or the Second Edition Instagram @secondeditionresale for re-opening dates and times. It will also be posted on Second Edition and Cedar Mill News' Facebook pages.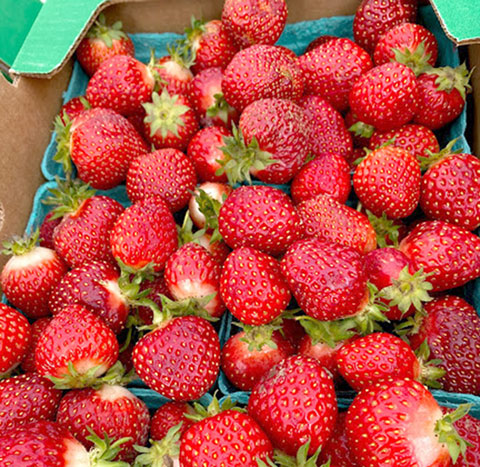 Cedar Mill Farmers Market
Our Cedar Mill Farmers Market Season is in full swing! Please come out and support our local small farmers & businesses. They count on you to buy local!
What is good about buying local? Eating/buying local means more money stays within our community. Every dollar spent generates twice as much income for the local economy. Local produce is fresher and tastes better because it is usually sold within 24 hours of being picked. The supply chain is shorter, so it comes straight from the farmer and fossil fuels are saved. It is picked "ready to eat" rather than too early and not allowed to ripen naturally. Lastly, when buying locally, you are helping your neighbors and friends.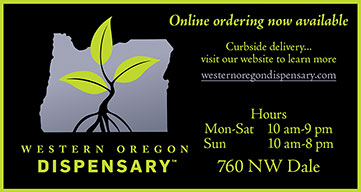 We at the Cedar Mill Farmers Market want to thank you for:
Following the CDC guidelines – Wearing your masks/sanitizing your hands/social distancing
Coming out every week and doing your shopping in the open air
Being patient & kind
Waiting to enter
Being healthy & safe (not coming to the market sick)
Having a game plan/shopping list
Shopping quickly and efficiently
Shopping for your neighbors/friends
Maintaining a social distance of 6 feet while shopping and waiting in line
Following our signage and cues
Letting our farmers/vendors serve you – we appreciate your not touching items
Your ongoing support – we are all doing our best
Your smiling eyes & encouraging words/actions – it means a lot
We at the Cedar Mill Farmers Market want to thank you for your kindness, patience, compliance with CDC guidelines, and for your support. Want to know what's happening at the market each week? Sign up for our weekly newsletter. Just email us at ourcmfm@gmail.com with Newsletter in the subject line.
Is your business affected by COVID-19?
by Mike Irinaga, Senior Advisor, Stryde Solutions/GMG Savings
Businesses are re-opening and ramping-up across Oregon, and the entire country. As they take the necessary precautions, many small and midsize-business owners are finding it difficult to get the help to do so. My company is approved to help them get the paperwork necessary to get assistance quickly.
We have developed a proprietary app that will look at Federal and State programs bringing relief in the 10's to 100's of thousands of dollars over the next several weeks. These programs are the bridge to the funds that will be coming in the future, and I hope that by reaching out I can help my neighbors and friends save their businesses.
It takes about five minutes to determine your eligibility with the app—click here to see what help is available.
If your company has suffered at all, please take a moment and see what's available to you. If you know of a business or business owner who can use some help, please forward the link.
I am a Senior Advisor with Stryde Solutions, and together with the team, we find Specialized Tax Incentives, Expense Reductions, and Financial Enhancement Opportunities for small and mid-sized companies (i.e. two to five thousand employees) located primarily in Oregon, Washington, Idaho, and California.
My current focus is to reach out to help as many local, minority, women, and LGBTQ+ business owners as possible. You can reach me by phone at 503-867-9797, or by email here: mirinaga.strydesavings@gmail.com. Please let me know if I can be of any help whatsoever!
Stryde Solutions has helped thousands of businesses nationwide. We have identified over $4 billion in benefits for our clients, including NIKE, Adidas, Microsoft, Caterpillar, and Coca Cola.
Across the US, the average savings of our Specialized Tax Incentives & Corporate Expense Reductions is $240,000.00 per client in the following categories of businesses: Manufacturing, Commercial Real Estate Owners & Investors, Construction, Architects & Engineers, Hotels, Medical Facilities, Software Developers, Golf Courses, and Funeral Homes. The savings are a little less, but still very substantial, for Restaurants, Auto Dealerships and Online Retailers.
We run our studies and do our work "on our dollar." The client only owes us money when and if we identify a benefit; and then only as a percentage of that benefit. That's why we like to say: "We spend our money to make you more profitable." Our Business Philosophy is to be as transparent and non-disruptive as possible, so we will always ask to work with a business owner's current advisors, such as the accountant, lawyer, and insurance agent. For more information, professional advisors may view this website.
Catlin Gabel offering adult craft programs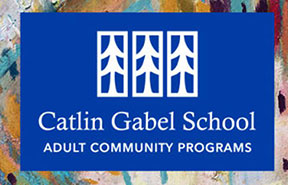 In 2019 when Catlin Gabel acquired the Oregon College of Art & Craft campus, we committed to continue the community arts legacy of the college. While we hoped to have launched these programs earlier this spring, we were delayed due to COVID-19.
June programs, including ceramics and drawing, filled quickly. July programs will be listed here as soon as they are scheduled.
Village Gallery of Arts News
Friday and Saturday 10-4; and Sunday 12-4,
Village Gallery of Arts has re-opened! It's a soft opening of three days a week for the foreseeable future. While we are excited at this prospect, we are aware that we have a great responsibility to do so safely.
Our guidelines are clear:
Masks are required but we will supply you with a disposable one if you need one
Occupancy is limited to four people in the gallery at a time
Hand sanitizer will be provided upon entering and leaving the gallery
Recommended social distancing is six feet apart; appropriate marking will be placed around the gallery to make it easier.
We understand that some visitors may have serious breathing problems and wearing a mask might be a difficult choice. If so, we recommend planning a future visit when restrictions are not in place. We value all those who visit the gallery and, in spite of obstacles, we want your visit to be as enjoyable as possible.
Exhibits
Big, Bold Painting:
Cheryl Carpentier: "Lucy's Field of Flowers," inspired by our new puppy, Lucy. Acrylic, 24″x 20″.
3-D Artisan Focus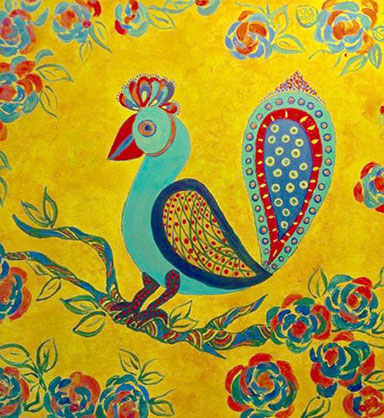 Medha Joshi: Over the past few weeks, mostly homebound, I decided to learn a new form of art. My gaze turned to an ancient Indian art called Madhubani. Originating in the northern Indian state of Bihar, Madhubani designs were drawn by tribal folks depicting life around them. Colors were extracted from leaves, fruits and berries, flowers and earth for painting the designs. Now Madhubani is being explored and enjoyed by many. Acrylic paints and watercolors make the designs vibrant and longer lasting. The designs can be seen on many clothing and home-decor items, as well as pottery. I have drawn some on canvas and greeting cards and look forward to creating more patterns on tile and fabric.
Classes are Back! We are limiting participation to six students plus the instructor. This will not only reduce the chances of exposure to the coronavirus, but will increase the time and attention the instructor can provide to individuals. We are asking both teachers and students to wear protective face coverings, either a mask or a scarf covering nose and mouth. Gloves will also be available.
Registration will be online only and we will have a limited number of class days to avoid overlap with visitors to the gallery. For supply lists and more information please see our website: www.villagegalleryarts.org.
Adult Classes and Workshops
Lori McLaughlin – The Capsule Palette Workshop Trilogy
Thursdays, July 16, 23, and 30, 2:30-4:30 pm, all supplies provided
Learn how to take 4 colors generating a broad palette from the master techniques of Andres Zorn. Zorn was a Swedish artist who found the limited palette of 4 colors creating intricate subtle tones and rich saturations in his paintings with just a few colors in his palette. Not the usual primary schemes we are accustomed to.
Class 1: Creating your own palette. Using different blending tonality on your format. We will meet in the VGA classroom Thursday afternoons and work with acrylics to create a palette using the Zorn method. Class 2: Understanding value and texture designing a small landscape. Paint a still life with our newly understood palette. Class 3: Critique and reveal. We will reveal and critique our works accordingly. Feel free to call Lori at 503-931-4517 or text for more information.
Virginia Sumner: Introduction to Abstract Acrylic
Tuesday, July 21, 5:30-8:30 pm, beginner to intermediate
The focus is on getting paint down and tapping into our authentic, expressive, inner self. No worries, we will be keeping it lighthearted and all about fun in this fast-paced workshop. Learn the basics of creating and critiquing abstract art. Throw perfectionism out the door and step away from expectations of photorealism.
Debbie Teeter: Basic Drawing
Thursdays, September 3, 10, 17, and 24, 9:30 am-12:30 pm
This class will provide and strengthen basic skills in drawing, with an emphasis on seeing/drawing from props. Topics will include shape, value, chiaroscuro, proportion, composition, and perspective. Students will work with various black & white media, such as graphite, charcoal, and pen.
VGA Gently Used Art Supply Sale
September 18-19
Watch our website for times and further details as the date approaches!
Cedar Mill Business Association
Tuesday, July 14, 12-1 pm, Zoom
CMBA continues our monthly speaker/networking meetings via Zoom Online! Our speaker this month is Michelle De Lude, CH., MNLP of Destinations Hypnosis. Her career in hypnosis began in 1983 and has continued to grow in the 30 years and 15,000 client-hours since. She has helped professionals overcome success blocks, gain new vision and traction for growth, and also addresses popular issues such as weight loss, smoking, and fear of public speaking. She is a member of the Oregon Hypnotherapy Association and is part of a collaborative wellness center in Beaverton. In this month's talk—Stop Scrolling!—she will talk about the brain science beneath marketing strategies that get your customers to "stop scrolling"!
CMBA Members will receive the Zoom Link through our Monthly E-Blast, so stay tuned. We invite guests to two free visits at no charge. This is a warm and welcoming group with lots of opportunities for business development, networking, and impactful ways to engage with the local community. To receive the link to join into the meeting, contact our admin Chelsea at admin@cedarmillbiz.com. For more information about CMBA membership and sponsorship opportunities, please visit our website at cedarmillbiz.com. You can also find us on FaceBook at Cedar Mill Business Association.
Ohana Luau at Fieldstone Cornell Landing
Saturday, July 11, 3-5 pm, 9860 NW Cornell

Come join us and drive up for a delicious tropical smoothie, and enjoy Hawaiian Hula by Ishani. Enter a drawing for a Fun-in-the-Sun Basket. Ishani is a professional performing artist in Hawaiian Hula, and a certified instructor of yoga and Ascension Meditation.
For more information, call 503-292-9222. Visit fieldstonecornell.com for information about their Assisted Living and Memory Care facilities.
Explore The Ackerly from home
We know there's a lot going on. Now, more than ever, we are here for you. As your trusted partner in senior living, we have extensive resources to help you navigate the best option for you or your loved one. Priorities have not changed; the well-being of our residents and employees remains our primary focus. We have taken significant steps to modify our operations. We are proud to say that our protocols and cleaning procedures exceed the CDC's recommendations.
We are compassionate experts in senior care and truly seek to become partners with our residents and their families. We look forward to getting to know you better. Schedule a virtual consultation to get started and check out this virtual tour of the facility.
The Ackerly at Timberland is located at 11795 NW Cedar Falls Drive. Call 503-350-3400, visit www.ackerlyseniorliving.com or contact The Ackerly at Timberland with this link, for more information.