Business News May 2021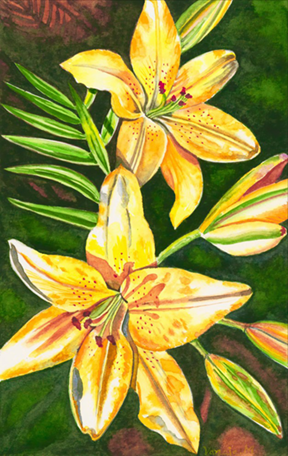 Cedar Mill Farmers' Market
Saturdays, May 1 to October 16, 9 am-2 pm, corner of NW Cornell Rd & Murray
We are so excited to bring the Cedar Mill Farmers Market to our community again this year. This season, we are offering a great mixture of returning and new vendors—we can't wait to see you!
We want you to know that we care about you, our vendors, our staff, and our volunteers. Amidst the ongoing pandemic, we will continue to do our best in making the market a safe and welcoming place to shop. Protecting public health is our number one concern, and we will continue to follow the rules, updates, and guidelines from the OHA, ODA, local government, and the Oregon Farmers' Market Association regarding COVID-19.
Masks are required for the upcoming market season, and we will practice social distancing. The market will have one entry and one exit, demarcated by signs. Lastly, we are limiting the number of people allowed in the market, and if the market reaches capacity, there may be a line.
Thank you in advance for your understanding and for your support!
We're always looking for volunteers to help the market run smoothly. This can be a fun family activity and we're very flexible to fit with your schedule. Learn more on our website or email us at ourcmfm@gmail.com.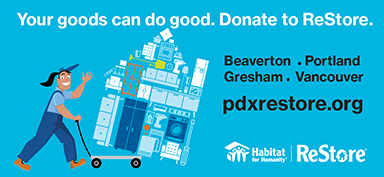 Second Edition Sidewalk Sales
Thursdays and Fridays, 9 am-2 pm, 1050 NW Saltzman Road (East end of the library building). Depending on weather.
Second Edition Sidewalk Sales now include limited indoor shopping! Featured items in May are Gardening, Mother's Day, and Camping. Always great merchandise at even better prices!
Ackerly opening up to public events!
Katie Smith, Sales Manager for the Ackerly at Timberland, A Leisure Care Community, shares this good news!
"In early April, our community moved into "green" phase. Our visitation restrictions have been lifted. We are still enforcing PPE usage, physical distancing and screening protocols. Family and guests can join our residents in the restaurants, their apartments, and attend our activities/events.
This also means we can open our doors to hosting groups again, with the same safety protocols in place. If the Cedar Mill community is in need of a meeting place, they should contact Katie Smith at The Ackerly at Timberland (503) 350-3400.
To get an idea of the activities that have been held in the past, visit their Facebook page! If you're interested in a schedule of lectures, musical performances, and other events, contact the Ackerly for a May schedule.
Ackerly offers veterans a discount
The Ackerly at Timberland is offering a discounted rate on their deluxe studio apartments to veterans. Select apartments renting at $3000/monthly for veterans. Includes 2-3 meals daily, weekly housekeeping and transportation services, including appointments at the VA.
Call The Ackerly at Timberland to Tour! 503.350.3400
Village Gallery
Gallery Hours: Thursdays-Saturdays, 10 am-4 pm, 1060 NW Saltzman
As COVID restrictions ease, hours and days will change, so please check our website for up-to-date information.
Spring Show
This month, we celebrate mothers, daughters, sisters, and spouses! We just may have the perfect gift to honor that special someone in your life—beautiful and unique cards, jewelry, ceramics, glass, sculpture, and wall art—in sizes that range from miniature to very large in many media. If you can't come in person, check out the new Spring Show Video Tour on our website or our Facebook page.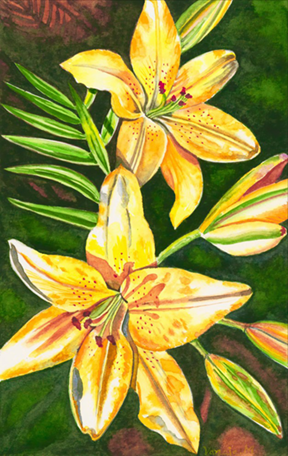 Featured Artists for May: Mother/Daughter Duo: Nancy Norman and Teal Buehler
What could be more appropriate than celebrating a mother/daughter show this month? Come see their lively interpretations of nature's bright spring colors in watercolor, acrylic, and mixed media.
Big Bold Painting for May: Fran Gilleland
"My painting is called 'Nobel Lion.' It's done in watercolor. I don't usually paint animals, but a photo of a lion from South Africa piqued my interest. I especially liked his eyes."
Adult Classes and Workshops
Masks and social distancing are required as COVID-19 precautions for in-person classes. Please see our website for details.
Jean Anderson: Watercolor Succulents
Monday, May 24, 10 am-12:30 pm. Maximum of eight students per class, via Zoom.
Some watercolor experience helpful. Succulents present a problem for painters—unlike most flowers, the petals are not flat. I will show you how to display thick petals with ease, and at the conclusion of this class, you will carry this knowledge to other subjects. Succulents are a fun and beautiful subject to paint, and you will be happy with your efforts.
I use a camera mounted above my paper so you can see exactly how I hold my brush, mix the pigment, and make the strokes. Typical watercolor supplies are required—refer to my website for recommendations if you have not purchased materials. Otherwise, please use what you have!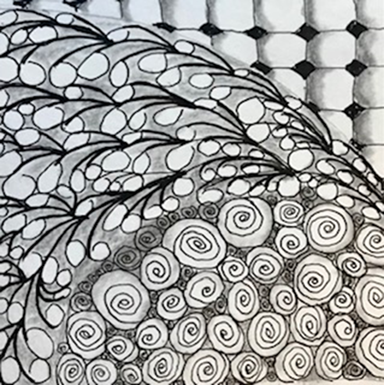 Jean Anderson: Organized Doodling for Fun and Relaxation
Thursday, May 27, 10 am-12:30 pm. Maximum of eight students per class, via Zoom.
The Zentangle® Method is an easy-to-learn, relaxing, and fun way to create beautiful images by drawing structured patterns. If you can write your name, you can do Zentangle—the example shown is the first Zentangle I had ever done! Zentangle relaxes you like no other while keeping your creative spirit happy. During the class, you will master different techniques, including learning how to use strings and tangles. This is a wonderful technique for individuals who are concerned about building up their brains and keeping more active. As additional benefits, Zentangle does not require excessive equipment and can be done anywhere.
Students will need a pencil, paper, and a smudger that can be made or bought. Each class is recorded, and students will be provided with the recording post-class.
Jean Anderson: Plein Air Painting for Beginners
Monday, June 14 and 21, 10 am-12 pm. Maximum of seven students per class. Two-session class. All levels.
Have you read about painting "en plein air" and wondered what it is all about? Have you considered doing it yourself but been afraid? This is the class for you. Students of all art levels will enjoy the experience of "plein air" painting. In the first class, we will discuss the "plein air" process and required equipment. My lesson will focus on how to distinguish subjects given a 365-degree view of a beautiful landscape. During the second class session, we will visit a location to practice these techniques. I plan to host the "plein air" expedition at a Metro-area lavender field, but this is subject to change.
Kim Black: Pine Needle Basketry
Saturday, July 24, 8:45 am-2:45 pm, 1060 NW Saltzman. Maximum of ten students per class.
This one-day class will cover instruction in beginning pine needle basketry skills. Students will start from a wood base and complete a 4-inch dish using two stitches. Material preparation will also be covered. It is a fun way to spend a day learning something new. All supplies are provided by instructor. Bring your lunch.
Kim Black: Beginning Gourd Class
Sunday, July 25, 8:45 am-2:45 pm, 1060 NW Saltzman. Maximum of eight students per class.
This class will cover the basics of working with gourds. We will learn how to clean, cut, dye, wood burn, paint, and add pine needles to a gourd. This is a fun class and does not require previous pine needle basketry skills. Please bring an apron, a mask, and any designs you may wish to put on your gourd. Bring your lunch.
Village Gallery of Arts is a non-profit (501c3) organization, receives no taxpayer money, and is staffed entirely by member volunteers. Our mission is to ignite the joy of learning, creating and appreciating art in our community. We support professional and emerging artists by providing high quality affordable art education to children and adults, as well as providing venues for sharing their work.
Win an Oculus Quest 2 from Sunset Credit Union
April is the National Credit Union Association 'Youth Month.' As part of a nationwide effort to spread the word about the importance of money management, Sunset Credit Union is giving kids the chance to win. All youth accounts (up to 18 years old) opened in the months of April and May will automatically be entered into a drawing to win an Oculus Quest 2, a $50 Best Buy Gift card, or a $25 Amazon gift card. Plus, any youth that refers another youth to join will also be entered into this drawing. To learn more and to join Sunset Credit Union, stop by their office located at 1100 NW Murray Blvd, visit their website, or give them a call at 503-643-1335. Sunset Science Park Federal Credit Union is open to anyone who lives, works, or attends school in Washington County.
Cedar Mill Business Association
Tuesday, May 11, 12 pm via Zoom
Our May Speaker is CMBA Past President Lauren Sinha of Eleete Real Estate. She will lead (and create!) a trivia event for us, and it's sure to be a lot of fun!
CMBA Members will receive the Zoom Link through our Monthly E-Blast, so stay tuned. We invite guests to two free visits at no charge. Please contact our admin, Chelsea, at admin@cedarmillbiz.com to receive the Zoom link. For more information about the Cedar Mill Business Association, please visit our website.
Skyline Memorial Events
All events are outside and socially distanced, and will take place at Skyline Memorial Garden Funeral Home, 4101 NW Skyline Blvd
Mother's Day
Sunday, May 9, 12-2 pm
Skyline Memorial Garden Funeral Home will provide free ice cream sundaes and cold brew coffees. The first 25 visitors will get free pink carnations! A tent will be placed in the main parking lot on Mother's Day weekend with grave information and maps.
Memorial Day Weekend – We are open for visitors!
Saturday, May 29 and Monday, May 31, 
Free flags, free hot dogs, and free lemonade will be provided.
Pets Honoring Patriots
Sunday, May 30, 12-3 pm
After a COVID hiatus, we are pleased to hold our Pets Honoring Patriots event. We are proud to partner with Legacy Hospice and veterans' organizations for a special community event that brings veterans and animals together. Please join us for giveaways, raffles, and the very popular pet costume contest—as well as prizes for the best trick, best tail wag, and best kisser!
Bring the family for fun, food, and to learn more about the Legacy Hospice Pet Pals Program.