School News May 2021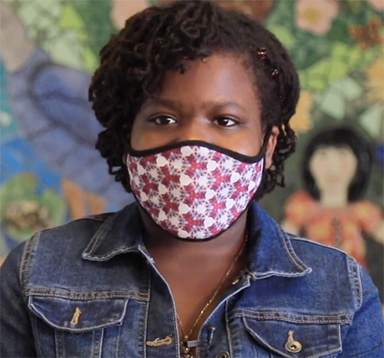 Terra Linda Elementary Teacher Appreciation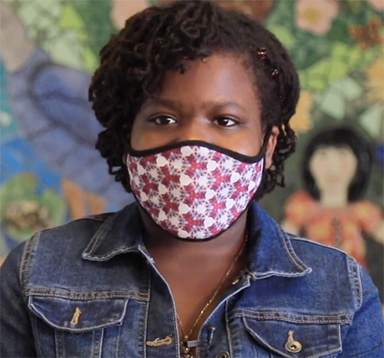 Yolanda, a 5th grader at Terra Linda Elementary, talks about how she came up with the idea to create teacher appreciation cards. She was able to enlist the help of her fellow students to show just how much they care about their teachers. As a result, hundreds of student-made cards were created and handed out.
See the video here on the BSD site.
Enroll for kindergarten at Terra Linda Elementary
Thursday, May 20, 6:30 pm, Terra Linda Elementary (if possible), 1998 NW 143rd Ave
Enroll for Terra Linda kindergarten today! Students must turn five on or before September 1, 2021 to be eligible for kindergarten. For more information on registering for kindergarten, immunization requirements and much more, please visit the kindergarten Information webpage.
We are hoping this event will be able to be held in person as we have done in previous years. More details to come. Please share this date with any neighbors or friends who may have a child ready to start kindergarten in the fall. Call Terra Linda at 503 356-2490 with any questions.
Bonny Slope Elementary kindergarten orientation
Wednesday, May 26, 6 pm, via Zoom. Register in advance for this meeting.
Please join us for our kindergarten orientation parent night where we will answer registration questions, and share ideas for preparing your student for kindergarten in the fall. Our current kindergarten teachers will be available for questions. After registering, you will receive a confirmation email containing information about joining the meeting.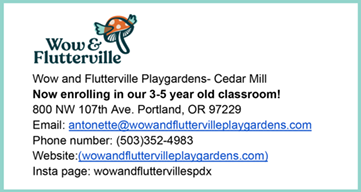 If you have not already enrolled your kindergartener, you may do so now online.
Please let us know if you have any questions! Send us an email at BSLP-communications@beaverton.k12.or.us or call us at 503-356-2040. We look forward to meeting you.
ACMA Dining Fundraisers
Please visit the Arts & Communications Magnet Academy PTO page to either download and print or find the flyers to display on your phone!
Thursday, May 13, all-day, MOD Pizza, 2695 SW Cedar Hills Blvd
Support ACMA by bringing the MOD Pizza fundraiser flyer to the Cedar Hills MOD Pizza location.
Thursday, May 20, 4 pm-8 pm, Panera, 3435 SW Cedar Hills Blvd
Support ACMA by bringing the Panera fundraiser flyer to the Cedar Hills Panera location.
Our new campus construction is nearly complete. The move to return to our permanent campus will be this summer. ACMA has a Performing Arts Center, where all school performances take place. Our community partners and neighbors are welcome to attend at any time.
Baskets for ACMA raffle
We are unable to have a performance fundraiser this year, but a popular lobby experience—the baskets—will be held online. It will be open to anyone interested in supporting ACMA or winning a wonderful basket donated by our many local community sponsors (especially within the Beaverton School District). Auction winners are announced and notified on June 8.
Basket themes include dog, cat wellness spa, gardening, breweries and sports, wine baskets, date night, reading, coffee, tea, beach weekend, wine tasting, wine club, and many more. The fundraising event is our annual event to raise money for next year's programs, such as dance, theatre, film, jazz, orchestra, choir, band, photography, and other art forms. Go to the ACMA auction website for more information about the baskets and how to contribute.
Sunset Marching Band Can & Bottle Drive
Saturday, May 8, 10 am-1 pm, old Bales Thriftway parking lot, 12847 NW Cornell Rd.
We are currently taking your curb drop offs—bring us your bags of cans and bottles! Please wear your mask when you drive up to drop off your bags. If you picked up green bags from us last time, please fill and bring them back to us! If you have more bags than will fit in your car, email us at samba@sambanote.org. We have this event year-round on the second Saturday of the month – add us to your calendar!
Sunset Apollo Marching Band & Auxiliary (SAMBA) Parent Club is a 501(c)(3) organization. SAMBA supports all Comprehensive Band & Color Guard Programs at Sunset High School. SAMBA raises funds year-round for travel expenses, entry fees, uniforms, specialized instruction, show design, instrument purchase/repair, purchase of new music/arrangements, and scholarships for students who would otherwise be unable to participate.
Bonny Slope Elementary Jog-a-thon
Monday, May 3-Sunday, May 9
Bonny Slope Community Organization is looking forward to bringing back one of Bonny Slope Elementary's favorite events with this year's Jog-a-thon! Although it may look a little different than in the past, it will get our students moving and having fun—all while helping support our great school. To participate, register on our school Pledgestar page, create your students fundraising account, and log their miles during the week of the Jog-a-thon. Once registered, your jogger will be automatically entered into the weekly prize raffles just for creating an account. Fundraising efforts begin now!
There are four designated routes for the students to run/walk throughout the BSE community. Parents are encouraged to participate with their children in this always-memorable event.
There will be exciting prizes up for grabs this year, including an OMSI React-o-Blast virtual demonstration, a Play.Fit.Fun outdoor event at BSE, dinner for six, swag at The Helvetia Tavern, a Family Game Night at Top Golf, Nalgene water bottles, and many more.
We are also happy to announce we have included the Pre-K students in this year's event.
See the Bonny Slope BSCO page for route maps, details on how donations are utilized, matching funds information, and FAQs. We look forward to seeing your students participate in this year's week-long Jog-a-thon!