Community News June 2021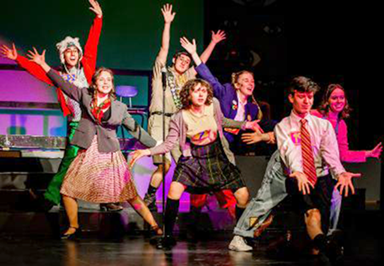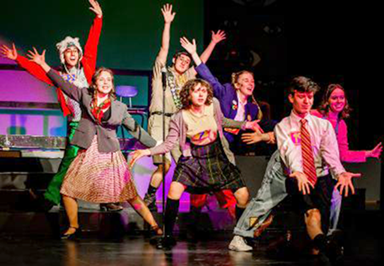 The 25th Annual Putnam County Spelling Bee
Friday, June 4, 7 pm, Sunday, June 6, 2 pm, Sunset High Auditorium, free for students, $10 general admission
Sunset High School presents the musical comedy, The 25th Annual Putnam County Spelling Bee! The musical centers on a fictional spelling bee contest that takes place at the equally fictional Putnam Valley Middle School. The show is chock-full of wildly funny and emotional moments, featuring a group of six quirky adolescents vying to win the spelling championship run by three equally quirky grown-ups. Adding to the fun, the bee invites audience participation, making each performance engaging and fresh!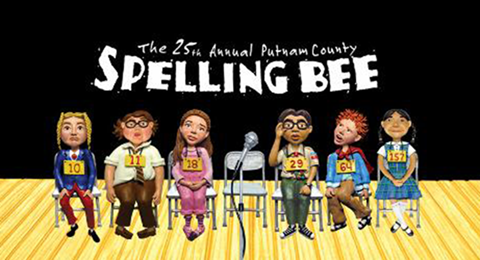 It's a true ensemble piece with a small cast of nine. seven Seniors and two Sophomores. This show means SO much to the kids as it is their first time performing in front of an audience since their production of Matilda was cut short by four shows last year.
Advisory Committee looks at Ridwell
Do you like Ridwell? Would you like them to stay in our neighborhood? Then you need to know about this hearing coming up.
To summarize what's going on, Washington County Code Chapter 8.04.120 requires that any person that collects, stores, transports, or disposes of any waste or solid waste for compensation (a fee) in unincorporated Washington County must obtain a certificate issued by the Board. The county has determined that Ridwell is violating that code and needs to obtain a certificate. The problem is, all the certificates are currently held by the 9 different garbage haulers that service unincorporated WashCo.
The only way Ridwell will be able to continue servicing our area is to request an exemption to this requirement (pursuant to WCC 8.04.130(C)). Ridwell is maintaining that the collection of hard-to-recycle materials not currently being collected at curbside should not require owning a certificate.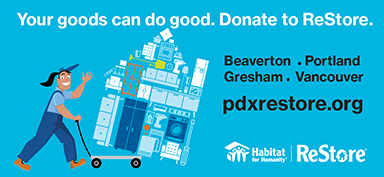 In response to this, the Washington County Haulers Association is now proposing an expanded service option for collecting hard-to-recycle materials from residential customers (offered for an additional fee as well).
I am a member of the Garbage and Recycling Advisory Committee for unincorporated Washington County. I am encouraging my fellow neighbors to attend this public hearing (via Zoom) on June 10, 6pm. Let your voice and opinions be heard about the future of doorstep collection services of hard-to-recycle items!
All the information you need is on this website: https://www.co.washington.or.us/HHS/SWR/Resources/swac.cfm. On this site you will find the link to the Zoom meeting, Meeting Agenda, Staff report for the hearing, letter from Ridwell and the letter from the Washington County Haulers Association.
I did want to mention that although this hearing is specifically for unincorporated WashCo, many cities (including Portland) have similar codes and may be having their own public hearings in the future.
-Sandra Smith
Beaverton Symphony presents: An Almost-Sumner Concert
Friday, June 11, pre-concert talk at 7 pm, concert starts at 7:30 pm via live stream, Register here.
For the first time this season we are excited to announce the return of our brass and woodwinds sections! We can't thank our patrons and donors enough for their continued and ongoing support.
The program features Gustav Holst: A Moorside Suite; George Frideric Handel: Concerto Grosso Op. 3 No. 4 in F; and Wolfgang Amadeus Mozart: Symphony #36-the Linz.
You can view the concert notes here.
The Beaverton Symphony Orchestra, founded in 1984, is a community orchestra committed to enriching the performing arts culture of Washington County and making classical music accessible to the broadest possible audience. We hope you can join us!
Writer's Mill
Sunday, June 10, 1-3 pm, via Zoom
The Writers' Mill group is continuing to meet by Zoom with the help of our favorite Cedar Mill librarian. This month's meeting will be with Kate Ristau, author of the Clockbreakers and Shadow Girl series. She will speak about middle grade fantasy, an author's life, getting the book out to readers, and much more. If you want to write and want someone (whether best friend or total stranger) to read what you write, then this is the place for you. Contact Cedar Mill library or look on the website for more information.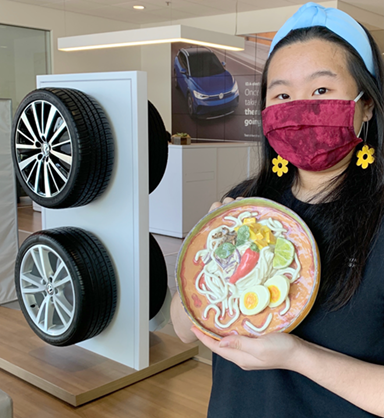 Herzog-Meier Senior Scholarship Art Show
June 8-June 13, 4275 SW 139th Way
Opening reception: Tuesday, June 8, 5-6:30 pm
Herzog-Meier and the Beaverton Education Foundation (BEF) have worked to move the Herzog-Meier Art Show and adjudication online during COVID-19. 2021 marks the 33rd Annual Art Show, and eight high school seniors were chosen from Beaverton School District high schools to receive a $500 scholarship. Their works span across paintings, graphite drawings, sculptures, photography, digital art, and more. For the full list of submissions, visit the art show website.
The award ceremony on June 8 is open to the public and will be hosted outdoors in accordance with COVID-19 safety measures. Please join Herzog-Meier, the BEF, and the BSD to celebrate the fine arts!
Learn about safer cleaning products
Looking for safer, non-toxic options for cleaning and disinfecting your business or home? Register for this free workshop on how to procure safer products and reduce the use of toxic chemicals. The Pacific Northwest Pollution Prevention Resource Center (PPRC) and Oregon DEQ will share tools and resources to easily identify safe and effective products. Information will be provided on products that meet third-party verified sustainability criteria (e.g. EPA's Safer Choice and Design for Environment labels) and tips for purchasing.
Bring your questions! There will be time for discussion.
Spanish interpretation will be available during this event. Please note that this webinar will be recorded. Pre-registration required.
Tualatin Valley Creates
Tualatin Valley Creates (TVC) is excited to announce the launch of its new ArtPass Membership Program on June 21! The ArtPass offers special deals and discounts at local arts and culture businesses such as individual artists, coffee shops, galleries, restaurants, retailers, and theatres. These are located throughout Washington County. TVC created the ArtPass Membership Program to engage and connect consumers to local businesses across the county's 16 cities and unincorporated areas.
As the state prepares to re-open, revitalizing the arts and entertainment industry is more important than ever. TVC's goal is to help in this effort while creating an intentional community connected to its 20-year-strong organization. Members can engage in conversation with each other on the TVC website by commenting on their experiences at participating ArtPass businesses, and through other membership opportunities.
A yearly membership is only $25 and is open to the public for purchase. Funds are used for TVC's operational costs to keep Washington County's creative community informed, engaged, and growing! For more information about the ArtPass Membership Program and its upcoming launch, please visit TVC's webpage, contact Tualatin Valley Creates at 503-567-1713, or email info@tvcreates.org.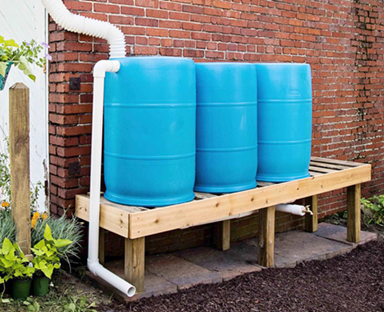 Cedar Hills Ready! presents Barrel Survival: Community Cashes & Rain Barrel Storage
Wednesday, June 23, 7 pm, via Zoom, free
Register in advance.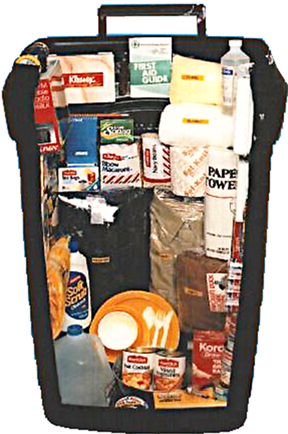 Be resilient by learning to build community caches and rainwater collections to help everyone on your street have the most important elements after a disaster—water, sanitation, and hygiene kits. Learn what 230 homes in one Beaverton neighborhood did to prepare, catch the essential tips for collecting and caring for roof top rainwater, and find ways to go "green" and be "water ready." Everyone is welcome. Share and invite all your important people!
Questions? Visit us at our website or contact Karen at info.cedarhillsready@gmail.com.
The mission of Cedar Hills Ready! is to create caring, connected and resilient neighborhoods. We are committed to making sure every neighbor is prepared and has the best chance of survival in the event of a disaster.
Apply Now for the Beaverton Arts Mix! Virtual Art Show and Sale
Art show on Friday, October 1-Sunday, October 17
Entries due by Wednesday, June 30, 5 pm
Calling all artists! Visual artists in the region are invited to submit their artworks to the 2021 Beaverton Arts Mix! (BAM!) Virtual Art Show and Sale to celebrate Arts and Humanities month. Entries will be juried by a panel of local arts specialists; monetary prizes and ribbons will be awarded. All art sales will be directly between potential buyers and each artist.
For more information, visit the BAM! website.
WashCo Radio
On the website, Mondays; KBOO 90.7FM, Wednesday, 9 am; KUIK 1360AM, Friday, 1:30 pm; internet radio, Saturday, 6:20 pm
Inside Washington County shows in June will feature topics including racism in our county (panel discussion) and homelessness issues with a focus on Washington County youth. Visit our website for more information and check out our internet radio station!
WashCo Forum
Join us virtually at the Washington County Public Affairs Forum! As we all continue to do what we can to stop the spread of COVID-19, the Forum will continue with its 2020-2021 season online, providing another engaging month of speakers. You can obtain the Zoom link to join these free events by visiting the Forum website. All programs are Mondays, noon-1 pm.
Founded in 1956, the Forum provides a place for the interchange of ideas on civic matters. Each week the Forum brings together community leaders, members, and guests who care about what happens in Washington County, the Metro region, and our state. The Forum will meet for the first two weeks of June, and then go on summer hiatus until September.
Washington County Board of Commissioner Chair Kathryn Harrington
Monday, June 7
Please join us for an update from Chair Harrington on the State of Washington County.
A Panel on Mental Health and Law Enforcement in Washington County
Monday, June 14
Sergeant Dustin Sluman (Supervisor of the Mental Health Response Team – MHRT), Christy Harangozo (Clinical Supervisor for MHRT), and William Arp-Howard (Mental Health Jail Liaison), will discuss the intersection of mental health and law enforcement within Washington County.
Teens: share pandemic stories for Girl Scout project
The Beaverton City Library is partnering with local tenth grade Girl Scout Riley Kessler to collect personal accounts of the COVID-19 pandemic, written by middle and high school students. The project is one part of Kessler's Gold Award—the highest award available to Girl Scouts in grades 9-12.
Students aged 11-18 in Multnomah or Washington counties are invited to submit writing for consideration. The deadline to apply is Wednesday, Jun. 30.
"The goal of the project is to spotlight teen experiences during the pandemic," said Kessler. "We have gone through a very unique set of challenges that differ from adults' experiences, and I want to share that."
Participants are not required to be registered Girl Scouts to submit an entry. Selected pieces will be compiled and published, including but not limited to the library's local history collection. Students can learn more about this project and how to participate here.
In July, the submissions will be publicly shared to help everyone understand what it is like to be a teenager during a global pandemic.
"The library is happy to help gather youth perspectives for this project," said Ian Duncanson, Community Engagement Librarian for Beaverton City Library, who is helping to run the event. "I am looking forward to gaining some understanding of what youth have been going through."
Viva Village
Please come participate in Viva Village's June events! RSVP for the Zoom link by calling 503-746-5082 or emailing vivavillageevents@gmail.com. An RSVP is recommended for all events.
More information can be found at the Viva Village calendar page!
Activities open to the general public:
Online Age Cafe
Fridays, June 11 & 25. 11 am-12 pm
Small group conversations exploring topics of interest to older adults. Sponsored by Viva Village, Beaverton City Library, and Wash. Co. DAVS. Contact Viva Village for registration information.
Online Viva Village 101
Saturday, June 12, 10-11:30 am
A fun and informational session about Village life for prospective members and/or volunteers.
Online Viva Village Book Club
Tuesday, June 22, 1-2:30 pm
Selected book: Caste: The Origins of Our Discontent by Isabel Wilkinson.
Online Men's Coffee Break
Monday, June 28, 10-11 am
Conversation and coffee.
Activities open to Viva Village members and volunteers:
Online Women's Coffee
Tuesdays, June 1, 8, 15, 22, and 29, 10:10 am
Online Writers Group
Thursdays, June 3, 10, 17, and 24, 1 pm
Join other Village writers for a time of sharing and inspiration.
Patio Picnics
Thursdays, June 3, 10, 17, and 24, 11:30-1:00 pm
Indicate if you want to host or be a guest on the RSVP form.
Online Tai Chi Classes
Thursdays, June 3, 10, 17, and 24, 10-11:30 am
Learn Tai Chi technique with certified instructor Richard Chew.
Viva Village Nature Walk
Saturday, June 5, 9:30 am, intersection of SW Dellwood Avenue and SW Foothill Drive
A (masked and distanced) morning walk with Viva Village members and volunteers.
Online Mindfulness Course
Mondays, June 7, 14, 21, and 28, July 5 and 12 (every Monday for 6 weeks)
Introductory techniques in meaningful meditation techniques to reduce stress.
Online Movie Interest Group
Wednesday, June 9, 5 pm
Engage with other movie enthusiasts for discussions of films and other topics of interest.
Online Travel Talk: The Emerald Isle
Monday, June 14, 7-8:30 pm
Viva Village members Maryellen and Mike Conner will share slides and stories about their trip to Ireland.
Online Volunteer Happy Hour
Friday, June 25, 2 pm (new time)