Library News
Cedar Mill & Bethany Community Library News
Kids
Information for kids' events can be found on the kids' page of our website.
Live Interactive Storytime
Tuesdays, June 15-August 3, 10:30 am, via Zoom. Ages 2-6.
Family Storytime with Rebecca or Jenny (registration required) Find details and registration information at the library's storytime website.
Read to the Dogs
Wednesdays, 2 pm, online via DoveLewis
Read to the Dogs is back! Now, we're teaming up with DoveLewis' Portland Area Canine Therapy Team (PACTT) to offer virtual interactive reading sessions. Read to the Dogs allows school age children who are beginning or struggling readers to develop their reading skills in a relaxed, non-judgmental environment. During a virtual 15-minute session, your child has an opportunity to practice reading aloud to a trained therapy dog. Registration required through DoveLewis PACTT. Find a link on our Kids' page at Library.Cedarmill.org/Events/Kids.
Summer Reading for Kids
Read all summer long, then pick up your prize. Visit the library between July 15 and August 3 to claim your free book (supplies limited). Bring your completed reading log or tell us how many hours you read during the summer. Print a reading log from our website or pick one up at a library. Learn more and find printable daily reading challenges (and a scavenger hunt!) at the summer reading website.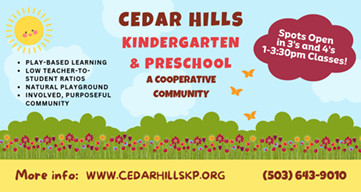 Teens & Tweens
Registration and more information for teens and tweens can be found at the teen page.
Teen/Tween Take and Make Crafts
May 31-June 2, July 5-7, August 3-5, library hours, both libraries. Ages 11-18.
Stop by one of the libraries during open hours to pick up craft supplies for fun crafts like stress balls and Star Wars puppets. Then, join us for Wednesday Crafternoon to create with other teens! Supplies limited.
Wednesday Teen Crafternoon
Wednesdays, June 2, July 7, August 5, 4-5 pm, via Zoom. Ages 11-18.
Teen Crafternoon continues this summer on the first Wednesday of each month. Teens can join us and see an art tutorial of the take and make crafts we give away that week. Through this program, they can create their own art, listen to music, and share their work. Zoom link will be sent out an hour before the program.
FAN-tastic Family Trivia
Wednesday, July 14, 5:30 pm, via Zoom. Ages 11-18.
Join our online family trivia game and test your knowledge together or compete. As long as you have a second device like a smartphone or tablet, you can join in the fun through Kahoot, an online trivia site. We will have three rounds of trivia focused on popular fandoms like Star Wars, the Marvel Cinematic Universe, Disney, books, and maybe a few surprises!
Teen & Tween Summer Reading
June 1-August 31
2021 Theme: Reading Colors Your World
Calling all incoming 6-12 graders! Register for CMBCL Summer Reading by downloading the Beanstack Tracker app from your preferred app store or go to the library website to sign up. If you participated in past years, please use your previous Beanstack login information. Email markr@wccls.org with questions. You will have more chances to win and contribute using the Beanstack app.
To participate, read for five hours (or more). Check off your hours as you read using the Beanstack app or print a reading log from our website, and between July 15 and August 31, stop by the library to pick up your prize book! Supplies are limited.
Grand Prize Drawing: Win a Baby Yoda Poster! Every badge you earn in Beanstack gives you a chance to win the poster. You may also turn in your completed paper reading log (including email address) to enter the drawing.
For every hour read this summer by local teens and tweens, 25 cents will be donated to HomePlate to help unhoused teens. Maximize your contribution through the Beanstack app as you log time all summer long. Help us reach our goal of a $1000 contribution (4000 hours of reading)! Visit the Teen Summer Reading Website to learn more.
Join the Teen Library Council
Applications to join the TLC will be accepted through early June. Sign up for the WiserTeens newsletter or check the teen volunteer page to learn more.
Teen Library Council Members members plan, promote, and help out with teen library programs; attend monthly TLC meetings; recommend young adult books, movies, music and video games to library staff; recommend teen collections via displays, book reviews, podcasts and social media posts; and promote the library to their peers in person, on social media, via videos and through outreach.

Adults
Learn more about library groups and events for adults at the library's adult page.
Budgeting 101
Thursday, June 17, 6:30-7:30 pm
"Where did all my money go?" If you find yourself asking that question at the end of every month or in the days before your next paycheck, it's time to get your budget in shape. Don't have a budget? No problem! It's easy to get started. Once you've got the hang of it, your finances should be easier to manage and you'll have a better chance of achieving your short- and long-term goals, including saving money and paying off debt. This presentation will be led by an experienced CPA.
Take and Make Craft
Mondays, June 28, July 26, August 23, library hours, both libraries
Pick up supplies to make a craft. Supplies limited.
Monthly Groups for Adults
Newcomers can register by emailing laurab@wccls.org. Learn more at the library website.
Owl Book Group
Fridays, June 25, July 30, August 27, 10:30 am–12 pm, adults and older teens, via Zoom
Contact laurab@wccls.org to register.
June's book is The Splendid and the Vile by Erik Larson. Visit our website for featured titles. If you already receive emails from the Owl Book Group, you'll receive a link for this meeting a few days before the event. If you're new, welcome! Please email laurab@wccls.org to receive a link for the event a few days before it happens. The group typically meets on the last Friday of each month. Newcomers are always welcome!
Voices in Verse
Saturdays, June 26, July 24, August 28, 10:30 am-12 pm, adults and older teens, via Zoom
Share your own poetry or listen to others read their favorites.
Summer Reading for Adults
Sign up for countywide Summer Reading for Adults between June 1 and August 31 at WCCLS.org/ASRP to be eligible for prize drawings and receive fun, interactive emails with fantastic book suggestions from library staff throughout the summer!
Additionally, we are offering Free Book Friday! We will give away a different bestselling book at both libraries each Friday throughout the month of July. Check our website for details as July approaches!
Second Edition Resale—Sidewalk Sale
Thursdays and Fridays, 9 am-2 pm, closed on rainy days
For the most up-to-date information, check out our Instagram @SecondEditionResale, our Facebook page, or find updates on the library's website. All proceeds from your purchases made at Second Edition Resale support Cedar Mill and Bethany Community Libraries.
Library Book Sale
Our Book Sale has over 2,000 titles at great prices waiting to be yours! 100% of your Book Sale purchases and donations benefit the libraries. Questions about donating? Call 503-644-0043 x 116 to make an appointment. Learn more at the library Book Sale website.