CPO 1 News December 2020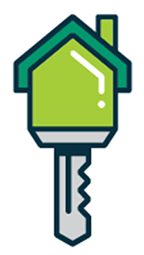 December CPO 1 meeting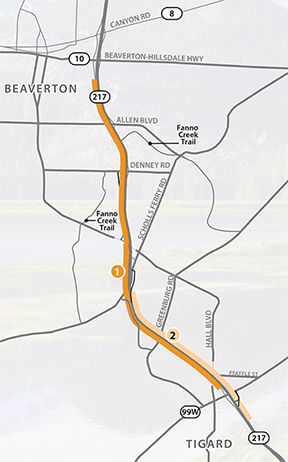 Following the open mic and community briefings, we'll hear from our State Representative Maxine Dexter. She was appointed last spring to serve the remainder of Rep. Greenlick's term after he passed away, and was elected to the position in November. She'll give us a report on her priorities for the 2021 Legislative Session and take a few questions/ comments from the members.
Then we'll learn about the Westside Trail, which will eventually stretch from the Tualatin River to the Willamette! Peter Swinton, Tualatin Hills Park & Recreation District Planner, will give us a brief overview of the Trail—how it was planned, where it goes, and the status of those segments not yet built. Then he'll update us on the feasibility study currently in progress for a pedestrian bridge that will connect the trail across the Sunset Highway.
Finally we'll get an update on the Highway 217 Auxiliary Lanes Project. ODOT has a plan to address long-standing bottlenecks on the highway between Beaverton-Hillsdale Highway and OR 99W caused by too many closely spaced interchanges. Auxiliary lanes are ramp-to-ramp connections that help reduce bottlenecks by giving drivers more space and time to merge safely. This decreases conflicts, improves safety and the flow of traffic, and ultimately allows the existing lanes to work more efficiently. See Road News in this issue for more.
The project is in the final design phase. Visit an online Open House through December 17 for updates at: www.hwy217.org.
CPO1 November Meeting Summary
by Vicky Siah, CMN student intern

To begin the November 10 CPO meeting, we heard a report from Tualatin Valley Fire & Rescue. Their firefighters spent the past few months fighting record blazes amidst the COVID-19 pandemic. While maintaining a high response quality in local areas, TVF&R worked fires at the Chehalem Mountain Peak Area—"one of the worst urban interface fires," TVF&R says—the Clackamas/Mt Hood Forest fire, and fires in California. All TVF&R personnel returned safely.
Brenda Schaffer, Deputy Wood, and Lt. Rawlinson from the Washington County Sheriff's Office (WCSO) remind the public to lock property (especially sheds, garages, and cars) and ensure that valuables are safely stored as we approach winter months. Lt. Rawlinson announced that the Bethany office will be shut to public access due to Governor Kate Brown's COVID-19 order; as always, residents are encouraged to report any suspicious activity by calling the non-emergency number 503-629-0111 or via the Sheriff's Office online reporting system. If callers would like an in-person visit from sheriffs or for their call to be returned, please specify these requests to the operator.
THPRD's Brian Yourstone reports that THPRD is limiting programs to adhere to our Governor's guidance. Some activities will be moved from Cedar Hills Rec. Center to the Athletic Center. Despite these changes, THPRD is continuing with their Out-of-School Time Program. Working parents can register to drop off their children at Cedar Hills and Conestoga centers for supervised schoolwork sessions. BSD Cares funds may be used for tuition, financial aid is available, and more information about the program can be found online. In addition to Out-of-School Time, THPRD is partnering with Sunset High School's Black Student Union to complete the Sunset Park Talking Walls Project. The team is also working with the Native American Youth and Family Center on a second set of murals for Springville Elementary.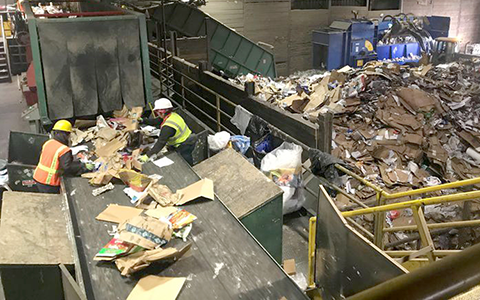 Thomas Egleston, Washington County Solid Waste and Recycling Division Manager, shared a presentation on the future of recycling. Oregon can no longer rely on the global recycling model—China has dramatically reduced recycling intake since 2017—and the Recycling Steering Committee (RSC) aims to confront Oregon's recycling issues. The RSC's proposal reflects a vision of reducing waste and using fewer resources.
In ten steps, the RSC calls for truth-in-labeling (no more chasing arrows on non-recyclable stuff!), a statewide collection list, reduced contamination, and accountability. The RSC seeks to expand the Bottle Bill to remove more glass from recycling pathways. The final point in the proposal is an extension of producer responsibility, mandating that producers join a Producer Responsibility Organization (PRO). The PRO would operate on an eco-modulated fee model, where producers pay based on the environmental impact of their products. Egleston says some major manufacturers are already on board with these concepts.
The DEQ is using the RSC proposal to create a legislative draft before the start of the 2021 legislative session. Their goal is to finish the draft by November 2020, and they are seeking support in Salem from stakeholders. If passed, statewide education will build upon the recycling list.
For a list of recyclables and recycling guidelines, visit www.washingtoncountyrecycles.com.
CPO Chair Virginia Bruce wrapped up the meeting by providing attendees with some development updates, including the proposed Target store that would occupy the former Bales' Thriftway, and an announcement that Insomnia Coffee will be opening in the Milltown Center.
Ordinance 869 was adopted on October 27. It began as a thorough look at the Washington County's protections of natural resource lands, but an LCDC injunction (against the county) was issued limiting the county's ability to approve development applications, so the scope of the ordinance focused on making only the changes necessary to lift the injunction. More work on natural resource protections is expected to take place in coming years.
For any questions related to CPO1 or future topic suggestions, please email cpo1leaders@gmail.com. A simulcast of the meeting can be accessed on the CPO1 Facebook page at facebook.com/CPO1.WaCounty.
Short-term Rentals Online Open House December 4 – January 8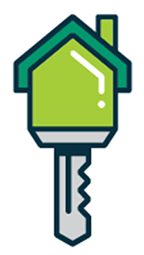 Do you have experience with a bed-and-breakfast in your neighborhood, or have you thought about creating one? Visit an online open house to comment on draft requirements for a proposed short-term rental licensing program in urban unincorporated Washington County.
The Short-term Rental Online Open House describes proposed requirements for a licensing program to minimize large parties, noise, trash and other issues that community members have raised with the Washington County Board of Commissioners. The open house includes a survey with about 20 multiple choice and open-ended questions so the public can provide feedback.
In response to community concerns, Land Use & Transportation Community Planning staff developed Short-term Rentals: Issues and Considerations, which was released for public comment in February 2020. Most comments supported regulating short-term rentals. As a result, the Washington County Board of Commissioners asked staff to draft short-term rental requirements in support of a licensing program.
Staff will use the data and comments submitted through this open house to develop final requirements to address concerns of both community members and short-term rental operators.
Neighborhood Meetings
10-lot subdivision proposed for Thompson Road
AKS Engineering & Forestry, LLC is holding a virtual neighborhood meeting regarding a proposed 10-lot subdivision to be located on NW Thompson Road east of NW Saltzman Road and west of NW 120th Avenue. (The meeting was previously scheduled for December 2, but the sign posted at the site fell down and wasn't visible, so the meeting was rescheduled.)
The property is ±1.31 acres located in the R-9 Zoning District (Washington County Assessor's Map 1N 122C, Tax Lot 5100) and identified on the attached assessor's map. The project involves a 10-lot subdivision to be developed with attached single-family homes.
Go to the project website and follow the link for registration to attend the meeting. Complete the online registration form and you will receive a confirmation email containing a link to join the Zoom webinar at the scheduled time as well as additional instructions.
Please submit any questions in advance to mimid@aks-eng.com. Questions received by 5 pm the evening before the meeting, will be answered in the Q&A portion of the meeting.
For background on this lot and how it affects Thompson Road, see this article.
10-lot subdivision "Lynnridge Estates" proposed for Walker Road near Mayfield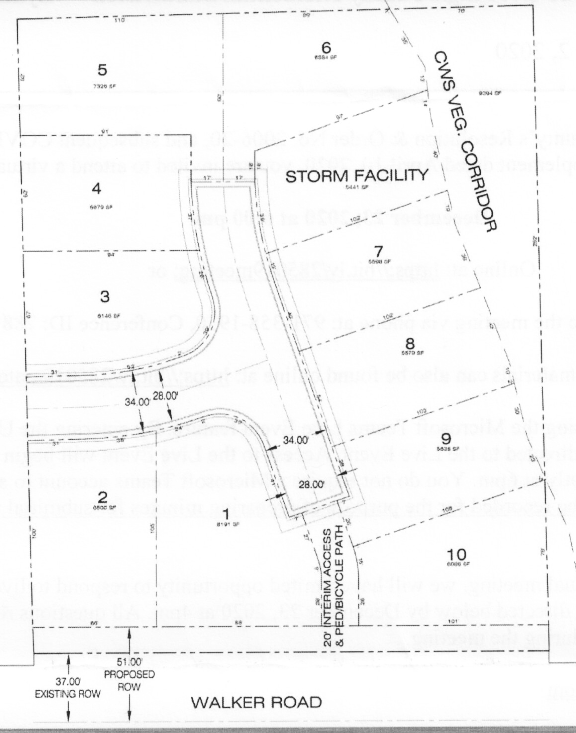 Pioneer Design Group is representing the developer of property known as 11375 and 11475 SW Walker Road. The land is in the county R-5 zone (5 dwellings per acre).
Individual lots will be accessed via a new segment of public street, which will ultimately be extended with development of surrounding lots to minimum density. Until then, access will be via an interim access onto SW Walker, which will become a pedestrian access once the new road is developed.
The proposed lots range in size from 5,579-8,191 sf.
The full meeting notice is available online here.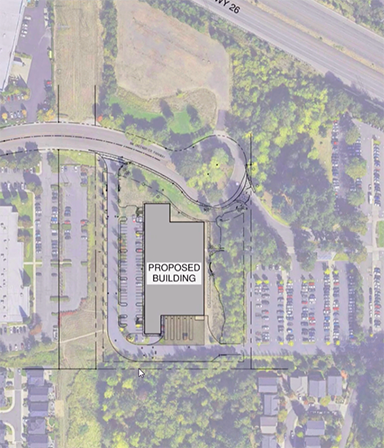 Leupold & Stevens new building
A Neighborhood Meeting was held on November 25 to discuss a new building proposed by Leupold & Stevens. The property for their proposed warehouse is adjacent to Pioneer Park, and is also next to the BPA powerline easement which will become part of the route for the Westside Trail where it's planned to cross Highway 26 (see Park News and the CPO 1 December meeting schedule—it's all related!).
The development representative said that many of the employees of Leupold & Stevens, which makes binoculars and other outdoor equipment, would be very supportive both of maintaining an entrance to the park and having the trail adjacent to the building. He also was supportive of dark-sky-friendly lighting for the parking area. We expect to see the development application in the coming months.
Development applications
An application to convert a garage into living space at 200 SW 95th Avenue was denied by the county. The original house was built in 1960 without a permit. While it is considered an approved non-conforming use, the proposed additions would not conform to the county's existing rules for setbacks from property lines.
A preliminary review is underway for a three-parcel partition and access management plan for a lot at 2200 NW 113th Avenue.