December 2020 Park News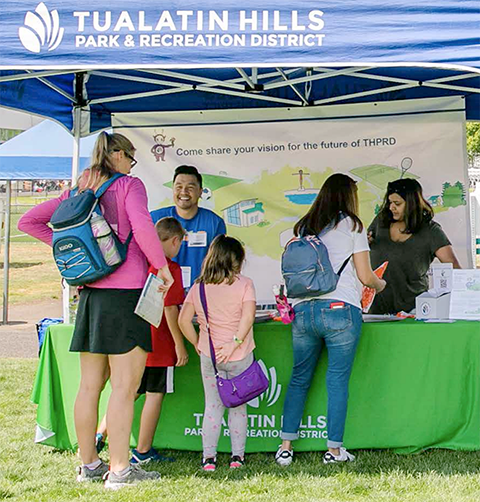 Most THPRD facilities will remain closed
In response to Governor Brown's announcement last week regarding the new matrix for COVID-19 risk assessment within counties, THPRD will continue its closure of facilities to the public, with the exception of registered participants in child care and preschool programs.
To ensure THPRD's compliance with the statewide order, the following facilities will continue to remain closed until Washington County enters a new risk level: Babette Horenstein Tennis Center, Cedar Hills Recreation Center, Conestoga Recreation & Aquatic Center, Tualatin Hills Aquatic Center, Tualatin Hills Nature Center, and Tualatin Hills Athletic Center.
The best source for updated information during the pandemic is our website.
Limited Activities Allowed to Continue
THPRD child care and preschools will remain open. THPRD will follow all state guidelines in place for childcare operators during the pandemic. Families are encouraged to call their centers with any questions.
The temporary homeless shelter at the Elsie Stuhr Center will remain operational. Meals on Wheels will still operate food delivery services, but will not serve meals inside the Elsie Stuhr Center building.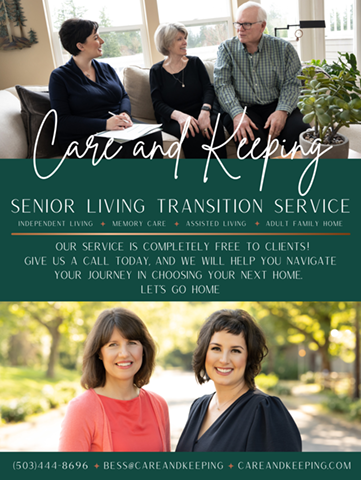 THPRD mobile recreation programs will continue, and will focus primarily on handing out activity kits in conjunction with Beaverton School District free food box distribution sites. THPRD outdoor volunteer opportunities, such as our community garden clean-up events, will continue as scheduled.
Virtual Recreation Opportunities
THPRD's Virtual Rec Center is offering FREE online fitness classes during the closure. Live class information can be located on our website or by emailing Jen Smirl at jsmirl@thprd.org. Through these offerings, community members now have the chance to interact with our talented instructors through Microsoft Teams in live classes such as yoga and tai chi.
Outdoor Spaces Remain OPEN
THPRD parks, dog parks, playgrounds, fields, trails, and natural areas remain open. All visitors must comply with the Governor's order for physical distancing and face coverings. Please be vigilant and wear masks, maintain extra space and physical distancing from others, and move to the edge of the path for passersby.
The best source for updated information during the pandemic is our website.
Westside Trail Bridge
by Vicky Siah and Virginia Bruce
The paved Westside Trail is currently under development by THPRD and, when completed, is set to span 25 miles from the Willamette to the Tualatin River. Upon completion, the Westside Trail will connect many of the Tualatin Valley's parks, include scenic opportunities, and provide the community with new avenues for recreation and travel. THPRD describes the Westside Trail as "an important alternative transport corridor," for bikers and pedestrians.
One element in THPRD's efforts to create a functional and cohesive pathway involves bridging Highway 26 between SW Greenbrier Parkway and NW Cornell Road. This was chosen as the "logical location," allowing for flow within users' travel plans and routes. THPRD intends to complete the Southern portion of the Westside Trail and the Westside Trail bridge simultaneously.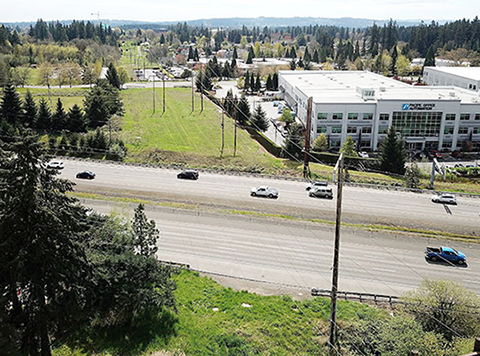 A community meeting was held October 20 to present information and get feedback. The bridge project is in the beginning stages of what is tentatively a five-year project. The current phase of the project seeks to study the practicality of constructing the bridge, including identifying any barriers to bridge development, identifying the bridge size, type and location, establishing a construction budget, and engaging with community members throughout the process.
To gain a better understanding of the impact, THPRD analyzed existing travel behavior in the area by focusing on socioeconomic differences and modes of transport. Using location-based services (LBS) data from a company named StreetLight, THPRD identified the origins and destinations of transport, travel time, and the average daily trips of commuters. They analyzed the data by the time of day and the days of the week; and discovered that people traveling in the area tend to be below the country's average income level. A high fraction of motor trips originated from a distance of under three miles.
So in addition to helping create a long recreational trail, the bridge would enable people to reach work, school, and other destinations by foot or on a bike. Sunset High and the Sunset Swim Center, and the employment on both sides of the highway would be accessible without a car. People in the Waterhouse neighborhood and around Pioneer Park could use it to access industrial jobs along Science Park Drive. Nearby employers, including Columbia Sportswear, Leupold & Stevens, and Pacific Office Automation are situated on both sides of Highway 26.
The area surrounding Highway 26 and the proposed bridge location includes a protected wetland, a Bonneville Power Administration (BPA) powerline, and changes in grades from north to south. Impacts to the stream (a tributary of Willow Creek that flows through a pipe under Highway 26) must be minimized. The highway itself is a major consideration for the project.
Ecological studies have shown that there are no endangered species where construction is planned. The primary flora that inhabit the area are invasive weeds, and despite the tributary that runs to Willow Creek, fish passage is considered to be fully blocked by Highway 26. Archaeological surveys have revealed zero historic artifacts, with archaeologists stating that no further study is required. Having completed the preliminary checks, the current planning stage will continue until September 2021. Allowing for coordination with ODOT, BPA, and the Environmental Protection Agency, and permitting with Washington County and Clean Water Services, development will likely not occur until 2023. THPRD suggests that construction will take place over one construction season (a period of one year).
Guidelines for bridge planning require a 25-foot distance from any vertical elements and a standard ODOT clearance of 17' 4". A column may be placed in the median of Highway 26 for support purposes, dividing the bridge into spans of approximately 125 feet. For the deck, THPRD plans on a usable pathway that is 12 feet wide with 4 feet reserved for a shoulder and protective fencing. The total width of the deck is 16 feet, and multiplying by the length, the total bridge area is calculated as 4000 square feet.
Although THPRD is examining nine bridge types at present, the option of a prefabricated steel truss bridge is especially notable. The potential overall cost of this design is appraised at $1,400,000, excluding additional architectural costs, and the use of this option will accelerate the construction timeline. This bridge is low maintenance, and following set-up, the prefabricated bridge can be painted or covered in weathering steel. However, a prefabricated bridge design is not common over local highways, which remains a drawback.
Community member Kevin O'Donnell added to the Westside Trail bridge dialogue in a comment to THPRD and the Cedar Mill News—he proposes that the bridge be viewed as an art piece in addition to a functional structure, similar to what was done in Portland with the Barbara Walker Crossing over Burnside. This may bring tourism and advertising value to the trail. In addition to bridge aesthetics, O'Donnell raises the possibility of a "win-win solution" between THPRD and the large area employers, and funding from arts organizations.
Through the summer of 2021, THPRD is seeking public involvement for this bridge-building project. More information can be found on the district website, and updates will be added as the project unfolds. A recording of the October 20 virtual meeting is posted on YouTube.
Naming the "park" at Cedar Grove
THPRD is planning to name the splash pad they are developing at the new Cedar Grove housing development at Cornell & Murray "Reflections Plaza." The district aspires to name parks and trails after the people, cultures, and natural features of our region. Names should welcome all people and inspire us. These new names were chosen through an inclusive engagement effort to honor the diverse experiences and identities of our community. Take the survey here by Sunday, December 13 to share your opinion.
THPRD's Visioning Task Force Honored with 2020 Harold M. Haynes Award for Community Involvement
The Visioning Task Force was selected for this honor by the Washington County Committee for Community Involvement (CCI), which noted, "We were particularly impressed with the intentional commitment to building a diverse task force representative of the community it serves, and the fervent dedication of the volunteers involved," Kathy Stallkamp, Chair of the Committee.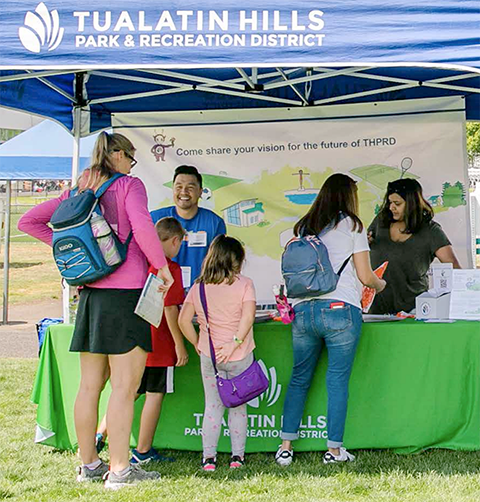 THPRD's Visioning Task Force is made up of 13-community volunteers that collectively attended 117 meetings, speaking with nearly 10,500 people, collecting more than 12,000 ideas for THPRD's future. Their efforts culminated in the THPRD Vision Action Plan, which was adopted by Board of Directors in September.
"On behalf of everyone at THPRD we are so honored that our volunteer task force was recognized for their great work," said Ashley Hartmeier-Prigg, Board President. "The community visioning work will guide the district for years to come and these volunteers have shown the power of grass-roots activism."
THPRD's task force members were representative of our multicultural, multiethnic district. They came from geographically different parts of the district, reflecting diversity in age (from high school students to retirees), ethnicity, race, gender, and languages spoken. This dedicated group also brought their creativity, energy, and collective multilingual skills in seven languages to conduct intentional community outreach.
The Vision Action Plan calls on the district to focus on four community goals: to ensure a Welcoming and Inclusive district, to provide opportunities for Play for Everyone, to be Accessible and Safe, and to Preserve our Natural Spaces. The plan is available on the district's website.