CPO 1 News January 2021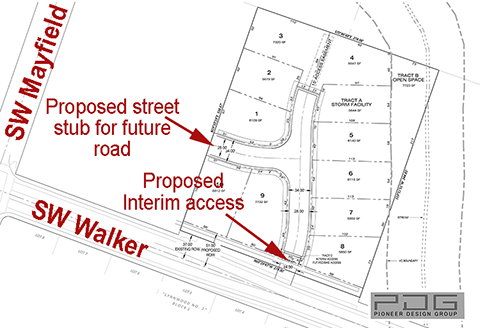 CPO 1 January Meeting
Tuesday, January 12, 7 pm, via zoom
We'll begin with introductions, announcements, and updates from representatives from our Service Districts including BSD, WCSO, THPRD, TVFR as available.
The first presentation will be on the COVID Vaccination Program in Washington County. Marni Kuyl, Director of Washington County Department of Health & Human Services, will visit to give us the latest information on the vaccination program and provide additional information on our COVID response.
Following that, State Senator Elizabeth Steiner-Hayward will provide a report on her priorities for the 2021 Legislative Session and take a few questions/comments from the members.
Then we'll learn about PGE's Project Zero. Kimberly Howard, PGE Program Manager, will provide information about this program that represents PGE's commitment to engaging students in learning about climate science and clean energy, providing green job opportunities for young adults disconnected from work and school, and investing in greenspace development in communities disproportionately feeling the impacts of climate change. We have invited Sunset's Climate Club. All students are encouraged to join the meeting to learn about these opportunities!
Join us on Zoom or watch the simulcast on our Facebook page.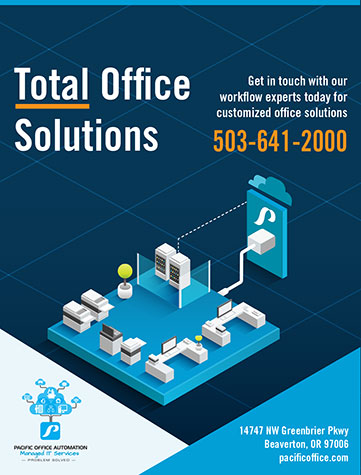 CPO1 December Meeting Summary
by Vicky Siah
Brenda Schaffer, Public Outreach & Education Specialist for the Bethany area of the Washington County Sheriff's Office, told us about a new scam tactic that relates to the "work from home" environment this winter season. Scammers encourage victims to receive parcels and forward them to scam companies for pay. However, the Sheriff's Office has discovered that the contents of these packages are likely products purchased through stolen credit cards. Victims of this scam are tied into criminal activity and may be prosecuted alongside scammers.
Deputy Wood supplements Schaffer's announcements with a reminder to retrieve packages upon arrival. This prevents package theft, especially during the holidays.
Beaverton School District representative Kara Yunck delivered her first news update to CPO1, covering childcare, emergency supplies, boundaries, and school naming. The BSD's childcare offering received a "tremendous response" after the CARES Act funded program became available, and Yunck reports that many applications are still pending. The BSD budget will have run out of CARES funds once all processing is finished. Concurrently, BSD is hosting an emergency supply drive for the HELP center. They ask the Beaverton public to donate items throughout the month of December.
The BSD School Board and Superintendent Don Grotting have moved forward with altering middle school boundaries. Attempting to solve problems (such as overcrowding) at Stoller, the allocation of elementary feeders into middle schools has been changed. The middle school built in the Timberland neighborhood, having served as a "swing school" for schools undergoing renovation or rebuilding, will finally be a new BSD middle school starting in the 2021-2022 school year, and BSD is soliciting name suggestions from the community. Ultimately, the school board decides what the new school name will be, but Yunck states that suggestions may be "prepared into a historic document".
Tualatin Hills Park & Recreation District has closed all facilities in accordance with Governor Kate Brown's guidelines. Brian Yourstone says that THPRD will provide online fitness videos and Microsoft Teams classes for yoga and tai chi in lieu of in-person activities. Cedar Hills and Conestoga centers will continue to be open for out-of-school-hours childcare.
Yourstone also mentioned the "Adopt-a-Family" drive to provide gift cards to needy families. Support is necessary this year, especially during the COVID-19 pandemic and increasing unemployment rates.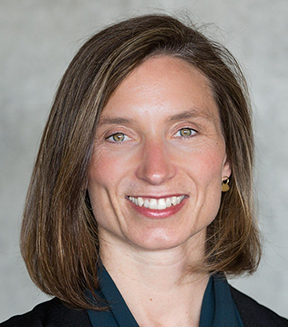 Representative Maxine Dexter won the November election and is serving her freshman term for District 33. She is a pulmonologist at Kaiser Permanente, and as a medical practitioner she emphasizes legislation that improves healthcare and addresses its social determinants. Dexter is presently working on 14 bills ranging from COVID-19 relief to housing, business, and environmental regulations. She lists her priorities as "healthcare, workers, and climate," advocating for a shift to a global budget for state public employees. Throughout her time in the House of Representatives, Dexter is and has been a staunch supporter of environmental services. Her plastics and air quality bills are set to reinforce those beliefs in statewide policies.
More information about Representative Dexter's priorities can be found in her November election article statement. Her legislative web page is here. See her update here.
THPRD planners Peter Swinton and Jeannine Rustad presented the slideshow from their October 20 virtual community meeting outlining the project to create a bridge across Highway 26 that will enable a portion of the Westside Trail to stretch from SW Greenbrier Parkway and NW Cornell Road. As of December, THPRD is seeking funding options for the bridge project and "determining feasibility." They are considering federal funding as a viable avenue in addition to Metro.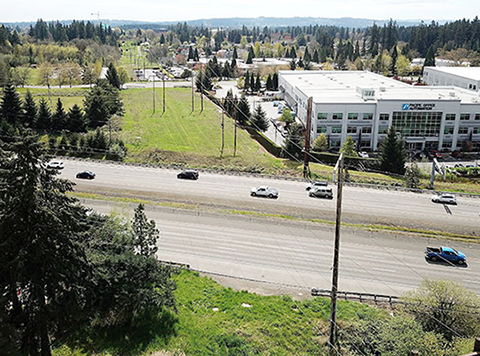 Design for the Westside Trail Bridge should be complete by the summer of 2021. An article on the full presentation is available in the December 2020 issue of the Cedar Mill News.
Lili Boicourt and Kelly Martin concluded the meeting by summarizing the Oregon Department of Transportation Highway 217 Auxiliary Lanes project. Auxiliary lanes can potentially reduce crash rates by reducing merging, leading to a safer highway for Oregonians. All funding is set for this project, which will be in construction for the next four years at a total cost of $134 million.
For pedestrians and bicyclists, many new sidewalks and bike paths are included in the construction plan. ODOT's objective is to fix the inefficiency of the road in five key elements: a southbound auxiliary lane will be added from Beaverton-Hillsdale Highway to OR99W, as well as northbound auxiliary lanes from OR99W to Scholls Ferry Road. The southbound Allen Boulevard and Denney Road off-ramps will be replaced with a frontage road, and Hall Boulevard's overpass will include new non-automobile transportation lanes. Lastly, ODOT plans on placing sound walls to for adjacent neighborhoods.
Altogether, the project extends through multiple building phases from 2021 to 2025, including closures of 217 single lanes and some multiple lanes. Questions regarding OR217 Auxiliary Lanes can be sent to Lili.D.Boicourt@odot.state.or.us or 503-731-8247.
The meeting was recorded and is available on our Facebook page.
Neighborhood Meetings
We have received no notices of upcoming neighborhood meetings for January. We'll update this web page if notices come in after printing.
Proposed 10-lot subdivision "Thompson Crossing"
AKS Engineering & Forestry hosted a meeting on December 17 to inform the community about the proposal by Biggi Investment Partnership to develop approximately 1.3 acres on the south side of Thompson Rd. into 10 single family lots with 10 two-story attached dwellings, similar to townhomes.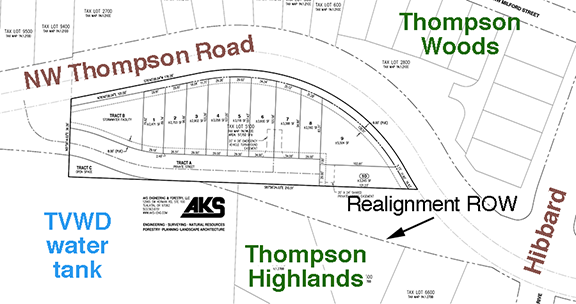 Considerable neighborhood concern about road safety and other issues led to around 50 neighbors showing up for the online meeting. We gave some background in the December issue of Cedar Mill News. AKS answered many of the questions posed by community members, including that they plan to dedicate Right of Way(ROW) to enable Thompson to be a three-lane road with sidewalks and bike lanes adjacent to this development.
A group of neighbors in the adjacent Thompson Highlands created a website to help people stay in touch and collect and share information about Thompson Road safety "in order to better allow neighbors to advocate for good decision-making by Washington County." They are questioning the traffic study conducted by AKS and are considering obtaining legal help. The AKS slide show from the meeting is on their site here.
One of the biggest questions neighbors had was about a plan to eliminate this curve on Thompson that had long been discussed by Washington County, and before that on Metro's transportation plan. (The property is part of the roughly 160-acre Urban Growth Expansion area that was transferred from rural Multnomah County in 2014.) AKS representative Mimi Doukas said that this was a question for Washington County that could be addressed by sending comments once the development application is submitted to the county. We'll update this page if we get notice of the application before the February issue comes out.
Proposed 10-lot subdivision "Lynnridge Estates"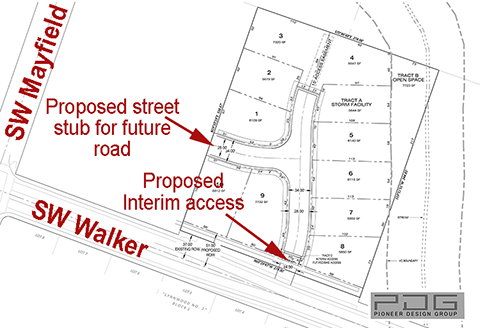 On December 23, 2020, Wayne Hayson of Pioneer Design Group hosted a virtual neighborhood meeting to present a proposal to develop approximately 2.12 acres into a ten-lot single-family subdivision. The property, zoned R-5 (five lots per acre) is on the north side of Walker Road just west of Highway 217.
Proposed access to the lots is via an interim entrance off Walker, pending development of the property to the west that is adjacent to Mayfield Road. That can't be the permanent entrance because Walker is an arterial and has intersection spacing standards. However the county may approve an interim access in situations where no other access is feasible. A stub road would end at the east end of the adjacent property.
Hayson responded to a letter from the neighbor to the west, who says they have no plans to sell in the near future. They are asking if the access to Mayfield could be redesigned to the north of their property. Hayson's response was they may look at that, but it might mean losing one or two lots in the development. Hayson says, "We will continue to talk to and work with neighbors if they have any concerns and try to address them the best we can."