Business News January 2021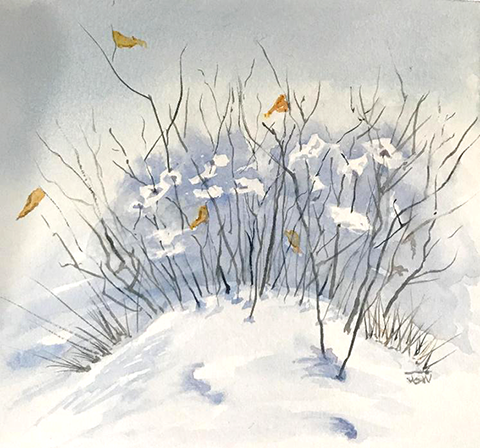 Peninsula Insurance has a new name: Timmco

You may have noticed a new sign on the Peninsula Insurance building across from the old Bales Thriftway. Peninsula Insurance, an insurance agency purchased by Timmco Insurance in 2009, is now using the Timmco Insurance name.
Timmco purchased the business from Cherie Boyce, who with her mother Eula had moved it to Cedar Mill in 1992. Cherie retired in 2009, and sold it to Timmco. John Timm and Andy Rosson were the owners of Timmco (founded by Bill Timm in 1970) and had known the previous owners for some time. It continues to be a family business, with Bob running the Cedar Mill location, while John Timm's daughter Susie and son Brian manage the NE Broadway location.
Timmco Insurance recently updated its logo and used that opportunity to adopt the Timmco brand for both of its Portland offices (NW Cornell and NE Broadway). Their Cornell staff continues to work from home but is hoping for a return to the office soon. The staff remains the same. You can reach Debbie Baxter, Kim Thomas, Kim Hanlon, Steven DaSilva, and Bob Rosson by calling 503-644-5333. They are eager to help with your personal and business insurance needs.
Portland Wine Cellar virtual wine tasting
Can you believe its Browne??
Sunday, January 31, 5 pm, 60-75 minutes, $45, includes three 375 mL (cabernet, chardonnay, and sparkling rose) servings of wine.
Join Erin and special guest, Andrew Browne, to learn about alternate packaging in the wine game! We'll talk production challenges, environmental impacts, flavor impacts, and marketing strife. This Walla Walla winery focuses on the Columbia Valley AVA for their can series. For more information, please visit our website, email wine@portlandwinecellar.com, or call 503-643-5655.
Foot Traffic Winter Youth Running Camp at Terra Linda Park
Tuesdays and Thursdays, January 12-February 18, 3:30-4:30pm, Terra Linda Park, $69, 3rd grade-8th grade. All abilities welcome.
Youth Running Camp is limited to 30 athletes, and we have three coaches to split athletes into groups of ten. We have successfully had over 200 young athletes complete our programs in NE Portland and Terra Linda over the past four months. It's a low-pressure program that focuses on fun and running fundamentals. We practice rain or shine for one hour each session. Masks are required when near other athletes and during arrival. We practice social distancing throughout the program. Foot Traffic has been holding zero to low-cost youth running programs for over 18 years in the Portland Metro area.

All West side program practices start at Terra Linda Park unless otherwise noted. Look for the Foot Traffic tent when arriving. Scholarships and waivers available upon request by emailing sean@foottraffic.us.
For more information, please call 503-284-0345 or visit our website.
Village Gallery of Arts
The Village Gallery of Arts is implementing COVID-19 protective measures. To ensure the safety of all visitors, masks are required (masks and gloves will be available onsite), hand sanitizer will be provided, physical distancing is mandatory, and the number of visitors at any one time is limited. If you wish to touch any gallery items, please follow the desk worker's instructions!
We have new adult classes and workshops! For details, please visit our website.
Jean Anderson: Watercolor Basics
Zoom, two-session class. Thursdays, January 14, 21, 10 am–12 pm, Maximum of seven students per class.
Have you always wanted to learn how to paint with watercolor? This is the class for you! Regardless of drawing skill, I believe anyone can enjoy painting. As soon as you dip a brush in paint and glide it across the paper, I know you will be hooked! Watercolor is a beautiful medium, and at the end of the first class, you will complete a small painting that you will be proud of.
As this is an interactive Zoom class, we will start painting immediately! You will watch me with a camera placed just above my brush while I walk you through the technique, and I will verbally repeat the steps as you practice, allowing you to ask questions as we go along. Throughout the period, students will hold their work up so I can make sure I am being clear. Students have told me it is so much easier to see what I am doing than in a live class! I like to have a good time, and each class is lots of fun.
If you decide to take this class, please contact me at 503-649-9097 (Jean Anderson) so I can talk to you about supplies. I can tell you if what you have will work and if not, what to buy and where to find them. For more information, visit my website—you can see my work, find supply details, and read my history.
Lori McLaughlin: Color Theory Workshop—Mix, Play and Learn
Sunday, January 17, 1-4 pm, 1060 NW Saltzman, maximum of three students per class.
One-session, on-site workshop. Face masks required. Socially-distanced classroom, all materials provided.
Students may bring their own brushes and rags for clean-up. In this class, we will learn about the wonderful theory of color and delve into acrylic color mixing! The class will be introduced to the color wheel and touch on implied texture. It is fun way to understand our ongoing fascination with color! If you have any questions, please call 503-931-4517.
Jean Anderson: How to Paint Snow in Watercolor
Wednesday, January 20, 10 am-12 pm, via Zoom, one-session class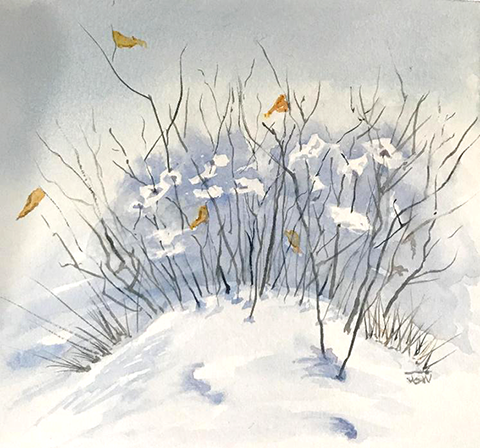 January is the perfect time to paint snow! If you would like to learn how to paint snow that sparkles and looks realistic, please join this class. We will start with a simple scene before moving on to more difficult paintings (possibly including a Mt. Hood study)!
I am flexible about supplies and would prefer that you use what you already have. A detailed list will be provided when you sign up.
Jean Anderson: Line and Wash
Tuesday, January 26, 10 am-12 pm, via Zoom, one-session class, maximum seven students per class.
While painters enjoy using watercolors, it is fun to have a diversion from painting by incorporating permanent pens into your art! It is not important to have impressive drawing or painting skills to do line and wash. We will start with basic images that will amaze your family and friends while making you proud. You will love how much the pen adds to your painting!
I use Micron pens, but if you prefer ink pens, feel free to use them! Supplies are simple: yellow, red and blue watercolor, brushes, a micron pen (or two), and watercolor paper. I am flexible about supplies and would prefer that you use what you already have.
Camille Schectman: Mixed Media Mission Art Course de Camille
Wednesdays, January 27, February 3-24, 10 am-12 pm, via Zoom, five-session class
Class 1: Introduction and reminiscing; joyful moments; future visioning. Planning our piece. Class 2: Gathering materials, editing, and composition. Mastering the technique of collaging. Class 3: Preparing the ground—textures and mediums. Class 4: Encaustic, stencils, and masking off. Class 5: Painting techniques; acrylic and oil paint. Allowing our finished work to guide and inspire us.
This is more than just an art course: it is a deeply personal experiential project. I am honored to have this opportunity to inspire other artists to fully incarnate through their art. We will collect imagery—photos, magazine clippings, fabric, found objects—that are special/symbolic to your most joyful moments as well as something you envision for your future. This will help us envision a goal that illuminates and aligns us on our path. The journey is the experience, and the creation is therapeutic.
This course is for the novice artist as well as the more experienced. See the Village Gallery of Arts website for more details.
Sunset Credit Union to postpone 7th Annual Shred-It Day
Due to COVID-19, Sunset Credit Union's Annual 'Shred-It' day will need to be postponed until later in the year. With their branch closed to in-person transactions, the credit union is following Oregon government protocols and will not be able to receive any materials from the public at this time.
"As much as we enjoy offering this once-a-year, free service to the residents and businesses of Washington County, we've got to follow unique measures for the safety of our staff, " said Sunset CEO Rhonda Baggarley. "Hopefully we'll be able to offer this community service later in the year."
The annual event—now in its seventh year—has become popular with Washington County residents. Last year, the credit union estimates it shredded over one and half tons of old documents. Look for new details of Sunset's Annual Shred-it Day coming soon.
The Sunset Credit Union is open to anyone who lives, works, worships, or attends school in Washington County. To learn more, stop by their office at 1100 NW Murray Blvd, visit their website, or contact them at 503-643-1335.