Election news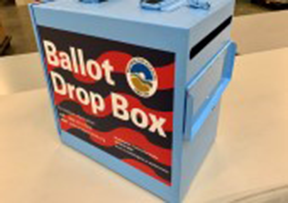 Ballot collection in Washington County
We asked Lisa DuPre, Public Affairs and Communications Coordinator at the Washington County Administration Office, about the county's ballot collection boxes. With loads of news and social media conversation about mail and the safety of our elections, she gave us some good information that will help us deliver our ballots safely and on time.
We'll do a full rundown of the candidates and measures that will be on the November 3 ballot in the October issue, and the October 13 CPO 1 meeting will feature as many races and measures as we can get to the meeting. Make your plans now for how you will accomplish your all-important duty and privilege to vote!
The website says the ballot collection boxes are being refurbished. What does that entail, and when are they scheduled to be reinstalled?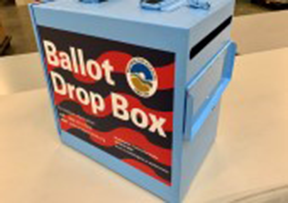 The ballot boxes are being re-painted light blue and they will have a new decal placed on them so all boxes throughout Washington County have the same appearance. The painting portion of the work was to be completed by September 2. We don't have the exact timing for the County Facilities Department to put them back in place, but they all will be fully in place to start accepting ballots in mid-October. Voter registration closes October 13 and the ballots start getting mailed October 14.
Will there be additional secure collection boxes, in light of the libraries being closed?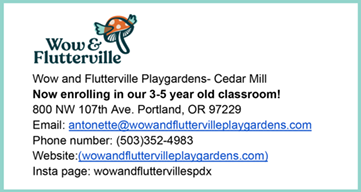 Cedar Mill Library, Beaverton City Library, West Slope Library, and Service Center East will now have 24-hour outdoor drop boxes, and Westside Commons, formerly known as the Washington County Fair Complex, in Hillsboro will be a new site for a 24-hour ballot drop box.
Will there be a collection box in Bethany?
The site of the Bethany Library requires some coordination with property owners with regards to putting a 24-hour access box in the parking lot there. Other storefronts would be impacted, so we will need to discuss potential traffic issues on Election day, and address the challenges that come with that. This will require more time, and we are working on that.
I have also heard that there are changes coming to the WCCLS system after Labor Day, but I don't know what they are. If more libraries are able to open on a limited basis, will they get ballot collection boxes? Have you made any plans for that?
We are having ongoing discussions with the libraries to solidify a cohesive, united message, since all libraries are structured differently. We are diligently working on a plan with libraries.
Some years, there were volunteer crews in the Cedar Mill library parking lot taking ballots on Election Eve. Is that feasible or likely in Bethany?
If our outdoor box proposal does not get approved by property ownership in Bethany, we will probably resort to the temporary pop-up ballot collection approach at this location. The discussion is still very active and ongoing at this time.