Library News September 2020
Look for news about new services and perhaps some openings at Cedar Mill and Bethany libraries after Labor Day, on the library website. We will share what we find out by updating this article online and with postings on the Cedar Mill News Facebook page. In the meantime, here are some of the online offerings.
No more appointments!
Starting September 8, we will no longer be scheduling appointments. You can pick up your holds and return items at your convenience during our curbside hours: Monday, Friday, Saturday: 10 am-1 pm; Tuesday, Wednesday, Thursday: 10 am-6 pm; Closed Sunday.
After you receive a notification that your holds are ready for pickup, please visit us at curbside. We will keep your holds on our shelves for 10 days after they arrive.
Picking up your holds:
Please bring your library card or ID for checkout. If you are picking up holds for other library users, please bring their library card or account number.
Please wear a mask when picking up holds and follow physical distancing guidelines. Staff will be wearing masks for your protection. When you arrive, follow signage to pick up your holds. If you come by vehicle, park first. If all staff are busy, please stand in line 6 feet apart.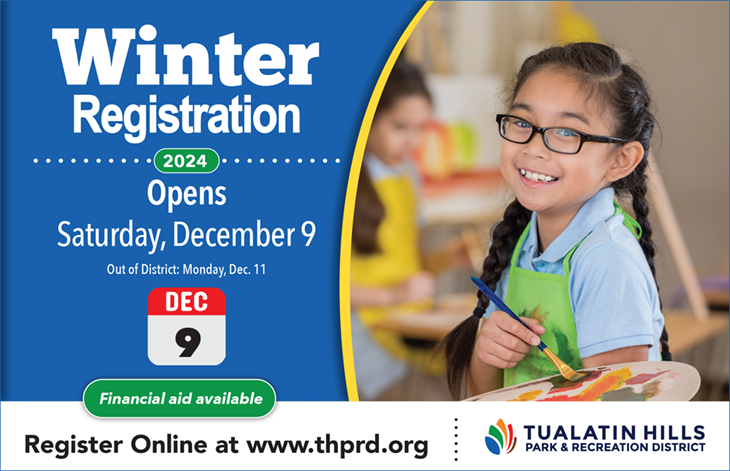 We are accepting returns only during curbside hours. Our book drop remains closed at this time. Returned items will be quarantined for 5 days before check in. No fines will be assessed through September.
If you need accommodations or assistance with outdoor pickup, please contact the libraries.
Conversation About Oregon's Racist History
Wednesday, September 30, 6:30-8 pm, online workshop via Zoom
Oregon is often touted as a liberal, welcoming state, but Oregon has a long history of racism that continues to impact Oregonians today. Join facilitator Tai Harden-Moore for a community conversation that asks, "How does Oregon's racist past impact Oregonians today? How does the state's history with race and racism affect how bias shows up for individuals?" This discussion will also examine how to identify our own racial biases and work toward tangible ways to move forward as individuals and community.
Register to receive an email the day before the event with information about joining the Zoom meeting. For more information, visit the event page here.
Second Edition Resale Sidewalk Sale
Second Edition Resale put the new parking lot to good use and took the shop outside this summer. Sidewalk Sales will continue through fall, weather permitting. Join us for Halloween in September and Holiday themes in October.
Find Sidewalk Sale dates and times on our website. Save your donations of new and like-new clothing, shoes, jewelry and home goods and keep an eye on the website for news about donation acceptance. All proceeds from Second Edition Resale support Cedar Mill and Bethany Community Libraries. Follow @SecondEditionResale on Facebook at facebook.com/SecondEditionResale, and on Instagram at instagram.com/secondeditionresale.
For Kids
Storytime at Home
Monday–Friday, 10:30 am on Facebook
Mondays: Songs and Rhymes for Young Children or Baby Time; Tuesdays: Stories and Rhymes; Friday: Stories and Rhymes
Kids' Book Club
Visit our website to learn about the libraries' new monthly book club for third through fifth graders—with a grown-up—starting in October.
Recorded videos also on YouTube: youtube.com/user/CedarMillLibrary/ and Instagram: instagram.com/cedarmilllibrary/.
Live Interactive Storytime
Thursdays, 10:30 am, online via Zoom
Preschool Storytime with Rebecca or Jenny (registration required). Find details and registration information at Library.Cedarmill.org/Events/Kids/Storytime.
For Teens
Visit library.cedarmill.org/teens/ to find out what's in store for Teens and Tweens this fall at Cedar Mill and Bethany Community Libraries.
For Adults
Three on a Theme Book Talk
Wednesdays, 5 pm, online on Facebook
Join us on Facebook as library assistant Becca brings us three book recommendations that all share a common theme! Past videos are on YouTube.
To see other books on the same theme, visit our Bibliocommons page and start reading!
Voices in Verse
Saturday September 26, 10:30 am-12 pm, online via Zoom
Share your own poetry or listen to others read their favorites. Contact laurab@wccls.org to register.
Writers' Mill
Sunday, September 20, 1-3 pm, online via Zoom
Whether you're writing just for fun, hoping for publication, or planning to self-publish, join us for a hands-on inspiring gathering of people who love to write. Newcomers welcome! Contact laurab@wccls.org to register. Group website: portlandwritersmill.org See the group's anthologies in the library catalog. For more information, contact group facilitator Sheila Deeth at SheilaD@portlandwritersmill.org.
Owl Book Group
Friday, September 25, 10:30 am–12 pm, online via Zoom
Join us virtually this month to discuss Just Mercy by Bryan Stevenson. If you already receive email from the Owl Book Group, you'll receive a link for this meeting a few days before the event. If you're new, welcome! Contact laurab@wccls.org to register. The group typically meets on the last Friday of each month. Newcomers are always welcome! Learn more at Library.CedarMill.org