Business News September 2020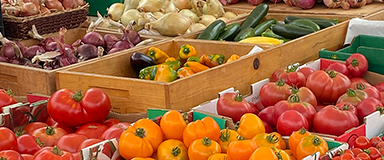 Support our first responders and get a free coffee drink!
Haven Coffee Company and Sunset Credit Union are teaming up to show support to Washington County First Responders. And the great part? YOU get a free cup of coffee too!
Simply stop into the Credit Union and ask for your free coupon, then bring it to Haven Coffee Company, located just down the street at 800 NW Murray Blvd, by Friday, September 11 to receive your free coffee drink (up to $4). We'll then donate a FREE coffee drink to the First Responders at Tualatin Valley Fire & Rescue or Washington County Sheriff's Office in your name.
Help us show how much we appreciate and admire our First Responders…stop by Sunset Credit Union located at 1100 NW Murray Blvd, and ask for your FREE coupon to Haven's Coffee Company. It's a great chance to check out the newly-remodeled coffee shop too!
Village Gallery of Arts
Thursday, Friday, Saturday, 10 am-4 pm, 1060 NW Saltzman.
Due to the addition of new buildings in the Milltowner development, the Gallery has a new address! However, all other contact information remains the same.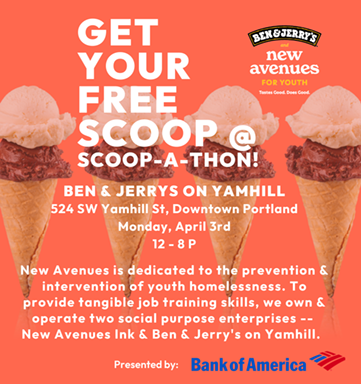 The Village Gallery of Arts has also changed gallery hours and implemented COVID-19 protective measures. To ensure the safety of all visitors, masks are required (masks and gloves will be available onsite), hand sanitizer will be provided, physical distancing is mandatory, and the number of visitors at any one time is limited. If you wish to touch any gallery items, please follow the desk worker's instructions!
If you are unable to visit or take classes, you can check out our virtual tour on our Facebook page. We appreciate the extra effort our patrons must make at this time to enjoy the gallery—thank you so much!
Featured Artist: Emily Mae Stevens. Textile painter, illustrator, designer and free motion specialist, she feels that using fabric in her artwork creates a soft edge and three-dimensional texture! She enjoys illustrating and painting people and nature—her current show displays her textile artwork of birds.
Featured Artisan: Marcia Wingert. As a child, she was fascinated by rocks and was inspired by nature's beauty. She would fill her pockets and the family car with all kinds of rocks, intrigued by the colors, sparkle, textures, and shapes! From designing jewelry to match her friends' prom dresses as a teen, and selling jewelry for various venues and occasions, she now creates the one-of-a-kind jewelry pieces in her show. She is inspired by Oregon's mountains, rivers, ocean, forest, wildlife, and peacefulness.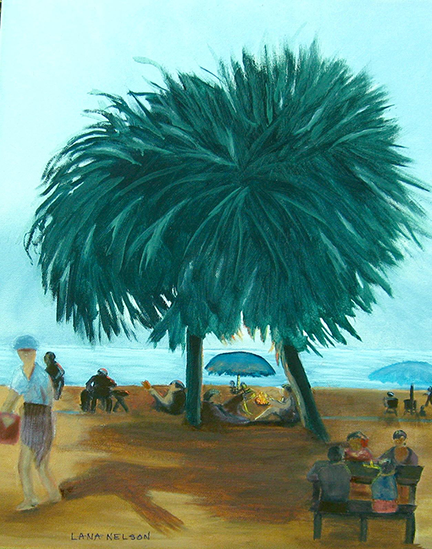 Big, Bold Paintings in the Window:
July 30-September 9: Lana Nelson: "Island Twilight," oil on canvas. Can you hear the drums, guitar and ukulele under the palm trees?
August 27-October 7: Sherry Hanson: Artwork to be announced (watch Facebook, website, Instagram)
Chris Kondrat: Sept. 10 – Oct. 21: Artwork to be announced (watch Facebook, website, Instagram)
Virtual Classes:
Debbie Teeter: Let's Doodle—Turn Your Doodles Into a Drawing
A free video suitable for children and adults! Supplies include a pencil, paper, and your imagination.
Debbie Teeter: Let's Make a Cubist Drawing
This free video contains a short lesson on Cubism, complete with a demonstration of how to create your own Cubist drawing. A downloadable pdf with a supply list and directions can be found here on our website.
Teresa Vaughn: Pinch Pots & Beyond
This free video contains a short lesson on working with clay including a demonstration of how to create your own pinch pot.
In-Person Classes:
The Village Gallery of Art is resuming in-person classes! Sign up with their new online registration at villagegalleryarts.org/.
All classes are limited to hours when the gallery is not also open for visitors, and class size is limited by social distancing guidelines. Masks must be worn by students and instructors while in the gallery.
Debbie Teeter: Basic Drawing
Thursdays, September 3, 10, 17, and 24, 9:30 am-12:30 pm,. $130.
Maximum six students per class, masks are required.This four-week class will provide and strengthen basic skills in drawing, with an emphasis on seeing/drawing from props. Topics will include shape, value, chiarascuro, proportion, composition and perspective. Students will work with various black & white media, such as graphite, charcoal and pen. Visit villagegalleryarts.org/ for the supply list and further details! To contact the instructor, please email debbieteeter@gmail.com.
Elizabeth Higgins: Nature Journaling with Watercolor
Sunday, September 20, 1-3 pm, $65.
Sunday, October 11, 1-3 pm, $65.
This class offers a choice of two dates—with a maximum of six students per class; masks are required. As you journal with pencil, pen, and watercolor, you will notice the beauty and uniqueness of botany for a mindful, grounding experience. Students will be guided through various drawing, painting and journaling techniques as they observe real flowers and plants provided by the instructor. No prior experience is necessary for this fun and relaxing workshop. To contact the instructor or learn more about this workshop, please email e.m.higgins@comcast.net or visit her website at ElizabethMHiggins.com
Debbie Teeter: Printmaking With a Press
Tuesdays, October 6 & 13, 9:30 am-12:30 pm, $90 (with $10 supply fee payable to instructor).
Maximum six students per class, masks are required. In this two-week class, you will make dry-point etchings and collagraph prints without using a press. Although the instructor will supply glue, ink, printmaking paper, and brayers, students must bring some of their own materials. Printing plates will be made during the first session, and they will be used to create prints during the second. Visit the website at villagegalleryarts.org/ for a comprehensive supply list! To contact the instructor, please email debbieteeter@gmail.com.
Cedar Mill Business Association
Tuesday, September 8, noon-1 pm, RSVP to receive Zoom link.
The Cedar Mill Business Association is possibly more relevant than ever with fewer avenues to promote our businesses. Despite having switched to the Zoom online platform, our meetings allow community members to keep in touch and support each other! We invite all businesses: large, small, and solo-preneurs to join us!
Sophie McDuffey from Fieldstone Cornell Landing will be hosting the September meeting. We are pleased to have Daniel Hayes of Real Property Management Solutions discuss "The state of the Portland rental market and why it matters to you". More information about Daniel is on our website: cedarmillbiz.com.
At this month's meeting, we will be presenting the three winners of an Amazing Triple Business Association Package—which includes one membership to the Cedar Mill Business Association (CMBA), one Silver Level Sponsorship on our CMBA website, and one membership to our "partner association", the Oregon Association of Minority Entrepreneurs (OAME).
If you are currently a member, check your email for the link in our e-blast—and if you are not, we would love to have guests! Guests can email melissa@cedarmillbiz.com for our Zoom link.
For more information about the Cedar Mill Business Association, please check our Facebook Page at facebook.com/CedarMillBusiness/ or visit our website at cedarmillbiz.com!
Cornell Farms hosts Harvest for F(all)
Cornell Farm Nursery and Café is excited to announce our upcoming month-long fundraiser and virtual event series for the local nonprofit Friends of Family Farmers! This network of small Oregon family farms works daily to promote and protect socially responsible and sustainable agriculture for Oregonians. Given Cornell Farm's long-time commitment to environmental stewardship, this partnership highlights our support of racial and food justice: a perfect beneficiary fit.
Cornell Farm plans to host its annual scarecrow contest, webinars, and a cafe special during September with proceeds benefiting Friends of Family Farmers. Special informational webinars on sustainable farming, racial and food justice, and harvest-related content will be posted to Cornell Farm's website with links to their social media channels. For a full list of happenings, please visit cornellfarms.com/pages/harvest-for-fall!
Honey Acres launches business quilt trail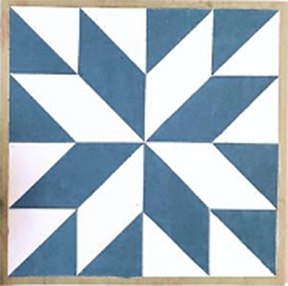 Barn quilts can be found throughout the countryside all around the Tualatin Valley. They are large pieces of artwork painted on wood to be hung on barns, sheds, and outdoor spaces. Honey Acres Designs—a new Cedar Mill business—specializes in creating barn quilts.
Lillian Walton, owner of Honey Acres Designs, writes: "What I'm doing is gifting small local businesses a mini barn quilt to create a local business barn quilt trail. My goal in creating this is to support local businesses around Beaverton and surrounding areas. I am focusing on local businesses because I believe tourism, bringing pops of color through art, supporting small businesses, and safely getting people to be more comfortable in going out is important as we navigate a new normal."
To see Honey Acres Design's work (or if you are interested in being a part of the business barn quilt trail), please visit them at facebook.com/HoneyAcresDesigns/ and check out their Instagram!
Great Notion Beaverton Tap Room
by CMN Staff Writer Jill Freeman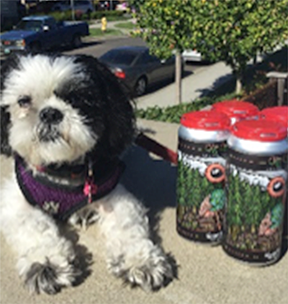 Looking for an afternoon of amazing beer tasting outside? The Great Notion Tap Room in Timberland Town Center has reopened their dog-friendly deck. While indoor seating is not yet an option, enjoy a flight or a pint or grab a four-pack of beer to go—all done with health and safety in mind.
Here are some helpful tips if you plan to go:
Make a reservation. Want to sit on the deck? Before you go, make a reservation on their website www.greatnotion.com as they aren't taking walk-ins during the pandemic.
Touchless and cashless ordering. They have a great system for ordering. Just scan a QR code with your smartphone. This takes you to the menu, where you can also pay with a credit card. A server will bring out your beer.
For beer enthusiasts – Consider adding the "Untappd" app (www.untappd.com) to your smartphone to get updates of new beers on tap at Great Notion and other local breweries, along with keeping track of beers you've enjoyed and how you'd rate them.
Cedar Mill Farmers Market is filled with fall produce
Saturdays, through October 10, 9 am-2 pm, corner of NW Cornell Rd & Murray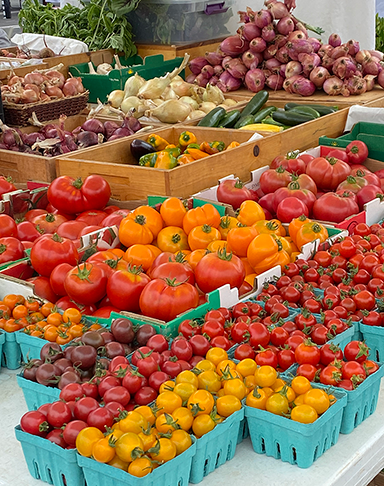 September is a great month at the Cedar Mill Farmers Market! As the seasons change from summer to fall, we have lots of fresh produce and speciality products! To add fun to shopping, we are awarding the thousandth customer each week with a prize (photo in our newsletter, a market bag, a face mask and $10 to shop at the market).
In accordance with state guidelines, we wear masks, sanitize hands and high-touch areas, and maintain social distancing. Thank you for coming out to the market and supporting all of the wonderful vendors, farmers, and small businesses! Especially in the midst of the COVID-19 pandemic, your support means a lot to everyone.
We have three hot food vendors at the market: La Popular (tamales), La Loteria Taco Shop (street tacos, salads, burritos) and Lobos Street Food (chorizo sandwiches/tortas, quesadillas, pambazos). All hot food is for take-out only, so plan to bring some delicious food home for lunch or dinner!
We are so appreciative of The Farmers Market Fund (Double Up Food Bucks program) and Tualatin Soil & Water Conservation District for partnering with the Cedar Mill Farmers Market (and other farmers markets) this market season. Both programs have helped our market assist low-income families and others struggling with food insecurity. If you receive SNAP benefits or know someone who does, our market offers a $10 match when someone uses their EBT card.
For a weekly list of events, please sign up for our newsletter by emailing ourcmfm@gmail.com. See you at the market!
Great Portland resource for your "Staycation!"
by CMN staff writer Jill Freeman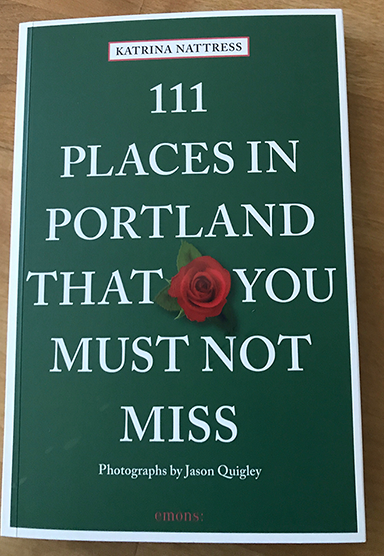 111 Places in Portland That You Must Not Miss, by Katrina Nattress, photography by Jason Quigley
If the pandemic has you focused on staying in the area, Katrina Nattress' "111 Places in Portland" book is a helpful resource, encouraging you be a tourist in your own town. This 200+ page guide to Portland highlights a host of unique spots, alphabetically arranged, and each one beautifully photographed. With a nod to Portland's foodie culture, the author includes tips on places to grab a good meal near many of the locations.
Gravitating to spots I'd not heard of, I enjoyed learning more about a few timely locations to check out. Here is what grabbed my interest:
Outbreak Museum: we have our very own tribute to infectious disease outbreaks located in NE. This one-of-a-kind museum started by a local epidemiologist focuses on tracking causes of outbreaks in Oregon, and houses artifacts related to the outbreaks.
Black PNW Collection: Black culture is celebrated in a NoPo library featuring artwork, films, and historical accounts highlighting the Black experience in the PNW.
Kelly Butte Defense Center: I was surprised to learn Portland is home to a first of its kind underground bunker built during the Cold War as a shelter for government officials. Now sealed, the bunker became a model for others throughout the country and could hold up to 250 people during a nuclear attack.
Whether you are looking for interesting remote learning field trips for your kids, or just curious about Portland's unique places and history, this "111 Places in Portland" will be a handy guide. It's available now at all the regular online booksellers, and at Powells Cedar Hills, which recently reopened.