Community News June 2023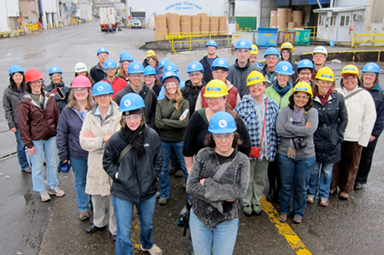 Join us for a flea market at Skyline Grange!
Saturday, June 24, 9-2, 11275 NW Skyline Blvd.
Most vendors are local residents unable to have garage sales on their own properties. See the Skyline Grange website for more details. This will benefit the Capital Improvement Fund.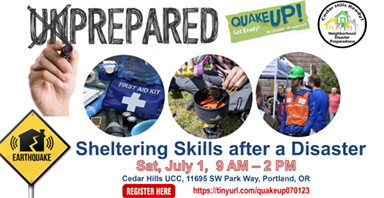 Major disaster prep
Saturday, July 1, 9-2, Cedar Hills church, 11695 SW Park Way, free
Do you know what to do after a disaster where you might be without necessities for a long period of time? Bring your family and friends to learn and practice survival skills at this event hosted by Cedar Hills Ready. You will learn first aid, emergency cooking, earthquake safety, and water purification skills, talking to experts throughout. We will also watch and discuss Oregon's Field Guide's "Unprepared", and you'll have a chance to win some prizes! Register and reserve a spot. Walk-ins are also welcome. Visit the Cedar Hills Ready website or email info.cedarhillsready@gmail.com for questions.
Sunset HS marching band: firework fundraiser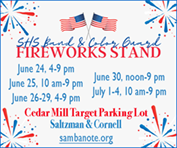 Saturday, June 24-Tuesday, July 4, hours vary, Target parking lot, 12675 NW Cornell Rd
Get your Oregon-legal fireworks while supporting the Sunset High School band at their annual fireworks booth! June 24, June 26-29 from 4-9 pm; June 25, July 1-4 from 10 am-9 pm, June 30 from 12-9 pm.
The Sunset Apollo Marching Band and Auxiliary (SAMBA) Parents Club, is a Non-Profit 501(C)(3) organization that supports all of the comprehensive band and colorguard programs available at Sunset HS. SAMBA does fundraisers throughout the year to pay for travel expenses, entry fees, uniforms, specialized performance instruction, show design, instrument purchase and repair, the purchase of new music and arrangements, and scholarships for students who otherwise would be unable to afford to participate.
Beaverton Community Band concert
Sunday, June 18, 3 pm, Village Church, 330 SW Murray Blvd, $15 (adult), $10 (senior/veteran), $30 (family of 4), free (under 12)
The band will highlight the concert with movie music by Elmer Bernstein, John Williams, Ennio Morricon, Lin-Manuel Miranda, and Chuck Magione. You will be taken on a musical journey through time, from movies of different settings and genres. Tickets are available online or at the door.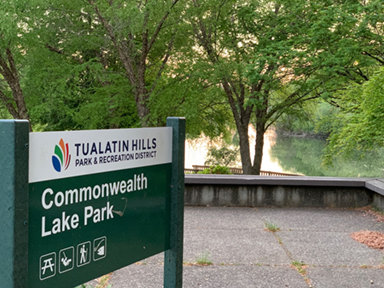 Treekeepers June events
Are you concerned about trees in your neighborhood? Treekeepers of Washington County works to protect and advocate for trees in urban unincorporated areas of our county. Find out more about us at treekeeperswc.org. Join us for these events!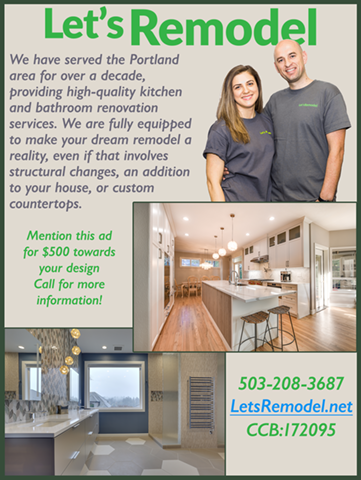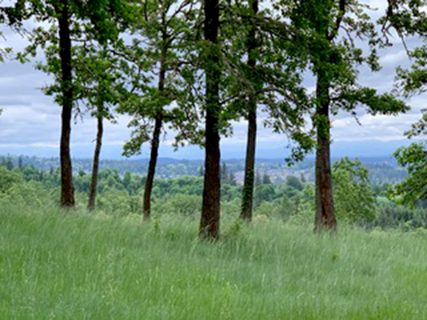 Commonwealth Lake Tree Walk
Thursday, June 15, 7-8 pm, SW Huntington and SW Lanewood, free
Join Treekeepers of Washington County for an evening walk around the lake to enjoy the trees. We will cover basic tree identification skills, focusing on neighborhood trees. Prior, bring a picnic dinner to meet other tree enthusiasts. Register and get details on this sign up form.
Cooper Mountain Nature Walk 
Thursday, July 13, 7-8 pm, 18892 SW Kemmer Rd Beaverton, free
Join us for a walk among the unique trees within the Tualatin Valley. The mile-long walk will be taken at a leisurely pace on a packed light gravel train with moderate incline. Feel free to bring binoculars along if you're interested in birding. Register through this sign up form.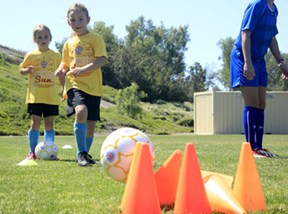 Milltown Soccer Camp
June 26-30, July 17-21, August 7-12, Powerlines Park, 21155 NW Rock Creek Bl.
Looking for summer activities for your young soccer players? Sign up for one of the three camps being offered by our partners at UK Soccer. Fun in the Sun for 4-6 year olds; Skills 'n' Thrills for 7-10 years, Compete with your Feet for 10-14 year olds. Focus on player development. Learn more and register online here. (hint: find this program by searching for Oregon)
Life Is Brewtiful blood drive
Friday, June 9, 11-4:30, Golden Valley Brewery & Restaurant, 1520 NW Bethany Blvd
There is a need for donors to ensure that patients have the blood they need. Visit and donate at the American Red Cross Bus. For more information and to make an appointment, please visit the Red Cross website or call 1-800-RED-Cross.
Boat rentals from Tualatin Riverkeepers
June 3-4, June 17-18, July 1-2, July 15-16, July 29-30, August 11-12, and August 25-26, Rood Bridge Park, 4000 SE Rood Bridge Rd, Hillsboro
Friday-Sunday through September 5, 9 am-6 pm, Cook Park, 17005 SW 92nd Ave, Tigard
Paddling season is upon us and you can reserve your boats now! Gear includes paddle and life jacket (PFD). You can now reserve your boat/launch time on the Tualatin River Keepers website!
Discovery Day is right around the corner!
Saturday, June 24, 8:45-2, Rood Bridge Park, 4000 SE Rood Bridge Rd., cost varies
Join us for refreshments, interactive booths, and to get out on the water! Boats will launch at 15-minute intervals and participants will paddle downriver to Metro's Farmington Paddle Launch. Bathrooms, refreshments, and representatives from our sponsoring organizations will be there to greet you at the takeout and the Riverkeepers will provide a complimentary shuttle back to the parking site (Rood Bridge Park). This self-guided five-mile paddle hosted by Tualatin Riverkeepers includes a guidebook highlighting wildlife and history specific to this section of the river.
This paddle trip is designed for first-time paddlers, families with children, experienced paddlers—everyone is welcome. Participants can rent a canoe, single or double kayak (including life jackets and paddles) or may bring their own for no cost.
Discovery Day sells out every year so reserve your launch time through the sign up form today!
Event volunteers are needed for a variety of volunteer roles. Register to be a volunteer!
Master Recycler registration open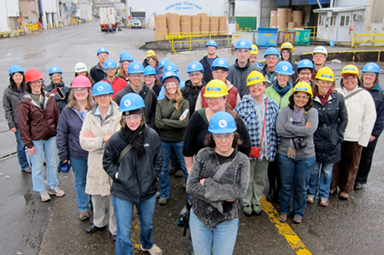 We are community members who are repairing, reusing, sharing, borrowing, using toxics-free products, saving food, recycling, and composting. We advocate that the State of Oregon, Metro, and local jurisdictions find safe and just ways to protect our climate, reduce consumption, and conserve our natural resources. Master Recyclers help neighbors, friends, family and co-workers take action by giving them information and connecting them to resources.
Learn from the experts. Become a resource in your community. Make a Difference. ¡Los voluntarios bilingües son bienvenidos! Take a seven-week training on the latest information on repair, reuse, compost, toxics, equity, Climate—and of course recycling. Then, volunteer 30 hours to inspire action in your community.
Seven Wednesday evenings in September and October plus two Saturdays. Learn more and apply here!
Special Recycle+ collection in June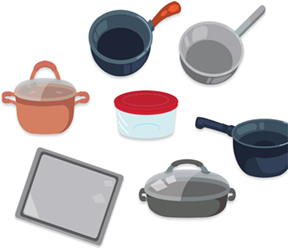 The Recycle+ service includes special collections of specific items or materials for recycling or donation a few times each year. If you are participating in Washington County's Recycle+ program, the special collection category in June 2023 is pots and pans. From June 1-30, customers may donate gently used pots and pans on their Recycle+ pickup day.
Washington County and the garbage and recycling companies are partnering with Community Warehouse on this special reuse collection. Community Warehouse is a local nonprofit furniture bank that helps people in need create safe and comfortable homes.
Donations must be in "ready-to-use" condition because community members will be using these items. Learn more here and contact us with questions about the types of items accepted.
Bethany Village Last Day of School celebration
Wednesday, June 21, 2-5 pm, Bethany Village Center
We organize this free event each year to give kids in the area a fun and safe place to celebrate their last day of school, and kick off the summer! Bring the kids to the Village to enjoy music, a dance party with a DJ, play video games with friends on the GameTruck Portland, participate in fun activities from Bethany Athletic Club, cool off in the Bethany Village Fountain, and much more! Learn more here.
Ask WCSO
With higher temperatures moving into the summer season, what are some ways to stay safe when swimming in open water? Consider the following information to keep yourself and your loved ones safe while trying to stay cool.
Wear a life jacket. Everybody should wear a life jacket when in, on, or around water.
Never swim alone. Go with someone who is looking out for you and who you are looking out for in turn.
When in doubt, get out. Whether the current is getting rough, or your body isn't responding like you would like due to fatigue or muscle cramps.
Swim in designated swimming areas. Most state parks, beaches, and lakefronts have places or designated times when swimming is allowed and use flags to indicate borders. This helps protect swimmers from boats or other hazards.
Don't use alcohol or drugs. This affects your perception, making you more likely to take unnecessary risks. It also impairs balance and coordination, which are essential to swimming.
Learn CPR. Knowing this life saving skill could help you respond to assist others when an emergency occurs.
Swimming in natural water is different from swimming in a pool. Cold water, drop-offs, entrapment, other swimmers, boats, and fishing lines can be hazardous. The existing environment can also change daily, and "familiar" swim areas can have new hazards that were not there before.
Make water safety a priority to ensure that you make positive summer memories. Learn more about water safety here.
New art exhibition and featured events to celebrate pride
The Patricia Reser Center for the Arts, 12625 SW Crescent St, free
The Reser is hosting a new art exhibition called Friends of Dorothy between May 17-July 22, bringing together uniquely individual queer artists.
A panel discussion with culturally diverse Drag queens is on Wednesday, June 14, and a culminating artist talk is on Saturday, June 24.
Then, please join us on Wednesday, June 28 for our featured event: Friends of Dorothy Queer Cabaret Variety Show in our mainstage theater. This event will be sure to delight everyone! This event is ticketed, for all ages. Don't wait–tickets will go fast. We encourage all to dress as their authentic selves and join in the festivities.
These events center on the many layers of diversity present in the LGBTQIA+ community. For many, the term 'queer' has transformed from historically negative narratives to a declaration and celebration. Bringing together regional artists alongside talented Drag Queens, the art and performance demonstrate beauty, individuality, and freedom.
Visual artists Molly Alloy, Hungry Cat, Maia Denzler, Michael Espinoza, Ryan Geary, Willie Little, Lee Niemi, Justin Phillips, Garrett Recker, Donavon Sinclair, Pace Taylor, and Maya Vivas will feature paintings, drawings, sculpture, photography, film and more.
The Art Gallery at The Reser is free and open to the public during regular visiting hours. The Patricia Reser Center for the Arts is conveniently located off the MAX Blue Line (Beaverton Central) at 12625 SW Crescent St. and is situated adjacent to The Round and Beaverton Central Parking Garage. For more information, please call 971-501-7762, visit our website or send an email to gallery@thereser.org.
Viva Village June events
Viva Village is a Beaverton-area grassroots organization of members and volunteers who focus on enhancing and expanding the ways we can age well. We provide connections, programs, volunteer services, and referrals so members can lead engaged, healthy lives. Please RSVP for all events by contacting vivavillageevents@gmail.com or 503-746-5082. Links for zoom meetings will be sent to those who RSVP. Members-only events are listed on our website and in the web version of Cedar Mill News. For more information visit the Viva Village website.
Viva Village events open to the public:
Age Café
Friday, June 2, 11 am-12 pm, Beaverton City Library, 12375 SW 5th St
Small group conversations exploring topics of interest to older adults. A new topic each month. Stay and mingle afterward. Co-sponsored by Viva Village, Beaverton City Library, Washington County DAVS, and Beaverton Committee on Aging (BCOA).
Registration optional.
Women's Coffee (In-person)
Wednesdays, June 7-28, 10 am, Jim & Patty's Coffee, 4130 SW 117th
Coffee and conversation. RSVP recommended.
2023 Beaverton Volunteer Fair (public event)
Saturday, June 10, 10-1, City Library, 12375 SW 5th St
Please stop by our Viva Village table to say hello to our volunteers, then take advantage of the opportunity to get acquainted with other local nonprofit organizations. No registration necessary.
Online Viva Village 101
Saturday, June 17 (third Saturday this month only), 10-11:30 am, Zoom
A fun and informational session about Village life for prospective members and/or volunteers. RSVP for the Zoom link.
Viva Village Forum
Monday, June 19, 2-3:30 pm, United Methodist Church (Wesley Room), 12555 SW 4th St
Topic: Beaverton School District: HomePlate Youth Services. Learn about Washington County's only nonprofit provider of drop-in centers and street outreach for young people ages 12-24 experiencing houselessness. Refreshments served. No charge. RSVP recommended.
Online Viva Village Book Club
Tuesday, June 20, 1-2:30 pm
Selected book: A World of Curiosities by Louise Penny. RSVP for the Zoom link.
Men's Coffee Break
Monday, June 26, 10-11:30 am, Ki Coffee, 4655 SW Griffith Dr. #160
Conversation and coffee. RSVP recommended.
Viva Village events for members and volunteers:
Online Tai Chi Classes
Thursdays, June 1-29, 10-11 am
Practice Tai Chi technique with certified instructor, Richard Chew. RSVP for Zoom link.
Patio Picnics
Fridays, June 2, 16, 12:30-2 pm
Conversation and lunch on a deck or patio. Bring your own lunch. You will be notified of the location and host a day or two before the picnic. RSVP required by the Wednesday before the picnic. Login to register on the website or contact the Viva Village office.
Viva Village Nature Walk
Saturday, June 3, 9:30 am, Commonwealth Lake Park, corner of SW Foothill Drive and SW Dellwood Avenue
RSVP recommended.
Online Mindfulness Classes
Mondays, June 5 (last of Series 3), June 19, 27 and July 3, 10, 17, 24, 11-11:45 am (Series 4), Zoom
Befriend Your Inner Critic. Befriending your inner critic can help you live more mindfully. In this 4th series Martha McJacobs will focus on The Power of Love. RSVP for the Zoom link.
Online Women's Coffee
Tuesdays, June 6-27, 10 am, Zoom
Join members and volunteers for a morning of coffee and conversation. RSVP for Zoom link.
Life Stories
Tuesday, June 13, 2 pm, Southminster Presbyterian Church, 12250 SW Denney Rd
Viva Villager Jeanne Cory will talk about her career as an art therapist. RSVP recommended.
Dine Around Beaverton and Beyond
Wednesday, June 14, 1 pm, Chart House, 5700 SW Terwilliger Boulevard
Join members and volunteers for lunch and conversation. Participants must be vaccinated. Let the office know if you would like to carpool. RSVP required by 1 pm on Tuesday 6/13/23. Space limited to 15 people. *Please notify the office if you need to cancel.
Online Living Solo
Thursday, June 15, 4-5:30 pm
Share ideas and insights about solo living. RSVP for the Zoom link.
Living Solo (In-Person)
Wednesday, June 21, 12-1:30 pm, Beaverton City Library, Cathy Stanton Room, 12375 SW 5th St
Meet in person to share experiences, tips, and strategies for living on your own. Bring your lunch. RSVP recommended.
Thursday Evening Social Group
Thursday, June 22, 5:30-7:30 pm, Café Murrayhill, 14500 SW Murray Scholls Drive
Enjoy an evening of dinner and conversation with Viva Village friends. RSVP required. Seating limited to 15. Please notify the office if you need to cancel.
Fun with Games
Friday, June 23, 1 pm, Viva Village Office, 4905 SW Griffith Drive, #104
A fun afternoon playing games together. RSVP required. Limited 12 game players. Register on the website or contact the office. Please notify the office if you need to cancel.