Business News December 2021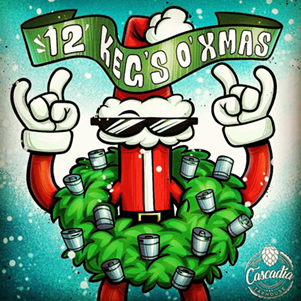 12 Kegs of Christmas is BACK at Cascadia Taphouse
December 8-19, Cascadia Taphouse, 13619 NW Cornell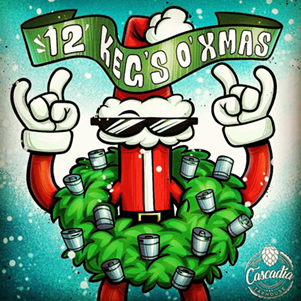 We'll release four seasonal stouts, porters, and winter warmer style beers every four days for your enjoyment. Collect all 12 beers to be entered into the Super Ultimate Grand Cascadia Taphouse 12 Kegs of Christmas Sweepstakes!
You might win CTH branded 64-ounce GrowlerWerks uKeg and fill up; One-off CTH 12 Keg of Christmas Shirt; and your choice of CTH merch. Additional winners will be selected to receive 12 Kegs of Christmas shirt, Free Flight at Threshold Brewing and Blending, CTH merch, growler fill ups, and brewery merch.
Here's the rub…. each beer will only be on tap for four days. Miss a beer and miss your shot at the Cascadia Taphouse.12.K.C Sweepstakes. Make every day count. Entry and Collection is simple: 1) Pick up a 12 Kegs of Christmas stamp book (to be stored at CTH) for $1; 2) Purchase at least five ounces from the Christmas keg; 3) Untappd Check In Each Craft at Cascadia Taphouse.
And don't forget to join us on the third Wednesday of every month to support our local "Planties" Rooted Heart pop up sales event.
Visit us on Facebook for more information and updates.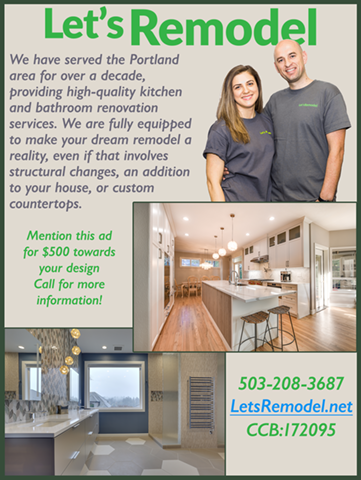 Canine influenza outbreak in southern California
Bethany Family Pet Clinic let its customers know that an outbreak of H3N2 canine influenza virus (CIV) has been diagnosed in dogs in southern California. CIV is a highly contagious respiratory infection that is transmitted through a cough or sneeze, physical contact, or contact with a contaminated item like a chew toy.
Symptoms include: coughing, loss of appetite, fever, sneezing, or discharge from the eyes or nose. Dogs are at an increased risk if they are in close contact with potentially infected dogs in kennels, groomers, and day care facilities.
A two-dose vaccine is available, and Bethany Family Pet Clinic vaccinates for two strains of CIV. Call your veterinarian if your dog develops a cough. Contact us for appointments at 503-614-9061.
Village Gallery of Arts
Holiday Show: Expanded Hours!
Through December 24, Wednesdays-Saturdays, 10 am-4 pm, Sundays noon-3pm, 16157 NW Cornell Rd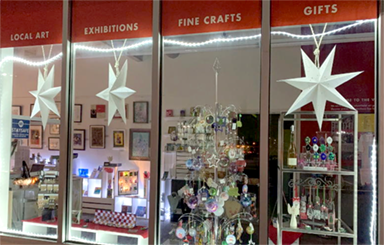 Look for our ad in this Cedar Mill News!
This show offers a wonderful variety of fine art, crafts, jewelry, cards, gifts, ornaments and more, all by local artists. Many affordable options throughout the gallery for holiday gifts. If you simply can't decide which work of art to give that special someone, give a Gift Certificate, and let them choose!
Holiday Show Reception:
Sunday, December 12, 1-3pm.
Come meet artists, browse the new show, shop for the holidays, or just enjoy the festive ambiance. Masks required.
Winter Show
Our members also have art on display in the community November through December at Bethany Frame Central—come take a look! Stay tuned for more VGA artists showing at other community venues in 2022.
Classes and Workshops:
Online registration for all classes. Please see the Village Gallery of Arts website for details and more class information. In-person classes are held at 1060 NW Saltzman, and masks are required for all in-person classes.
Emily Stevens: Painting on Fabric/Making Gifts for the Holidays
Tuesday, December 7, 10 am-3 pm. Maximum of eight students per class. In-person, one-session class.
Explore painting on fabric that may be used for clothing, greeting cards, tote bags, aprons, tee shirts, or wall hangings. Learn the basic techniques using fabric paints and media. Go home with painted textile art samples that may be used for gift giving or other uses. All supplies will be provided by the instructor; bring designs or images you want to paint and clothing or fabric you want to paint on.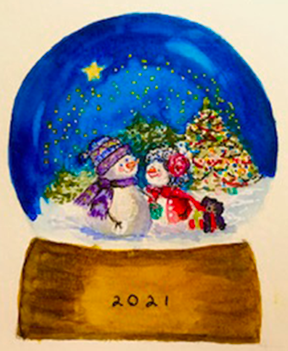 Jean Anderson: Watercolor Snow Globes
Wednesday, December 15, 10am-noon. Maximum of eight students per class, via Zoom.
This makes for one last quick Christmas gift or just an opportunity to play with your brushes. We will do a snowman like the ones shown, learn how to make an object appear round, and a little bit of composition. I will provide different subjects and ideas to use for your own snow globes. This class is always a favorite with students. I teach techniques that allow you to paint more than just one painting. If you have some basic knowledge of watercolor technique, you should be able to follow and produce a masterpiece.
I use two cameras, giving students a good view of my painting area—another camera allows me to periodically check on what you are doing, ensuring that everyone is understanding my instruction. See the Village Gallery of Arts website for supply details.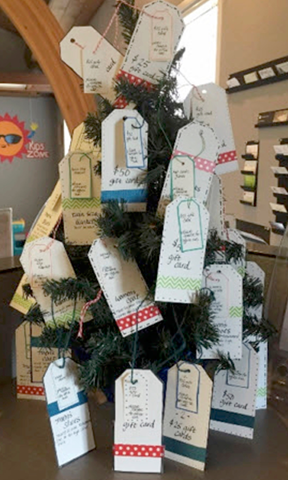 Help make the holidays better for those in need
Sunset Credit Union is teaming up with Family Promise of Beaverton to help brighten the holiday season and support those less fortunate. We've found that gift cards from Target, Fred Meyer, or Visa Gift cards are best.
If you'd like to help Sunset Credit Union support Family Promise of Washington County, you can drop off your gift card donation any time before December 17 to Sunset Credit Union located at 1100 NW Murray Blvd #100 (across from the Safeway Shopping Center). If you have any questions, please contact 503-643-1335.
Aging well
December 6-10, noon-1 pm, free, online
Leisure Care (The Ackerly in Cedar Mill) joins RevelEleven for The Aging Well Series, a week-long series of events on aging. Join us to learn how to age into the later years with grace, health, and the support you need. Our speakers will provide information and tips to move into the next chapter of your life with gusto.
12/6: Aging Parents: What You Need to Know
12/7: Living Well: Mind, Body, Spirit
12/8: Audacious Living at All Ages
12/9: Financial Wisdom: Understanding the Importance of Financial and Estate Planning
12/10: Growing Your Career in Senior Living
Do you want to become an Energy Healer?
Starting in December, locally owned Arise, a counseling, energetics. and healing arts training business, is offering small, self-paced classes on Zoom in a personalized format. Reiki certifications as hands-on and distance healing is included. For more information, visit the Arise website, email Lorelynn Cardo (owner and trainer) at Lorelynn@AriseGuide.com, or text 503-810-8855.