Garden News December 2021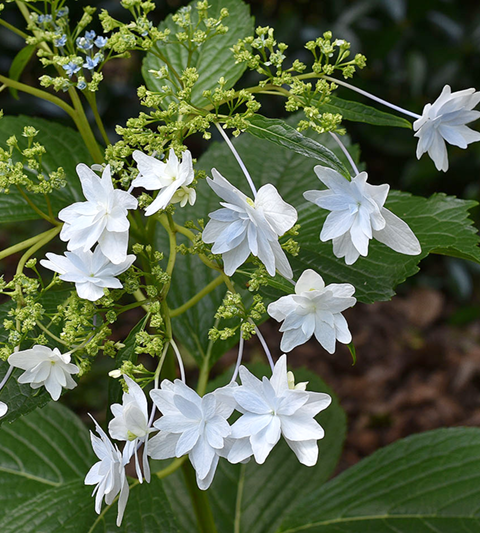 Delightful winter color in my garden
by Margie Lachman
Walking around my garden on a sunny day this week I wanted to assess damage from our very hot dry summer this year. There is surprisingly little evidence of the extremely high temperatures we endured at the height of summer.
The hardy fuchsias are in full bloom now to the joy of the resident Anna's hummingbirds. The heat delayed bloom on them but now in late November they are enjoying the cool days and blossoming in full glory. The Camellia sasanquas are flowering one by one, more favorites of the hummers. These are disease resistant and need only to be pruned after blooming for about two months. Only a very few leaves on camellia 'Cleopatra' show sunburn.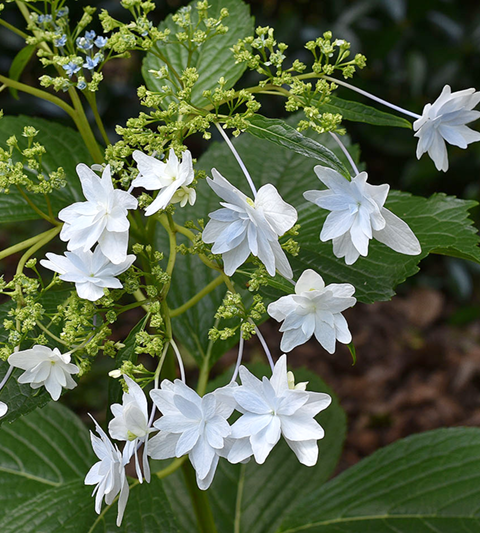 On the North side a Hydrangea macrophylla, "Fuji Waterfall", is now finally blooming! The center has tiny flowers of pale blue surrounded by large white blossoms that have long flexible stems that allow them to flow downward. Lovely and quite late this year because of, I think, the intense heat in summer.
Choysia ternata 'Sundance' is a delight all year with leathery evergreen leaves and bright yellow new growth. It blooms twice for me with fragrant star-shaped white flowers in late spring and again in autumn. Its common name is Mexican orange blossom which gives you an idea of its delightful perfume. The choysia in the front garden is covered with blossoms. In the back garden another choysia has fewer flowers but its lovely bright yellow foliage shines like a beacon from across the garden. On cloudy gray winter days it is a cheerful sight. This trouble-free shrub seems unfazed by heat in summer, or by snow and ice in winter. It is not bothered by pruning to shape it. Also, mine have not been bothered by insects.
Another star is the shrub Mahonia x media which is loaded with spikes of yellow flower clusters that will open in week or two much to the delight of hummingbirds! This year's bloom will be spectacular with two or three times the usual number of flower clusters that remind me of lilacs. Hummers will feed on the nectar, pollinating them. Our resident hummers are already checking the not yet open buds for a meal! Blue fruits will appear in early spring to feed other birds.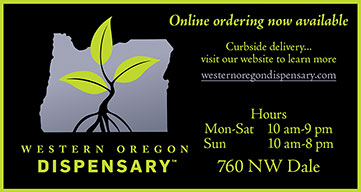 Happily, the intense sun and very hot temperatures did little damage to the plants in my garden, the majority of which are in full sun. The one exception was sunburn on the Hosta leaves. If you are adding plants that require shade or part shade, I would caution you to choose your site carefully, providing some shade in the afternoon. As our summers became increasingly warmer, we must plan for the changes by selecting plants that do well in hot sun.
Questions? Email me at margierose2@gmail.com.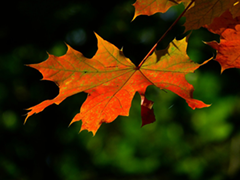 The Real Dirt
The Metro Area OSU Master Gardener program publishes a terrific newsletter with advice, class information, and more.
Stories in the current issue include: 10 trees for fiery fall color; Give plants a head start by planting in fall; and videos on cover crops and planting garlic.
Washington County Master Gardener program
Food Preservation Training Opportunities

Interested in safely preserving food for you and your family? Think about gifting yourself or a loved one with an online, hybrid course: Preserve @ Home. This national award-winning online food safety and preservation course teaches how to preserve a variety of food products.
Class runs six weeks beginning January 20, 2022. Learn more and register here. Registration closes January 14, 2022.
Getting Started in Urban Agriculture
This free online introduction course teaches what "urban agriculture" is, along with essential definitions and concepts needed to help you start this exciting journey! This six-hour, on-demand course includes access to the materials for one year after registration. Register online, here.
Join the WCMG mailing list to get bi-monthly news and information.
My Adventures with Strawberry Genetic Resources
This Washington County Master Gardener Association (WCMGA) meeting covers how gene bank repositories preserve genetic diversity of thousands of traditional crop varieties and their wild species. Presented by Kim Hummer, PhD, Research Horticulturist, USDA National Germplasm Repository in Corvallis.
Dr. Hummer is studying the taxonomy, horticultural identity, and diversity of berry crops. She manages a genebank containing more than 13,000 plant and seed accessions. Her curatorial assignment includes the conservation of fruit, nut, and specialty crop genetic resources. Her present research involves the study of cytology and genetics. Dr. Hummer has named a new strawberry species, released four plant cultivars and an advanced germplasm selection. This webinar is free. For more information and to register, please go to our website.