Business News December 2022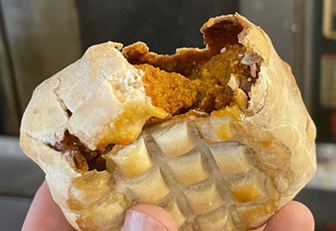 77 Fitness opens December 6
The beautiful new adult fitness facility in the Milltowner Center is finally opening! They still have a few things to finish, but they are offering members three group classes per week and will grow from there. Learn more from our November feature article and get details on membership and more at the Sunset Athletic Club website.
Sunset Credit Union teams up with Family Promise of Washington County
Now-December 16, Sunset Credit Union, 1100 NE Murray Blvd
Help make the holidays better for those in need. One simple donation can make all the difference. 2020 has been quite the year. For some people living in Washington County, it's been even tougher, which is why Sunset Credit Union is teaming up with Family Promise of Washington County to try and brighten the holiday season and support those less fortunate.
If you'd like to help Sunset Credit Union support Family Promise for residents of Washington County, you can drop off your gift card donation anytime in the Night Drop drawer, just to the left of the entry vestibule. You can also make cash donations directly to Family Promise by visiting their website.
Sunset Credit Union is open to anyone who lives, works, worships, or attends school in Washington County. To learn more, visit the website at sspfcu.com, or contact them at 503-643-1335.
ASL Classes
I offer live American Sign Language (ASL) classes tailored for businesses, families, and individuals. Learn more and sign up on the website.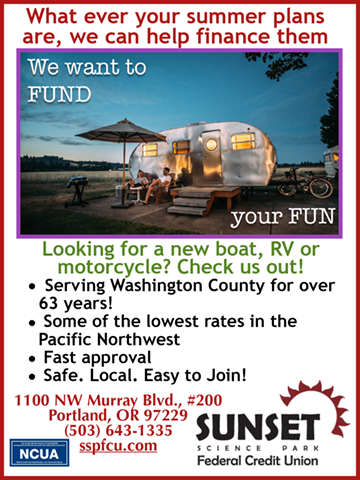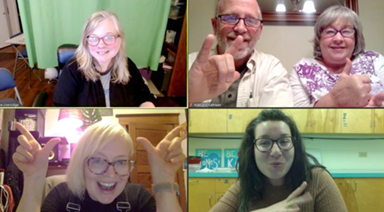 The ASL curriculum will focus first on ameliorating mistakes I've seen from having taught a multitude of ASL students—namely related to facial expressions. The rest of the curriculum will have a multitude of ASL and Deaf Culture topics, including myths about deafness and the Deaf community, proper use of pronouns, introductory dialogues in ASL, emotions, noun-verb pairs, negatives, classifiers, describing people, directional signs, English-ASL translation and many more.
Want to learn ASL? Contact me about tutoring and classes. Anne G. Liversidge, agliversidge1@comcast.net. Also, check my website signclass.org.

DuFresne's 19th annual Free Brakes
Bring a grocery bag of food to DuFresne's Auto Service and you will get a Free Brake Inspection. If you need pads and/or shoes you will get them for free. You just pay the labor.
Mild Recession Forecasted for 2023
By Jan Dempsey, Windermere Realty Group
A mild recession appears more likely than not in later 2023. With inflation remaining well above the Federal Reserve's target, expectations are that interest rates will need to be higher and held there longer than previously thought.
There are three reasons why a milder recession is to be expected. First, business, financial markets, and households all indicate that they expect today's high inflation to slow in the years ahead. Second, it has been difficult to find workers for the past handful of years. Firms do not want to let go of workers, and likely will hold onto workers even as sales slow in the years ahead (Labor Hoarding). Third is the strong financial position households are in. Consumer spending is expected to hold up well in the pending recession in large due to the higher level of household savings.
There Is No Housing Bubble: there will be year over year price declines in 2023, and there will not be a systemic drop in home values. As financing costs start to pull back, that will allow prices to resume their long-term average pace of growth.
Mortgage Rates Will Drop: rates will remain above 6% until the fall of 2023 when they should dip into the high 5% range. While this is higher than we have become used to, it's still more than 2% lower than the historic average.
Don't Expect Inventory to Grow Significantly: there will not be a significant increase in the number of homes for sale throughout 2023, as many homeowners do not want to lose their low mortgage rate.
Sellers Will Have to Become More Realistic: Higher mortgage rates and lower affordability are limiting how much buyers can pay for a home. Listing prices will pull back further in the coming year, which will make accurate pricing more important than ever when selling a home.
It would be my pleasure to answer any questions you may have regarding our real estate market. Please don't hesitate to call: 503-706-6358.
Village Gallery of Arts News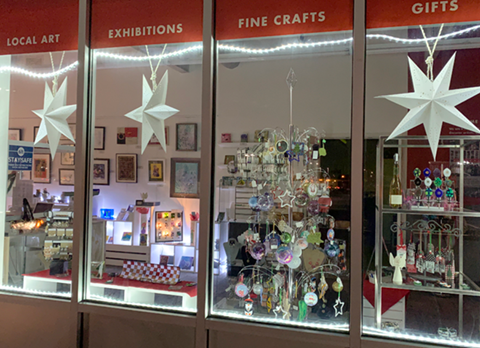 December Feature: Holiday Show and Sale!
Through December 24, New Expanded Hours: Tuesday-Sunday, 11 am-5 pm
It's that wonderful time again! We are your local source for distinctive holiday cards and gifts! See our ad elsewhere in this issue!
Classes offered by Village Gallery
Online Registration for all classes & more details: villagegalleryarts.org.
Children's Art
Thursdays, December 1, 8, 15, 22, 3:45-5:15pm, maximum eight students, face masks required
Join an exciting class learning a variety of art forms! A team of rotating instructors provide a chance to explore a variety of media and approaches while building artistic concepts and skills. All supplies included! Projects include: Cards, Easy Gift Boxes, Painted Wall Hangings and Ornaments. Children's classes are offered monthly. Check the website regularly for up-to-date projects! Classes are for ages 7-11. Please note: age limits are strictly adhered to because of the wide range of students.
Teen/Adult Sampler Class
Saturdays, December 3, 10, 17, 2-3:30pm, maximum eight students, face masks required
Why should the (younger) kids have all the fun? Many adults have asked for a class like this, so they could try out different projects. Take a breather from holiday shopping & explore. All supplies included. Featured Projects: Nature Journaling; Painted Wall Hangings; Watercolor & Crayon Resist.
Continuing Watercolor
Wednesdays, December 7, 14, 21, 10am-12pm; maximum eight students
For those who have had "basic training" in watercolor and a working knowledge of color mixing, value and washes, you can continue to work with simple subject matter to further develop your painting skills, compositional strategies or creative use of color. Supply list on website.
Grand Central Bakery Cedar Mill new hours!
We've changed our hours! Visit us Monday-Friday, 7 am-4 pm, and Saturday-Sunday 8 am-4 pm at all locations including Cedar Mill, 12595 NW Cornell Rd
Think of the possibilities: Come in before school or work for fresh cinnamon rolls, breakfast sandwiches, and coffee. Pick up your favorite loaf and a quart of soup for dinner until 4 pm (order early online for best selection). Head over after school for cookies and hot chocolate or a steaming cup of Chai.
Catlin Gabel offers arts programs for the community
January 9-March 10, East Campus, 8245 SW Barnes Rd (formally OCAC). Winter term is open for registration now. For class details and to register visit our website.
When Catlin Gabel acquired the Oregon College of Art & Craft campus in 2019, we committed to continue the community arts legacy of the college. We invite you to explore and sign up for classes found below.
Ceramics: Beginning Pottery and Intermediate Pottery; Hand and Wheel; Fast Vessel Hand Building Workshop; and Teabowls, Pitchers, and Vases.
Watercolor, Acrylic, and Oil Painting: The Landscape and Beyond—Basic Watercolor Painting; Layers and Colors-Acrylics;The Inner Paints the Outer, a Self Portrait Workshop.
Calligraphy: Calligraphy, Neuland and Uncial
Book Arts: Journal Editioning.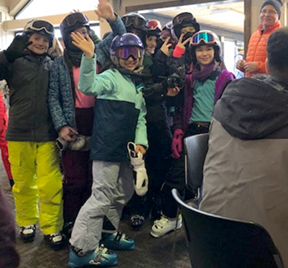 North Beaverton Ski and Snowboard bus
Four Sundays in January: January 8, 15, 22, and 29
This program is sponsored by Mt. Hood Meadows Ski Resort and is organized by parent volunteer chaperones. The bus takes first graders through high school up to Mt. Hood Meadows to learn to ski or snowboard. Learn more and sign up here.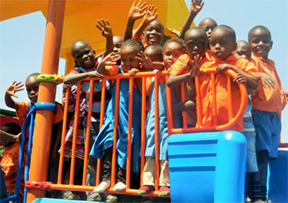 Dine out and donate
Tuesday, December 6, 3 pm to close, Oswego Grill, 3211 SW Cedar Hills Blvd
Oswego Grill is donating 100% of profits on this day to Open Arms International, to provide over 250 children and staff of Open Arms Village in Kenya with a Christmas celebration to remember. Learn more about the Clackamas Oregon-based organization on their website.
Healthy pets through the holidays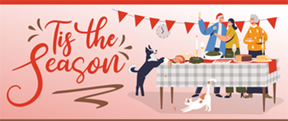 Bethany Family Pet Clinic wants to remind you that the holidays are prime time for your pets to get into all sorts of goodies—from leftovers left on the table to baby socks for your darling niece, to new toys left out by your tiny cousins. Be sure to keep a close eye on them during the holiday festivities, and don't stray too much from their normal menu. Super rich foods like gravy or ham can cause stomach upset or pancreatitis, which is a painful inflammation of the pancreas. Those tiny toys or tinsel can cause intestinal blockage that needs endoscopic or surgical correction.
Holiday Happy Foods: Pumpkin (not pumpkin pie filling); Green Beans; Carrots; Apples; Corn (not on the cob – that can cause a blockage); Cooked Sweet Potatoes
You Better Watch out! Onions; Garlic; Yeast/Bread Dough; Alcohol; Chocolate; Cinnamon/Nutmeg; Raisins/Grapes; Poinsettias
If your pet finds themselves on the naughty list and isn't feeling well, please give us a call. We also may be able to prescribe something to help with the stress of having guests over—unfortunately just for the fur kids!
Holiday hours: Christmas Eve: Close at Noon; Christmas Day: Closed; New Year's Eve: Close at 2:00pm; New Year's Day: Closed. If you have a pet emergency during these days/times, please call Dove Lewis Emergency Animal Hospital at 503-228-7281 or The Emergency Veterinary Clinic of Tualatin at 503-691-7922.
Bethany Family Pet Clinic is located in Bethany at 15166 NW Central Drive. Visit them online or call 503-614-9061 for more information.
Generosity – The Root of Great Leadership
A local high school water polo team reaped the benefits of a special kind of leadership this past season. Coach Scott Raegen led his team with not only an expert knowledge of the sport, but his energy and enthusiasm for each athlete's personal journey truly shined as he paid special focus on the needs for nutrition and refueling after sometimes grueling tournaments!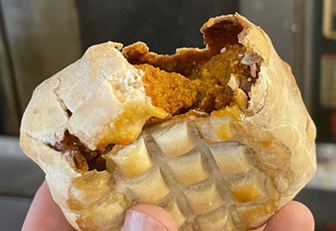 Several years ago, Scott started a company aptly named Coach's Kitchen. He has created a nutritious, convenient, compact, and delicious "mini meal," fashioned after the British "pasty." These little meat and vegetable packed pastries have been geared toward refueling the needs of athletes.
After his team meets, he shares these treats with his athletes and his generosity and kindness are much appreciated by busy parents pressed for time but dedicated to healthy children. But ultimately and more importantly, will be the effect his leadership, caring, and generosity will have on those young athletes he coaches.
You may have tried the pasties when Raegen had a booth at the Cedar Mill Farmers Market. If you miss them, you can order from his website! Follow along on FB/IG: coachskitchenpdx.