Community News January 2022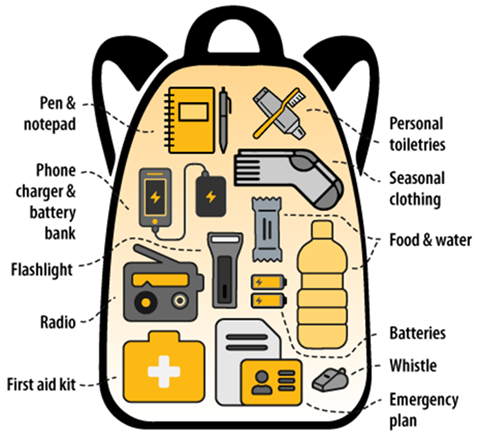 Is Your Go Bag Ready to Go? Let's Cedar Hills Ready! Quake Up!
Monday, January 24, 7 pm, via Zoom, free, register in advance.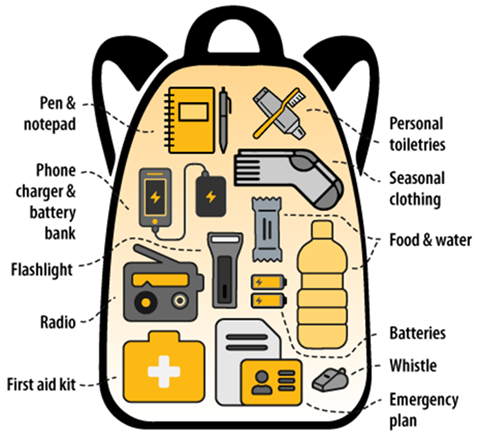 Let's get disaster ready with our friends and neighbors and have fun doing it. Join this Cedar Hills Ready! QuakeUp! Zoom workshop as we talk about under-bed kits, car/work/school packs (for one or two days), go bags (for fives day to two weeks), and home emergency supplies storage (for three weeks minimum). We'll provide lists with suggestions and talk about how to pack your bags efficiently. Even if you've already packed your go bags, it's a good time to rotate supplies and share your knowledge. We will do scenario-based sharing with neighbors, so come ready with your ideas, tips, and tricks. Everyone is welcome—invite all your important people.
Questions? Visit us at our website or contact Karen at info.cedarhillsready@gmail.com. The mission of Cedar Hills Ready! is to create caring, connected and resilient neighborhoods. We are committed to making sure every neighbor is prepared and has the best chance of survival in the event of a disaster.
Civics for Adults
Donna Cohen is a former librarian who offers in-person and online classes to help community members understand how government works, be more aware of media influences, and be prepared to participate in the pubic square. Groups can sponsor sessions, or you can attend a session sponsored by a library or other organization. Visit her website to sign up for her newsletter with more resources. For sessions marked TBA, visit the website for updated registration information.
Citizen Activism 101: Making Change Happen
This event is sponsored by Wesley U and is affiliated with Wesley Homes (WA). Note that the legislative section will be geared to Washington State. Topics covered include historical perspectives, types of advocacy, examples of successful advocacy, choosing your battles, who makes the rules, tools/strategies for change, engaging with government/lobbying for influence, tracking civic/political issues, and legislation.
Misinformation, Fake News and Political Propaganda
Thursday, January 20, 6:30-8 pm, sponsored by Tualatin Public Library, registration TBA
Tuesday, February 1, 7-8:30 pm, sponsored by Albany Public Library, registration TBA
Wednesday, February 16. 6:30-8 pm, sponsored by Cedar Mill Public Library, registration TBA
Sunday, February 27, 2-3:30 pm, sponsored by Hillsboro Public Library, registration TBA
Topics covered include mainstream press, "fake news," social media posts, email clickbait, propaganda, language/terminology, deepfakes, survey/poll questions, economic data, graphs, charts, and finding good information.

The Constitution: Fulfilling Democracy's Promise? Democracy, the Constitution and Representation in Congress
This event is sponsored by Tigard Public Library. The Constitution's creation, major changes to its interpretation, and examination of structural limitations will be covered. Furthermore, this session will address the status of democracy, early America, forming a country, Bill of Rights, structural issues/representation, interpreting the Constitution, and changes to the Constitution.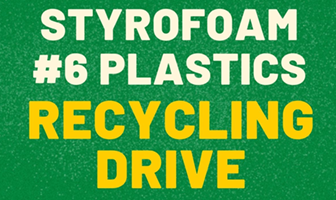 Join Sunset High School's Climate Change Club January recycling drive
Saturday, January 8, 10 am-2 pm, Sunset's front parking lot
We're collecting sturdy styrofoam that breaks or holds its shape and #6 plastics. More information and guideline graphics are on our website! Please email shsclimatechangeclub@gmail.com with any questions.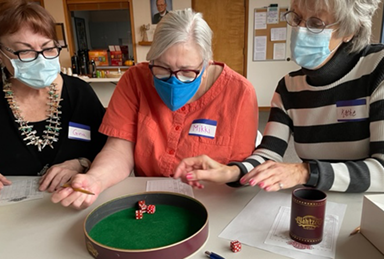 55+? Join the Friendship Circle!
Alternate Thursdays, January 20-March 31, 1-3 pm. St. Gabriel's Episcopal Church, 17435 NW West Union Rd
Do your New Year's Resolutions include more fun and friendships? Like games? Join us for the (non-religious) Friendship Circle at St. Gabriel's Episcopal church. We will play games like Yahtzee, Uno, Bingo, etc. every other Thursday. All are welcome, so come one, come all! You might even win some silly prizes.
Please note that masks are required. Please contact the church office with any questions at office@stgabrielpdx.org or 503-645-0744.
Sunset Racquetball's annual tree recycling fundraiser
Sunset High School's Racquetball Team is doing its annual Tree Recycling Fundraiser now through the end of January. This is a tree pick-up service for donations. We serve the greater Portland area. All proceeds go to offset costs for Sunset High School's Racquetball Program—each tree is recycled into woodchips and donated.
Donations can be cash, checks payable to Sunset Racquetball, or sent by Paypal or Venmo (sunset.racquetball@gmail.com). We are available anytime on weekends and late afternoons/evenings on weekdays through the end of January. We are conscious of the pandemic and will work with you for a contactless tree pick-up.
Suggested donations are $12 per tree, $15 for flocked trees, and $3 per garland, swag, or wreath. If you would like us to pick up your tree, please email sunset.racquetball@gmail.com or call/text team manager Curtis Lipski at 503-308-3763.
Afterschool Is Cool poster contest
Submission deadline: Wednesday, January 26
Theme: What I like best about my afterschool program
Visit the Washington County Kids' website for the Afterschool is Cool! Poster Contest guidelines and application.
This poster contest is open to all students in Kindergarten through Grade 12 who are participating in an afterschool program in Washington County. The purpose of the contest is to invite kids participating in Washington County afterschool programs to creatively share what they like best about their afterschool program.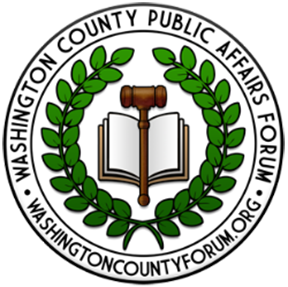 Join us "virtually" at the Washington County Public Affairs Forum! 
Mondays, January 10, 17, and 24, noon-1 pm via Zoom.
We continue to do what we can to stop the spread of COVID-19. For now, the Forum will proceed with the second half of its 2021-22 season online, providing another engaging month of speakers! You can obtain the Zoom link to join these free events by visiting the Forum website.
January 10: Local elected female leaders one year later!
Join us as we welcome back our panel of Representative Winsvey Campos (District 28), Beaverton City Councilor Nadia Hasan, and welcome THPRD Board Chair Tya Ping to discuss highlights of their tenure this past year, goals for 2022, and the dynamic of female public service working to improve access to programs for all of Washington County's vibrant communities.
January 17 (invited): retiring Mayor Ken Gibson of King City
January 31: Chris Ayzoukian, Executive Director of the Patricia Reser Center of the Arts
Founded in 1956, the Forum provides a place for the interchange of ideas on civic matters. Each week the Forum brings together community leaders, members, and guests who care about what happens in Washington County, the Metro region, and our state. Please visit our website as we will update the speaker schedule there!
Basic mediation training
January 19, 20, 21, 27, and 28, February 3 and 4, 9 am-1 pm, via Zoom, $300. Seven sessions over three weeks.
This training will introduce participants to the themes, practices, and skills of becoming a community mediator. Students will learn how to communicate with the parties during case development and mediation, promote understanding, and facilitate problem solving discussions. We offer a Community Mediator Scholarship or English/Spanish Bilingual Scholarship—those eligible can take this training for a reduced cost.
Community Mediator Scholarship: If you use conflict resolution skills to help others and need financial assistance, you are eligible to apply for a Community Mediator Scholarship. Recipients will be chosen based on self-reported financial need and explanation of how skills will be applied to benefit others in their community. Community can be any group of people you associate with who are a part of culturally-specific, neighborhood, faith-based, or other group. Scholarship recipients can attend the training for $100. The scholarship application is part of the registration.
Bilingual Scholarship: If you are a bilingual in English/Spanish and are willing to volunteer at our program, you can attend the training for $100. Just make sure to check the appropriate boxes on the registration form.
Learn more and register on the Beaverton Workshops and Trainings webpage.
Sunset HS Marching Band Can & Bottle Drive
Saturday, January 8, 10 am-1 pm, Target parking lot (aka old Bales Thriftway), 12675 NW Cornell Rd.
Drop off your redeemable bottles and cans to help us raise funds for marching band and music programs at Sunset High School. Bring them in any container (or use bags we provide—we'll give you a new bag for next time). You can reach us at samba@sambanote.org with any questions. 
Mark your calendar for the next events: February 12 and March 12 (weather permitting).
Brought to you by the Sunset Apollos Marching Band and Auxiliary (SAMBA), this fundraiser helps pay for travel expenses, entry fees, uniforms, specialized performance instruction, show design, instrument purchase and repair, purchase of new music and arrangements, and scholarships for students who otherwise would be unable to afford to participate. SAMBA is a 501(c)(3) public charity and supports all the comprehensive Band and Color Guard programs available at Sunset High School.
Sunset Youth Lacrosse
2022 Spring Registration is officially open! Sunset Youth Lacrosse is a recreational spring lacrosse club that has boys' and girls' teams for players in grades 1-8, who live within the Sunset High School boundary. Register today and take advantage of our early bird special.
Viva Village monthly calendar of events
RSVP is recommended for all events. Email vivavillageevents@gmail.com or call 503-746-5082 to RVSP and to receive the Zoom links for online events.
Activities open to non-members
Online Age Cafe
Friday, January 7, 11 am-12 pm, via Zoom.
Small group conversations exploring topics of interest to older adults. The January discussion topic is "A Fresh Start." Sponsored by Viva Village, Beaverton City Library, Beaverton Committee on Aging (BCOA) and Wash. Co. DAVS. Contact Viva Village for registration information
Online Viva Village 101
Saturday, January 8, 10-11:30 am, via Zoom
A fun and informational session about Village life for prospective members and/or volunteers.
Men's In-person Coffee Break
Monday, January 24, 10-11 am. Ki Coffee, 4655 SW Griffith Dr #160
Conversation and coffee.
Online Viva Village Book Club
Tuesday, January 25, 1-2:30 pm, via Zoom
Selected book: Half Life by Jillian Cantor, historical novel.
Activities open to Viva Village members and volunteers
Online Mindfulness Class
Mondays, January 10, 17, 24, and 31, 2 pm, via Zoom
Martha McJacobs from Life by Design guides participants through exercises and discussions focused on using meditation techniques to reduce stress. RSVP for the Zoom link
Online Women's Coffee
Tuesdays, January 11, 18, 25, 10 am, via Zoom.
Join members and volunteers for a morning of coffee and conversation.
Women's Coffee In-Person
Wednesdays, January 12, 19, 26, 10 am. Jim & Patty's Coffee, 4130 SW 117th
Online Tai Chi classes
Thursdays, January 13, 20, 27, 10-11:30 am, via Zoom.
Learn Tai Chi technique with certified instructor Richard Chew.
Online Travel Talks
Monday, January 10, 7 pm, via Zoom
Kathe Fradkin will speak about her cruises on the Rhine, Main, and Danube Rivers and her visits to Gothic cathedrals, castles, historical sites, and tiny villages along the river banks.
Dine In-person Around Beaverton and Beyond
Wednesday, January 12, 1 pm, Outback Steakhouse, 11146 SW Barnes Road
Join members and volunteers for lunch and conversation. Participants must be vaccinated. Space limited to 12.
Spanish Conversation In-person Group
Friday, January 14, 10 am. Private home in West Beaverton.
Join other Viva Villagers to converse in Spanish. Participants should have a basic knowledge of Spanish, though fluency is not required. RSVP for the address and for more information.
Online Movie Interest Group
Wednesday, January 26, 5 pm, via Zoom.
January movies: Codebreaker, Being George Clooney: A Film about the Art of Dubbing, The Professor and the Madman. Movies are available on Kanopy streaming service offered by the Washington County Library.
Ask the WSCO: What kinds of preparations should I make for winter driving?
Driving requires special care in winter weather conditions. After months of mild weather, we can all use a refresher when it comes to making our way through a winter wonderland.
Ensure you and all of your passengers wear seat belts for every ride.
Children should be in age-appropriate child seats—no exceptions.
Watch the road and avoid any distractions.
Drive slowly; it's harder to control or stop your vehicle on slick or snow-covered roads.
Increase your following distance.
Before heading out, know the weather and driving conditions and plan your route accordingly.
Give yourself more time to get to where you're going.
Keep blankets, flashlights, jumper cables, and emergency lights in your vehicle. Even if you don't need them, you may encounter someone else in need on the road.
Keep your headlights on for visibility in fog, rain, and snow, even during the day.
Visit the National Highway Traffic Safety Administration's (NHTSA) website for more information on safe winter driving.
Ask the WCSO is produced by the Washington County Sheriff's Office.
BSD open enrollment for 2022-23 school year
Through Friday, January 21, 2 pm.
Beaverton School District students in grades 6-12 can investigate the learning option that best fits their academic needs. Students can choose their neighborhood school, or one of Learning Option schools. Transportation is provided.
The Open Enrollment application window for the 2022-23 school year is now open. Applications are available online, at each school, and at the District Office. Completed applications should be returned to the school for which the student is applying. For more information, please visit the Open Enrollment webpage.
TVF&R offers tips to see you safely through winter storms
Winter storms can be dangerous, bringing heavy winds, freezing temperatures, power failures, as well as icy or flooded roads. Tualatin Valley Fire & Rescue encourages you to prepare yourself and your family for winter storms by following these safety tips:
Indoor Safety
Have a professional perform annual inspections of your heating system and make any necessary repairs. If you have a fireplace, have the chimney inspected and cleaned annually.
Bring pets and smaller animals inside to keep them warm and dry.
Keep heating sources at least three feet away from materials that can burn, and never leave lit candles or other flames unattended.
Have a disaster supply kit with bedding, clothing, first-aid supplies, flashlights, food, a battery-operated radio, and water to be self-sufficient for the first 72 hours of any emergency. For more information on 72-hour kits, visit the TVF&R website.
Know the shut-off locations for your electricity, natural gas, and water.
During a power outage, turn off major appliances to reduce power demands when electricity is restored.
Install smoke and carbon monoxide alarms and test them regularly.
Outdoor Safety
Minimize outdoor activities whenever possible. If you must venture outdoors, dress appropriately for the weather conditions you may encounter and avoid getting wet to prevent hypothermia.
Don't overestimate how far you can walk on extremely cold, rainy, or snowy days.
Use extreme caution when stepping outside in icy conditions, particularly in the morning when it's coldest and the ice hasn't had a chance to melt.
Insulate exposed water pipes with fiberglass or foam to protect them from freezing.
Report power outages to your electric company and never touch a downed power line.
If you have pets or livestock that must be outside, provide a sheltered area and access to non-frozen drinking water.
Safety Behind the Wheel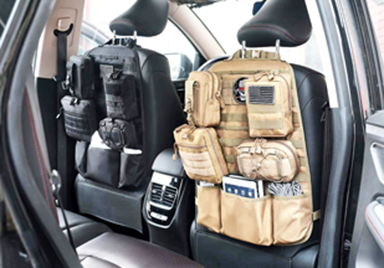 Avoid traveling when the weather service issues storm advisories.
If you must drive, drive much slower than you would in ideal weather conditions.
Have your car inspected to ensure it's in proper running condition. A breakdown during extreme weather can put you and your passengers in danger.
Replace worn tires, belts, leaking radiator hoses and burned-out headlights and taillights.
Ensure your radiator has appropriate antifreeze for the conditions you will encounter.
Have an emergency kit in your car equipped with blankets, flashlights, snacks, tools, a shovel and kitty litter or sand for traction in case of an unexpected delay or emergency.
Keep your gas tank more than half full. Should a power outage occur, you may have difficulty finding a service station that can fill your tank.
If you plan to travel in the mountains, carry the appropriate chains or traction devices required by law.
We recently published another edition of our Safety First newsletter. Check it out for tips to share with fellow CPO, CIO, and NAC members regarding winter weather, as well as reminders to ensure safe holidays.
Street tree mapping project needs volunteers
Orientation on Sunday, January 23, 3 pm, pre-registration required.
Would you like an excuse to walk in neighborhoods to look at trees? Treekeepers of Washington County is beginning to map, measure, and identify publicly owned street trees and needs volunteers to help. Get some fresh air, meet like-minded people, and help our county's trees.
Contact us at treescountwc@gmail.com for more information.
Maxine Dexter Town Hall
Saturday, January 15, 10-11:30 am, via Zoom, registration required
My January Town Hall will focus on Pre-K through 12th grade education.
I continue to host mainly virtual events, but I am planning to hold in-person events in the new year. If you would like to speak with me individually, my office can set up a time for a meeting. If you have additional thoughts on how I can engage your community, please let me know. The best way to reach me is through my email: Rep.MaxineDexter@oregonlegislature.gov.
Join Sen. Steiner-Hayward for a virtual Town Hall!
Tuesday, January 25, 5:30 pm, via Zoom, registration required
I am hosting a virtual Town Hall event where I will discuss the upcoming 2022 Legislative Session.
January Inside WashCo Radio
Find our programs on our website, on KBOO 90.7FM on Wednesdays at 9:30 am (starting November 5), KXRY 91.1 and 107.1 FM Mondays at noon, and online at xray.fm and Westside's Greatest Hits every Saturday at 6:20 pm.
Week of January 10: one on one with Congresswoman Bonamici
January 17: Guns! (featuring Moms Demand Action)
January 24: TBA
January 31: TBA
Arts & Communication Magnet Academy (ACMA) Spectacular
Friday, January 21 and Saturday, January 22, 7 pm (Doors open at 6 pm), 11375 SW Center Street, ACMA Performing Arts Center (PAC)
The ACMA 2022 Spectacular showcases and celebrates the arts at ACMA. The evening features art and performances by all our departments: dance, film, theatre, choir, drawing, music, painting, photography, ceramics, writing, animation, sculpture, jazz band, classical orchestra and more. Part live performance and part art show, both evenings are a celebration of everything we love about ACMA. Spectacular is the annual fundraising event.
The event also includes an online auction of wonderful themed baskets including: date night, a Sunriver rental, Beauty and Pampering, Coffee, Reading, Pampered Pups, Sports and Beer, Gardening, and so much more.
Tickets for the shows and auction details are available at the ACMA PTO website.
ACMA's January Restaurant Night Fundraiser at Panda Express
Wednesday, January 13, 10 am-10 pm, 11490 SW Canyon Road, #10
For online orders, enter 332407 in the fundraiser code box at the Panda Express website or the Panda Express app. For dine-ins, show a copy of the paper flyer (found at the ACMA PTO website) when you order and Panda Express will donate 20% of qualifying sales to the ACMA. Please note that delivery services such as Doordash, Grubhub, Postmates, and Uber Eats do not qualify as supporting orders. Thank you for understanding.
Join Cascade Prime Timers
Cascade Prime Timers (CPT) is a non-profit club of active adults aged 50 and over who enjoy camaraderie in a variety of outdoor and other activities.
CPT is run totally by volunteers who lead our activities and trips in spring, summer, and winter. During several months in the year, we have social evenings with a guest speaker, hors d'oeuvres, and no-host bar where we catch up with each other and keep up to date with current club news.
Membership in CPT additionally includes membership in the Far West Ski Association and The Northwest Ski Club Council—both run a variety of winter and summer programs in which our members are welcome to participate. For more information, visiting the CPT website or Facebook page.