Road News January 2022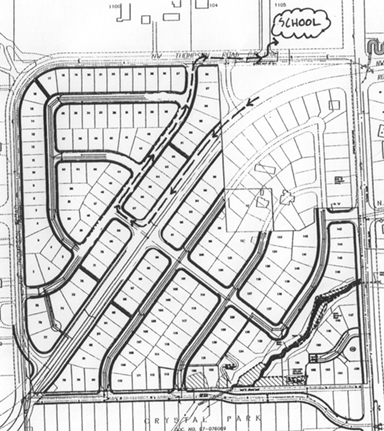 Thompson Road/Kenny Terrace Online Open House
January 7-23, online.
Washington County Land Use and Transportation has posted an online Open House to provide information about the project to realign Thompson Road via the Kenny Terrace route. Visit the site to learn more and share your comments by January 23. 
Visit the county's page for their schedules.
Saltzman PAC meeting
Another chapter in the long saga to figure out how to improve safety for the upper end of Saltzman Road took place on December 16, with meeting #6 for the Project Advisory Committee (PAC). 
Project Manager Ben Lively explained, "Chair Harrington and Commissioner Treece asked us to hold this meeting to update the PAC on new modifications to the Eastern Alignment design and provide PAC members an opportunity to have a discussion with the Chair and Commissioner directly."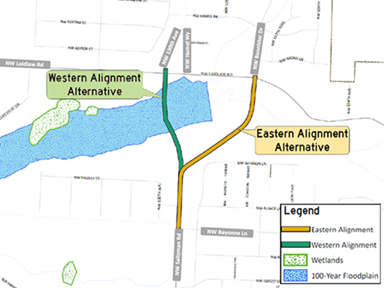 At the meeting we learned that "everything was still on the table," and no decisions have been made. Discussion topics included the relative safety of the two options, length of the potential road closure, cost, and impacts to wildlife and the environment. PAC members still generally favored the Western Alignment. CPO 1 submitted a letter endorsing that. The full presentation and a recording are available here.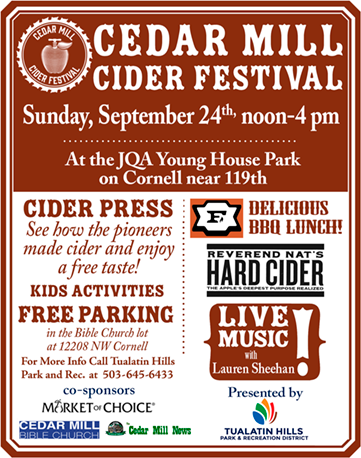 One slide said there will be another Virtual Open House in "early 2022" along with a Board of Commissioners Work Session, engineering design to take place 2022-23; environmental studies and permitting through 2024, and construction 2024-2025. The slide notes, "Proceeding to design, studies, permitting and construction, and associated timelines are dependent on Board direction on a preferred improvement option and approval of construction funding for that option."
Here's the county Project Page.
Cornell Road project now underway

Neighbors were concerned recently when a number of large old trees came down along both sides of Cornell. It's the beginning of the project to widen Cornell Road between 102nd and 113th Avenues to three lanes—one lane in each direction with a center turn lane, with continuous bike lanes and sidewalks, street lighting, and storm drainage improvements. The project will also install a traffic signal at the Cornell Road and 107th Avenue intersection. More information is available on the county Project Page.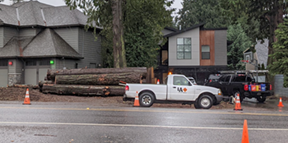 The project also includes construction of a sanitary sewer system for Clean Water Services (CWS) on Cornell Road and 110th Avenue, and water infrastructure improvements for Tualatin Valley Water District (TVWD) on Cornell Road between 102nd and 113th avenues.
The Board of County Commissioners selected Pacific Excavation as the contractor for the approximately $13 million project at their January 4 meeting.
Filbert sidewalk project delayed
The plan to build a new sidewalk along the south side of Filbert Street between Murray and Saltzman has been delayed due to staffing issues in the Right-of-Way acquisition division of LUT. Construction is now expected to begin in spring 2023 and finish that fall.
Walker-Murray intersection construction update
Construction is expected to begin in March for the project to widen the intersection with dual left turn lanes and dedicated right turn lanes on all four sides of the intersection. A third southbound lane on Murray Boulevard will be added from south of Butner Road through the Walker Road intersection. The additional lane will become a dedicated right turn lane at Bowerman Drive, south of the intersection.
Other improvements include replacing two bridges over Cedar Mill Creek, adjacent to the intersection and replacing two culverts on Walker Road between Far Vista and Park Way. More information including budget and background is here.
For any Washington County road geeks out there, this page has links to all the county's Capital Improvement Projects. Most of the links are updated regularly.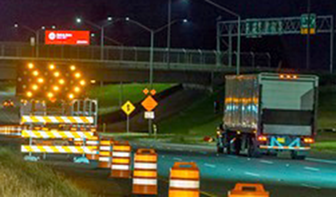 Oregon 217 Auxiliary Lanes Project
Webinar Tuesday, January 11, 6:30 pm via zoom.
The project aims to improve safety and reduce bottlenecks on OR 217 by adding auxiliary lanes, or ramp-to-ramp connections, between Beaverton-Hillsdale Highway and OR 99W. Work began in December 2021 and continues through 2025. A map of the project area is here.
Join the live online webinar to learn more about the project, what to expect during construction, meet project staff and ask questions.
The Online Open House on the ODOT website provides an overview of the project and detailed information about several of the improvements.
TriMet service reductions start January 10
Several of our local bus lines will be affected by TriMet's temporary reduction due to staffing shortages. Check this page to see if a bus you depend on will be affected.
Cornell tunnel update
We reached out to Portland Bureau of Transportation for an update on the work that has closed the tunnel on Cornell leading to northwest Portland but haven't heard back yet. If we get more information, it will be in the online version of Cedar Mill News.