Transit News February 2023
2023-24 TriMet service changes
Based on community feedback, TriMet is ready to begin implementing the Forward Together Revised Service Concept to focus on ridership and improve connections to destinations for people with low and limited incomes. While the full implementation of Forward Together will take up to six years, dependent on our recovery from the ongoing operator shortage, we're looking forward to getting started with this year's Annual Service Plan.
The Plan proposes to add five new Frequent Service lines with buses arriving every 15 minutes for most of the day, every day; improve service on five lines with buses arriving every 30 minutes or better for more of the day, every day; discontinue service on low-ridership stops and lines; and more! See the web page for maps and more details. Riders will see the first service changes to our bus system as early as September 2023.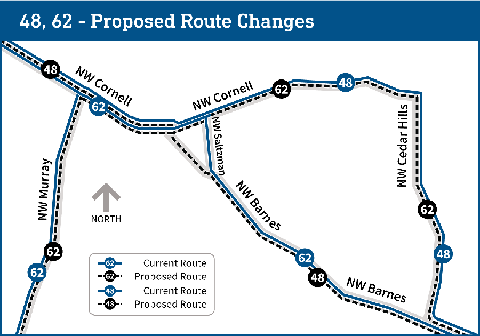 Cedar Mill area changes include:
Line 48-Cornell would be upgraded to Frequent Service. Its route would change in Cedar Mill to stay on Barnes, and move off of Cedar Hills Boulevard, for faster trips.
Line 50-Cedar Mill has been discontinued due to low ridership.
Line 59-Walker/Park Way service would be upgraded to run all day. Service along Park Way to Sunset Transit Center would be discontinued due to new service along Walker and Cedar Hills Boulevard, for a better mix of destinations. Service along SW 185th would be discontinued. The route would be extended to Quatama for new service in Tanasbourne and Amberglen.
Line 62-Murray Blvd: service on SW Barnes Road would be discontinued, and there would be new service on Cedar Hills Boulevard and Cornell.
Detailed maps of these changes are here.
Share feedback on major transit proposals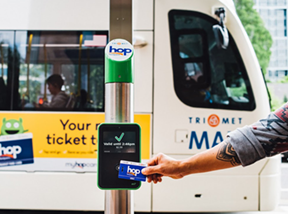 There's still time to share feedback on TriMet's proposed fare increase for 2024 and our first Forward Together service improvements. Open houses around those topics are wrapping up early next month, but there are plenty of ways to weigh in.
Visit trimet.org/plan or trimet.org/fareproposal to learn more about the proposals, leave your feedback and complete the fare proposal survey by February 25. We'll gather all of the comments and ideas we receive and present them to our Board before they take action in April and May.