Business News March 2023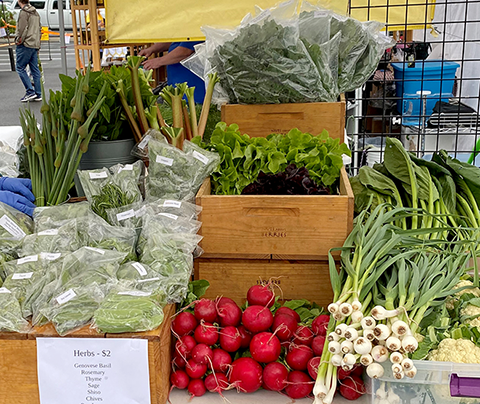 CMFM 2023 planning underway!
Opening date: Saturday, May 6, 9 am-2 pm,
We are super excited for this upcoming season of the Cedar Mill Farmers Market! Last season was a big success, and we are very much looking forward to all this upcoming season has to offer!!!
So much happens behind the scenes and we want you to know about the following: Vendor application form is open! Sponsorship/Funding Opportunities are now available. Volunteer teams are forming. We are now scheduling musicians, and we're scheduling for the Community Booth (non-profits, school, scouts etc). To learn about these, email us for information.
We can't do the market without community volunteers. Please consider growing or enhancing how you participate this season.
Visit Symphony Coffeehouse
16155 NW Cornell Rd Suite 500, Beaverton (Near Goodwill, across from Westside Physical Therapy)
Come get a coffee to go, study, relax with a delicious drink, grab breakfast or lunch with a friend, or simply enjoy the ambiance with a pastry or two at our family and woman-owned coffee shop, Symphony Coffeehouse! We would love to have you experience our delicious homemade foods such as quiches, crepes, sandwiches, and so much more. We also make and carry fantastic pastries and memorable coffee and drinks! Visit us on our website, Facebook, Instagram, or call us at 971-910-719 to learn more about us.
Have you heard of Sunset Credit Union?
1100 NW Murray Blvd.

Find out why so many Washington County residents are switching their financial activities to this place. Anyone who's seeking a refreshing change from their current financial institution should check out Sunset Credit Union. As a family-oriented financial institution, we have special accounts for kids (Sunny Savers Account) and teens (i$ave Account) as well as savings and loan products for just about everyone. Our tagline says it all: We provide 'Financial solutions for every stage of your life.'
Although a relatively small credit union ($95 million in assets), we are known for a complete array of electronic services which allows our members to conduct transactions from anywhere at any time. In addition to free online banking, free bill-pay, and free phone apps, we also offer free Remote Deposit Capture so members can deposit their checks anytime just by using their cellphone.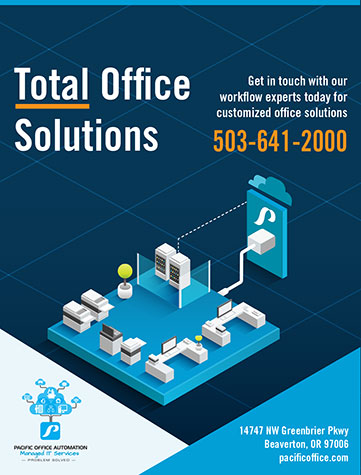 We specialize in mortgages and Home Equity Loans. Unlike most institutions which sell their mortgages to other banks or holding groups, Sunset keeps their mortgages in-house. If a member has any questions or concerns, they can contact the credit union directly to get answers rather than go through a phone-maze like most mortgage companies make you do.
We are especially known for our personalized service. We have been serving the Cedar Mill area for over 60 years and recently opened the field of membership to anyone who lives, works, worships or attends school in the Washington County community. Our checking accounts come with a debit card you can personalize with your favorite photo.
We are community minded. Each year we give away several $2,000 scholarships for members going on to college. We have an in-school branch at Merlo High School to help teach kids the importance of savings and other money-management skills. We also teach financial literacy classes and offer 'Shred-It' Days and other special events for members.
We offer vehicle, boat, RV, and motorcycle loans. We also offer safety deposit boxes and low-rate credit cards. You can learn more about Sunset Credit Union by visiting sspfcu.com, or give us a call at 503-643-1135, or simply stop by our office.
Wow and Flutterville Playgardens Open House
Tuesday, March 21, 5:45-6:45pm, 800 NW 107th Ave., free (RSVP recommended).
If you've ever been interested in learning more about our school, this is a wonderful opportunity to do so. This is an open-door event. You can tour the school, see the classrooms, and ask questions you may have about our school and program. Please call 503-352-4983 to RSVP.
Free Home Seller Seminar
Thursday, March 23, 6:30-8pm, John L. Scott Offices,1800 NW 167th Pl, Beaverton, free (RSVP recommended).
What a difference a year makes! The real estate market has changed over the last year. The recession and rising interest rates are on everyone's mind as the main culprits. Yet, when we look closely, buyers are still on the market and the numbers are still showing a tight inventory of homes for sale. The goal of the seminar is to answer the many questions homeowners have about selling their home: is it a good time to sell, how to be competitive while maximizing our net proceeds, and how to prepare our home to attract the most buyers.
Please RSVP at 503-645-7433 by March 22 to reserve your seat and bring your questions! Contact Marie Conser, Principal Broker, with questions about the seminar or to find out about our services.
Backflow assemblies protect the water system
A properly functioning backflow assembly is essential to protecting the community's drinking water. Backflow devices prevent water from sprinkler systems, pools, hot tubs, or other non-drinkable sources from flowing backwards and putting contaminants into the drinking water system.
All backflow assemblies must be tested annually, with results sent to your water provider. For your convenience, Tualatin Valley Water District (TVWD) can schedule testing assembly(ies) for residential customers at a cost of $35 each, with the fee being added to your utility bill. This plan includes up to $50 towards repair or replacement of devices that fail testing if completed by a TVWD contractor. Sign up today at tvwd.org/GoldPlan. Customers who do not enroll in the Gold Plan are required to hire a certified tester and submit test results to TVWD as reqiored by Oregon law.
Portland's Real Estate Spring Sweet Spot
By Jan Dempsey, broker
Our Spring Market began January 2 and continues until almost Memorial Day, or just before everyone gets their kids graduated, then pack their suitcases for Memorial Day and the start of summer holidays. Most buyers and sellers in Portland check out until early September. Not to say there aren't sales, just that summer is our lowest market—lower prices, few houses on the market, and fewer buyers. The spring market dates are our Real Estate Holy Grail; this is when you will achieve the most amount of money and sell your home faster for the entire year. Surprisingly, April 15th, or thereabouts, is the pinnacle!
This year is starting slowly as the mortgage rates fluctuate erratically from the low sixes to the low sevens. When the interest rate drops into the low sixes, mortgages are affordable, not only for the first-time buyer, but for the move-up seller/buyer. It is the sweet spot that sellers should be prepared for. It is when buyers will be ready, willing, and anxious to lock their loans and buy!
If you are selling or buying, the economists are saying the next three months (when interest rates drop into the sixes) will once again bring on a fast and furious market, with even possible multiple offers for those perfect homes in perfect neighborhoods.
This window of interest rates in the sixes is giving you another opportunity to buy the home of your dreams. If you dragged your feet last year, didn't get your house ready for the market, and felt you missed out on the insane prices, this will be your second chance. However, prices will be about 2-4% lower than last year; it will continue to be a slower market (more days online before your house goes pending); you may only have one buyer; and they will fight you for every concession they can get. For buyers, there will more houses for sale than last spring. It would be our pleasure to answer any questions you may have regarding our real estate market. Please don't hesitate to contact me, Jan Dempsey of the Realtor at Windermere Realty Group, at 503-706-6358 or jdempsey@windermere.com.
Village Gallery of Arts
Our Mission is: "To ignite the joy of learning, creating and appreciating art in our community. We support professional and emerging artists by providing high quality affordable art education to children and adults as well as providing venues for sharing their work." Village Gallery of Arts is a non-profit (501c3) organization, receives no taxpayer money, and is staffed entirely by member volunteers.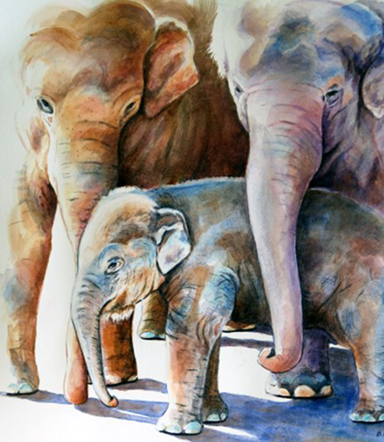 Featured Artist is Gretha Linwood who makes her marks on artist sandpaper to record impressions of our natural world. Vibrant color and strong design are hallmarks of the artist's work developed during her 30-year career as an illustrator and graphic designer.
Big & Bold Artist
Sherry Hanson has been drawing all her life, but she didn't take art classes until after her children were grown. Her love of animals is often the focus of her art. Her goal is to reflect her love and reverence for the wonders of the natural world and her passion is to capture and share the spirit she sees there.
March Reception
Sunday, March 12, 3-5 pm, Village Gallery,1060 NW Saltzman (east of the library), free, open to all
Come meet the artists and enjoy refreshments while taking in the new show! Sometimes we even have live music to serenade you as you browse!
Children's Classes in March
Join an exciting class learning a variety of art forms! A team of rotating instructors provides a chance to explore a variety of media and approaches while building artistic concepts and skills. All supplies included. For registration and more details, visit the VGA website.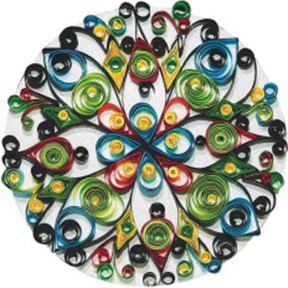 Thursdays, March 2, 9, 16, and 23, 3:45-5:15pm, ages 7-11, max 8 students.
March Projects include Quilling, Fairy Mushrooms, Mosaic Trivets, and Printmaking.
Saturdays, March 4, 11, 18, 25, 10:30-12pm, ages 12-15, max 8 students.
Art Exploration March classes for older students include Mixed Media Portraits, Gelli Plate Printing, and Chinese Brush Painting.
Adult Classes and Workshops
Compositional Painting
Wednesdays, March 8, 15, 22, 29, 9:30-12:30pm, max 8 students.
Intermediate/Advanced Level demonstrations will be in watercolor and acrylic. Special attention will be given to the function of color in composition, compositional alignments, strategies for revision, and unpacking examples of master paintings. Led by Erik Sandgren, each session will be a combination of demos, discussion, critique, and studio practice in response to the interest of participants. Emphasis will be on developing individual expression based on the fundamentals underlying different media and practice. Supplies: whatever painting materials you possess plus a trial frame or matt.
Coming in April: Basic Drawing with Debbie Teeter, and Abstract Considerations in Painting with Erik Sandgren.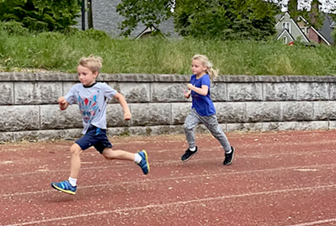 Youth track programs at Foot Traffic
Mondays & Wednesdays, April 24-May 31, 4:30-5:30 pm, $79, meet at Terra Linda Park
The Foot Traffic Youth Track & Run Program is brought to you in part by Foot Traffic and other sponsors and partners. It is open to all students, grade 2-8. The focus is on introductory workout and introductory track skills for all athletes, with workouts tailored to the athletic ability of the different age groups. A big emphasis on fun and education! Our program is designed primarily as an introduction to the sport rather than intense, daily workouts. Coaches are directed to provide guidance on workout principles in a relaxed and fun environment.
Stickmen Brewing coming to Kirkland this summer

The Cedar Mill taproom is located at Kirkland Place Plaza at Barnes and 118th in Cedar Mill. Stickmen's fourth location will mirror the same delicious offerings you can currently find at their Tualatin Beer Hall & Production Brewery and their Happy Valley Taproom which they opened in July 2022. Authentic wood-fired pizzas, salads, 28 taps, and cocktails in a casual family-friendly atmosphere with a heated and covered outdoor patio.
CMBA monthly meeting
Tuesday, March 14, noon, The Ackerly at Timberland
This month, Cedar Mill Business Association will have their regular networking meeting to make business connections with other members. As always, lunch will be provided. The first meeting is free to those interested in learning more.
CMBA's primary mission is to support and promote businesses from Cedar Mill and throughout the Sunset corridor. We help develop a strong and supportive presence, both economically and socially, to the community while creating an environment that maximizes community livability. Visit our website to learn more and find out how to join.