Wapato Lake Welcome Ceremony

Saturday, March 18, 10 am-1 pm, ceremony 10-10:45 am at Gaston Jr-Sr High, followed by an open house, 11 am-1 pm with tours and info tables

Wapato Lake in Gaston was a major winter home for the Atfálati band of Kalapuya Indians, the first people in the Tualatin Valley. Colonist farmers attempted to drain it and grow crops there in the early 20th century but after repeated floods, the land went to the US Fish & Wildlife Service. It became a National Wildlife Refuge and opened to the public last October.
Following the Welcome Ceremony and Open House visitors are invited to take a walk to explore this recently opened refuge, as well as enjoy a meet and greet with refuge park rangers and volunteers on the trail. Free refreshments will be provided. For more information, about the day, visit the USFWS Event page. Find directions on the website.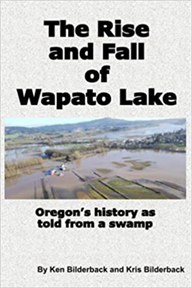 Local author Ken Bilderback and his wife Kris wrote "The Rise and Fall of Wapato Lake," which chronicles its role as the home base of the Atfalati (Tualatin) people, its role as the center of Japanese agriculture before World War II, and its rise and fall as an onion growing center. It explores the geographical and climate changes that have shaped the Tualatin Valley downstream. The book won the regional literature category at the Los Angeles Book Festival. It's available on Amazon, at the Tualatin River Wildlife refuge bookstore in Sherwood, or at the Gaston Market.
Native anthropologist and historian David Lewis included an article about Wapato Lake in his blog Quartux Journal here.