Community News March 2023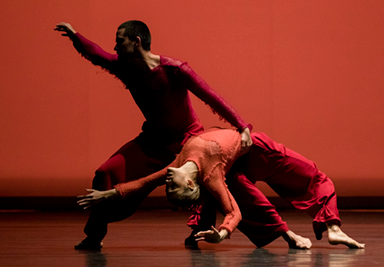 Mean Girls the Musical
March 9,10,11,16,17, 7 pm; March 18, 2 pm matinee. Tickets: General $12, students & seniors $10, sold at the door or online here .
Kick, Layout, Fosse! A MUST SEE! This fabulously funny show opens this week at Sunset High School. The original story, written by Tina Fey and made into a movie, is about a high school girl, Cady Heron, moving back to the United States from Africa to attend high school, her first time in public school. You will find yourself laughing at the clever lines and stereotypes as you watch the tale unfold told by Janis and Damian, two self-defined outsiders who really clue Cady in on how high school works. The twists and turns of relationships and how the end message is truly in the stars will have you smiling and crying all at the same time. Note: the show contains some mature themes and language. Mr. Farmer, the director, has made some more conservative choices, but parental guidance is suggested.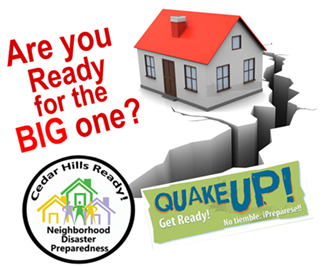 The Big One? How to Become Earthquake Safe in Your Home"
Monday, March 20, 7-8 pm, via Zoom, free, register in advance here.
The BIG ONE? Will your piano rock? Your refrigerator roll? Will your house catch fire? In this meeting, Cedar Hills Ready will help you think through what might happen during a large earthquake. Learn how you can prepare and practice ahead of time to protect yourself and your loved ones. The fun, interactive format teaches the steps for becoming earthquake and fire safe within your home. Everyone is welcome. Share and invite all your important people. Questions? Visit us on our website.
Dance Around the World!
Thursday, March 23, 11 am-12:30 pm, Leedy Grange, 835 NW Saltzman Rd, $7 per person, $12 couples. Register attendance to Sue at pifdnews@gmail.com
Enjoy learning folk dances from Eastern Europe. Israel, South America, and more, with long-time folk dancer, instructor, and neighbor Sue Wendel. No experience necessary. Everyone is welcome in this easy, low-impact class! This month is a new extended class time. Space is limited, registration is required. For questions and/or to register, please email Sue.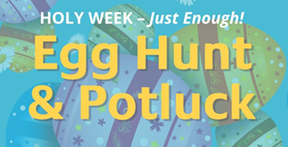 Holy Week events at CUMC
Various dates and times, 12755 NW Dogwood St, Portland. See event details here
Celebrate Holy Week this year with Christ United Methodist Church here in Cedar Mill! Join us for a special Palm Sunday service on April 2. Bring the kids for an afternoon of fun at our annual Easter Egg Hunt on April 16! We will also be gathering for a dinner on Maundy Thursday on April 6 at 7 pm.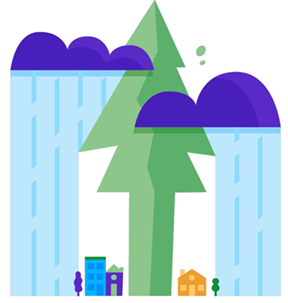 Friends of Trees Cedar Mill volunteer tree planting
Saturday, March 25, 9 am-1 pm, 12405 SW Butner Rd, Beaverton, free. For details visit our website.
Friends of Trees is organizing a neighborhood tree planting in Cedar Mill and Cedar Hills. We are working with Clean Water Services and Washington County Land Use and Transportation to plant 40 street and yard trees. If you are interested in getting involved, whether that be planting a tree at your house or volunteering, send an email to marioc@friendsoftrees.org—we'd love to help plant some trees with you! There will be lots of great community-building and skill-learning opportunities at this event! Looking forward to meeting you all and getting some more trees in the neighborhood!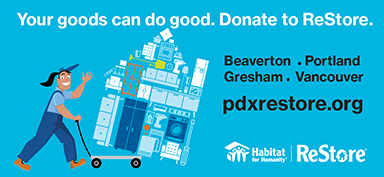 Garage Sale at Skyline Grange
Friday, March 17, 9 am-7 pm & Saturday, March 18, 9 am-5 pm, 11275 NW Skyline Blvd
Find items with uniquely Skyline friendly flavor donated by local residents. It's a huge event with clean functioning items at great prices. All proceeds go to our Capital Improvement Campaign to better serve our community. For more information send an email to skylinegrange894@msn.com or call Sen at 503-708-1414 or 503-621-3331.
Beaverton Symphony Orchestra presents Spring concert:
Friday, March 10, 7:30 pm, Patricia Reser Center for the Arts, 12625 SW Crescent St, and Sunday, March 12,3 pm. Village Church, 330 SW Murray Blvd
Join conductor Raul Gomez-Rojas as we welcome flute soloist Adam Ecceleston for an inspiring performance of Carmen Fantasie Brillante by Francois Borne, which he played in his solo debut in New York at 19 years old. The orchestra will perform Richard Wagner's Overture from Die Meistersinger von Nurnbergand and finish the concert theme with the epic Antonin Dvorak's Symphony No. 9 in E Minor, "From the New World," Op. 95.
The Beaverton Symphony Orchestra is committed to our musicians', patrons', and volunteers' safety. All concert attendees are encouraged but not required to wear a mask while inside the venue. For info and to purchase tickets for the Reser Concert click here. Free tickets are available for children and students with ID by contacting The Reser box office in advance. Tickets for the Village Concert are available at the BSO website or via TicketTailor.
Tree Walk: Learn to identify local trees
Saturday, March 18, 1 pm, Merritt Woods Natural Area. Sign up here now, as space is limited!
Join Treekeepers of Washington County as we walk along the Merritt Woods Natural Area to enjoy native trees in the area, including Oregon Ash and Cascara. This is a one-mile section of paved trail for a small "lollipop" loop. We'll also be pointing out some short extensions you can choose to take on your own.
Bring your binoculars, as migrating birds should be showing up, and it's a ripe area for spotting them. Char Corkran, a naturalist and "bird and nest box whisperer," will join us to point out the birds we see. This walk takes place rain or shine, so be prepared.
Bonny Slope Auction & Gala
Saturday, April 22, 5:30 pm, NW Events & Environments, Hillsboro
This year's theme is "Prom Night." The event includes dinner, drinks, a silent and live auction, raffle prizes, and dancing. The event is open to the public but restricted to adults 21+. Tickets are on sale now through March 24. Purchase your ticket today.
Proceeds from the auction are used to fund many of the educational, enrichment, and community activities at Bonny Slope Elementary School along with technology and capital improvements. Check out the event's website for more information. You can learn more about BSCO and the programs it provides here. Questions can be sent via email to the Auction Committee lead, Hillary Ruell.
Join Cedar Mill Scouts Troop 207
Tuesday, March 7, 7:15 pm, Christ United Methodist Church, 12755 NW Dogwood Street, boys ages 12-17
Join us for a fun evening of Bouldering and meet our troop members. Troop 207 meets every Tuesday during the school year. Check us out on Facebook (Scouts BSA Troop 207), our website, or email us at scouts.ortroop207@gmail.com!
Since 1928, Cedar Mill Scouts Troop 207 has been having fun, providing service, and helping youth grow into resourceful, responsible leaders. Members develop and practice leadership skills by planning and conducting their own weekly meetings, working on rank advancements, service projects, and taking monthly camping trips.
Beaverton Community Band presents: "Remembrance, Gratitude, & Honor"
Sunday, March 19, 3 pm, Jesuit High School Performing Arts Center, 9000 SW Beaverton-Hillsdale Hwy. Adults $15, Seniors/Veterans $10, Children $5, Family of 4 $30. Tickets are available for sale online here or at the door.
Beaverton Community Band proudly presents a musical retrospective about "ordinary" people from our past that did their duty, stayed true to their beliefs, and persevered in the face of adversity. "Remembrance, Gratitude, & Honor" highlights, through music, the contributions of four men, Johannes Brahms, Abraham Lincoln, Aaron Copland, and Nelson Mandela. Our musical journey includes "Distant Land" by John Rutter, "Blessed Are They" by Johannes Brahms, and a double brass quintet playing "Semper Gratus" by Northwest composer and trumpeter Kevin McKee, and many more. We also welcome Hale Thornburgh to narrate "Lincoln Portrait" by Aaron Copland.
The concert is funded in part by a grant from the City of Beaverton Arts Program, a strong supporter of Arts and Cultural events in the community.
Viva Village March events
Viva Village is a Beaverton-area grassroots organization of members and volunteers who focus on enhancing and expanding the ways we can age well. We provide connections, programs, volunteer services, and referrals so members can lead engaged, healthy lives. Some events are open to the public as well. For more information visit our website. Please RSVP for all following events by contacting vivavillageeveents@gmail.com or 503-746-5082. Links for zoom meetings will be sent to those who RSVP.
Viva Village events open to the public
Women's Coffee
Wednesdays, 10 am, Jim & Patty's Coffee, 4130 SW 117th, Beaverton
Join us for coffee and conversation! RSVP encouraged.
Viva Village 101
Saturday, March 11, 10-11:30 am, virtual
A fun and informational session about the Viva Village life for prospective members and/or volunteers. RSVP for the Zoom link to join in!
Viva Village Forum
Monday, March 20, 2-3:30 pm, United Methodist Church, Wesley Room, 12555 SW 4th Street, Beaverton, free
Our topic is "Broadway Rose Theatre: A Look Behind the Curtain." Dan Murphy, founding managing director, shares an intriguing glimpse backstage at the workings of a live theater. Refreshments will be served. RSVP recommended.
Men's Coffee Break
Monday, March 27, 10-11:30 am, Ki Coffee, 4655 SW Griffith Dr. #160, Beaverton
Join us for conversation and coffee! RSVP recommended.
Viva Village Book Club
Tuesday, March 28, 1-2:30 pm, virtual
The book club's selection is "Paris Library" by Janet Skeslien Charles. RSVP for the Zoom link to join!
Viva Village events for members and volunteers:
Online Tai Chi classes
Thursdays, March 9, 16, and 23, 10-11 am
Practice Tai Chi technique with certified instructor, Richard Chew. RSVP for the Zoom link.
Viva Village Nature Walk
Saturday, March 4, 9:30 am, Summerlake City Park, 11450 SW Winter Lake Drive, Tigard 97223
RSVP recommended.
Mindfulness classes
Mondays, March 13, 20, and 27, April 3, 10, and 17, 11-11:45 am, virtual
Befriend your inner critic, and learn how this can help you live more mindfully. In this series of 6 classes, instructor Martha McJacobs will focus on Understanding Your Inner Critic. RSVP for the Zoom link.
Virtual Women's Coffee
Tuesdays, March 7, 14, 21, and 28, 10 am, online
Join our members and volunteers for a morning of coffee and conversation! RSVP for the Zoom link.
Dine around Beaverton and beyond!
Wednesday, March 8, 1 pm, Thai Bloom, 3800 SW Cedar Hills Boulevard, Beaverton 97005
Join members and volunteers for lunch and conversation. Participants must be vaccinated. RSVP required- sign up soon because space is limited to 12 people!
Life stories
Tuesday, March 14, 2 pm, Southminster Presbyterian Church, 12250 SW Denney Road, Beaverton 97008
Viva Villager Camilla Schneider will talk about significant experiences from her life. Come join in on the conversation! RSVP recommended.
Living Solo
Thursday, March 16, 4 pm, virtual
Share ideas and insights about solo living. RSVP for the Zoom link.
Thursday Evening Social Group
Thursday, March 23, 5:30-7:30 pm, Top Burmese Bistro, 12655 SW 1st Avenue, Beaverton 97005
Enjoy an evening of dinner and conversation with Viva Village friends. RSVP required- sign up fast because seating is limited to 15 people!
Summer Bike Camp instructors wanted
WashCo Bikes, a non-profit bicycle organization, is looking for instructors for their Summer Bike Camps that run June to August, daily 9 am-3 pm. The camp has two age brackets: 8-9 years and 10-12 years. Classes will take place in multiple locations throughout Washington County. The instructors' position can be full or part-time, paid or volunteer. Background checks will be done before being hired. If you or someone you know might be interested, please pass this information on, or tell them to visit our website for more information. See the application form here.
NW Dance Project presents Common Ground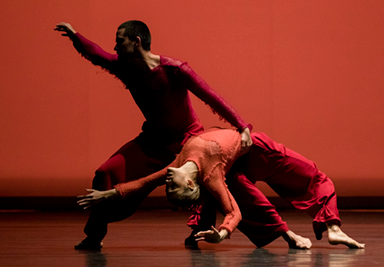 Friday, March 17, and Saturday March 18, 7:30 pm, Patricia Reser Center for the Arts, 12625 SW Crescent St. Tickets: $52/$66, purchase in advance here
The Reser website notes that the NW Dance Project "makes its Reser debut with a trio of works from three of the most accomplished and promising female choreographers in contemporary dance. Be the first to experience a world premiere work from NW Dance Project's own founding Artistic Director, Sarah Slipper, as well as a world premiere work from Caroline Finn, former Artistic Director of National Dance Company Wales, making her U.S. debut, whose work is sharp, poignant, and humorous. Also on the program is Common Ground from Chinese choreographer Yin Yue, an energetic and mesmerizing blend of Chinese traditional folk dance and contemporary movement (known as FoCo)." See the Reser website for more details.
NW Dance Project was founded in Portland in 2004 by acclaimed dancer, mentor, and choreographer Sarah Slipper. NW Dance Project is dedicated to the creation and performance of innovative, new contemporary dance works from talented choreographers from around the world, all created in an open and artistically stimulating environment.
Ask WCSO: How do I know if it's safe to leave my child home alone?
With spring break on the horizon for many students this time of year, many parents wonder, "Is my child old enough to stay home alone?" This question is challenging because it really depends on the maturity of the child. Ask yourself these questions to help inform your decision:
Does my child know how to get help in case of an emergency, like calling 9-1-1 or going to a neighbor's house?
Does my child have access to a phone and a list of important numbers to call in case of an emergency?
Have rules been established? Some rules might include not having friends over, not answering the phone, not opening the door to visitors, keeping all doors locked, no cooking (or establishing what appliances can be used), and checking in with a parent or caretaker at pre-determined times.
Remember: Not all children mature at the same rate. As your child grows older and stays home alone, it's the parents' responsibility to ensure they follow established rules and possess the life skills to do so. For more information, visit Washington County Sheriff's Office.
Sunset Spring Band Concert
Wednesday, March 22, 7 pm, SHS auditorium, free
Enjoy an evening of lively music. Seats are first come first served. Enter the building by the band room near the school's sports fields on Cornell.
Getting geared up for PE with BEF
Across the district, not all schools have the same basic set of equipment to meet the needs of our students in PE classes. Without these sets, our students are missing out on consistent PE experiences, learning outcomes, and overall wellness.
"Simple exercise equipment can be used in so many ways to positively impact students far beyond their time in the gym," explained elementary PE teacher on special assignment Celia Whitehead. "Unfortunately, for a number of reasons—from distance learning and staff changes to daily wear and tear—much of our PE equipment desperately needs to be replaced."
Beaverton Education Foundation, the Nike Community Impact Fund, and the Beaverton School District are working together to fill these gaps, and our students need your help. Together, we can revitalize and refresh the equipment at every elementary school, so all our students have the same robust PE experience. Specifically, BEF will ensure each of our 51 elementary PE teachers has the hula hoops, scooters, and multi-functional cones they need for all their students.
Your support can give every Beaverton student the tools to create healthy habits and prepare for their brightest future. Donations of all sizes make a difference. Learn more today.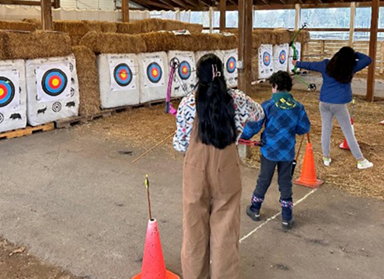 STEP classes added to 4-H Washington County offerings
In January the 4-H Youth Development Program in Washington County launched a new program: STEP (Short-Term Education Program) classes, with archery being the very first.
STEP classes meet for about six weeks and provide families an opportunity to experience what 4-H has to offer in a shorter time frame. Look for more STEP classes, including beekeeping, dog obedience, and more 4-H in Washington County here and on Facebook.
Cash for old wood stoves!
Saturday May 6, 9 am-3 pm, Far West Recycling, 6440 SE Alexander St., Hillsboro
Washington County is offering a $250 incentive to residents who turn in their old, uncertified wood stoves or wood stove inserts or those certified between 1986-1992. This is the third consecutive year for the turn-in event. The first two years brought in 36 old wood stoves.
Old wood stoves pollute the air and can harm the health of the owner and their neighbors. In addition, anyone selling a home with a wood stove or fireplace insert in Oregon must ensure it was certified to meet emissions performance standards at the time of manufacture. If not, state law requires it to be removed, destroyed, and disposed of when a home is sold.
Interested participants must register online ahead of time. Only 40 stoves will be accepted. Additional instructions are provided on the County's webpage. "This is a great opportunity for Washington County residents who want to get rid of their old wood stove and don't want to replace it with a new one," said Washington County Housing Rehabilitation Specialist Tim Davis. "For those who want to replace their old wood stove with a new one, our Wood Stove Exchange Program is a better option."
Under the Wood Stove Exchange Program, qualifying residents can receive a rebate of $1,500-$4,000 when they replace their old or uncertified wood stove with a cleaner heating device. Some households may qualify for a full-cost replacement, depending on their income. More information is available at WoodStoveExchange.com. For more information about the turn-in event or the exchange program, call 503-846-4425.
Lovegood offers first Spring Break Camp & Summer Camps
For Amy and Matthew Bowman, the pandemic was no time for rest—they were too busy building a theater. Together with other founding families including Amy and Nathan Goff and Ames and Evan Aldrete, the Bowmans started Lovegood Performing Arts Company. "The spring of 2020 felt like our world was turning upside down. Obviously, the early days of the pandemic had a huge part to do with that, but we'd also just received the tough news that our current theater organization was shutting its doors," said Matthew Bowman.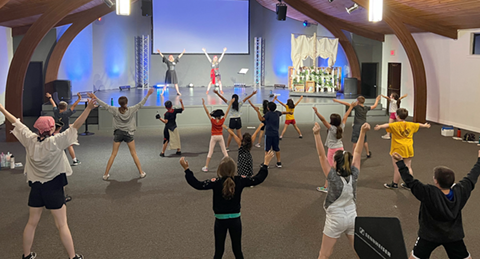 Since 2020, Lovegood has hired nearly a dozen instructors and staff and will offer their first spring break camp this year, as well as a full summer of camps and evening workshops. Lovegood's Spring Into Musical Theatre camps are available for students K-12, with an audition masterclass scheduled for adults. Camps are available for half-day or full-day from March 27-31. Registration is now open, with scholarships and payment plans available. Lovegood remains dedicated to providing a totally inclusive environment where no one is turned away. Students in the Spring Into Musical Theatre camps will work together to write and perform a short play using inspiration from the popular musical, Fiddler on the Roof.
From June 19-August 17, Lovegood Performing Arts Company will offer summer camps and evening classes for students ages six and up. With a variety of ways to take part onstage and off, Lovegood works to create a supportive environment where every student feels they belong. Lovegood will offer performance-based camps like Disney's The Lion King KIDS, plus skill-building classes like improvisation, dance, stage combat, writing, and technical theatre. Lovegood has camps that meet every young artist where they are.
High school senior Autumn Stephens has been with Lovegood since it started, saying, "I've grown so much as a person, thanks to Lovegood. I know the impact will always last in my life." Stephens has worked with younger students at Lovegood and says of her journey from student to instructor: "Watching younger students find their love of theatre and joy in community is a great experience." More info can be found at www.Lovegood.company
ACMA PTO Restaurant Night Fundraiser: Panda Express
Wednesday, March 15, all day, any Panda Express
Arts & Communication Magnet Academy Parent Teacher Organization raises funds for student programs with restaurant fundraising days. Panda Express will share 28% of the sale proceeds with ACMA PTO. The code to use with online orders is 913311. Share with family and friends anywhere a Panda Express restaurant is located. Unfortunately, delivery service orders, such as Doordash, Grubhub, Postmates and Uber Eats do not qualify for this event. Thank you for your support of ACMA PTO and the ACMA students.
Sunset HS Marching Band Bottle & Can Drive
Saturday, March 11, 10 am-1 pm, Sunset Church, 14986 NW Cornell Rd
Drop off your redeemable bottles and cans to help us raise funds for marching band & music programs at Sunset High School. Bring them in any container (or use bags we provided), and we'll give you a new bag for next time. You can reach us at samba@sambanote.org with any questions.
Brought to you by the Sunset Apollos Marching Band & Auxiliary (SAMBA), this fundraiser helps pay for travel expenses, entry fees, uniforms, specialized performance instruction, show design, instrument purchase and repair, purchase of new music and arrangements, and scholarships for students who otherwise would be unable to afford to participate. SAMBA is a 501(c)(3) public charity and supports all the comprehensive Band and Color Guard programs available at Sunset HS.
The Constitution: Fulfilling Democracy's Promise? – The Constitution, Democracy and Representation
We'll look at the Constitution's creation, trace major changes to its interpretation, examine its current structural limitations, and shatter some myths!
Visit the Civics for Adults site to learn more and sign up for Donna Cohen's newsletter.