Cedar Mill welcomes a variety of new businesses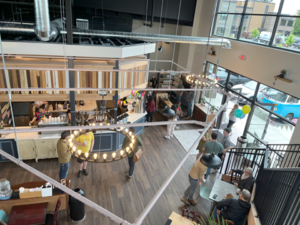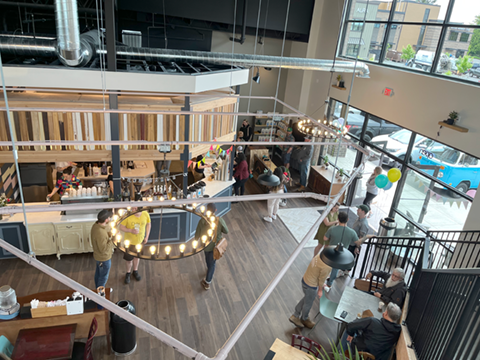 By Virginia Bruce
After a long hiatus during the COVID pandemic, we are seeing a delightful explosion of new businesses opening, both in the new Milltowner Center at Cornell and Saltzman, and around town. We'll catch up with all of them over the next few months.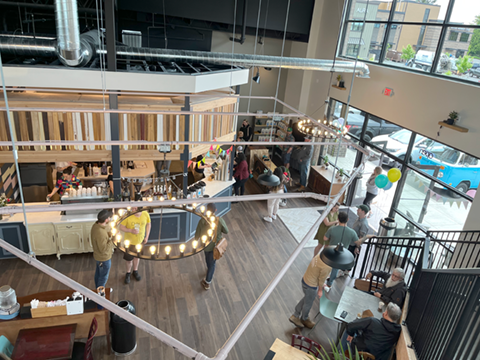 Insomnia Coffee
Daily 6 am-6 pm except closes 5 pm Sundays, 12535 NW Cornell Rd
Evan Aldrete and Tyler Geel, partners in Insomnia Coffee, opened the Cedar Mill location in late May to an enthusiastic crowd. The roomy coffee shop includes a balcony with seating and a view of the nearby library. An eclectic assortment of furniture gives the space a cozy feeling. High ceilings keep the noise level comfortable. The upstairs space will be available for public and private events.
The first Insomnia Coffee opened in 2007 in Hillsboro at 53rd & Baseline. Next came the Tanasbourne location, and now they have six in all, including Murrayhill, downtown Hillsboro, and Cannon Beach. Evan graciously answered my questions while playing with his kids.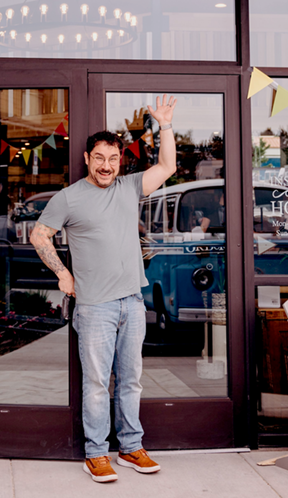 What drew you to the Cedar Mill location? (aside from my begging!)
Actually, I think the first I knew about the possibility was a post on Facebook that someone forwarded to me (yep, that was me), where many people commented that they wanted Insomnia as one of the businesses in the new Milltowner. Then, just after we opened the Murrayhill store, I got a call from Steve at Neville & Butler Commercial Real Estate with more information about the new center. What really sealed the deal was the owners of the center taking a personal interest. One of my wife's first jobs was working in the bakery at Bales Thriftway in Aloha so she knew the family. Ken & Dolores Findley visited all our shops including the Cannon Beach location. Instead of us seeking out a location, we were sought after. We are really happy here. We have already hit some benchmarks that we haven't seen since pre-Covid.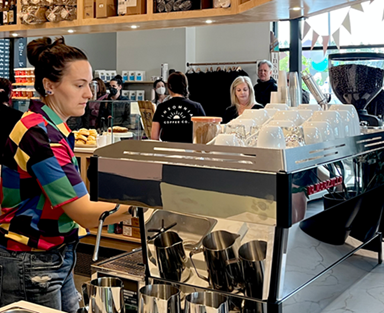 When my husband first discovered you, he remarked on the care taken by your baristas. I know that makes a great deal of the difference, along with the quality of the coffee, in creating a great cup. Tell us about how you train your people.
I'm a perfectionist. We have a 90-day training program, even for those with previous experience. They start out at the register getting to know our customer base because we feel like relationships are important. Then they learn to make espresso, and then move on to the blended and flavored drinks. We want to be consistent, not exciting, it's important for people to get what they expect.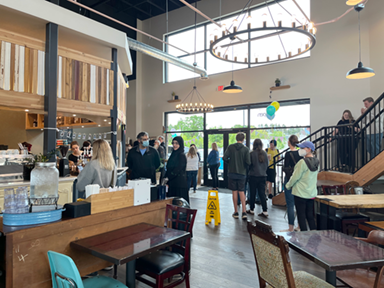 What's the relationship between Insomnia and Dapper & Wise?
We own both companies. Dapper & Wise is mainly a roaster wholesaler, although you can buy their beans at our shops. Originally, we got our coffee from Sleepy Monk in Cannon Beach. When they sold the business to their head roaster in 2013, we decided to start our own. I was the head roaster at D&W for five years. The white buffet counter at the Cedar Mill shop was from original tasting room from D&W.
Anything else you'd like us to know about?
Tyler and I feel very strongly that in any new community, our goal is to cater our shop to what's happening in the community. We intend to listen and be engaged. We are very much hands-on and trying to provide what our customers want.
The shop has all types of coffee drinks, tea, hot chocolate, pastries both sweet and savory, and a few gluten-free items, including a coffee cake to die for!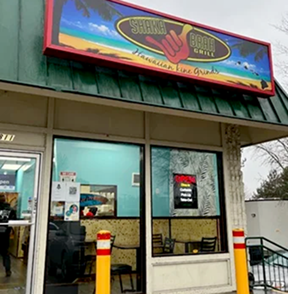 Shaka Brah Grill
Tuesday-Saturday, 11 am-8 pm, 811 NW Murray
Cedar Mill welcomes new owners to the former Kauai Island Grill location on Murray next to the Plaid Pantry. The menu covers the gamut of Hawaiian food, from Plate Lunches including chicken, shrimp, Kalua pig (Hawaiian style pulled pork) or Loco Moco (beef patties, gravy, and eggs over rice) to a variety of Hawaiian barbecue, rice bowls and poké (marinated raw fish in sauce), along with homemade dessert cakes and puddings. They carry tropical sodas and drinks and make various flavors of boba tea.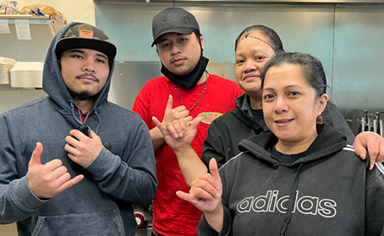 Maricelle Cabrera and Roy Agulto met in Hawaii, although they were both born in the Northern Marianas island of Saipan. They took over a friend's catering business for a while, before moving to mainland US. Their first business here was a food cart in northeast Portland, and then they had a contract to serve Amazon employees at the Troutdale distribution center, beginning in 2020. The families pitched in to cover the long hours, serving food for four separate lunch breaks for the different shifts, from 8 am to 1 am, providing two choices for each meal.
They moved into the current location in September 2021 and the family began work to bring the restaurant up to code. They opened in December. Shaka Brah refers to the hand signal that Hawaiians greet each other with.

They're planning to create an outdoor patio on the west side of the building so they can make Huli Huli dishes. That's a Hawaiian style of barbecue where the meat is grilled between two grates, basted with sauce, and turned. They also hope to offer a Fiesta Platter that feeds two to four people. "You can't' say it's Hawaiian food unless you serve big portions," laughs Maricelle.
Stop in soon for lunch or dinner. You can order for takeout online at shaka-brah-grill.square.site. They also offer catering. They're open Tuesday through Saturday from 11 am to 8 pm. Like their Facebook page for the latest news.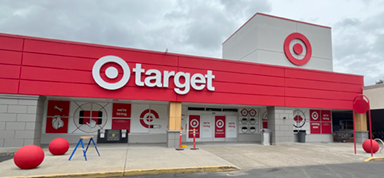 Target
The small-format Target in the former Bales Marketplace building is opening soon. We've heard there will be a soft opening during the week of July 12 with a Grand Opening on July 17.
More new tenants in Milltowner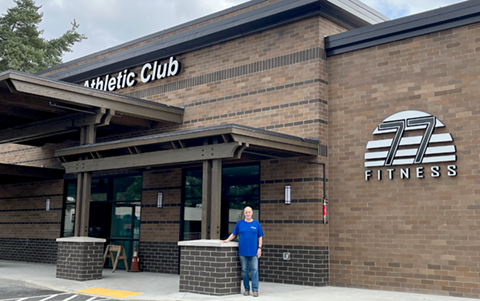 The new Milltowner Center at Cornell and Saltzman is filling up fast! Wildwood Taphouse is opening soon—we'll cover them next month. 77 Fitness, the expansion facility for Sunset Athletic Club, is nearing completion and will likely open mid-summer. We had the chance to visit and we'll share some of the plans with you next month.
EXP Nails is moving from the Cedar Hills Shopping Center as soon as their space is finished.
A chiropractic clinic will open in one of the spaces in the east building. We have rumors of a pizza restaurant and a sushi restaurant but these are not confirmed.
These are in addition to the other new businesses we have already written about: White Birch Design, and Abuela Chona.
Aurora Coffeehouse
Daily 7 am-5 pm, 11200 NW Thompson
They opened last fall in what used to be Helen's Market at the corner of Thompson and South in Bonny Slope but decided they didn't want an article in The News.