Park News September 2023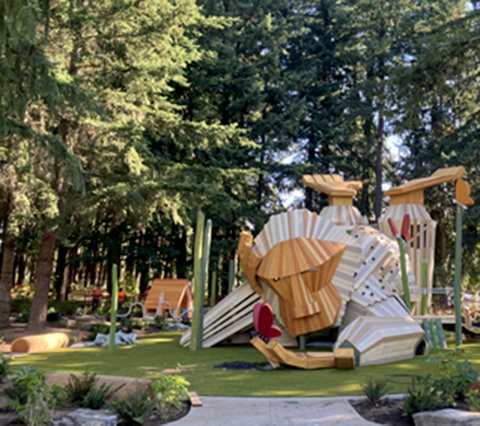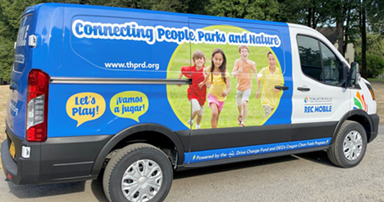 Two new Rec Mobiles funded
THPRD is excited to announce that it was selected by Portland General Electric's Drive Change Fund (DCF) to receive funding for two of the district's latest Rec Mobiles. "This grant from PGE is so impactful as it allows us to bring mobile recreation programs out into the community to serve families and children who most need access to outdoor fun and fitness," said Felicita Monteblanco, THPRD Board President. The PGE DCF is funded via the Oregon Department of Environmental Quality's Clean Fuels Program. The DCF prioritizes projects focused on serving vulnerable populations and underserved communities. This aligns with THPRD's core values that center around equity, sustainability, and a deep commitment to our community's vision for park and rec services because the Rec Mobile provides free athletic, artistic, and educational programs at local schools, in parks, and at housing sites. This expands access to families who may not have the ability to come into a center to experience recreational programming.
THPRD Fall registration is going on now!
Fall registration is now open for both in-district patrons and out-of-district patrons. You can find more information about registration on the THPRD website or come into a center now to pick up your paper activities guide.
Join the Levy Task Force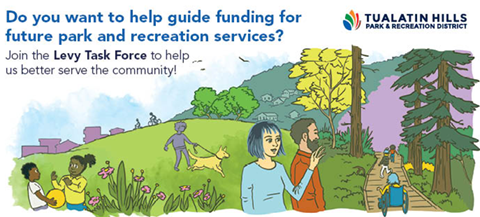 THPRD is looking at options to stabilize funding for park and recreation services to maintain current service levels and to prepare for future needs and we need the public's help. An upcoming $16 million gap in the operating budget could lead to reduced services and reduced staffing.
As the THPRD Board of Directors reviews the possibility of asking voters to consider a local option levy to find stable funding, community members are invited to apply to the Levy Task Force whose recommendations will help inform the decision-making. Members will serve from September-November 2023, attend approximately three meetings, provide a commitment of approximately eight hours over the three months, serve as community advisors and make recommendations on a potential operating levy, advise on the amount of the levy and what services should be included, and advise on communication and outreach strategies to inform the public about the levy. If you are interested, apply by September 1 through the Levy Task Force Application form.
Bonamici assisting THPRD in grant request for emergency shelter funding
Congresswoman Bonamici is helping THPRD with a funding grant of nearly $950,000 that will lead to infrastructure improvements to operate as safe air-filtered cooling and warming centers during wildfires and extreme weather events.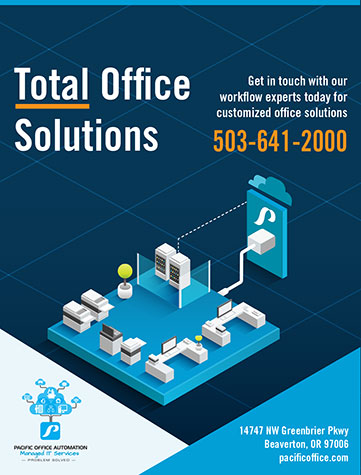 The grant would support THPRD's recent role in the Washington County led Natural Hazard Mitigation Plan. This coordinated response in supporting regional disaster preparedness is possible through the partnerships of many agencies led by the county and supported by local cities and special districts. "THPRD is honored to work with our county and city leaders to stand up shelters when the time comes," said Board President Moreno. "Park and recreation centers are trusted community gathering spaces and it is vital we invest in these facilities to make sure they can take care of the community when called upon."
Bonamici is currently advocating for this project to receive federal Community Project funding. THPRD expects to receive a final decision on the grant request in late 2023. If successful, the proposed grant would add air conditioning to the Cedar Hills Recreation Center and Conestoga Recreation & Aquatic Center gyms as well as the tennis courts at the Babette Horenstein Tennis Center. The grant would also provide air filtration system upgrades to six THPRD facilities, improving air quality.
Join us during Welcoming Week for Zumba from Around the World!
Wednesday, September 13, 6-7:30 pm, Cedar Hills Recreation Center, 11640 SW Park Way, Portland, free
Forget the workout! Lose yourself in the music with Zumba and our fantastic team of instructors in partnership with Welcoming Week! Please contact 503-629-6340 for more information.
Volunteer at Jackie Husen Park Community Garden
Saturday, September 30, 9-11:30 am, Jackie Husen Park,10955 NW Reeves St., Portland
Help us spruce up the Community Garden at Jackie Husen Park! Volunteers will help weed and mulch, as needed. Please bring a reusable water bottle to drink throughout the day. If possible, we also ask that you bring your own gardening gloves and hand tools. Extra tools and gloves will be available. No gardening experience necessary. The garden is located next to the parking lot on SW Bonnie Brae Street. To register, please visit the event page on the THPRD website.
Volunteer for Jackie Husen Dog Park project
Saturday, September 30, 9-11:30 am, Jackie Husen Park,10955 NW Reeves St., Portland
Help us mulch the Dog Run at Jackie Husen Park! Volunteers will spread mulch in preparation for the fall rains. Please bring a reusable water bottle to drink throughout the day. If possible, we also ask that you bring your own gardening gloves. Extra gloves will be available. To register, please visit the event page on the THPRD website.
Hillsboro Parks events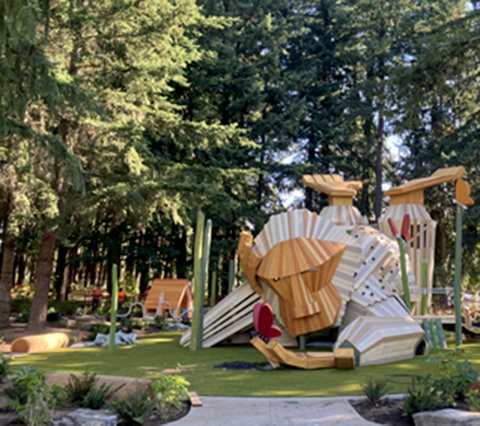 Meet Oro, the Friendly Forest Giant, at Hidden Creek Park West!
Beginning Monday, August 28, dawn, 225 NE 53rd Ave., Hillsboro, free
Hidden Creek Park West was designed as an inclusive and accessible park and playground for people of all abilities. Park features include inclusive play elements; stable surfacing areas; generously sized all-gender restrooms; six accessible parking spaces; and a 50-foot-long friendly forest giant made of cedar. The name means "gold" in Spanish and alludes to the city's name of Hillsb"Oro". The park will also feature water play, looping pathways, exercise equipment, swinging benches, shade structures, a hammock grove, game areas, and a mural. In addition to the mature oaks and firs on site, more than 200 trees and native shrubs are being planted as part of the project.
Portland Opera a la Carte presents "Romeo & Juliet"
Thursday, September 7, 7-8:15 pm, Walters Cultural Arts Center, 527 E. Main Street, Hillsboro, free (seating first come, first served only)
In honor of the 400th anniversary of Shakespeare's First Folio, Portland Opera is offering an innovative hybrid presentation of Romeo and Juliet. Featuring dialogue from the play and music from Gounod's opera, this approximately hour-long presentation explores The Bard's words and Gounod's music in an engaging narrative with piano accompaniment. This production is curated in partnership with "Shakespeare's First Folio: 1623-2023," a public humanities project at Portland State University in collaboration with other regional arts organizations recognizing and celebrating Shakespeare's legacy.