Business News February 2021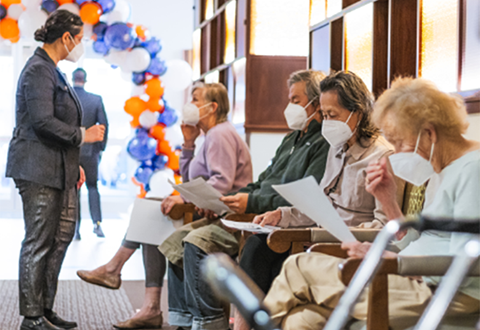 Village Gallery Adult Classes And Workshops
Please see our website for online registration details.
Jean Anderson: Beginning Watercolor
Mondays, February 15 and 22, 10 am-12 pm. Maximum of six students per class. Zoom, two-sessions
Have you always wanted to learn how to paint with watercolor? This is the class for you! Regardless of drawing skill, I believe anyone can enjoy painting. As soon as you dip a brush in paint and glide it across the paper, I know you will be hooked! Watercolor is a beautiful medium, and at the end of the first class, you will complete a small painting that you will be proud of.
As this is an interactive Zoom class, we will start painting immediately! I use a two-camera format, allowing you to see my work and my face simultaneously. You will watch me with a camera placed just above my brush while I walk you through the technique, and I will verbally repeat the steps as you practice. Thus, you can ask questions as we go along!
Throughout the period, students will hold their work up so I can make sure I am being clear. Students have told me it is so much easier to see what I am doing than in a live class! I like to have a good time, and each class is lots of fun.
If you decide to take this class, please contact me at 503-649-9097 (Jean Anderson) so I can talk to you about supplies. I can tell you if what you have will work and if not, what to buy and where to find it. For more information, visit my website—you can see my work, find supply details, and read my history.

To find a supply list and more details, please see our website.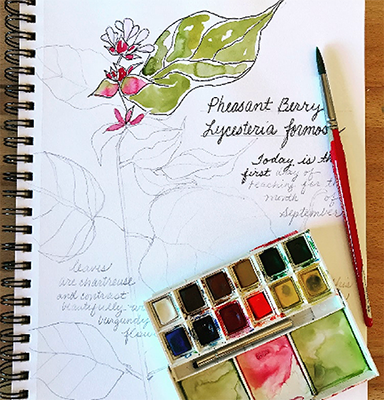 Elizabeth Higgins: Nature Journaling with Watercolor
Sundays, February 21, March 2, 21, and April 18, 1-3 pm, 1060 NW Saltzman. Maximum of three students per class. Class size may increase if COVID conditions improve. If this is the case, those on the wait list will be notified.
These are stand-alone workshops with repeated content; if you wish to attend more than one, you must register for each separately. No experience is necessary to join.
Nature journaling is the practice of drawing and writing in response to observations of nature. Experience the grounding nature and mindfulness aspects of slowing down to notice the beauty and uniqueness of flowers and plants in journal pages you create with pencil, pen and watercolor.
Students will be guided through various drawing, painting and journaling techniques as they observe real flowers and plants provided by the instructor. Leave class inspired and motivated to continue journaling on your own. For a supply list and more details, please see our website.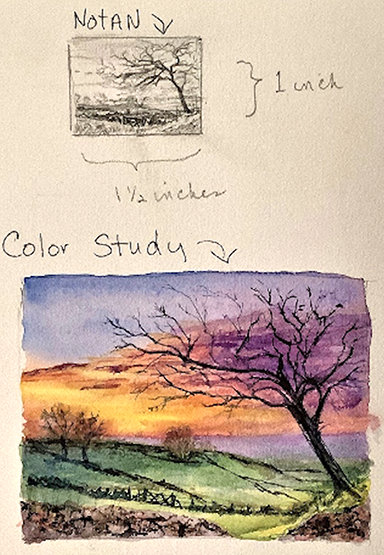 Jean Anderson: Value Studies and Color Studies for Painting
Thursday, February 25, 10 am-12 pm. Maximum of twelve students per class. Zoom, one-session
Suitable for all levels and all media.
As artists, we love to leap into a painting without a clear idea (or at best, a vague idea) of where we are going. This rarely turns out like we want it to! This class will teach you how to do a value study—or notan—and a color study prior to starting. By doing these two simple, quick things, you will be guaranteed a more successful outcome. You will be free to make your own artistic changes to the subject, composition, color, and more! I have prepared notes in advance, and I will film the class for you to refer to afterwards. Specific supply lists will be provided after registration.
Sunset Credit Union is ready to deliver new round of PPP Loans
Small business owners—a new round of PPP loans are now available! The US Small Business Administration (SBA), in consultation with the Treasury Department, announced that the Paycheck Protection Program (PPP) has been reopened for new borrowers and certain existing PPP borrowers.
The Paycheck Protection Program (PPP) is an SBA loan that helps businesses keep their workforce employed during the Coronavirus (COVID-19) crisis. Not every lender is approved to fulfill these loans, which makes Sunset Credit Union a much-needed resource for local businesses.
This round of PPP will help millions of Americans by authorizing up to $284 billion toward job retention and other expenses through March 31, 2021. It will allow certain existing PPP borrowers to apply for a Second Draw PPP Loan.
If you (or someone you know) owns a small business in Washington County and could use a PPP loan, be sure to contact Sunset Credit Union quickly so they may assist as many small businesses as they can. You can learn more about the PPP loan program by visiting the Small Business Administration website.
To get your PPP loan started with Sunset Credit Union, contact them at 503.643.1335 or send them an email at cuteam@sspfcu.com.
Cedar Mill Business Association meeting
Tuesday, February 9, 12 pm via Zoom
The Cedar Mill Business Association continues our Monthly Speaker/Networking meetings via Zoom Online! This month, we welcome Brian Clark, Bay Area-based entrepreneur in the technology industry. Brian will be speaking on the topic of Technology Entrepreneurship and Social Good Impact. He will discuss supporting student-led learning and technology development for healthy, sustainable, connected, and equitable livelihoods in the Bay Area and more cities.
CMBA Members will receive the Zoom Link through our Monthly E-Blast, so stay tuned! We invite guests to two free visits at no charge. Please contact our admin, Chelsea, at admin@cedarmillbiz.com to receive the link to meeting information.
For more details on the Cedar Mill Business Association, please visit our website.
The Ackerly at Timberland provides vaccine to residents and staff
The Ackerly at Timberland strengthened its commitment to keeping the community healthy by hosting a Covid-19 vaccine clinic on January 29, where all residents and staff had the opportunity to receive the Pfizer vaccine on community grounds with the assistance of CVS Pharmacy.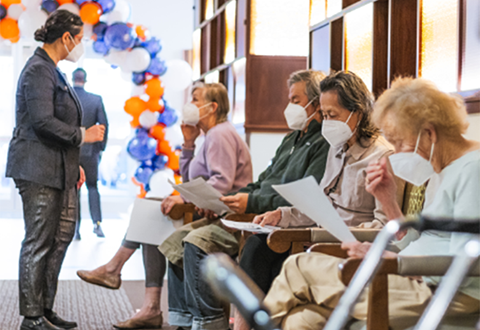 "The community is proud to host the clinic," said Matt Ryan, General Manager of The Ackerly at Timberland. "Keeping our community safe and healthy during these unprecedented times is our top priority."
After receiving the vaccine, a "recovery room" was set up stocked with snacks, water, and live music. This was used to observe residents and staff in 15-minute increments after the shot was administered to monitor any immediate side effects from the vaccine. There are over 150 seniors who reside at The Ackerly at Timberland and roughly 100 employees on staff.
Suzanne Warnes, a resident of the community said, "I'm excited to finally get the vaccine. The Ackerly has made sure all residents have access to information about the vaccine to make the decision to get it. They have done a wonderful job getting residents and staff alike scheduled so that all of us can get vaccinated in six hours. They have shown great care to make the process as, pardon the pun, painless as possible."
The Ackerly at Timberland will keep taking steps to ensure the safety and wellness of the community by continuing to practice social distancing, wear face masks, and limit group capacity for activities.