Park News February 2021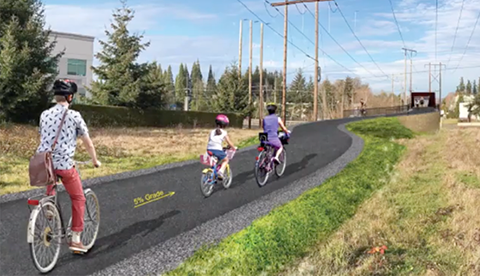 Jackie Husen Dog Run is permanent
The small dog run at the northeast corner of Jackie Husen Park on Reeves was established as a pilot project by THPRD, but after the first year, Community Programs Manager Keith Watson says, "staff are confident in saying that the pilot project has been a success and the concept has been well supported by the community."
He continues, "We were able to gain valuable insight from this process that will aid us in our continued efforts to expand off-leash options throughout the district. We understand that adding amenities to already-established neighborhood parks does not come without challenge and we look forward to sustained dialogue with neighbors and park users to ensure success of the dog run within the park."
Gain Valuable Experience through Internships
Check out the variety of exciting internships THPRD currently has available. A few of the opportunities are listed below. If you are interested in an internship, get more information and apply here.
Exercise Science Internship—Gain valuable experience working with knowledgeable staff while developing and managing virtual and outdoor fitness classes. Applicants must have knowledge of or a willingness to learn fitness programming and community engagement techniques, while working a flexible schedule for a minimum of three months.
Nature Kids Preschool Internship—Work with preschool classes and assist with the preparation of program materials at the Tualatin Hills Nature Center. Applicants must have experience working with children and be available to volunteer M/W/F mornings through June.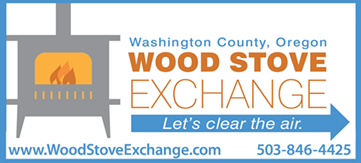 Park Patrol Internship – Shadow experienced staff to perform site patrols and provide a safe and friendly experience for district patrons. Applicants must have an interest in law enforcement and be available to work a flexible schedule for a minimum of three months.
POSTPONED because of snow!
Love Your Trails Celebration
Saturday, February 27, 10 am-noon, Pioneer Park, 14545 NW Pioneer Rd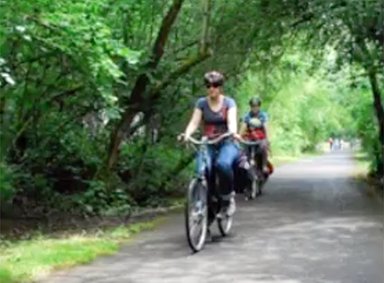 We will be highlighting local trails and Valentines' weekend at this walk-through celebration with family activities, a free raffle, giveaways and FREE bike helmets provided by Oregon Safe Routes to Schools to those who need them (while supplies last).
This event is an opportunity to learn about the upcoming Westside Trail Bridge over Highway 26 and share your input on this pedestrian-cyclist bridge project. Walk or bicycle to the event to receive an extra raffle ticket! People are also encouraged to wear their favorite Valentines' Day colors. The event is free. Please bring your own hand sanitizer, face mask and a reusable water bottle to drink from.
THPRD Westside Trail Bridge update
Vicky Siah
THPRD is planning a bike and pedestrian bridge over Highway 26 so the Westside Trail, when complete, can extend from the Tualatin River to the Willamette. Their second community involvement virtual session was held on January 26. This meeting was live-streamed to the public via the THPRD YouTube channel, and a recording of the meeting has been posted.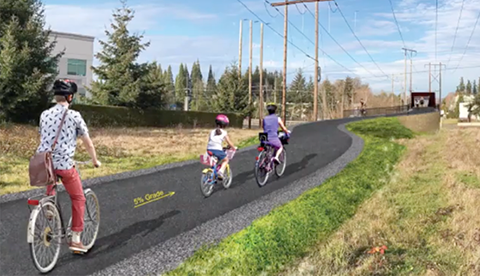 Community feedback for the bridge appears to be positive, including phrases such as "extraordinary addition," "literal lifesaver," and "great throughway." As of now, THPRD has drafted two main alignment paths for the Westside Trail between NW Cornell Road and NW Greenbrier Parkway.
"Option 1," includes a straight bridge over US Highway 26 and a perpendicular North End connection to NW Cornell. It has a steeper grade (8%) which exceeds their optimal benchmark. The perpendicular North End option may be beneficial, however, providing better visibility to traffic and trail users.
In contrast, Option 2 is composed of a horizontally curved trail bridge and a direct connection to NW Cornell. The horizontal curve mitigates the need for a vertical rise, and the grade of this Option is estimated to be below 5%.
The trail surfaces will be asphalt (spanning most of the trail length), fiber-reinforced polymer on the bridge ramps, and a concrete bridge deck. These surfaces are non-slip and may be assembled in panels.
Cost estimates will be refined as the project is finalized. Currently, Option 1 is estimated to cost between $5.5 to $9.5 million. Option 2 may cost anywhere from $6 to $10.5 million.
Additional information can be found on the THPRD Westside Trail Bridge Project website. A second community outreach survey will be sent out, and interested, residents can sign up for the THPRD Project News and Updates. The Westside Trail Bridge study is funded by THPRD's system development charge fund and by Metro's Regional Flexible Fund.
Chehalem Ridge Nature Park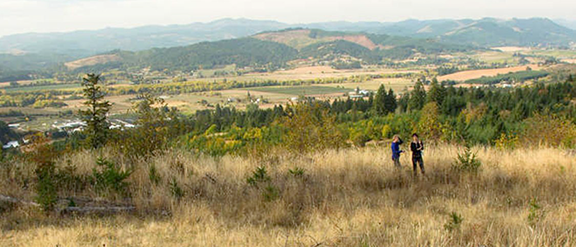 Construction is well underway at Chehalem Ridge Nature Park! The park will cover more than 1,250 acres, making it Metro's largest park west of the Willamette River. Just 15 minutes from downtown Forest Grove and 20 minutes from Hillsboro and Cornelius, Metro is restoring a ridgeline with sweeping vistas of the Tualatin River Valley and the Coast Range.
The park will include a trailhead with picnic areas, shelter structures, a restroom building, and parking for both passenger vehicles and trucks with horse trailers. The design and amenities of the park were deeply influenced by community members who shared their vision for what this park will become.
The trail system will include 10 miles of trails for walking, riding off-road bicycles or horses, and enjoying nature. These trails will allow visitors to experience the park and get up close to nature while providing animals and sensitive plants the space they need to thrive. We are thankful that Oregon State Parks awarded Metro a grant allowing us to build the full trail system, including over three miles of trails for visitors of all ages and abilities.
We understand that access to nature is more essential than ever due to the on-going pandemic and that many people want to experience the park as soon as possible. As a reminder, the site needs to remain closed to protect public investments, natural resources and public safety. Although some trails are partially constructed, none are ready for use. New trails need to settle and weather before they are used. Once a trail has been "seasoned," it becomes more durable.
This project would not be possible without the people of greater Portland choosing to invest in nature. Community members provided their time and insights to create the nature park they want, one that connects all of our region's residents to nature. We look forward to welcoming visitors to the new park before the end of the year.