Community News February 2021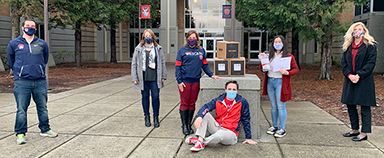 RESCHEDULED!!
Drop off your surplus "tech" for others to use
Saturday, March 6, 3-5 pm, Cedar Mill Library Parking Lot
Most household or desktop tech items are accepted at this tech drive. This includes, but is not limited to, headphones, webcams, mice, keyboards, desktop and laptop computers, phones, tablets, and monitors.
*Note: If donating an Apple device, you must remove it from your iCloud account. Instructions can be found on Apple's website. Make sure to turn the activation lock off when donating a mobile device. Please also check that the correct power adapter is with its corresponding equipment/machine. Finally, untangling & coiling cords/cables can be very helpful!
The drive is organized by Neil Surya, a sophomore at Westview High School. He explains, "When the novel coronavirus pandemic first hit our community, I saw people around me—friends and classmates—suffering from the effects it had on their school lives as they tried to keep up with the demand for technology in our households. I knew I had to do something about this situation, and I also knew that technology was a field I was interested in, having just built a computer myself for the first time.
"Free Geek is an organization that can properly facilitate the correct recycling and refurbishing of used tech, but it's located in southeast Portland, so I knew a way I could help in a field I'm passionate about would be to support Free Geek from my area. I felt this would be a great way to express my support for our community during this tough time for many, and engage my passion for tech."
Neil and his family and friends will collect items safely, maintaining distance and having donors place items in boxes or directly into their vehicle.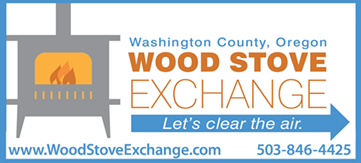 Teens: Choosing a career in the creative industries
Saturday, February 6, 2-4 pm, Zoom, register below, ages 15-18, free

What does it mean to say, "I want to be an artist?" In this virtual workshop, Tualatin Valley Creates is bringing together college counselors, art directors, professional artists, and art administrators to talk about what it really means to work in the creative sector. Not everyone becomes a studio artist—many become corporate product designers, nonprofit arts administrators, social justice advocates, business owners, and more.
Find the right college, explore the many directions you can go in the creative sector, and hear answers to the infamous question, "How do you make a living as an artist?" Our panel of creative professionals will guide you through an activity to give you meaningful steps to take toward the career you want. We invite young artists of all media—including (but not limited to!) visual, literary, performing, culinary, design.
2021 Panelists: Danielle Gurley—Freelance Executive Producer, Instructor at r/Advertising School; Andre Middleton—Founder and Executive Director at Friends of Noise; Christine Miller—Conceptual Artist and Curator; Leah Payne—Client Solutions Resource Associate at the Center for Creative Leadership
Register on the Tualatin Valley Creates website.
PCC Music Concerts
Tuesday, February 16, 5 pm, and Tuesday March 2, 5 pm, free
The Experience Music Series, presented by the Portland Community College Department of Music, will hold two virtual concerts in February and March. To view the concerts, visit our Experience Music YouTube channel.
On February 16, Christopher Woitach, called a "Jazz Guitarist Extraordinaire" by the Pacific Arts Association, performs with his quartet. Mr. Woitach, a guitarist and composer from Portland, performs a wide range of jazz styles, from Dixieland to Free jazz, Ragtime to Bebop. His compositions reflect his diverse musical tastes and abilities, and combine the intricacies of Baroque counterpoint with the freedom of modern jazz. Christopher will be joined by John Moak on trombone, Tim Gilson on bass and Charlie Doggett on drums.
On March 2, discover Grupo Borikuas, a Portland-based Latin band that performs dynamic ethnic music from Puerto Rico with Afro-Caribbean roots. The band's mission is to spread Puerto Rican music and culture throughout the Portland area with the help of their beautiful vocal harmony, virtuosic percussion and charming and friendly stage presence.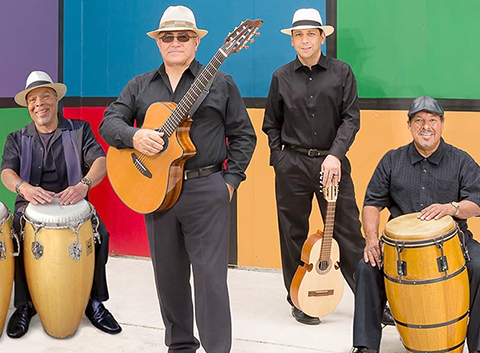 Borikuas members are all of Puerto Rican descent who authentically feel passion for their heritage, their music, and their culture. Sharing this passion as well as a true friendship, through their presentations and performances, Ramón Cancel (lead guitar, Puerto Rican cuatro, and vocals), Aquiles Montas and Martín Velez (percussion and vocals), and Neftalí Rivera (guitar and lead vocalist) give life to the music of their homeland.
The popular question and answer session with the artists will follow each performance. There is no charge to view the concerts, but donations to the series are gratefully accepted.
The Experience Music Series is presented by the Portland Community College Department of Music. The series is supported by the Oregon Cultural Trust and the Cultural Coalition of Washington County. The series receives additional support from the Reser Family Foundation and Oregon Arts Watch. Please visit the Experience Music Series website for more information or contact Anthony Catalan at anthony.catalan@pcc.edu.
Cedar Mill Farmers Market invites vendors, sponsors
For the Cedar Mill Farmers Market, February is the time for vendors to submit their applications and for us to start getting the right mix of farmers and other vendors for the market. Every year we have several new vendors—our market is a great and welcoming place for them to start out.

It is also the month to reach out to the community as we look for sponsors. If you have a local business and want to be a part of our "community minded," open-air farmers market, we want to work with you! Our market relies on the support of our community to exist. Sponsorship from local businesses and from organizations like the Farmers Market Fund and Tualatin Soil and Water Conservation District make the Cedar Mill Farmers Market possible.
Did you know that this past season we tripled the number of SNAP customer transactions we had over the past year? We were able to offer a $10 match to each of them! In addition, with grant money from TSWCD we were able to give over $3000 in fresh produce to 150 families with food instability. We also were able to give $1000 to a local food pantry, Helping Hands.
This past year our AWESOME business sponsors were Sunset Athletic Club and The Cedar Mill Business Association. And of course a big thanks also to Safeway and store manager Rick for hosting us in their parking lot. If you would like more information about being a sponsor of CMFM (there are a few "perks" too)-please email us at cmfm@gmail.com.
We are not sure what this coming season will hold, but we will be ready, adapt as needed, and we'll be here for you! Opening Day is May 1 and we will run through October 16.
Beaverton Winter Market opens
Saturdays, February-April, 10 am-1:30 pm, SW Hall Blvd, between 3rd and 5th streets in Beaverton

We have changed the market layout to accommodate a wider berth for customers, and have discontinued handicap parking for the time being. We do this in order to maintain a comfortable social distance between people for safe shopping.
All market aisles will have two lanes of pedestrian traffic, much like you would have for vehicular traffic. To minimize crisscrossing walkers we will have one lane for people walking north, the other lane will be for people walking south. You can change lanes in the middle of each aisle
We have made our aisles wider in most areas of the market so that each vendor will have room for social distancing customers waiting to be served. We ask that you maintain distance from other customers in the aisles, much as you would at the grocery store
There is no need to come right at market opening time. Our vendors won't run out of things and traffic will be lighter in the afternoon. Learn more and see the vendor lists on the Market website.
Writer's Mill
Sunday, February 21, 1-3 pm, via zoom
Writers from Cedar Mill and around the world will meet in the library's zoom room when Jim Mockford, author of a multicultural, bilingual picture book for children, and sharer of amazingly imaginative writing and marketing ideas, will speak from his many experiences. Afterward we'll enjoy a group critique of Catherin and lain's transatlantic poetry partnership! Join us. Be encouraged by us. Write with us. And dream with us.
Contact the library or admin@portlandwritersmill.org for more information.
News from our State Rep!
Our Oregon Representative, Maxine Dexter, has a very informative newsletter and shared this recently.
One thing that is very important to me as an elected leader is transparency and connection. You will be able to count on weekly communication with me in the form of written newsletters every other Friday and Virtual Coffee Conversations every other Saturday. Our first coffee was on Saturday, January 23.
Our next coffee will be Saturday, February 6, at 9 am. These events will be posted on Facebook and YouTube afterwards for the benefit of those who can't join us live. Please look to our newsletter and Facebook page to find the link to register for our Coffee Conversations.
Visit her legislature web page and sign up for her newsletter here. Stay connected through her Facebook page (State Representative Maxine Dexter), Twitter account (@RepDexterOR), and her Instagram (@RepDexterOR). Feel free to reach out to her office at Rep.MaxineDexter@OregonLegislature.gov.
Oregon vaccine volunteer opportunity
Dexter suggests, "If you'd like to support the COVID vaccination effort, please consider volunteering to help with vaccinations! We are looking for medical and non-medical volunteers in all parts of Oregon to assist with the distribution of the COVID-19 vaccine. If you are a licensed and certified health care professional, in the state of Oregon, including physicians, nurses, pharmacists, Emergency Medical Technicians, and behavioral health providers, you can register with SERV-OR at https://serv-or.org/."
If you are a non-medical individual interested in volunteering, you can sign up on the form on Dexter's web page here.
Cedar Hills Ready! presents: When the water stops, what do you do?
Wednesday, February 17, 7 pm, Zoom, free
How to make water and sanitation work in a disaster.

Daddy, I'm thirsty! Mommy, I gotta go. Teacher, my tummy hurts awful. When the BIG ONE shakes Oregon, it will damage our water and sanitation systems. How do we go from an average in-home use of 80 to 100 gallons of water per person per day to the recommended ONE gallon?
Join us to beat the odds and prepare smartly. During Cedar Hills Ready's WaSH program on Water, Sanitation and Hygiene Zoom meeting, we will show you the tricks to make water clean, sanitation safe, and hygiene disease free. Keep the rats out and the kids happy. Join us to come out a winner. Spread the word. Invite your family and friends. We welcome everyone! It's free and open to the public.
Register in advance for this meeting.
Library news
We want to hear from you! and more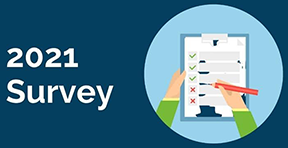 The Cedar Mill and Bethany Libraries want to hear from you! 2020 has changed the way the Cedar Mill and Bethany Libraries provide services to the community. Throughout February, we are asking the community to help us look closely at what we are doing and plan our library services for 2021 and beyond.
Please help us by taking the 2021 Library Survey. Print copies can be requested by calling (503) 644-0043.
Cedar Mill and Bethany Libraries events
Kids: Rockstar Readers Book Club
Tuesday, February 16, 4-4:45 pm, via Zoom
Visit our website to learn about the libraries' new monthly book club for 3rd through 5th graders—with a grown up.
Register for February: Pie in the Sky by Remy Lai.
Pre-Recorded Storytimes:
Every Tuesday, Wednesday, and Friday, 10:30 am, Facebook and YouTube
Tuesday: Baby Time with Teresa or Songs and Rhymes for Young Children with Marta
Wednesday: Stories and Rhymes with Julie or Nicole or Songs and Rhymes with Steve
Friday: Friday Fun featuring booktalks, escape rooms, read-alouds, draw and tell stories, and more!
Facebook: @CedarMillLibraries YouTube: Cedar Mill Library
Live Interactive Storytime:
Thursdays, 10:30 am, via Zoom, registration required.
Preschool Storytime with Rebecca or Jenny. Find details and registration information at the library website.
Teens and Tweens:
Visit the library website to find more resources for teens and tweens.
Teen Litfest with Adib Khorram
Wednesday, February 10, 6 pm, ages 11-18
Adib Khorram is the author of the young adult novels, "Darius the Great is Not Okay," which earned several major awards, accolades, and "Darius the Great Deserves Better," which received three-starred reviews and was an instant indie bestseller. He is also the author of the picture book "Seven Special Somethings: a Nowruz Story." When he isn't writing, you can find him learning to do a Lutz jump, practicing his handstands, or steeping a cup of oolong.
For more information, visit the Teen Litfest website.
Adults:
Rose City History, Rose Gardens, Rose Growing
Tuesday, February 16, 6-7:30 pm, adults, via Zoom
Living in and around Portland, the Rose City, our history and culture is infused with roses. Learn more about our long connection with roses and improve your own knowledge of growing the Queen of Flowers! Register to receive an email on the day of the event with information about joining the Zoom meeting.
Diverse Reads:
Thursday, February 18, 6:30-8 pm, adults and teens, via Zoom
Reading group exploring and discussing diverse works, including nonfiction, short stories, poetry, and works of fiction. Learn more on the library website.
OReGO seeks volunteer drivers
OReGO is a program created by the State of Oregon in which drivers elect to pay road taxes based on the number of miles they drive, instead of the current gasoline tax levied at the pump. Through the end of February, the state of Oregon is looking for volunteer drivers to collect data over the next three months. Volunteers can earn up to $450 by plugging a device into their vehicle, driving around the Portland area, and answering questions. For more information about OReGO, visit their website.
TriMet virtual open house
Wednesday, February 10, 5-6 pm, Zoom
TriMet will hold a virtual open house to hear feedback on proposed service improvements for the fall of 2021 and spring of 2022. With the financial impact of the COVID-19 pandemic and projected losses in fare and payroll tax revenue, we have paused the largest bus service expansion in our region's history. However, we are planning to adjust a number of bus routes to help speed up service and make it more reliable with improvements that come at little to no cost.
We held our first open houses on the proposed service improvements last fall and made some updates to the plan based on your feedback. The open house in February will provide an opportunity to see how the proposed adjustments have changed.
Washington County Sheriff's Office
In the past year, children have spent more and more time online. Unfortunately, some scammers and predators have sought to exploit that situation. It can be challenging for parents to keep track!
How can you take steps to keep children safe online?

First, parents need to teach their children how to be a good digital citizen with online communication and interaction. Children need to know what is appropriate and what is inappropriate online. Strangers should not be reaching out to converse with children online. No one should ever offer to send children gifts online or send or request inappropriate pictures.
Next, parents should emphasize that it is good for the child to immediately tell an adult if anyone offers or requests anything inappropriate or makes the child feel uncomfortable.
If your child reports inappropriate behavior, save the inappropriate messages, block the sender and report the incident both to the CyberTipLine and to the Washington County Sheriff's Office non-emergency reporting at 503-629-0111.
WCSO offers a detailed fact sheet on Internet Safety for Kids that may be downloaded here.
Tualatin Valley Fire and Rescue
Tualatin Valley Fire & Rescue helps vaccinate thousands of first responders and healthcare workers by giving its frontline personnel the first dose of COVID-19 vaccine and helping county partners vaccinate thousands of law enforcement officers, healthcare workers, and firefighters from neighboring agencies. This includes the Beaverton Police Department and Washington County Sheriff's Office. Vaccinations will continue through the coming weeks and months.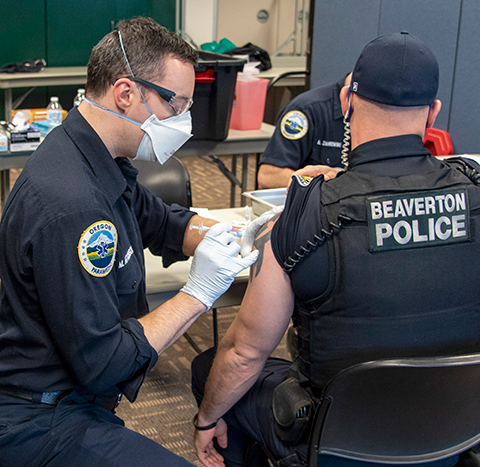 TVF&R started vaccinating firefighters and paramedics on January 3 at its South Operating Center. In preparation for the vaccine's arrival, TVF&R's vaccine branch of its COVID-19 task force worked with public health partners to create scalable distribution plans for more than 550 employees, as well as city and county partners to support the vaccination of first responders in the Group 1a category established by the state of Oregon.
Paramedic Megan Rye was TVF&R's first vaccine recipient. She's been a paramedic since 2007 and joined TVF&R in 2017. "I feel great," she said. "I'm excited for the opportunity to get it and excited to start protecting our residents. It just provides everyone a little bit of hope in a time that's not the greatest. I think it will give me a little more confidence when treating patients."
Paramedic Jesse Gonzalez also feels relieved to be vaccinated, but he's not letting his guard down. "Having some assurance that we're protected is a huge deal for us and the community, but we're still wearing masks inside the stations," Gonzalez said. "We keep six feet of distance and are taking every precaution as if we didn't have the vaccine."
Those receiving the COVID-19 vaccine will return for a second dose about a month from their first vaccination.
These vaccinations are a first step toward blunting the impact of COVID-19 and protecting the communities we serve. As more vaccine doses become available in 2021, TVF&R wants to remind people to remain vigilant by wearing a mask, washing hands, and maintaining physical distancing.
Washington County Forum
Founded in 1956, the Forum provides a place for the interchange of ideas on civic matters. Each week the Forum brings together community leaders, members, and guests who care about what happens in Washington County, the Metro region, and our state. As we all continue to do what we can to stop the spread of COVID-19, the Forum will keep its 2020-21 season online, providing another engaging month of speakers. You can obtain the Zoom link to join these free events by visiting the Forum website.
Here are the exciting Forum topics for February:
Five Oaks Museum
Monday, February 8, 12-1pm
Co-director Nathanael Andreini will highlight some of the recent transformations at the Five Oaks Museum (formerly Washington County Museum), a gathering place of vibrant art, culture, and storytelling.
PCC President
Monday, February 15, 12-1pm
Portland Community College President, Mark Mitsui, will discuss the state of community colleges amidst the impacts of COVID-19, state funding, and equity and justice issues.
Law Enforcement Panel
Monday, February 22, 12-1pm
Chief Kathy McAlpine of the Tigard Police Department, Chief Ronda Groshong of the Beaverton Police Department, and Chief Jim Coleman of the Hillsboro Police Department will discuss their agencies' work amidst calls for "defunding the police", the racial justice movement, and the ongoing complexities of navigating COVID-19 from the perspective of a first responder.
COVID vaccination update
Monday, March 1, 12-1 pm
A speaker from Oregon Health Authority has been invited. Visit our website for updates.
Westview HS Receives 30 Stop the Bleed Kits From SAM Medical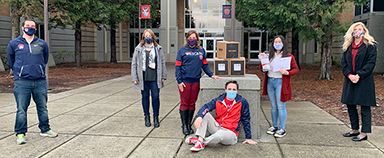 Westview High School received 30 free Stop the Bleed kits as part of the 2020 Stop the Bleed Competition! SAM Medical, the generous sponsor of this scholarship competition, provided $20,000 in scholarships and distributed 200 bleeding control kits to winners in Oregon, Indiana, Texas, and South Carolina.
Jamie Burdett, Salesforce Administrator from SAM Medical, writes, "As Vicky Siah stated in her winning essay, 'Stop the Bleed provides us with the power to change the outcome,' and that is our goal—to hopefully change the outcome. We believe that preparation is empowerment, preparedness diminishes fear. Our partnership with National Stop the Bleed Day is about empowering high school students with training and tools to be confident and prepared to make the decision to act when tragedy strikes in the blink of an eye; when every second counts."
The kindness of SAM Medical extends even further than the gift of kits and money: SAM Medical has offered to instruct Westview's community on Stop the Bleed practices. David Westhora, one of Westview's Vice-Principals, suggests that this training occur for Westview staff once in-person learning restarts. "[Westview's] school nurse has always wanted these for our school," he says. However, the Beaverton School District has been operating on a narrow budget (especially due to the 2019 deficit and COVID-19 funding impacts), which makes these kits extremely well-received. Each piece of kit equipment—including a SAM XT tourniquet for "intuitive rapid application" during emergencies—can make Westview a safer place.
SAM Medical is a manufacturer of innovative bleeding control solutions and devices along with other first aid and emergency devices.
Viva Village Events February 2021
Please come participate in Viva Village's February events! For Zoom links, please RSVP by calling 503-746-5082 or emailing vivavillageevents@gmail.com. More information regarding these events can be found at the Viva Village calendar page!
Open to the General Public:
Online Age Café
Fridays, February 5 and 19, 11 am-12 pm
Small group conversations about topics of interest to older adults. Sponsored by Viva Village, Beaverton City Library, and Wash. Co. DAVS. Contact Viva Village for registration information
Online Viva Village 101
Saturday, February 13, 10-11:30 am
A fun and informational session about village life for prospective members and/or volunteers. RSVP for the Zoom Link
Online Men's Coffee Break
Monday, February 22, 10-11 am
Conversation and coffee. RSVP for the Zoom Link
Online Viva Village Book Club
Tuesday, February 23, 1-2:30 pm
Selected book: Wait Till Next Year: A Memoir by Doris Kearns Goodwin. RSVP for the Zoom Link
Activities open to Viva Village members and volunteers:
Online Mindfulness Course
Mondays, February 1, 8, 15, 22 and March 1, 8, 1-2 pm
Introductory techniques in meaningful meditation. RSVP for the Zoom Link
Online Women's Coffee
Tuesdays, February 2, 9, 16, 23, 10,10 am
RSVP for the Zoom Link
Zoom Art Experience
Wednesdays, February 3, 10, 17, 24, 1 pm
Participate in a virtual art experience with Village member and artist, Jeanne Cory. RSVP for the Zoom Link
Online Total Body Home Workout
Wednesdays, February 3 and 17, 2:30-4 pm
Aerobic workout led by certified instructor, Richard Chew. RSVP for the Zoom Link
Online Writers' Group
Thursdays, February 4, 11, 18, 25, 1 pm
Join other Village writers for a time of sharing and inspiration. RSVP for the Zoom Link
Viva Village Nature Walk
Saturday, February 6, 9:30 am, Commonwealth Lake
A morning (masked and distanced) walk with Viva Village members and volunteers.
Online Travel Talk: National Parks
Monday, February 8, 7–8:30 pm
Member, Karen McCune, shares slides from her quest to visit all the National Parks. RSVP for the Zoom Link
Online Discussion Series: Talking about Friendship
Tuesday, February 9 and 11, 2:30-4 pm
RSVP for the Zoom Link.
Online Tai Chi Classes
Thursdays, February 11 and 25, 10-11:30 am
Learn Tai Chi technique with certified instructor, Richard Chew. RSVP for the Zoom Link
Online Viva's Got Talent Show
Saturday, February 13, 4-5:30 pm
RSVP for the Zoom Link.
Online Volunteer Happy Hour
Friday, February 26, 1 pm, volunteers only
RSVP for the Zoom Link.
Long-Term Care Ombudsman Oregon
Meet & Greet: April 6, 1 pm; Training April 13, 15, 20, 22, 27, 29, 10 am-3 pm
A six-day live virtual training to become a volunteer Certified Ombudsman.
Ombudsmen (women welcome too, that's just the title) are advocates for your family, friends, and neighbors living in Nursing Homes, Memory Care, Assisted Living, and Adult Foster homes. Become someone who can help be a problem solver and advocate for many who cannot speak for themselves. Call the office at 971-600-6149 or visit our website for more information or to apply.
To get started, submit an application, attend an interview, and complete a criminal background check. Applications due before March 26, 2021. Fill out an online application here.