Wildlife in Our Parks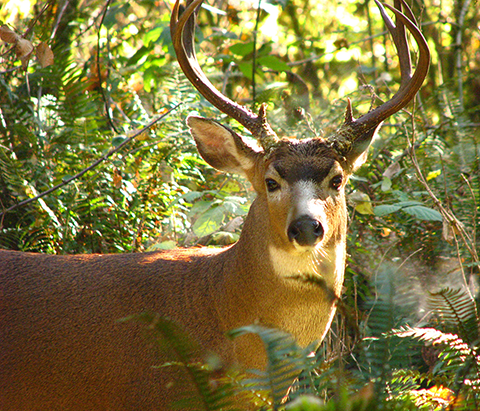 By Hanna Doernhofer, THPRD Community Engagement Park Ranger
A tree frog croaks in the distance. A banana slug slithers on the ground beside you. You can hear songbirds singing and see a freshly chewed tree stump, evidence of beaver. These are just some of the wildlife sightings you might experience while walking through Jordan Woods Natural Area. Beaverton area parks like this one are managed by Tualatin Hills Park & Recreation District (THPRD) and are home to an abundance of wildlife. Although many of THPRD's properties are developed and managed primarily for active recreation, over 1,500 acres are preserved natural areas. This means they are kept as "wild" as possible, to give native plants, animals, and even mushrooms a safe home. "Preserving Natural Spaces" came through as one of the people's top goals in THPRD's recent community visioning process.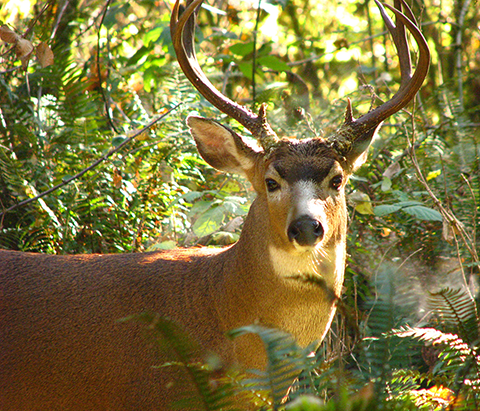 Staff on THPRD's Nature & Trails team steward these natural spaces. The Cedar Mill and Bethany area contains many parks with great wildlife viewing opportunities, such as Kaiser Woods, The Bluffs, and Bethany Lake. "We regularly see otter, beaver, and owls at Bethany Lake," Crystal Durbecq, Nature & Trails Specialist, said. "When we're lucky, we see mink, muskrat, and coyotes there, too. The lake is a great spot for bird watching, as well, with great blue herons and egrets."
Adjacent to Bethany Lake, east of NW 185th Ave. along the Rock Creek Trail, look for a pollinator garden. "Pollinator gardens are planted with wildflowers to give pollinators, such as bees, butterflies, hummingbirds, and other insects a food source," Durbecq explained. Pollinators are important wildlife in our natural areas because they carry pollen from flower to flower. Without pollinators, the plants wouldn't be able to produce any fruit or nuts, which means no seeds will be spread, so no new plants can grow. "Everything is connected," Durbecq said. "If we provide flowers for pollinators, we get so many other benefits throughout the habitat."
Both Bronson Creek and Willow Creek Greenways are great spots for wildlife watching. "The boardwalk allows you to walk over the water and get a better look at wildlife," Durbecq enthused. "I see all sorts of insectivorous birds when I visit, like woodpeckers, sapsuckers, and flickers!" Insectivorous birds mainly eat insects instead of nuts, seeds, or worms.
Are you interested in seeing some wildlife for yourself? Here are some tips: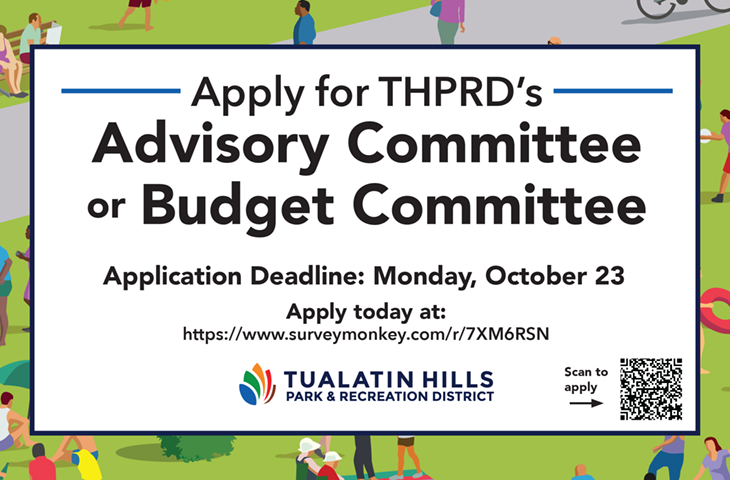 Visiting a park, forest, water body, or un-mowed area may help
Best times of day are dawn and dusk
Keep quiet
Move slowly
Bring binoculars if you have them
Go alone or in small groups
"Binoculars are great for looking at any wildlife, not just birds, since you don't have to scare them away by getting closer," Durbecq noted. While observing wildlife, it is important to keep on the trails to protect the animals' homes. "Once you've spotted an animal, you can follow slowly on the trail" Durbecq added.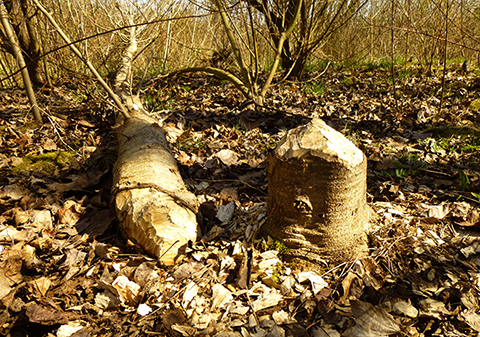 "Be sure to keep your distance and never feed them," Park Ranger Kyle Spinks added. "It's important that wildlife stays wild. Humans approaching animals can lead to dangerous situations or result in the animals losing their fear of humans." When that happens, the animals may begin entering people's backyards or even their homes, causing disturbances. Getting too friendly with wildlife can also put our pets at risk. "We don't want to encourage behavior that would put any of us, human, pet, or wildlife, at risk," Spinks said.
Visiting any of THPRD's regional trails, such as the Rock Creek Trail and Westside Trail, also provide wildlife viewing opportunities. These trails are great corridors for wildlife. Corridors are long stretches of undeveloped area that connect larger parks and natural areas together. Deer, bobcat, and smaller mammals often move through these corridors as they search for food. "When we think about managing our parks for wildlife, we always start with the big picture," Spinks said. "We ask, where do we already have natural areas, and where are the corridors that the animals can move in? When we add new park properties, we like to add to already existing wildlife corridors to have maximum impact."
The Nature & Trails team regularly visits each natural area park to ensure the habitat is as healthy for wildlife as possible. "Sometimes we have to remove non-native plant species," Spinks said. "At first, it can look like we cut a lot down, but in the long run, many different types of native plants will get the chance to grow, instead of one aggressive plant taking over everything."
"We also install native plants every winter in our natural areas," Durbecq said. "We try to focus on areas where we have recently removed non-native species, like English ivy or blackberry." A few years after planting, the new native plants quickly fill in the empty space, giving wildlife a healthier home. "Watching wildlife is fun," Durbecq concluded. "Anyone can do it!"