Business News May 2020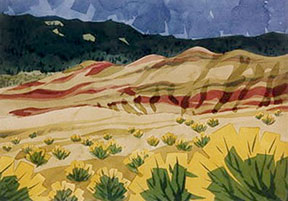 The Cedar Mill Farmers Market opens!
Saturdays, May 2 through October, 9 am-2 pm, in the parking lot at the NW corner of Murray & Cornell
The Cedar Mill Farmers Market is opening on schedule and we are doing all we can to make our market a safe place for you to shop in this crazy season. Protecting public health is our number one concern.
Our market offers fresh, local produce and food products with a "short supply chain"—meaning a limited number of people touching the product—to our community in an open-air atmosphere. We will have one entry and one exit point with a directional flow to the market. We will monitor the number of people in the space and our layout will allow for social distancing—vendor booths spread further apart with markings on the pavement to show where to stand in line.
Until restrictions are lifted, we have to postpone "gathering & hanging out" type booths/events. We are working on an "order online & pick-up" option! More details on that will be coming soon! Also, we will put Power of Produce activities on our website for kids to do at home!
Of course, our market will continue to accept SNAP (Supplemental Nutrition Assistance Program), and WIC (Women, Infants, and Children) payment options. This year, thanks to the Double Up Food Bucks Program, Cedar Mill Business Association, and NorthStar Property management, we are giving a $10 match when SNAP benefits are used!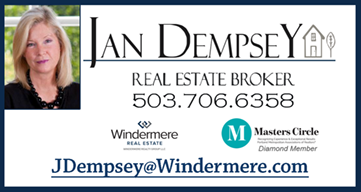 It will take all of us working together this season, We thank you in advance for your support, understanding & help. Together, yet six feet apart, we will make it through! See you at the market!
For Cedar Mill Farmers Market updates, sign up for our weekly newsletter! Just email ourcmfm@gmail.com and put NEWSLETTER in the subject line. You can also visit our website www.cedarmillfarmersmarket.org for our Social Distancing Policy & other information.
Sana Reiki offers remote Reiki sessions
Sana Reiki is offering a new trauma-informed Reiki therapy practice starting May 1. You can now book a 20 minute Reiki Tune-Up remote session. This short, but deeply relaxing, service will help you manage stress and anxious thoughts for only $40. To book your session, and learn more about trauma-informed Reiki, visit SanaReiki.com
Follow Sana Reiki on Instagram and Facebook to get updates on free online weekly meditation and mindfulness tips.
Bethany Family Pet Clinic update
Monday-Friday 8-6, Saturday 8-5, Sunday 8-3, 15166 NW Central Drive. Bethany
We cannot begin to thank you enough for continuing to trust your pet's care to us during this pandemic. As you may be aware, we have undergone many changes to our clinic, such as curbside-only service, increased sanitation, employee education on appropriate COVID policies, and the postponing of non-emergency surgeries to conserve Personal Protective Equipment for human healthcare.
One thing that has not changed is the level of care we are providing for your pets. We are still doing "regular" wellness appointments for vaccines, but we also want you to know we are here for urgent pet needs and even emergencies. Our wonderful, local emergency clinics are experiencing increased wait times—sometimes upwards of eight hours. Often, we are able to provide the same level of care that you would experience at that emergency clinic more quickly. If you have a pet emergency, please don't hesitate to give us a call.
No one other than staff is currently allowed to come into the practice, except for end-of-life situations. Just call when you get to the parking lot, and a staff member will be able to assist you. We are well stocked in flea and parasite preventatives, as well as with many prescription diets.
Habitat for Humanity ReStore reopens
The Habitat for Humanity ReStores in Beaverton and Portland are reopening on May 9 for donations and shopping.
ReStore just launched its online store. Pickup and delivery options are available and new items are added daily. Support Habitat for Humanity by shopping and sharing pdxrestore.org.
Stride Strong Physical Therapy offers a free workout video
Looking for a balanced and healthy workout regimen to make you feel good, maintain core strength, and get your limbs moving? In this video, Alice Holland outlines effective, yet easy exercises with corresponding progressions. Here is the youtube link.
Cedar Mill Business Association News
During this time of "Stay in Place", the CMBA has moved our meetings to a "Virtual" Platform. Join us on Tuesday May 12th at 12:00 pm. Fieldstone Cornell Landing will be "hosting" our Zoom Meeting.
Lori Bitter of SendOutCards will be our speaker, and will be sharing her thoughts on "strengthening customer relationships by making warm, meaningful tangible touches during this no-touch time."
We will also have time for Member and Guest introductions, CMBA News and Community News announcements. It's a good time to connect with each other, and see how we can support and collaborate with each other during this time of COVID.
CMBA Members should receive the Zoom Link in our Monthly E-Blast, or can contact our admin Chelsea at admin@cedarmillbiz.com to receive this link as well. We also invite guests to visit at no charge. For more information about the Cedar Mill Business Association, please visit our website at cedarmillbiz.com.
The Wine Cellar has options for your Happy Hour
We are open at The Wine Cellar! We've had to modify our business quite a bit, but we are offering three wine purchasing choices:
1) Free Delivery in the neighborhood with a $125 minimum; 2) Curbside pick up, no minimum purchase; 3) Guests can come into the reception area for in-store help (but cannot walk around and shop)
We are, like everyone right now, using extreme care and caution both for the health of our employees and customers.
The Village Gallery keeps the art available
Village Gallery of Arts' building is temporarily closed in response to the coronavirus crisis. Stay home, stay healthy and take a virtual gallery tour! Go to villagegalleryarts.org, then click on the "Artists" tab at the top of the page to see many members' artwork. Enjoy!
Big, Bold Art and 3D Artist for May is Lori Mclaughlin. "Ever since I could hold a pencil, I have been creating works of art. From pencil sketches to crayon landscapes, I did it all. The walls of my childhood home were covered with my artworks. During my education at Oregon State I studied art history, design, drawing, color theory, and painting. I do a variety of art in the form of painting, jewelry and drawing. It is never-ending and is great therapy and expression."
Remembering Artist Allen Greene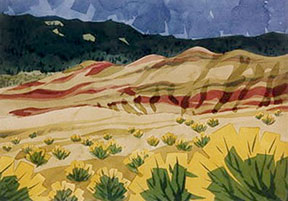 It is with regret that the Village Gallery of Arts announces the passing of our honored member and friend, Allen Greene. Allen died on March 3, 2020 at the age of 91. There will be a retrospective showing of Allen's work at VGA the month of June, if possible. Members and the community are invited to attend a celebration of life with Allen's family and friends at the gallery at a time to be determined. Watch our website for announcement of date.
If you'd like to join Village Gallery of Arts, membership levels and guidelines for submitting artwork online are available on our website: www.villagegalleryarts.org. Shows for later months are being planned.
For up to date details and more information on any of these listings, please check our website: www.villagegalleryarts.org.
Grand Central Bakery and Champoeg Farm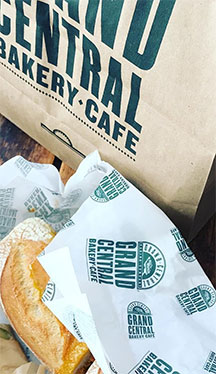 Grand Central Bakery is open for take-out orders with a convenient walk-up window at the corner of Cornell and NW Saltzman. The bakery now offers easy online ordering six days a week. Take away freshly made breakfast and lunch sandwiches, loaves of rustic bread and boxes of buttery pastries, salads, quarts of scratch-made soup, and more.
There is also a line of frozen U-bake products including: pizza dough, chocolate chip cookie dough, chicken pot pies, plus yeast, locally milled flour, Oregon Growers jam, Nossa Familia coffee and Metolius chai for your home pantry. Online orders have a separate pick-up window for a no contact transaction. Walk-up orders are also accepted between 8 am and 3 pm Tuesday-Sunday.
Here's what to expect on your visit:
Easy online ordering with scheduled pick up times
Walk-up service with orderly lines and clear markers for social distancing
No-touch payment by Apple Pay, Google Pay or card (no cash, please)
Frequent hand washing and surface sanitation, Plexiglas barrier at cash register
Daily temperature checks and masks for all cafe staff
Cheerful and warm Grand Central Bakery service!
Champoeg Farm meat pickup at Grand Central
Friday, May 15, 9-10 am, Grand Central Bakery (Cedar Mill) 12595 NW Cornell Rd.
In addition, Champoeg Farm is offering an option to order their locally raised meats and have them deliverd to the Cedar Mill Grand Central location. Learn more here.
Online Sign Language Class
Wednesdays, May 6, 13, 20, 27 and June 3, 6:30-8pm, online via Zoom
I'm pleased to announce some good news in the midst of this pandemic—after this original idea nine years ago of teaching ASL online as a business, my calendar and PayPal link are up on my website.
Learn ASL via Zoom in class format with PowerPoints and direct instruction. The course will come with a 100-page eBook. Thanks everyone for making my dream a reality, and special thanks to current and former students and the Deaf community for making a big difference in my life and inspiring me to teach ASL. To sign up, go here.