Road News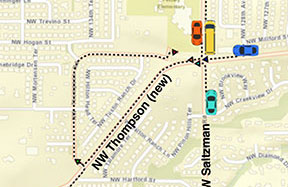 Thompson Road/Kenny Terrace Project Online Open House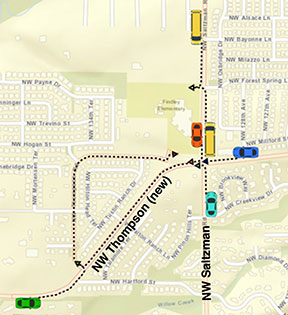 Get the details about the Thompson Road Project through an online open house through May 17. The project includes connecting Thompson Road to Kenny Terrace west of Saltzman Road and north of Hartford Lane to create a new traffic alignment that avoids two sharp curves. The new Thompson Road alignment will be three lanes (one travel lane in each direction and a center turn lane) with bike lanes and sidewalks. Improved storm drainage and street lighting will be installed.
The existing Thompson Road has two sharp curves. Increased traffic volumes during peak hours create long backups from traffic waiting to turn left. Bike and pedestrian facilities are needed.
This approximately $6 million project is funded through the MSTIP Bonding Cost-sharing Program.
The project is in the preliminary design phase. Another Open House is scheduled for Fall 2020, with construction from summer 2021-summer 2022.
Comments and questions will be accepted via this open house through May 17. The project team will respond to questions within two business days. A summary of comments and responses to questions will be available on the project webpage in late May.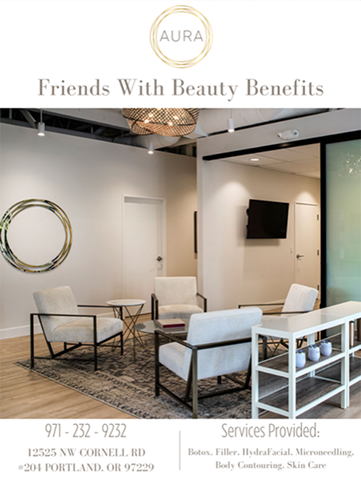 Get notices of all Land Use & Transportation current and upcoming open houses and comment periods at: WashcoCommentHere.org.
ADA ramps being rebuilt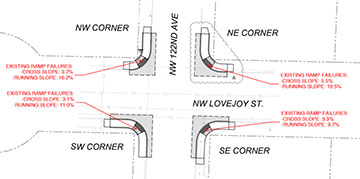 Neighbors have been curious about "perfectly good curbs" being torn up and rebuilt by Washington County. Melissa DeLyser, Public Affairs and Communications Manager for Land Use and Transportation, explains, "In 2011, updated Americans with Disabilities Act guidelines were published regarding facilities in the public right-of-way, such as sidewalks and street crossings. Although they are called "guidelines," jurisdictions that have not complied are losing lawsuits, including in Portland."
"Anytime there are significant alterations to roadways (paving overlays, for example), jurisdictions with urban sidewalks, like Washington County, are required to modify the ADA ramps to make them compliant with current guidelines. The basic components in the guidelines include curb ramps that are not too steep, or tilted too much to the side, so that people in wheelchairs can navigate safely. We use 8.3% for the "running slope" and 2% for the "cross-slope." There are also minimum width requirements of four feet."
For more information, visit the website for United States Access Board, or download this PDF file. Additional information is available from the Federal Highway Administration.
Multnomah County road project rankings
The Roads Capital Improvement Plan identifies 132 projects to improve and maintain Multnomah County roads. Each project is ranked based on the county's criteria.
Of these projects, Multnomah County has identified 40 for which they are most likely to seek grant funding in the future. Each of these projects has a link to a fact sheet that provides more information about the importance of the project.
Unfortunately, none of the Cedar Mill area projects made the cut.
Rank
Project Name
Score
Cost Estimate
(2019 Dollars)
53
NW Laidlaw Road: NW Thompson Road to County line
39.5
$7,880,000
57
Cornell Road (all segments within County jurisdiction)
38.2
$14,650,000
60
NW Springville Road: City of Portland line to Washington County line
37.9
$7,720,000
121
NW Thompson Road: NW 53rd Drive to UGB
25.5
$21,210,000