Deputy Spotlight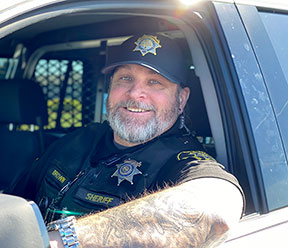 by Doreen Rivera, Community Outreach Specialist, Washington County Sheriff's Office – Bethany Precinct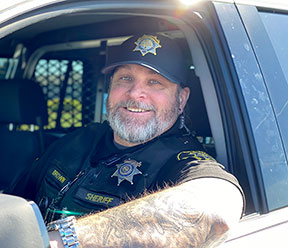 Meet Deputy Tom Brown, who has patrolled Cedar Mill, Bethany and north of Highway 26 area for the last five years.
Brown's law enforcement career began with nine years in the US Army. Upon leaving the military, he knew he wanted to pursue a career in Law Enforcement. He volunteered as a Reserve Police Officer for the Portland Police Bureau for two years, and after that he was hired into the Washington County Sheriff's Office. Twenty-two years later, here he is patrolling in Cedar Mill.
Deputy Brown is married and has three children. He likes camping and spending time with his family. In addition, he and his wife enjoy riding their Harley Davidson motorcycles together and often go for day rides.
He likes to work in the Cedar Mill and Bethany area because he really likes the people here. Brown said that the most common types of calls he sees in Cedar Mill are fraud, traffic crashes, and cars being broken into. When asked what words of wisdom he would share with the community, Brown replied, "lock your car doors, and stay home and stay safe.