Help CMN update our tech!

Help CMN update our tech!
Cedar Mill News runs on a shoestring! We don't have much in the way of expenses, which makes it possible to continue even though our ad revenue, our only income source, doesn't really amount to that much. (I want to keep it free for everyone, so paid subscriptions don't work.)
However, we also run on Macintosh and Adobe. I've been limping along with a ten-year-old version of Adobe software and haven't upgraded my operating system because my old software will not run on the newer ones. With your help, dear readers, I would like to buy a new Mac and a new software package.


The new iMac I need is $1500. A year of software is $600. Our goal is to raise $2100 now, and then we'll probably need to come back each year to renew the software subscription. Or we might set up a Patreon for voluntary ongoing support. Our GoFundMe is for $2200 to cover the deductions.
If you value the work we do, please consider donating what you can. I'll be able to devote more time to research and less to waiting for my computer! And we'll be able to continue to bring you our local, relevant, useful news and information with less frustration!
If you prefer to donate by mailing a check, our address is:
Cedar Mill News, LLC
3270 NW Kinsley Terrace
Portland, OR 97229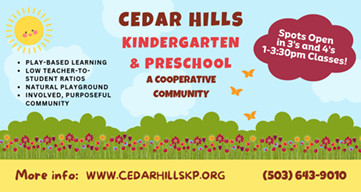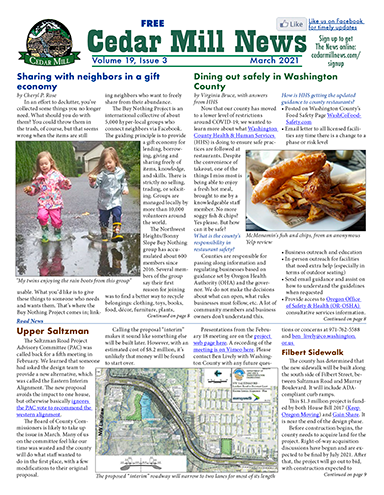 A few new editors?
We have a team of four people who edit all the Business and Community News that comes in each month. They're doing great, but at our Editors' Meeting last month, we agreed that it would be great to begin training one or two new people.
We use our own Style Sheet that we've developed over the years to turn the variety of information that we gather each month into consistent, usable, and informative content. That's where the training comes in.
If you are detail-oriented, have good grammar skills, know how to use a computer, and can volunteer three or four hours each month to work with us, we would like to hear from you. Currently one of our editors is in high school, two are in college, and one is not a student. Anyone with a willingness to help and a desire to learn editing skills is a great candidate. Send an email to info@cedarmillnews.com and let us know you're interested!