CPO 1 News April 2021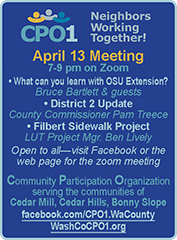 CPO 1 April meeting
Tuesday, April 13, 7-9 pm, via Zoom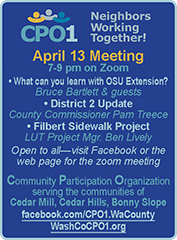 After our community updates, we will learn about many of the programs and services of the Oregon State University Extension Service, including Master Gardeners and Small Farms programs teaching about sustainable agriculture, food systems, food safety, and gardening; 4-H Youth Development to develop thriving youth, individuals, and families; Forestry & Natural Resources programs creating resilient and productive forestry and natural ecosystems.
Our County Commissioner Pam Treece will join us to let us know about her priorities and projects. We'll also get an update on the Filbert sidewalk installation schedule and possibly other road projects in the area.
Neighborhood Meetings
We have received no notices of development proposal neighborhood meeting for this month.
Development applications
Vu property
An application that was previously denied, to convert a garage to a living space and convert a carport to a garage, near the intersection of SW Washington and 95th, has been approved. The initial denial was based on the carport never having been lawfully established.
Staff found that it is "most likely that the dwelling was constructed prior to a zoning designation being applied to the site…Given the nature of the use, the alterations of the existing dwelling and carport constructed in the 1960s in a residential district, and the ample support of neighbors in the community, staff finds that the alteration of the nonconforming use will have no greater adverse impact to the neighborhood, particularly since what is proposed is an enclosure of a currently existing open area."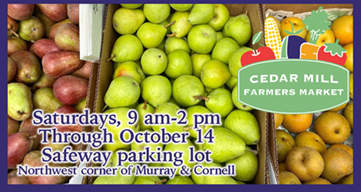 Catlin Gabel Middle School expansion
We described this application in the March issue. The hearing was held on March 18 with a recommendation from Land Use staff to approve. The Hearings Officer's written decision is expected by April 15, 2021.
CCI news

CPO leaders from around the county meet together as the Committee for Community Involvement (CCI). The group hears from public officials and others about issues of county-wide interest. At the March 23 meeting, Washington County Commissioner Jerry Willey visited to discuss his efforts to bring broadband internet to rural areas of the county. We also learned about the county's Last Mile effort to help people get to transit; and the Transit Development Plan working to improve public transit across the county.
On April 20, Washington County Chair Kathryn Harrington will visit. We'll also have an update on the 2021 Work Plan that determines which major projects the Land Use & Transportation staff will be addressing.
Meetings are held on the third Tuesday each month on Zoom and are open to anyone. If you are already on the CPO 1 email list, you'll receive one notice per month about the CCI meeting in addition to the regular CPO 1 updates. Meetings are also recorded on the CCI Facebook page, available to watch any time. Learn more and watch our past programs here.
March CPO 1 Summary
Vicky Siah, CPO 1 Secretary
The March 9 meeting began with a motion by Vice Chair Bruce Bartlett to nominate Vicky Siah as the CPO 1 secretary. Melissa De Lyser seconded this motion, and it passed with all members present voting in favor.
Brenda Schaffer from the Washington County Sheriff's Office promoted the Sheriff's Office Kids Safety Academy. In these sessions, the Sheriff's Office covers key safety topics alongside team demonstrations. Students gain an understanding of law enforcement and public safety.
Deputy David Rambin shared the Sheriff's Office crime map. The majority of crimes in the area fall under the umbrella term of "criminal mischief" which covers all activities from egging to graffiti. Mailbox theft continues to be an issue. If residents see a thief actively prying a mailbox open, they should alert authorities using the 911 emergency line; if residents see evidence that the mailbox has been pried open, they can call the non-emergency number, 503-629-0111, to report a crime. It helps the Sheriffs to identify patterns, do not hesitate to report!
Kara Yunck from the Beaverton School District gave the latest district updates. Four board member positions will be open in the next election cycle (districts 1, 2, 4, and 5, not our area). BSD has decided to name the new middle school "Tumwater Middle School," which is the Chinook Wawa word for waterfall, paying homage to nearby Cedar Mill Falls and the Native American history of the location.
The majority of the CPO 1 meeting focused on water and water safety. Robert Whitham, Emergency Program Coordinator for Tualatin Valley Water District (TVWD) outlined TVWD's strategic water planning. TVWD serves around 217,000 people, including all of CPO 1 not served by Beaverton. 72% of TVWD water is piped under the river from Bull Run, 28% is siphoned from the Joint Water Commission dam at Scoggins Reservoir, and the remaining percentage (under 1%) comes from aquifer sources. TVWD plans to introduce the Willamette River as a new water supply by 2026. By the time of its completion, the Willamette River Water Supply will be highly resilient and will not be damaged by seismic activity. The water diverted from the Willamette can be used to fight post-earthquake fires. TVWD is concurrently focusing on creating pipelines, water tanks, and state-of-the-art water lines.
TVWD recognizes that federal assistance will not arrive quickly after seismic activity, and critical infrastructure for transportation will likely be damaged. Oregon's systems rely on each other to keep it in operation, requiring electrical, fuel, and oil systems for water supply. Factoring disruptions into consideration, Oregon has created the Oregon Resiliency Plan to define Oregon's emergency response. "Disaster preparedness starts locally," Whitham states, and TVWD has identified areas of key importance. Healthcare and fire safety services will get priority for water sources, and following this initial response, TVWD will assess damage and assist with repairs.
FEMA and OEM recommend a minimum of one gallon per day per person in each household, amounting to a two-week supply. Pets must be accounted for in this water budgeting.

This segued into Bill Hall's discussion—as part of Cedar Hills Ready, Hall described issues with water hygiene. In the event of significant seismic activity, Oregonians may be without water and sewer infrastructure for up to a year. Cross contamination of the water supply is probable; yet, storage remains difficult for the average household due to practicality. A family of four would require 20 cases of plastic bottles, equating to 12 jugs, for a two-week duration. For a safer three-month estimate, a four-person household would require 100 cases of bottles, or 72 jugs. Storing this volume of water is infeasible, and the only alternative to water storage is water treatment.
Rain, ponds, lakes, streams, and rivers are all around us, but water must be treated before usage. Hall breaks treatment into three possibilities: chemical, filter, and boil. Chemical treatments are conducted using non-scented household bleach to kill bacteria present in water. Boiling water requires electricity or other methods of heating. Filtration is largely mechanical and requires treatment kits for optimal water safety. Cedar Hills Ready is offering instruction on how to build your own filtration system using two large food-grade buckets. A link to Hall's full presentation video (including a filter system visual) can be found here.