Business News April 2022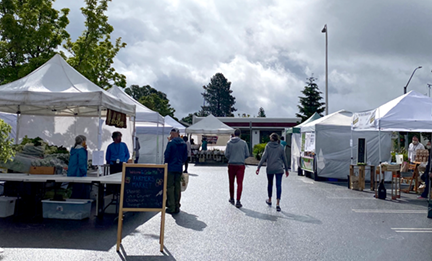 Second Edition Resale
Open Tuesday-Saturday, 10 am-4 pm, east end of the library building
Easter theme: April 1-16, Mother's Day theme: April 19-May 7
Visit Second Edition Resale for fabulous items, favorite themes, and extended hours. Watch for new, color-coded tag sales. Look for colored tags to save 50%-75% off already low prices. Learn more in the store and website. All proceeds from your purchases made at Second Edition Resale support Cedar Mill and Bethany Community Libraries.
For up-to-date information, check out our Instagram @SecondEditionResale. Follow @SecondEditionResale on Facebook and Instagram.
Open a youth account at Sunset Credit Union and earn up to $50!
To celebrate Youth Month, when you open a children's account at Sunset Credit Union in the months of April and May, we'll match your first deposit up to $50.00.
You can also earn a quick $25 bonus for each person you refer to us who opens a new account at the credit union. And, since Sunset Credit Union is open to anyone who lives, works, worships, or attends school in Washington County, we're sure you have friends and family members who are eligible to join.
To learn more, stop by our office at 1100 NW Murray Blvd, visit our website at sspfcu.com or contact us at 503-643-1335.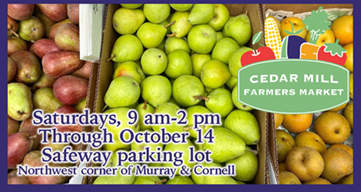 Mother's Day discount at Les Couleurs De Provence
Our business, which specializes in French Provencal fabric for kitchen linens and table accessories since 2000, is offering a special 10% Mother's Day discount for customers mentioning this notice in Cedar Mill News.
Based in Cedar Mill, we offer French-themed tablecloths, matching napkins, table runners, dish towels, pot holders, bowl cozies, and much more. You can visit us on Etsy.
We currently have about 30 rolls of fabric you can choose from for a custom order. Please call Mireille at 503-679-1681 for an appointment.
Irene's Foot Care: Sandal Season is approaching!
9450 SW Barnes Road Suite 130 (East Entrance)
Feet bear the weight of our bodies, anchor us to the ground, and thanklessly take us through life. Despite their importance, it's not uncommon for most of us to barely notice them, until a problem arises. Seemingly small problems can have serious consequences. A case of athlete's foot or an ingrown toenail, for example, can lead to pain and infection. Overlooking these can lead to a loss of mobility which leads to less socializing and exercise resulting in a poor quality of life.
Irene's Foot Care is trying to change that. Irene's Foot Care Clinic is on Barnes Road and is easily accessible to western Portland Metro residents. The care is not subsidized by most insurance and generally costs from $40- $50 for a 30-minute treatment. Come see us or contact us at 503-292-7555. Learn more on our website.
Cedar Mill Farmers Market
Saturdays, May 7 to October 15, 9 am-2 pm, 13485 NW Cornell Rd. (Sunset Mall parking lot near Safeway)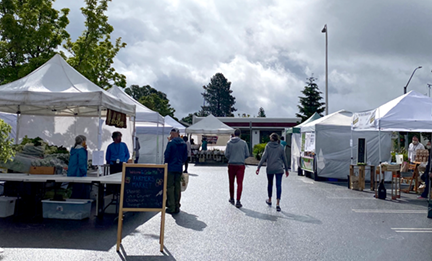 The days are longer, spring has sprung, and planting season has begun. Time to mark your calendars for opening day for the Cedar Mill Farmers Market! For six months of the year the market is open, bringing you all the goodness of fresh, local, colorful fruits and vegetables (and more). But what about the other six months—what's going on behind the scenes? Here's the scoop:
Between October and November, we wrap up the market, take inventory, pack up our resources, settle vendor accounts, do budget reports and other accounting items. In December, we update our vendor handbook and market application. We review what went well and what we can improve on. We reconcile funding we receive to promote our programs such as SNAP and Double Up Food Bucks, Power of Produce Kids Program, and other items relevant to the year.
From January 15 through April, vendors begin applying and selecting their dates. Returning vendors get approved and interviews take place with "new to our market" vendors. In addition, talks with local businesses begin about opportunities to "sponsor our market" because we can't do this without community support. We secure our space with the property management company. This year also includes scheduling musicians!
We apply for funding from Tualatin Soil and Water Conservation District and Farmers Market Fund to raise money for our important programs and projects, and start planning how to implement our Double Up Food Bucks and Power of Produce programs, and begin planning the activities for POP.
Now, we're getting to "crunch" time! Before May 7, we need volunteers! In the big scheme of things, we are a small-ish market with only one part-time employee, and an awesome Board of Directors, but it takes more than just these folks to bring the farmers' market to our community. Community involvement is vital and that means we need you!
To be honest, we haven't had much response from the community yet to share their time and volunteer. We know that COVID-19 has been a big factor, or maybe we "seem" like we don't need help, but we do. You are needed, are vital, and we invite you to get involved.
Please consider becoming a part of this community market. Come alone, invite a friend, or bring your family to lend a helping hand. Perfect for teens! Become a volunteer. We really do need you! Please contact Karen at ourcmfm@gmail.com to find out more about volunteer opportunities to sign up. It is a great time to get involved! And it is fun too!
We are also looking for a few more vendors in a few categories to round out our vendor list. Meat/Poultry/Eggs, Cheese/Dairy, Hot Food, Prepared Foods/Sauces, Kombucha, Microgreens (or specialty farm), Vegan/Gluten-Free foods, etc. are all needed. For anyone interested in applying, you can do so through this website. We are no longer accepting applications for the following categories as these spaces are full: Arts/Crafts, Bath/Body, and Distilleries. If you are interested in becoming a Sponsor, Vendor, Volunteer, or have any questions, please contact us at ourcmfm@gmail.com. We would love to hear from you.
Skyline Memorial Gardens Easter Service, funeral planning events
Thursday, April 7, 6 pm, 4101 NW Skyline Blvd
Skyline Memorial Gardens is hosting a Spring Savings Event with a complimentary dinner and information on estate and funeral planning. We are offering our best discounts of the year for cemetery and funeral planning during this event. Please call 503-292-6611 to RSVP.
Easter Sunrise Service at the Old Rugged Cross
Sunday, April 17, 6:15 am
This is an outdoor service, so please dress warmly. This will be followed by complimentary coffee and light refreshments indoors. RSVP is not required, but questions are welcome at the above number.
Village Gallery of Arts News and events
Gallery open Wednesdays-Saturdays, 10 am-4 pm, and Sundays, noon-3 pm, 1060 NW Saltzman Rd.
Our Mission is: "To ignite the joy of learning, creating and appreciating art in our community. We support professional and emerging artists by providing high quality affordable art education to children and adults as well as providing venues for sharing their work."
Village Gallery of Arts is a non-profit (501c3) organization, receives no taxpayer money, and is staffed entirely by member volunteers.
Art Dollars for Scholars
New Community Show Open to Artists of All Ages! The net proceeds from entry fees will be used toward scholarships for graduating high school seniors who are planning to continue their art education in college. No entry fee for individuals 18 and younger, entry includes one free 6″x 6″canvas (option to purchase 10″x 10″ panel); Adult: $15 for one 10″x 10″ wood panel, limit two per person. Entry forms and substrates may be picked up at the gallery, while supplies last. Pick up a full prospectus at the gallery or download one from the link on our website.
Spring Awards Show
Wednesday, March 30-Sunday, May 1
Awards Reception: Sunday, April 10, 3-5 pm
After almost two years, our Awards Shows are coming back! Open to all members, with a limit of two entries per member. We welcome contemporary, mixed-media artist Kerry Schroeder as our Juror for this show. Her work has featured in exhibitions and galleries throughout the US, and she now works and lives in Portland. Come meet the Juror and the artists! Be sure to stop by and check out the award-winning art!
Big and Bold: Laura Hopper.
"Inspired by Van Gogh" is one of three paintings I did during the "stay at home" early days of the pandemic. After using acrylic for the background and watercolor ground for the base shapes, I took inspiration from Van Gogh and drew with crayon and painted with watercolor."
Classes and workshops
Registration is online for all classes and workshops. Please see the Village Gallery of Arts' website for details, supply lists, and regular updates. All classes are in-person at the gallery.
Children's classes and workshops: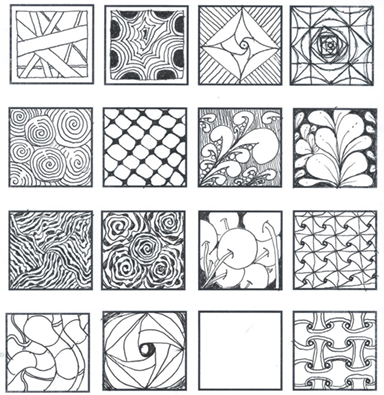 Children's classes are offered monthly—please check our website regularly!
VGA Instructional Team: Children's Art Classes
Thursdays in April, 3:45-5:15 pm, maximum of eight students per class, four-session class for ages 7-11.
Join an exciting class learning a variety of art forms! A crew of rotating instructors from our gallery will provide students a chance to explore a variety of media and approaches while building their artistic concepts and skills. Look forward to both 2D and 3D projects each month! One of the featured projects this month will be a 6"x6" acrylic painting which can be entered in our May show! Featured projects this month include Doodles and Marks, Mixed Media Self-Portraits, Celtic Knots. All supplies included.
Adult classes and workshops:
Masks and vaccinations are required.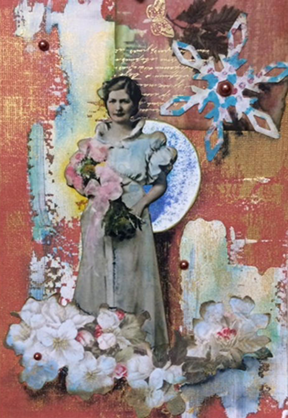 Chris Meyers—Gelli Plate & Collage
Saturday, May 14 and Sunday, May 15, 10 am-1 pm, minimum of three and maximum of eight students per class, two-session class.
First day, we will create beautiful hand printed papers using a gelatin printing plate. Second day, we will use your papers to create cards, tags, wrapping papers and collages. Demonstrations and individual instruction will be given as I share tips, techniques, and ideas. Some materials are provided.
Joanna Brown—Introduction to Freestyle (Xie Yi) Chinese Brush Painting
Sunday, May 22, 10 am-1 pm, maximum of eight students, one-session class.
Freestyle (Xie Yi) Chinese Brush Painting is about personal expression rather than about accuracy or detail. It is a spontaneous technique which appears simple but has many elements in its process. It is about allowing the brush to flow, making a number of brush strokes to represent an object and create a personal symbolic expression. Express your impressions of flowers in this introductory class, where I will demonstrate the basic techniques and processes of the medium and you will practice and create your own Freestyle Chinese Brush Painting. Individual instruction will be given, sharing tips, techniques, and ideas.
Joanna Brown—Introduction to Sumi-e (Japanese Ink Painting)
Sunday, May 29, 10 am-1 pm, maximum of eight students, one-session class.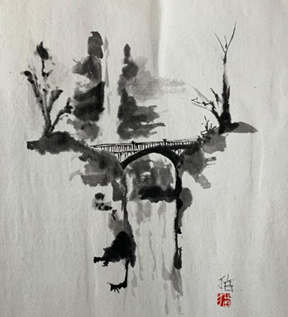 Sumi-e means black ink painting. Using black ink and creating a white space on the paper, you will paint spontaneously to capture the spirit of nature. The focus of the art of sumi-e painting is on the quality of the line and the brush stroke to capture the forms of nature. In this introductory class I will demonstrate the techniques of sumi-e paintings and you will practice and create a sumi-e landscape painting. I will give individual instruction, tips and ideas.
The Importance of Movement for Managing Parkinson's
April is Parkinson's Awareness Month, providing the opportunity to learn more about Parkinson's disease (PD) and the ways in which symptoms and progression can be improved through holistic wellness. PD is a progressive neurodegenerative condition that affects movement and speech.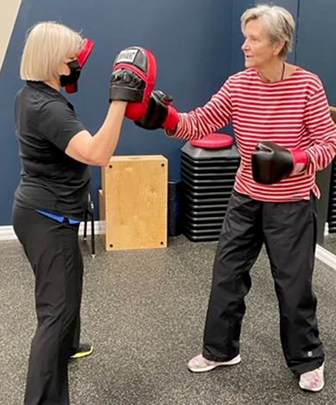 Sherry Green, a resident at Portland's Touchmark in the West Hills retirement community, is living with PD. After moving to Touchmark in 2020, a staff member noticed her difficulty crossing certain thresholds such as the elevator and mentioned to Green she might want to see a doctor. Green was then diagnosed with PD in 2021.
"When I moved here, I thought I still had it all together, but the team members around me knew better than I did. I've now realized the symptoms they were seeing are very common," says Green. According to Touchmark Health & Fitness Director Sam Holzman, "Exercise is medicine, especially for those with PD. My role is to meet people where they are and provide the support and encouragement they need to keep moving forward."
These days, Green starts almost every morning by riding nearly five miles on the stationary bike. Green also works out at a gym nearby with a certified trainer from Rock Steady Boxing—a program that borrows from the tenets of boxing to achieve optimal agility, speed, muscular endurance, accuracy, hand-eye coordination, footwork, and overall strength—who trains her and others living with PD.
To learn more about Touchmark and its PD-specific resources, call 503-954-1640 or visit Touchmark.com.