August Park News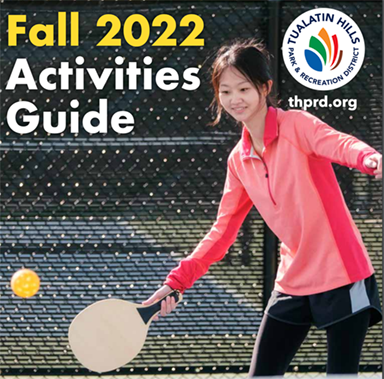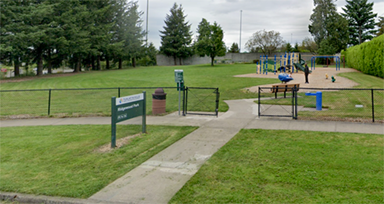 New dog run at Ridgewood Park
The district intends to install a dog run at Ridgewood Park that will include a fenced area with a wood chip surface. In the spring of 2022, the district hired a planning consultant, AKS Engineering , to lead the project through the City of Beaverton's Type III Land Use process. The district is currently coordinating the land use process expectations with the city. Staff anticipates the dog run to be built by end of 2022. Ridgewood Park is just east of Highway 217 on Wilshire.
Fall Native Plant Sale ordering starts soon
Ordering Monday, August 15-Monday September 12; pickup October 21-22, 15655 SW Millikan Way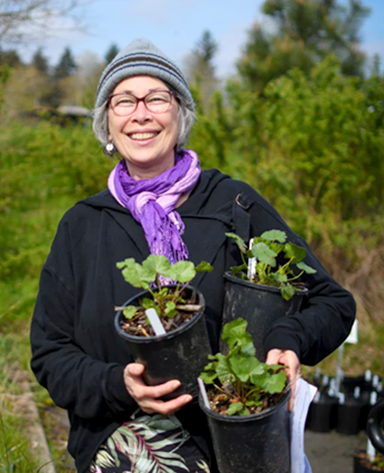 The Tualatin Hills Nature Center will host the Fall Native Plant Sale in partnership with Sparrowhawk Native Plants. Thousands of habitat-friendly native plants are available as well as information about the benefits of native plants.
Sign up and order online at Sparrowhawk. Preordering is required, and some species may sell out quickly. The last day to order is Monday, September 12. At check-out, select to pick-up your order at the Tualatin Hills Nature Park.
Select from 100 species of premium-quality native plants. These climate-resilient plants will enhance your garden, allowing it to best support pollinators and wildlife. They need less care and are more resistant to pests and diseases.
The plant sale is sponsored by the Friends of the Tualatin Hills Nature Park. Proceeds from the sale go toward future Nature Park improvements and environmental education programs. The Tualatin Hills Nature Park is a 222-acre wildlife reserve nestled in the heart of Beaverton.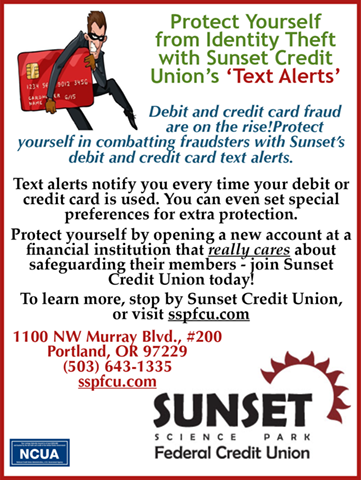 Bonny Slope play structure among THPRD projects getting Metro funds
Metro will soon begin providing up to $5.3 million in funds for a trio of projects, including a new park planned by the Tualatin Hills Park and Recreation District (THPRD). The projects are funded through Metro's voter-approved 2019 parks and nature bond measure.
The projects are the Willow Creek Greenway Boardwalk in Beaverton, Heckman Lane Park and Trail in the North Bethany neighborhood, and two accessible play structures in Bonny Slope and Rock Creek parks.
These are the first park projects funded by the bond measure's local share program. The local share program provides funding to the region's 27 park providers so they can make land purchases and build park capital projects that are important to their communities.
THPRD planner Peter Swinton said, "We've got many different communities and they ask for very different things depending on who you're talking to or where. How we're making decisions about that is through the Vision Action Plan that we did…we feel these projects align well with the priorities and spirit of the bond."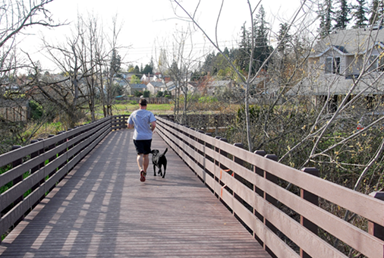 The first project will move and replace a "well-loved section" of boardwalk on the Waterhouse Trail in the Willow Creek Greenway, in the Five Oaks Triple Creek neighborhood in Beaverton. The boardwalk needs replacing and as it stands, is not currently ADA accessible. The project will receive just under $950,000 from Metro.
Using low-impact design principles and green infrastructure, the bond funding will allow THPRD to update the accessibility and move parts of the boardwalk out of the floodplain it currently winds through while maintaining the contemplative solace these natural spaces provide. They'll also restore those areas of the floodplain where the original boardwalk currently sits to keep the natural area in its pristine condition.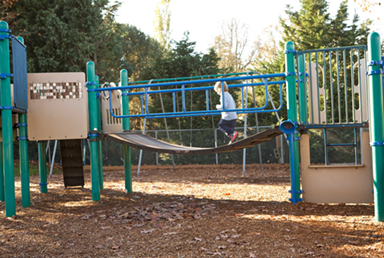 The second of the three projects will build new play structures at Bonny Slope Park and at the Rock Creek Park Playground along THPRD's western edge. Like Willow Creek's boardwalk, the existing two play structures will soon need to be replaced to continue serving their neighboring communities. These playgrounds will receive $1.7 million from the local share program.
With the funding from the bond, Swinton says, THPRD is planning a robust community engagement process to best design and build these spaces according to the vision of the community.
The third project, Heckman Lane Park and Trail, is the largest of the trio, and will build a neighborhood park in the North Bethany area that will serve the neighborhood's rapidly growing community that includes many people of color. The project will make sure the area has walkable access to parks for families living in this southern section of North Bethany and will link both the families and the park with the community trail system that laces throughout THPRD. The park project will receive up to $3.6 million in funding from Metro.
Bethany is majority people of color, and 40% of the community is Asian American. Swinton said THPRD is planning to use bond funding to work with the community to identify what they hope this project looks and feels like, and then turn that input into park design. Swinton cited the community engagement process THPRD piloted with La Raíz Park off SW Baker and Lombard as an example.
"That [project] looked at engaging with communities that historically have not been engaged," Swinton said. "With La Raíz Park, which is in a predominantly Hispanic and Latinx community, we did a lot of work with community-based organizations to make sure we reached those folks with bilingual engagements, materials in different languages, met people where they were, and offered vouchers and compensation for engagement because we know peoples' time is super valuable. If they're going to spend it with us, that's valuable for us. We want to work with these communities to find something that works for them."
Summer events at THPRD
There is a lot happening at THPRD this month! Check out August events, classes, registration information and more. See our website for all the details.
FREE Fitness in the Park this Summer!
Through August 27, various park locations
Enjoy the outdoors and achieve your fitness goals in these family-friendly workouts. All ages and fitness levels welcome! FREE Fitness in the Park runs now through August 27.
Tuesdays & Thursdays, 6 pm: Yoga at Griffith Park. Meet in the middle of the park.
Walk with Me
Wednesdays 9:30 am, plan for about a one-hour walk.
August 10, Hansen Ridge Park; August 17, Willow Creek Greenway; August 24, Cedar Mill Trail/Timberland Park
THPRD is hiring
Lots of positions are available at THPRD. Enjoy your summer as a camp counselor, maintenance technician, aquatics professional, gym monitor, custodian, gymnastics and sports instructors, inclusion assistants, and more! THPRD can offer flexible hours, a fun work team, and lots of variety in job options. Learn more and apply today at www.thprd.org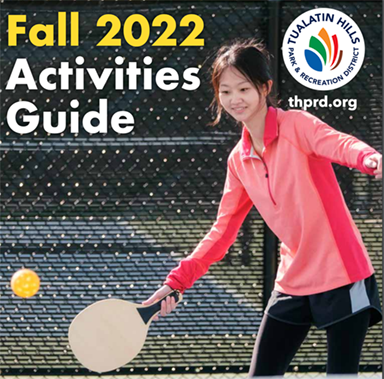 Save the date for Fall THPRD registration
Registration for fall programs, classes, and activities begins Saturday, August 13, at 8 am for in-district residents. Out-of-district registration starts on Monday, August 15. Please click here for registration details.
The district's Fall Activities Guide is available by clicking here. Print copies are available at all open THPRD facilities and area libraries.
Online registration is encouraged! The fastest, easiest, and best way to register is on our website, www.thprd.org.
You can also register in-person at one of our facilities: Walk-in registration at our open facilities is available starting on Saturday, August 13, for in-district patrons that need extra help. Open facilities have different hours, and not all centers are currently open to the public, so be sure to check the opening times on our website.
Bilingual assistance for registration
Tuesday, August 9-Friday, August 12, 4-7 pm. THPRD's Administration Office, Howard M. Terpenning Complex, 15707 SW Walker Rd. Beaverton (Bus #67 and #59)
Centro de Bienvenida bilingual staff will be supporting Spanish-speaking patrons and Financial Aid Program families in class selection for Fall registration. All English Language Learners needing extra assistance, in any language, are encouraged to attend. For details please visit this web page.
Financial aid available
THPRD offers financial assistance to people to help offset the expense of registering for classes. Households whose income fall below the Federal Free Meal Guidelines can receive up to $300 per person annually in fee waivers. For a family of four, this would result in having $1,200 per year to register for THPRD programming. To learn more and apply for financial aid, please visit this web page.