Under the spreading hickory tree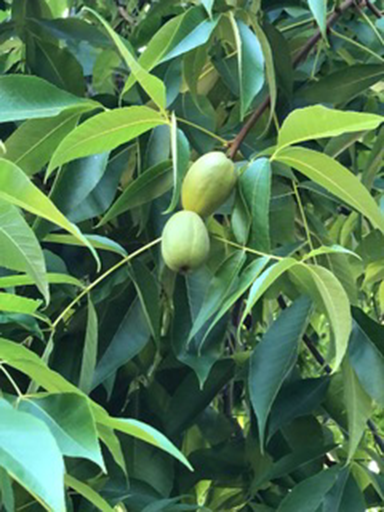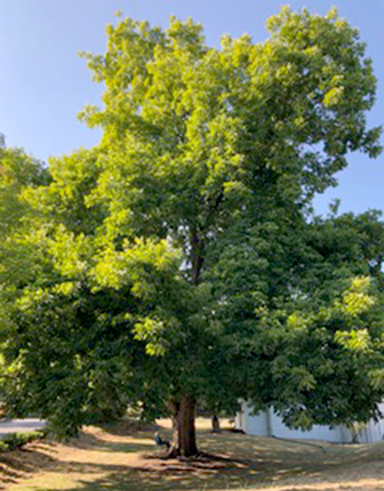 By Susan Mates, Treekeepers of Washington County
You can enjoy the large, spreading shade of a special tree, a Shellbark Hickory (Carya laciniosa), right here in Cedar Mill, at the John Quincy Adams Young House park. Now owned by Tualatin Hills Park and Recreation District, the house, on a half-acre lot, is one of the oldest surviving buildings in Washington County. John Quincy Adams Young and his family traveled the Oregon Trail in the late 1840s, settling in the Oregon Territory. He built this historic house around 1863 next to the mill on Cedar Mill Creek, and it's likely he also planted this beautiful tree.
This tall, long-lived member of the walnut family has great dignity. Its unique shaggy bark separates into long, thin plates. Look for its large alternately compound leaves, with five to nine leaflets on orange twigs. They can grow 100 feet tall, and their long taproots make them good candidates to survive summer droughts. In fall, hickories turn golden, but they provide for wildlife all year around. Their shells are as hard as black walnut.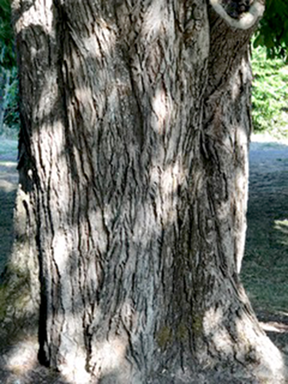 Bats roost and brown creepers nest beneath the hickory's flaking bark. They host approximately 180 species of insects and mites, and more than 133 types of fungi. Its leaves are eaten by several species of large, showy moths, and bees use its flowers for nutrition in spring.
We know hickories more for their nuts, though. They are egg-shaped, 1-3 inches long, with green husks that turn brown and tend to split along their four rips when they are mature in September. They have a peppery scent. Inside the husks, these sweet, buttery nuts are high in fat and protein, and low in carbohydrates. They provide nourishment for wildlife including deer, raccoons, ducks, and many migrating birds. Squirrels and chipmunks gather the nuts and bury them in small caches. Some of those uneaten seeds will sprout and become new trees. (Nobody will mind if you pick up a few to take home and dry, and try to shell them!)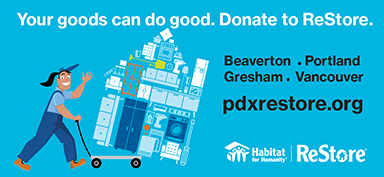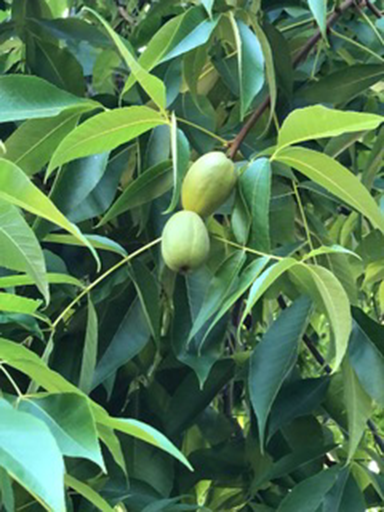 Hickory nuts have been an historically significant food for humans, too. Native tribes in what is now the Eastern United State, where these hickories flourish, gathered great quantities of these nuts. They pounded, boiled, and strained them to obtain a "hickory milk," which was used as a sort of cream in their cooking. They called it "pawhiccori," which makes it easy to trace this tree's common name.
Colonials vied for these nuts as well. In addition, they valued the hard, strong wood which was used for furniture and tool handles. The heavy wood burns slowly with little smoke, and a cord of hickory yields the same amount of heat as a ton of bituminous coal!
Pioneers picked up hickory nuts as they traveled the Oregon Trail. That is a likely way that this tree made its way to Oregon—in some settler's pocket. We know that some of our official Oregon Heritage Trees are hickories that arrived in this way. W.S. Frazier, the founder of Milton, Oregon, carried hickory nuts along the Oregon Trail from his home in Texas. The nuts were planted shortly after the family's arrival in 1868, and one grew to be a magnificent tree that is stunning for its beauty and unusual bark. Another, near the Rogue River, was planted in 1866 by Mary Louisa Black from nuts she carried from Missouri. Two grew into trees and one lone survivor still stands, the only hickory in the area.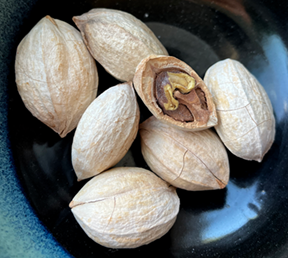 We are working to nominate this one, in Cedar Mill, as an Oregon Heritage Tree. But whether or not it receives this official designation, it is a tree worthy of our admiration. Come sit in its shade and ponder its years of growing. You can admire it any time, but be sure to visit the Cedar Mill Cider Festival on September 18, where it will be the centerpiece of our community celebration!