Business News September 2022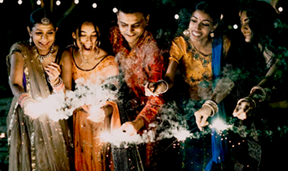 CMBA September Meeting
Tuesday, September 13, 12-1 pm, The Ackerly at Timberland Tech Lounge, 11795 NW Cedar Falls Dr., two free visits at no charge
Cedar Mill area businesspeople are invited to an in-person meeting to hear Stacie Damazo, a member of Barran Liebman's employment advice and litigation practices, discussing Paid Family Medical Leave (maternity/paternity leave) law. Lunch will be served!
CMBA Members will receive the Zoom link through our Monthly E-Blast, so stay tuned. We invite guests to two free visits at no charge. Please contact our admin at admin@cedarmillbiz.com to receive the link with meeting information.
For more information about the Cedar Mill Business Association, please visit our website at cedarmillbiz.com.
Badger helps Blanchet House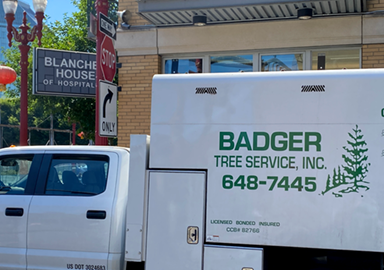 "When I emailed Jeff and Dana Jazwinski to see if Badger was available to trim and shape the trees around Blanchet House in Old Town, they leapt at the chance, even though Old Town is not exactly in their service area. Jeff and his crew came down and worked on eight trees on NW 3rd Ave. and Glisan St., and they did a great job working amongst folks lining up for our lunch service. And then to my surprise, they donated the job, wanting us to keep our money to use for our services. What a gift!"
"If you're unfamiliar with Blanchet House, for 70 years we've served meals in Old Town to homeless and people living in low income apartments or shelters in the area. Three meals a day, six days a week. We also provide long-term transitional housing to homeless men at our Old Town location and at Blanchet Farm in Carlton, Oregon. You can read more about us here."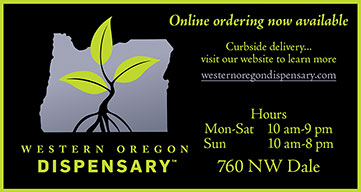 Scott Kerman is the Executive Director of Blanchet House and lives in Bonny Slope. Badger Tree Service is a two-generation, family-owned company that originated in 1980, with an office in Cedar Mill.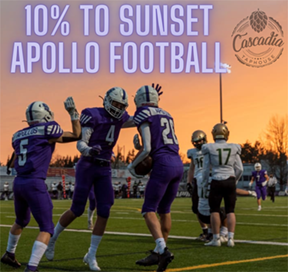 Upcoming events at Cascadia Taphouse
13619 NW Cornell Rd.
Cedar Mill's original tap house offers a rotating selection of beer, wine, and cider at the original location at the west end of the Safeway shopping center, along with fun activities.
Tuesday Trivia (Fee) weekly from 7-9 pm
Sunset Friday Night Lights—15% of proceeds go to the Sunset Football team
Summer Smash Burgers on Saturday, September 17
They recently opened their second location, Cascadia Heights, snuggled in the center of the Barnes-Miller Village Plaza in the West Haven-Sylvan neighborhood of NW Portland.
White Birch Designs opens September 8
Thursday, September 8, 4-8 pm, 12535 NW Cornell Road
Finally, Cedar Mill will have some awesome retail! White Birch Design, with an existing store in downtown Hillsboro, is opening next to Insomnia. Stop in as soon as you can to see their curated selection of home goods, garden accessories, clothing, specialty foods, and more. Enjoy catered snacks and more during the Grand Opening!
Learn (and earn) financial literacy without spending a dime
Sunset Science Park Federal Credit Union, 1100 NW Murray Blvd #200, free course online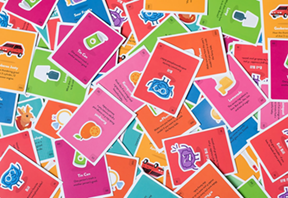 If you have a child or teenager, you should know about our free educational course called Banzai—a web-based literacy program where kids get their own accounts, and they work through assignments that are based on real life, "Financial education is so important for the future of our kids," said Rhonda Baggarley, CEO of Sunset Credit Union. "We're proud to partner with Banzai and offer these educational classes which will prepare students with money management skills they can use for the rest of their lives."
With Banzai, students must learn to manage unexpected expenses such as parking tickets, interest charges, and overdraft fees. The educational program also introduces students to auto loans, bank statements, entertainment costs, savings, and more.
To get your child or teenager started with the course, visit Sunset's website at sspfcu.com and select the age-appropriate Banzai course. Sunset will deposit $25 into your child's savings account upon completion of the course. If they haven't become a member of the credit union yet, they'll deposit the first $25.00 into a new account with the credit union. Sunset Science Park Federal Credit Union is open to anyone who lives, works, or attends school in Washington County. For more information, stop by their office or visit their website.
Are we in a real estate bubble!?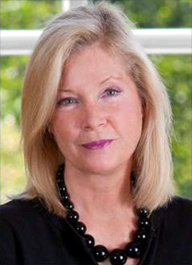 by Jan Dempsey, Realtor, Windermere Realty Group
While today's chaos in the real estate market seems confusing, it is just a market shift. While this spring's market was undoubtedly the most exhilarating I've been through, all good things must come to an end.
We have seen interest rates ratchet down and up; housing values at nosebleed prices now starting to stabilize; and inventory vanish and return to a more normal market. The pandemic caused the drop in housing inventory and interest rates fell to an all-time low. But a housing bubble is not in our future. We have unheard-of low inventory, plus exceedingly tight loan requirements.
As we move into our fall market, we're seeing lower interest rates, higher inventory, and more seller flexibility. The interest rates are predicted to stabilize around five percent by the new year. For the past nine months, the number of homes on the market would sell in days, not our current two months. Sellers are looking at offers in their asking range or lower; they are even accepting contingent offers (where their buyer must sell before they can buy).
These concessions are not universal by any means. Cedar Mill is still a very strong market, with 'perfect' homes (those in the desirable part of the neighborhood, updated, and correctly priced) receiving multiple offers and going pending within five days. The average sales price is $928,000 in 97229, $618,750 for 97006. Appraisal waivers and inspection passes may arise with multiple offers on a highly desirable home. Instead of 10-15 offers, two-to-three is more the norm, if there are multiple offers.
Our market has not stabilized yet, we are definitely still in a seller's market and are predicted to remain here through the spring selling season.
It would be my pleasure to answer any questions you may have regarding our real estate market. Please don't hesitate to call: 503-706-6358. Jan Dempsey, Realtor, Windermere Realty Group, jdempsey@windermere.com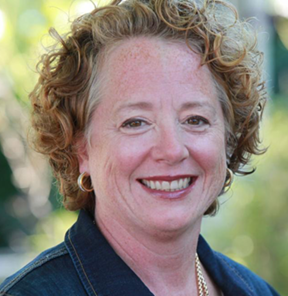 WEA announces new director
Elizabeth Mazzara Myers has been selected as the next executive director of theWestside Economic Alliance.  Mazzara Myers started in her new role in mid-August. She was hired after a three-month search process with more than 40 applicants. The new WEA executive director has more than 15 years of experience in Oregon politics. She was most recently the Chief of Staff for Washington County Chair Kathryn Harrington. To read more about her, visit the WEA website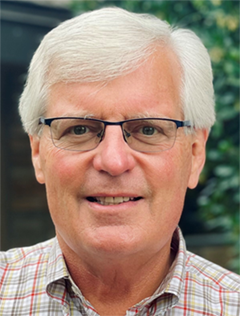 Cornell Family Dental Wishes Dr. Randall N. Freed A Happy Retirement!
12887 NW Cornell Rd
Cornell Family Dental announces the upcoming retirement of Dr. Randall N. Freed this September. Dr. Freed has been fortunate to have served the Cedar Mill community for the last 45+ years, with the privilege of seeing many patients grow up and start families and journeys of their own. Instead of spending time on dental check-ups and using his artistry to create beautiful crowns and fillings, Dr. Freed will look forward to more family time and hobbies of painting, square dancing, exercising, and traveling.
Dr. Freed will be leaving the practice in the capable hands of his daughter and practice owner, Dr. Lindsay Freed, who has been providing exceptional dental care to the Cedar Mill community for the past ten years. Our practice is fortunate to have such a long-standing history with our beautiful community and we look forward to many more years together.
Village Gallery of Arts news
Village Gallery of Arts, Wednesday-Saturday 10-4, Sunday 12-3 pm, 1060 NW Saltzman Rd,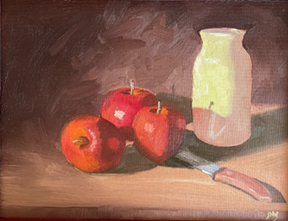 Featured Artists for September: Our New Members!
Sunday, September 4, noon-4 pm
This is the month we highlight the work of our members who have joined since this time last year. Come see how our new members are adding to the amazing variety of artwork in our gallery—unique stoneware, wooden vessels, up-cycled jewelry, handmade books, wall art in watercolor, acrylic, oil, mixed media, photography, collage, and more! Join us for a reception in honor of our 2021-22 New Members.
Artist Highlight: Lisa Manners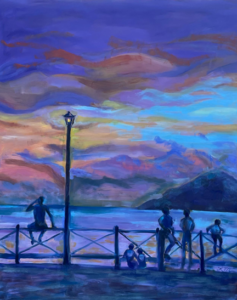 "The painting is a sunset view from a dock in Kota Kinabalu, a city on the North Coast of Borneo. For me, what made it a memorable sight was the contrast with the activity only a few hours earlier. By day the dock is bustling with diesel-powered fishing boats unloading their catch at an open-air fish market where local seafood chefs bid on fresh fish for their evening menus. Now the boats and buyers are gone, the dock has been hosed clean, and all is quiet as the sunset spreads its stunning glow and fades into night."

Gently Used Art Supply Sale!
Friday & Saturday, September 9-10, 10 am-4 pm
Purchase a wide variety of gently used art supplies at discounted rates! This is an annual fundraiser to keep our non-profit Gallery open and thriving. Bring cash for quick sales transactions. Also accepting credit cards and checks.
Washington County Open Studios
Saturday & Sunday, October 15-16, 10:30 am-5 pm, at the gallery
Our gallery will be participating in this area-wide event. Stop by to watch various artists at work and talk to them about their creative process.
VGA at Cedar Mill Farmers' Market
Saturday, September 24, 9 am-2 pm, Murray & Cornell
Come by our booth and watch an art demo, pick up a free Art Kit to take home, check out our classes, find volunteer opportunities, ask for membership details, or just talk about art. After two years away, this is an important opportunity to renew our acquaintance with our neighbors and let you know what we have to offer you and your families. We'd love to see you there!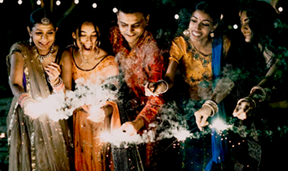 Celebrating Diwali: A Festival of Light
Saturday, October 22, 3-7 pm, Adults $20, Children 5-17 $15
Join us as we experience the spirit of Diwali, a celebration of Light over Darkness. There will be a juried Diwali-themed art show, Indian food and music, henna tattoos, craft workshops, a fun photo booth with themed props, take-home snack boxes, and much more! Fun for the whole family! Tickets will be available starting September 1 at our website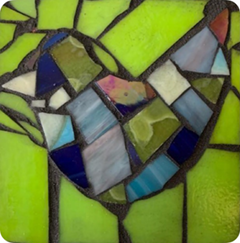 September Children's Classes
Children's classes are offered on a monthly basis. Please check our website regularly! Register and check for mask and vaccination requirements. Please note, because of the wide range of students, age limits are strictly adhered to. Children's art classes are for ages 7-11 and are taught by the VGA Instructional Team.
Three 90-minute sessions; Thursdays, September 15, 22, 29, 3:45 – 5:15 pm, max. eight students, face masks required
Join an exciting class learning a variety of art forms! A team of rotating instructors provides a chance to explore a variety of media and approaches while building artistic concepts and skills. 2D and 3D projects are included each month. All supplies included!
September Adult Classes: Intro to Watercolor with Debbie Teeter
Four sessions, three hours each, Wednesdays, September 7, 14, 21, 28, 9:30 am – 12:30 pm, max. eight students
Learn the basics of watercolor and some creative approaches to working with it. Lessons will cover the unique properties of this medium, composition, color, and a few bells and whistles. We will explore various subjects, and how different artists handle watercolor. Supply list on the website.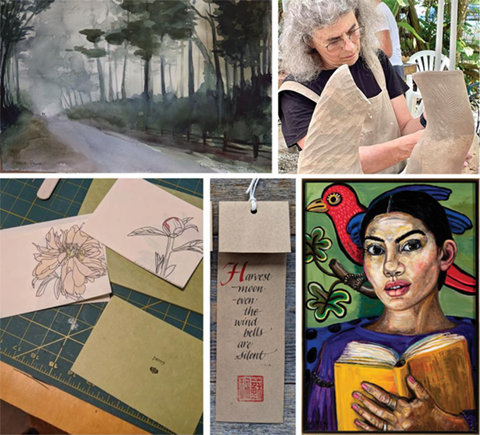 Catlin Gabel offers Community Art programs
Classes run September 19-November 18
After Catlin Gabel school bought the land and buildings of the former Northwest College of Art & Craft on Barnes adjacent to the school campus, they began using the studio spaces to offer art programs to the community. The fall term starts soon. Visit the website to see the class lineup and register.