Washington County News November 2022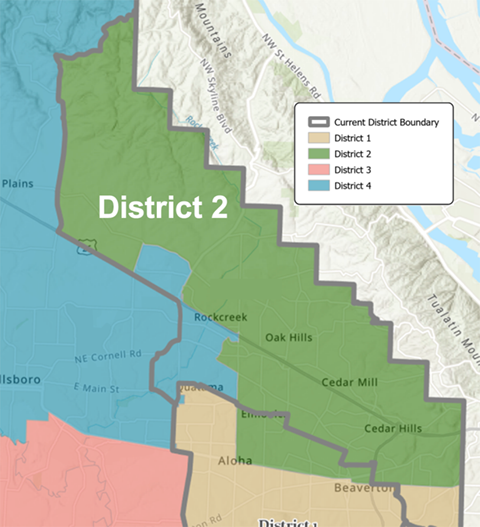 Commissioner District adjustments gets approval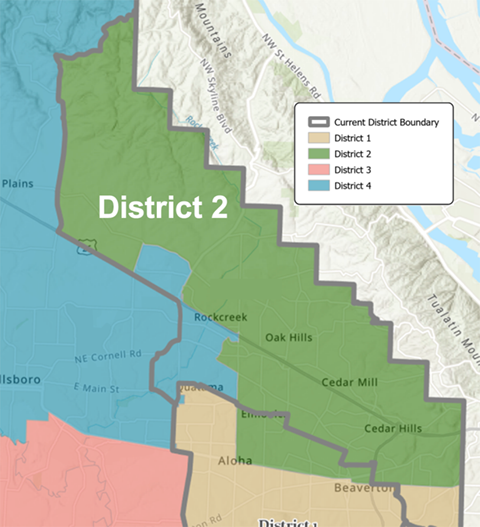 The 2020 census showed that our Washington County Commissioner District 2 had more than 103% of the population of the other three districts. That triggered a requirement to redraw the boundaries. The process began in February 2022 when the Commission received the report confirming the imbalance. From March through September, Washington County worked with Portland State University's Population Research Center to provide recommended options for changing the commissioner district boundary lines. The Board of Commissioners (BCC) considered five different options and narrowed it down to two in late September. Option 5 was approved and county staff has begun drafting an ordinance. The first reading is Tuesday, November 1.
Pam Treece, our District 2 Commissioner, says, "This redistricting process has been difficult. It's hard manipulating borders in a way that can impact communities, which is why we made a concerted effort to ensure residents had a voice at the table. While not easy, we did narrow the five options down to one; the fifth option in consideration. I think it does a good job to balance all the competing criteria while trying to plan for future growth. My district, District 2, grew the most by about 10,000 which threw the population off balance by more than 5 percent of the other districts. This triggered the reapportionment process per our charter. While necessary, I will say it is hard to lose constituents. I appreciate the enormous work our reapportionment team put into this task and hope it's something our community can be proud of."
You can sign up for BCC updates here.
County appeals flavored tobacco ruling
Washington County banned the sale of flavored tobacco products with Ordinance 878, passed in November 2021 and ratified by voters in the May 2022 primary election. Then Washington County Circuit Court Judge Andrew Erwin ruled in favor of tobacco lounge businesses and Plaid Pantry, saying the county lacked the authority to enact such a ban.
Enforcement is currently on hold, but during the October 18 meeting, the BCC voted 3-2 to appeal the ruling. Read the Health and Human Services statement here. The board's vote was to authorize Washington County's legal department to begin the process of appealing Erwin's decision.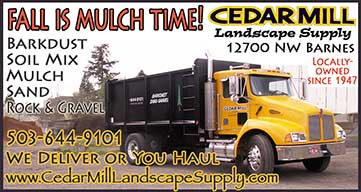 County seeks public input about broadband service
Washington County is looking for local residents and businesses to fill out a short survey to help understand more about internet accessibility, affordability, and locally available internet speeds. Survey responses will inform a countywide internet strategy to help local partners plan for future investments in broadband internet. The survey is currently available in English and Spanish.
"Operation Green Light" supports local veterans
November 7-13, DAVS office, 5240 NE Elam Young Parkway, Suite 300 (for green lightbulb pickup)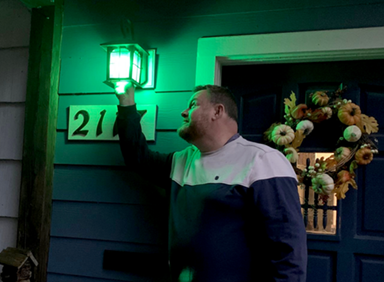 In advance of the upcoming Veterans Day holiday, Washington County will participate in Operation Green Light, illuminating the courthouse and Juvenile Services Building green in downtown Hillsboro. This new national collaborative initiative of the National Association of Counties aims to support military veterans, raise awareness about the unique challenges faced by many veterans, and make known the resources available at the county, state and federal level to assist veterans and their families.
Community members and businesses are encouraged to participate by simply changing one light bulb in their house to a green bulb. This can be an exterior light that neighbors and passersby see, or an interior light that sparks a conversation with friends.
DAVS has a limited supply of light bulbs available to the public, their office is open 8 am-5 pm, though American Legion and VFW posts will be handing out light bulbs at local poppy flower tables.
While this event is focused around the week of Veterans Day, community members are encouraged to continue shining the light year-round and to share their participation on social media using the hashtag #OperationGreenLight.
Washington County provides integrated homeless services
As we continue our efforts to end homelessness within Washington County, staff across several departments work closely with city and community partners to address the urgent needs of individuals experiencing homelessness.
Dedicated team members from the Encampment Management Program (EMP) and the Sheriff's Office Houseless Outreach Programs and Engagement (HOPE) work together to connect the unhoused community with available resources, conduct health and safety risk assessments and engage with community members to improve the livability of Washington County.
Sheriff's Office Chief Deputy Al Roque says, "WCSO HOPE deputies respond to many calls for service involving houselessness that may not always require law enforcement action. This dedicated team actively engages the community and builds relationships–helping to create opportunities for problem-solving and de-escalation. HOPE deputies work directly with EMP to connect community members in need to essential help and resources to improve the safety and livability of our community."