Holiday News November 2022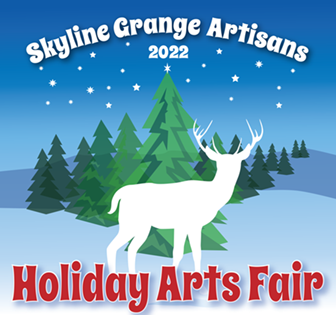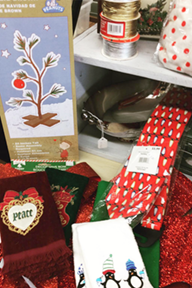 Holiday resale
Second Edition Resale is where you'll find unique holiday treasures at incredible prices. Learn about donating your like-new clothing, home items, and more at our website. All proceeds from your purchases made at Second Edition Resale support Cedar Mill and Bethany Community Libraries.
Get the scoop on sales and themes on Instagram and Facebook @SecondEditionResale.
Donate new items to homeless and at-risk teens
My son has been involved with New Avenues for years, and I have seen what a difference this wonderful organization makes in the lives of at-risk youth. These kids come from challenging circumstances, and New Avenues provides so much more than these items, they help kids find a path to a hopeful future with job training, skills development, and so much more.
They are asking for donations of new items. The center is in downtown, so to make it easier, I'm happy to collect your donations here at my place in Bonny Slope. I will deliver them with love from the Cedar Mill community!
Send me an email or text and let me know when you can come by, and I'll give you my address. vrb@teamweb.com or 503-803-1813. I'll deliver them by December 9, so let me know asap when you are able to donate.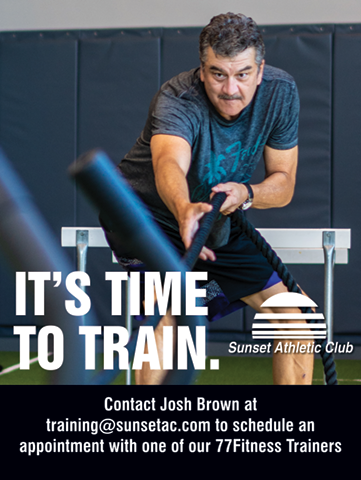 Most needed items—they do need to be new!
Winter coats and rain jackets (especially insulated and waterproof)
Jeans & pants
Thermal leggings and tops
Hats, gloves, and scarves
Undergarments
Warm blankets, sleeping bags & backpacks
Hygiene items
BIPOC-specific personal care products and makeup
$25 gift cards to Target, Safeway, Fred Meyer etc.
Or donate to their Amazon Wishlist: tinyurl.com/newavenueswishlist
KGW Toy Drive
November 9-December 10, Cornell Family Dental, 12889 NW Cornell Rd
Cornell Family Dental will once again be your local Cedar Mill collection point for donations to the KGW Toy Drive. Please join us in spreading a little extra joy to children and families this Holiday season with a toy donation they will love. Stop by our office with a new, unwrapped toy between November 9th and December 13th and let's work together to brighten the smile of a local child.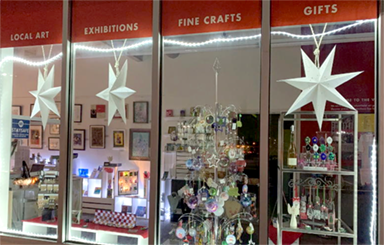 VGA Holiday Sale!
November 25-December 24, Village Gallery of Art, 1060 NW Saltzman next to the library
It's that wonderful time again! Starting the day after Thanksgiving, we are your local source for distinctive holiday cards and gifts! From the small but sublime to the larger and magnificent we have purely decorative to artfully functional: ornaments, jewelry, ceramics, woodcraft, glass, and all sorts of wall art in many media. Gift Certificates offered if you can't decide! Check out our website for expanded holiday hours.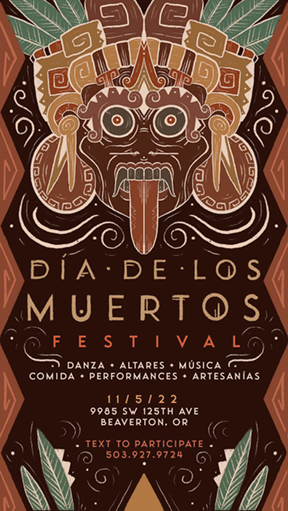 Dia de Los Muertos Festival
Saturday, November 5, 3-10 pm, Conestoga Recreation and Aquatic Center, 9985 SW 125th Ave
Join us for the Dia De Los Muertos festival featuring altars, danza, music, art, food, and performances. Everyone is welcomed to join this festival that is a joyful way to celebrate loved ones who have died. Hosted by Mitotiliztli Tezkatlipoka, RISE, City of Beaverton, and THPRD.
Holiday Bazaar at Beaverton High
November 19, 10-4, Beaverton High School, 13000 SW 2nd, Beaverton
We will have both indoor and outdoor marketplaces open again this year after being restricted to outdoor only last year, so that's exciting. Outside there will be a fire pit, heaters, and hot chocolate. There will be food, live music, and free door prizes for everyone! Santa will be there from 11-2. Our professional photographer can take photos with him or just family & friend photos. Proceeds from space rental, concessions, and donations benefit the students and programs of Beaverton High School.
Skyline Grange Artisans Holiday Fair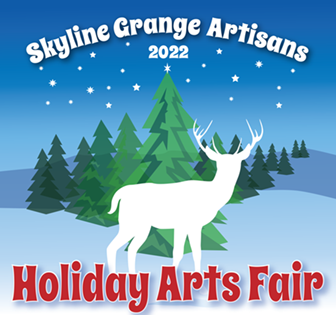 Saturday and Sunday, November 19-20, 10 am-4 pm, Skyline Grange, 11275 NW Skyline Blvd.
We are happy to announce the return of the Skyline Grange Artisans holiday arts show as an in-person event this year, after a hiatus of several years due to the pandemic. This event provides a wonderful opportunity for the community to gather, and for the artisans to educate the public and sell their work. We plan to have about 20 artisan booths with a variety of locally handmade items available for purchase, including jewelry, pottery, journals, and more. There will also be snacks, coffee, and tea available for a suggested donation. Visitors will also be able to buy tickets for a raffle to win numerous handmade items donated by the Artisans and gifts from local businesses.
For more information, contact Sue Selbie (sselbie@gmail.com), Ken Pincus (kenpincus@comcast.net), or Miles Merwin (mlmerwin@gmail.com).
Big Horn Brass Welcome Christmas Concert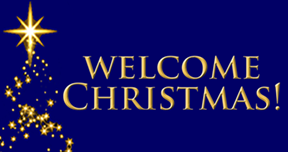 Sunday, November 27, 3 pm, The Patricia Reser Center for the Arts, 12625 SW Crescent St, tickets are $6 and $10
The Big Horn Brass Christmas concert has been a community favorite for many years! This year's concert is themed "Welcome Christmas" and begins with the St. Matthew Exaltation Handbells under the direction of Shosh Meyer. This group of thirteen musicians provides a festive introduction to the Christmas season and their ringing is memorable. Their selections will include "Ukrainian Carol of the Bells," and a fun and infectious rendition of "Wonderful Christmastime," by Seattle arranger Ron Mallory.
The Big Horn Brass is the premier large brass ensemble in the Portland area. The ensemble consists of sixteen musicians and is directed by David Byron. Their program includes Anthony DeLorenzo's "Christmas Toons," which features a nostalgic medley of Christmas songs from your favorite Holiday animated features. The brass will also feature Christmas classics such as "The Little Drummer Boy," and other festive brass music to start your Christmas holidays!
Tickets are available on the Reser Website.
Bethany Village Annual Tree Lighting
Tuesday, November 29, 5:30-8 pm, free
Join us for a fun evening in the Bethany Village Plaza to celebrate the holiday season! Tree lighting countdown at 5:30 pm, followed by performances from Findley Elementary Choir and Westview High School Choir and Band. Meet Santa, shop gifts and sweet treats from several local small business vendors, enjoy hot holiday drinks, and more!
Find us on social media @bethanyvillage or visit our website for details.
Beaverton Winter Lights: Holiday Bazaar and Tree Lighting

Saturday, December 3, 2-8 pm, Beaverton City Park, SW Hall at SW Third
The City of Beaverton invites you to kick of Beaverton Winter Lights during a day filled with a multitude of festivities culminating with the tree lighting ceremony at 7 pm.
This year the Beaverton High School Holiday Bazaar will host an additional marketplace from 2-8 pm in the parking lot adjacent to the library and fountain on 5th Sreet where the Farmers Market usually operates. The Holiday Bazaar is a fundraiser for Beaverton High School Family & Alumni Network. All proceeds from vendor space rentals, concessions and your monetary donations are used to benefit the students and programs of Beaverton High School