Community News March 2022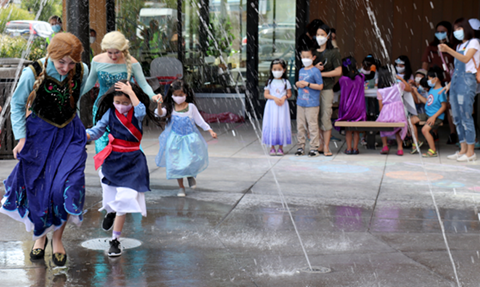 When the Water Stops: Water Survival Skills for a Disaster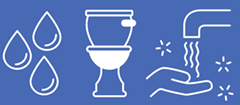 Monday, March 28, 7 pm, via Zoom, free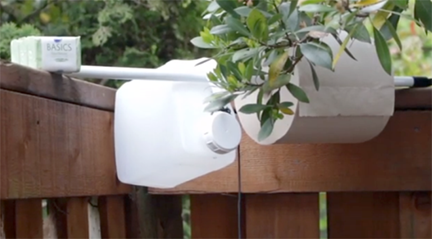 When the "Big One" shakes Oregon or an ice storm freezes our pipes solid, it will damage our water and sanitation systems. What's your plan for staying hydrated and clean if the water stops flowing for weeks? During the upcoming Cedar Hills Ready! presentation, we'll focus on the steps you can take now to ensure you and your family have enough clean water to survive:
How much emergency water is needed and where to store it? What are the methods of sanitizing water and how to test it to make sure it's safe to drink; Sources you may think you can count on in a disaster: we will share the results from tests we've performed on water from our local lake and creeks.
Register in advance, and if you have any questions, visit the Cedar Hills Ready! website or call Karen at 971-361-9348.
Inside WashCo Radio shows
Listen to programs on our website, on KBOO 90.7FM on Wednesdays at 9:30 am, KXRY 91.1 and 107.1 FM Mondays at noon, and online at xray.fm and Westside's Greatest Hits every Saturday at 6:20 pm.
Rob Solomon interviews a variety of people engaged in pursuits affecting Washington County. Listen live or browse the archive on the website.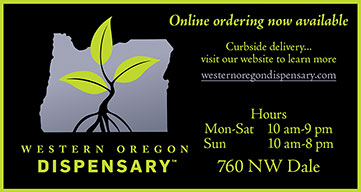 March 7: Latino Issues in Washington County
March 14: Forestry program
March 21: TBA
March 28: Encore Show—Guns
Beaverton Symphony Orchestra Annual Spring Concerts
Friday, March 11, 7 pm at Village Church, 330 SW Murray Blvd, Beaverton, purchase tickets online.
Sunday, March 13, 7 pm at The Reser, 12625 SW Crescent St, Beaverton, register for free tickets.
We are starting off 2022 with our annual Spring Concert with two performances at two different locations! One at our usual venue at the church and one at the grand opening celebration for the Patricia Reser Center for the Arts. The Beaverton Symphony Orchestra, led by Music Director Travis Hatton, is comprised of passionate local musicians who come together to create a classical musical experience that can be shared with the entire community. Hope you can join us!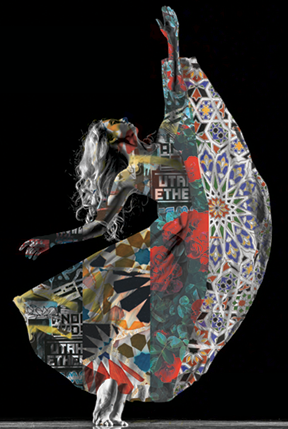 Beaverton Community Band Winter Concerts
Sunday, March 20, 3 pm, The Village Church, 330 SW Murray
The theme for the Winter Concert is "Dances for Windband," featuring musical selections guaranteed to move the audience in more ways than one. In addition to dances that the audience will recognize, such as "Four Dances from West Side Story," the program also includes dances from around the world, plus Salvatore Ficini's "Magic Mallets" featuring Alisa Carter on xylophone, and "Arabian Dances" led by guest conductor Ken Hoffman.
Proof of vaccination and/or a negative COVID-19 test within 72 hours will be required for admission, and social distancing protocols and masking will be observed.
The Beaverton Community Band's mission is to engage audiences with diverse artistic performances, enlighten the community through music education, and enrich the lives of its members. Band members volunteer their time to support music educators throughout the Beaverton School District, to encourage beginning musicians and build a vibrant arts community. Visit the website for more information.
James and the Giant Peach at Lovegood Theatre
Fridays, Saturdays, and Sundays, March 4-13, 16260 NW Bronson Road, Beaverton, tickets online from ticketsource.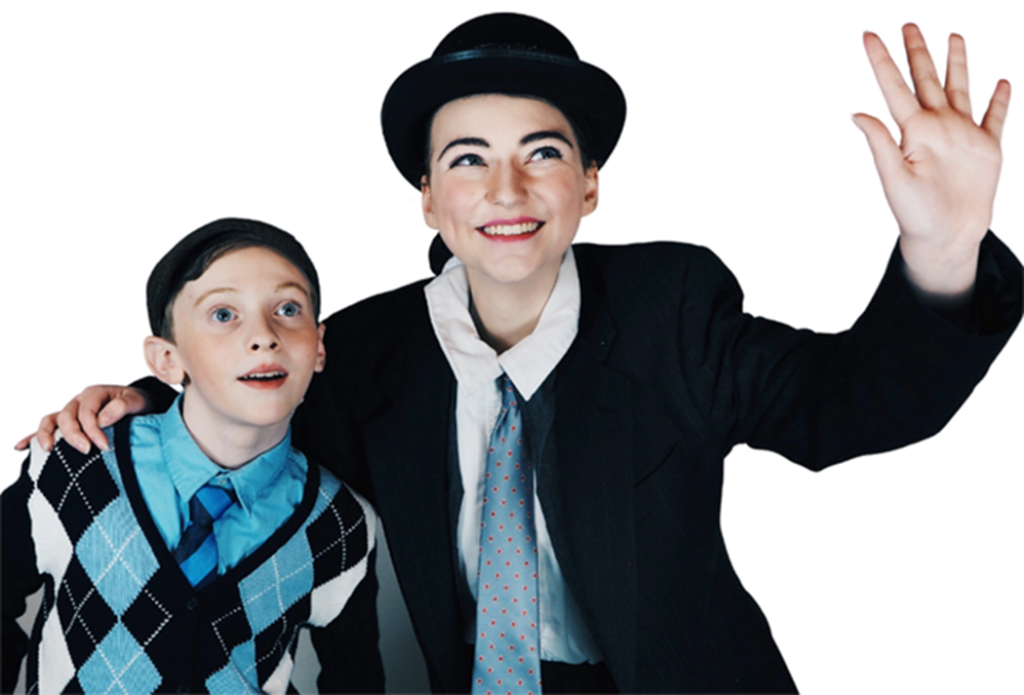 When James is sent by his conniving aunts to chop down their old fruit tree, he discovers a magic potion that results in a tremendous peach… and launches a journey of enormous proportions. Suddenly, James finds himself in the center of the gigantic peach, among human-sized insects with equally oversized personalities, but after it falls from the tree and rolls into the ocean, the group sets off on an incredible adventure.
Lovegood Performing Arts Company is a youth performing arts group that was formed in 2020. Board Member Nathan Goff says, "We lease part of the building from the Community of Christchurch, and we have spent the last two months converting the upstairs into a full blown 200-seat theater with a full stage and lighting. This is our first production in this new space, and we are super excited about it. Our actors range in age from 8-22 and we have students from all around the general west side of Portland. Learn more at the website here.
Skyline Grange Garage Sale
Friday, March 4, 9 am-7 pm, Saturday, March 5, 9 am-5 pm, Skyline Grange Hall, 11275 NW Skyline Bl.
These sales have a uniquely Skyline flavor with items donated by local residents from our colorful Skyline neighborhood. Great prices. Clean, functioning items, including tools, automotive, kitchen, home décor, exercise/sports, and office equipment and supplies.
Masks must be worn correctly, and distancing maintained. We may limit the number of customers at a time. Restrooms are downstairs and are not handicap-accessible at this time.
Proceeds go to our ambitious Capital Improvement Campaign to better serve our community.
Yes, of course, we will have baked goods straight out of the oven and freshly brewed coffee, but these will need to be consumed outside the building.
James' Recycling event
Saturday, March 12, 10 am-12:30 pm, Vernier Software & Technology, 13979 SW Millikan Way, Beaverton, small fee, see website
We will not be accepting everything listed on our website, only items listed here. We will not be accepting any curbside recycling items. Click here for a list of curbside items. We have added clear, non-curbside #1 items such as clamshells to our collection list!
Simple Sundries will have a collection table for personal care pumps (lotion pumps, hand soap pumps, etc.) and will also have a selection of their products available for purchase. OkiDoki, a local company that produces beautiful one-of-a-kind bags and totes out of used billboard material, will have a selection of their products available for purchase.
At James' Neighborhood Recycling events you can recycle many things that are not accepted in your regular curbside recycling pick-up. Visit the website for more information and a short video on how to sort materials for collection.
Student Stop at Bonny Slope and Cedar Mill schools
The Student Stop has current openings and is also accepting applications for enrollment for Fall 2022. Currently, we operate out of Bonny Slope and Cedar Mill Elementary Schools. We offer Before and After School Care, as well as full day programs on non-school days. In addition, The Student Stop operates a day camp during the summer months.
The Student Stop is a non-profit school-age care program that has served Cedar Mill and the Beaverton-Portland area since 1992. We are licensed through the State of Oregon and celebrate our 30-year anniversary in September 2022.
We are hiring for aids and encourage high school and college students to apply.
Questions, please call Christina Bennett at (503) 866-8330.
HomeWord Bound gala to support CPAH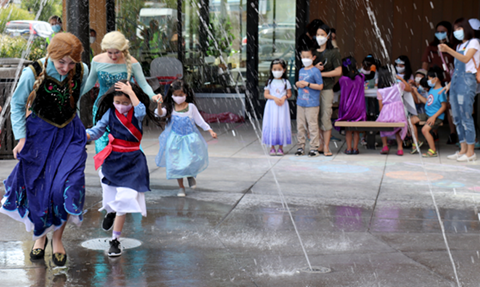 Community Partners for Affordable Housing (CPAH) works at "Building the Way Home" for families, seniors, people with disabilities, and people who previously experienced homelessness. CPAH helps to build housing and then supports residents at their ten apartment communities, including Cedar Grove in Cedar Mill, by building connections with neighborhood and community resources, including schools, services, nature, and employment opportunities.
CPAH's annual gala HomeWord Bound will be held on April 27—pre-show at 6:30 pm, live at 7 pm. The program will be virtual. You can access the event online here.
The proceeds from the event will help CPAH serve their residents to stabilize their housing, provide life affirming services, and connect communities together, in addition to supporting youth programming through after school and summer programs to keep them engaged in enriching activities all year long.
Show your support for CPAH's programs and families! Help them keep Building the Way Home! Founded in 1993, CPAH is a nonprofit community development corporation, whose mission is to create and maintain healthy and sustainable housing with services for diverse residents in Washington County and SW Portland. CPAH currently owns ten apartment complexes (eight multi-family; two seniors only) and six single-family homes, (466 units) with the addition of our two new properties: Red Rock Creek Commons in Tigard and Cedar Grove in Beaverton. CPAH also provides resident services programs for children and seniors, along with housing stabilization services to help those who are most vulnerable stay in their homes. CPAH is Building the Way Home. Visit the website for more information.
Civics for Adults
Donna Cohen is a former librarian who offers in-person and online classes to help community members understand how government works, be more aware of media influences, and be prepared to participate in the public square. Groups can sponsor sessions, or you can attend a session sponsored by a library or other organization. Visit her website to sign up for her newsletter with more resources. For sessions marked TBA, visit the website for updated registration information.
Misinformation, Fake News and Political Propaganda
Sponsored by the Oregon City Public Library.
The Constitution: Fulfilling Democracy's Promise? Democracy, The Constitution and Representation in Congress.
Sponsored by the Lake Oswego Public Library.
Join Beaverton's Human Rights Committee
Applications for positions on Beaverton's Human Rights Committee are available now. If you are selected, duties include:
Examine sources of tension, practices of discrimination, or acts of prejudice by employees of the city; Make recommendations concerning solutions to specific problems of prejudice or discrimination in the city; Recommend action, policies, and legislation to the City Council to be considered by state and local governments; Make reports to the City Council upon request; Perform conciliatory services that do not conflict with the functions of any other government agency; Promote harmonious inter-group relations within the city.
Learn more and apply at the Human Rights Committee website.
SAMBA Band fundraiser
Saturday, March 12,, 10 am-1 pm, new Target/old Bales Thriftway parking lot, 12675 NW Cornell Rd.
Drop off your redeemable bottles and cans to help us raise funds for marching band and music programs at Sunset HS. Bring them in any container (or use the bags we provided), and we'll give you a new bag for next time. You can reach us at samba@sambanote.org with any questions.
Brought to you by the Sunset Apollos Marching Band & Auxiliary (SAMBA), this fundraiser helps pay for travel expenses, entry fees, uniforms, specialized performance instruction, show design, instrument purchase and repair, purchase of new music and arrangements, and scholarships for students who otherwise would be unable to afford to participate. SAMBA is a 501(c)(3) public charity and supports all the comprehensive Band and Color Guard programs available at Sunset High School.
Note: Watch for a location change coming in either April or May due to the new Target opening at the location.
Washington County Kids Parent Speaker Series is set to launch!
Wednesdays, March 9, 16, 23, 30, 6:30-7:30 pm, via Zoom
March 9: Self Regulation
March 16: Social & Emotional Learning
March 23: Active Listening
March 30: Fun & Inexpensive Activities
We have exciting speakers lined up! The topics have been carefully selected to address parents' and guardians' concerns about their kids. All meetings offer an opportunity for questions and answers. Links are included to sign up to participate in one or all of the talks through Eventbrite. If you have questions, please contact katie@washingtoncountykids.org or yasmin.ruvalcaba@gmail.com.
Academic Contests
Student Academic Contests for Grades 1-12 in a multitude of subjects are being offered by North South Foundation. Registration closes March 20 for Computer Science and on April 17 for all other subjects (Math, Science, Spelling, Geography, Vocabulary, and Brain Bee). For additional information, please visit the North South Foundation website.
To learn more, please contact Sanjeev Trika: 503-804-5398 or sanjeev.trika@gmail.com.
Treekeepers of Washington County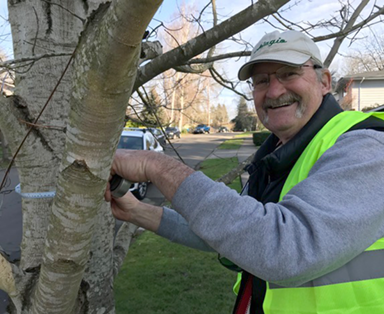 Join Treekeepers of Washington County to map, measure and identify the street trees in your neighborhood. Street trees grow in the public right-of-way, usually between the sidewalk and the curb. An inventory is the first step in expanding, diversifying, and protecting our street trees. No experience is necessary! You will be paired with a trained team leader who will teach you the steps you need to know. You can get fresh air and exercise, meet like-minded neighbors, learn more about trees, help the environment, and most importantly: have fun!
We are now working in the Cedar Hills area. Find out more at the Treekeepers website or email at treescountwc@gmail.com.
Join us Virtually at the Washington County Public Affairs Forum!
The Forum continues with the second half of its 2021-22 season online, providing another engaging month of speakers! Founded in 1956, the Forum provides a place for the interchange of ideas on civic matters. Each week the Forum brings together community leaders, members, and guests who care about what happens in Washington County, the Metro region, and our state. Please visit our website as we will continue to update the speaker schedule there! You can obtain the Zoom link to join these free Monday events by visiting the Forum website.
March 7: State of the Cities, Part 2: Mayor Beaty (Beaverton) and Mayor Callaway (Hillsboro)
March 14: "Is Meaningful Civil Discourse Possible Today? A Philosopher's Perspective": Seth Tichenor, Philosophy Instructor
March 21: Local Election Candidate Forum (Open City Council Seats)
March 28: Local Election Candidate Forum or Debate (Open City Council Seats or Candidates for District Attorney)
ACMA PTO Monthly Fundraiser
March 10, 4-8 pm, Red Robin Beaverton Hillsdale, 4105 SW 117th, Beaverton.
20% of sales will be donated to Arts & Communication Magnet Academy. For in-person dining, please download and bring a copy of the flyer on paper or phone, and mention the fundraiser. More details can be found on the ACMA website.
For online orders: from the menu, go to the category labeled "Fundraisers (To-Go Only)." Open "Spirit Night (To-Go) Fundraiser."
Take action today to prevent fall injuries
As people grow older, the consequences of a fall grow more serious. Unintentional falls are the leading cause of injury deaths for adults ages 65 and older, according to the Centers for Disease Control and Prevention. They are the most common cause of traumatic brain injuries and account for more than 95 percent of hip fractures. In addition, fractures from falls are a leading cause of disability and often result in entering a nursing home.
As of November 30, Tualatin Valley Fire & Rescue crews were dispatched to 6,465 reports of falls in 2021. That's the equivalent of 19 falls a day. Ground-level falls are one of the most concerning type of medical calls TVF&R firefighters and paramedics respond to because we know many aging adults struggle to recover from them.
Most falls happen in the home and can be avoided. Factors such as poor lighting, narrow stairs, and slippery surfaces can increase the chances of a fall. In addition, problems with glare, depth perception, tiredness, or dizziness from prescription medications contribute to falls.
Research conducted by Yale University showed that older adults are also most at risk of falling when they fail to use handrails on stairs, reach for objects overhead, and climb on chairs or ladders. TVF&R reminds seniors and children of older adults to take the following precautions to help prevent a fall injury.
Take care of yourself:
Get regular medical check-ups and talk to your doctor to ensure appropriate levels and types of medication.
Have your vision checked and replace eyeglasses as needed.
Schedule regular hearing checks.
Have your healthcare provider also check your feet to ensure you can walk comfortably.
Exercise regularly and eat nutritious meals to fuel your body.
Consider exercise programs such as yoga, tai chi, walking, and swimming, which improve stability, strength, and balance.
Remove existing hazards:
Fasten throw rugs to the floor with double-backed tape to keep them from slipping or remove them all together.
Keep cords out of pathways and clean up spills as soon as they happen.
Arrange furniture to minimize obstructions, and clear clutter from your living areas.
Fix loose or uneven steps.
Make sure carpet is firmly attached to every step or remove the carpet and attach non-slip rubber treads to the stairs.
In the kitchen, keep items you use often in cabinets you can reach easily without using a step stool.
Add protection:
Wear well-fitting shoes with good support and non-skid soles. If recommended, use a cane or walker even for short trips.
Turn on lights when walking through dark rooms or hallways.
Use nightlights in all rooms.
Install grab bars in the bathtub, shower, and toilet areas, and add handrails on stairwells.
Place phones in multiple rooms or keep a cellphone with you in case you need to call for emergency assistance.
Consider obtaining an emergency alert necklace or voice-activated system such as Siri or Alexa.
I see an ESPD sign posted on my road. What is ESPD?
The ESPD—Enhanced Sheriff's Patrol District—is a service district formed by the Board and approved by voters in 1987. Its purpose is to provide residents of urban unincorporated Washington County a mechanism to increase law enforcement service levels beyond the traditionally provided County base-level of about .5 officers-per-1,000 residents to a level of about 1 officers-per-1,000 residents. Voter-approved ESPD services have continued for 32 years.
A voter-approved local option levy has provided the funding mechanism for the ESPD services for its 32-year history. Specifically, the local option levy supports services that include:
A rapid response to 911 calls in nearly half the time of the national average.
The county's Mental Health Response Team that pairs a deputy and clinician to respond to people in crisis and divert them from the criminal justice system.
Advanced training in crisis intervention and de-escalation for deputies to use when working with individuals experiencing a mental health crisis.
Deputies connecting people experiencing homelessness with community resources.
A public safety response to the increased overdoses and abuse of Xanax, OxyContin, Fentanyl, and other drugs in the community.
Maintaining current levels of policing services similar to neighboring cities.
Learn more about the Washington County Sheriff's Office and the ESPD at one of two meetings hosted by the Bethany Library: Tuesday, March 8, 10 am; Wednesday, March 16, 6:30 pm.
The Cultural Coalition of Washington County Celebrates 2021 Grant Recipients
While the CCWC was not able to hold its traditional end-of-year grant celebration due to COVID-19, they still want to honor the 2021 CCWC grantees completing their projects. The board decided to put together an overview of the grant recipients and the work they've done this past year. See the 2021 Grant Celebration Booklet on the Grant Recipient website.
In-Person Networking: Artist Mingle
Wednesday, March 16, 5-6 pm, Ridgewalker Brewing, 1921 21st Ave, Forest Grove, free with a suggested donation of $10
Tualatin Valley Creates (TVC) offers monthly networking events designed to be a casual way for artists to connect. This month, we'll be back for an in-person event at Ridgewalker Brewing in Forest Grove! Grab a beer, some food and mingle with local creatives looking to expand their network. You'll have a chance to meet local peers in your discipline to exchange ideas, ask questions, and build connections.
Jeff Farrar, the owner of Ridgewalker Brewing, will be talking alongside Tualatin Valley Creates' Board President, Gregory Garabedian, and Marketing Manager, Leina'ala Voss, about TVC's new ArtPass Membership Program. The ArtPass offers special deals to local businesses and nonprofit organizations throughout Washington County ranging from theaters, galleries, retailers, restaurants, and independent artists. A complete list of partnering businesses can be found in the ArtPass Directory.
Tualatin Valley Creates collaborated with Ridgewalker Brewing to bring you our very own beer label! The logo is designed by local artist Emily Lux. These special edition beers will be available for purchase at the networking event.
Viva Village Monthly Calendar
RSVP for all events at vivavillageevents@gmail.com or 503-746-5082. Zoom links (for online events) will be provided at the RSVP.
Activities open to the general public:
Online Viva Village 101
Saturday, March 12, 10–11:30 am, via Zoom
A fun and informational session about Village life for prospective members and/or volunteers.
Online Viva Village Book Club
Tuesday, March 22, 1–2:30 pm, via Zoom.
Selected book: Tightrope: Americans Reaching for Hope by Nicholas Kristof and Sheryl WuDunn.
Online Men's Coffee Break
Monday, March 28, 10–11 am, via Zoom.
Meet online for conversation and coffee.
Activities Open to Viva Village Members and Volunteers:
Online Women's Coffee
Tuesdays, March 8, 15, 22, and 29, 10 am, via Zoom.
Join members and volunteers for a morning of coffee and conversation.
Online Tai Chi Classes
Thursday, March 10, 17, and 24, 10–11:30 am, via Zoom.
Learn Tai Chi technique with certified instructor, Richard Chew.
Online Writers Group
Thursday, March 10, 17, 24, and 31, 4–5:30 pm, via Zoom.
Join other Village writers for a time of sharing and inspiration.
Viva Village Nature Walk
Saturday, March 5, 9:30 am. Evelyn M. Schiffler Memorial Park, 5495 SW Erickson Avenue.
Meet in the parking area on SW Berthold Avenue. Walkers must wear a mask and keep appropriately distanced. RSVP recommended.
Online Working Mindfully with Stress
Monday, March 7, 14, 21, and 28, 2 pm, via Zoom.
Martha McJacobs from Life by Design guides participants through exercises and discussions focused on using meditation techniques to reduce stress.
Online Travel Talks
Monday, March 14, 7 pm, via Zoom.
A sisters' getaway to Mackinac Island, Michigan. Barbara Walker will share her visit to this unique destination and answer the age-old question: "Mackinaw" vs. "Mackinac."
Online Living Solo
Thursday, March 17, 4 pm, via Zoom.
A new group to share ideas and insights about solo living.
Online Movie Interest Group
Wednesday, March 23, 5 pm, via Zoom.
March movies will be available in late February. Check the Viva Village calendar. Movies are available on Kanopy streaming service offered by Washington County Library.
Online Volunteer Happy Hour (volunteers)
Friday, March 25, 2–3 pm, via Zoom.
Get together with fellow Viva Village volunteers for fun conversation.