Summer camps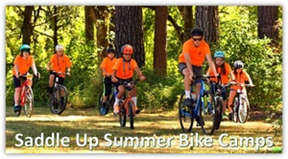 Cedar Mill Summer Camp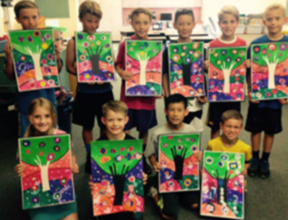 There is a wonderful opportunity this summer for children ages K-5. A group of Findley and Sato teachers (Mr. Potocki, Mrs. Potocki, and Mrs. Buckley) will be conducting four-week-long summer camps throughout the months of July and August. This camp has been a popular option for community parents for the past twelve years.
Children will experience a fun-filled week of science, arts and crafts, outdoor games, engineering competitions, water games, etc. We also offer a pizza party on the Friday of each week of camp. Each of the four weeks is a different camp experience so many families choose to sign up for multiple weeks. Visit the website for information.
Camp registration is now open, and we are filling up fast! To avoid being on a waitlist, please register soon so you can get the weeks that fit best with your family's summer schedule. If you have any questions, do not hesitate to reach out. We hope to see your child at camp this summer!
Summer camps at Lovegood!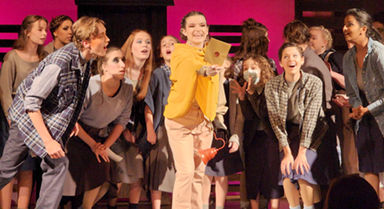 Monday, June 19-Thursday, August 17, Lovegood Performing Arts Center, 16260 NW Bronson Road, cost varies.
This summer, Lovegood offers performance-based camps like Disney's The Lion King Kids, plus skills-building classes including improvisation, dance, and stage combat. Join us for morning, afternoon, and evening summer camp options with performance and backstage opportunities for students ages six and up. With a variety of ways to take part onstage and off, Lovegood works to create a supportive environment where every student feels they belong.
Visit the website for more information.

WashCo Bikes offers Summer Camp and classes
Bike camps begin in June. The Summer camps are one week long, 9 am-3 pm for kids ages 8-13, running June through August. Camps are at various locations throughout the county. For details please click here.
Classes
Adult Learn to Ride at Willow Creek
Saturday, April 8, 10 am, Registration ends April 4.
Confidence in Traffic at Willow Creek
Saturday, April 22, 9 am-1 pm, $50
Registration ends April 16. For details on more classes please click on the education page here.
WashCo Bikes, a nonprofit organization in Washington County, supports and offers all types of bicycle activities through education, advocacy, and more.
RecTennis Summer Tennis Camps
Our weekly camps involve our tennis curriculum combining fun activities with life lessons in leadership, teamwork, and other important concepts and principles. Your kiddos will learn way more than just how to perfect their backhand. All levels welcome, equipment provided!
Oak Hills Recreation Center
Mon-Fri, 8 am-12 pm (4 hr): June 26 – August 25, $135 for 4 hour camp , Ages 6-12
Cedar Mill Park
Mon-Fri, 8 am-12 pm (4 hr) or 9 am-11 am (2 hr): June 26 – August 25, $125 for 4 hour camp or $65 for 2 hour camp, Ages 6-12
Summercrest Park East
Mon-Fri, 8 am-10 am (ages 6-12) or 10 am-12 noon (ages 8-14): June 26 – August 25, $65
Somerset Meadows Park
Mon-Fri, 8 am-10 am (ages 6-12) or 10 am-12 noon (ages 8-14): June 26 – August 25, $65
Camille Park
Mon-Fri, 8 am-12 pm (4 hr) or 9 am-11 am (2 hr): June 26 – August 25, $125 for 4 hour camp or $65 for 2 hour camp, Ages 6-12
Vista Brook Park Middle School Camp
Mon-Fri 9 am-11 am (3 hrs): June 26-Aug 25, Ages 10-14, 3 hour camp – $99
For more information and to register, visit this webpage and use filters (97229 worked for me) to find local classes/camps.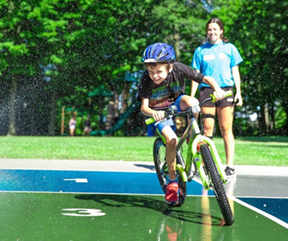 Pedalheads Bike and Trail Camps
Pedalheads hosts action-packed summer bike camps, where kids ages 2-12 learn how to be stronger, more confident bicyclists – and where they enjoy tons of fun games, high-fives, and happy-dancing moments! Families can choose between bike camp, where newbies learn how to ride without training wheels and more advanced riders learn the ins and outs of road riding safety, or trail camp, where campers explore local trail systems and learn basic mountain biking skills. Pedalheads operates half-day and full-day camps at nine locations in the Portland Metro Area, including Cedar Mill, Aloha, SW Portland, Hillsboro, and more.
Camp dates vary, but most sites operate Monday-Friday beginning June 26. Half-day camps start at $260 per week. Head to our website for more information!
NW Adventure Company camps
Optional Cedar Mill pickup! Every week we will visit the following 4 locations.  At all of these locations campers can choose disc golf, fishing, wildcrafting, and role playing adventure. Learn more here.
Dabney Park: Special to this location for campers 3rd grade and above is Rockclimbing at nearby Broughton Bluff
Milo McIver: Special to this location for campers 3rd grade and above is paddle boarding
Blue Lake: Special to this location is epic fishing
Buxton Woods: Special to this location is archery and Axe Throwing
For the 5th day we will offer a different special adventure every week! (Ex: Enchanted Forest and Oaks Park!)