Community News April 2023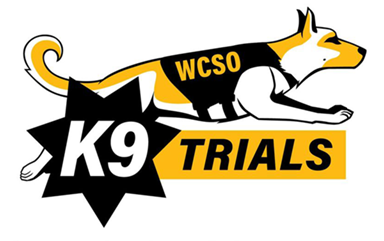 K9 Trials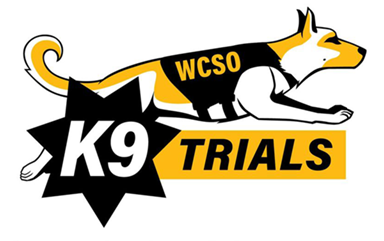 Saturday, May 20, 10 am -1 pm, Hillsboro Stadium, 4450 NE Century Blvd, free
The Washington County K9 Trials competition is almost here! Join us for this family event as law enforcement K9 teams compete for the title of "Top Dog," featuring some of Oregon's best K9 Teams. Competition begins at 11 am.
In addition to the competition, spectators will enjoy a Safety Fair and Vendor Fair, beginning at 10 am, and a meet-and-greet with the K9s after the competition. For more details contact publicaffairs@washingtoncountyor.gov or visit the Facebook Event here. All are welcome but leave pets at home (service animals are OK).
Arbor Month Family Friendly Tree Walk
Saturday, April 15, 10 am, Roger Tilbury Park, free. Registration is required. Email treekeeperswc@gmail.com.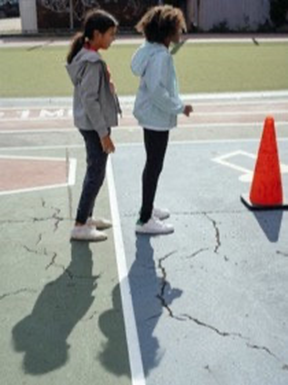 Come celebrate Earth Day and Arbor Month with Treekeepers of Washington County. This is a family friendly event! Scavenger hunt and other games as well as tree identification for young and old. Please join us in celebrating the earth and trees!
Trees for Cooler Schools
Tuesday, April 18, 6:30-8 pm, free, via Zoom. Please register in advance here.
You'll learn about the need for increased tree canopy throughout the county with a focus on our schools. Research has shown that trees provide physical and mental health benefit, and offer an educational opportunity for students to learn about the life cycle and care of trees. Learn about the recent developments in this new field of research in the Zoom webinar presented by Treekeepers. Sign up for their informative newsletters here.
Neighborhood Ready! Disaster Scenario Game
Monday, April 17, 6:30-8:30 pm, Cedar Hills UCC, 11695 SW Park Way, free. Spots are limited, so register early by clicking here.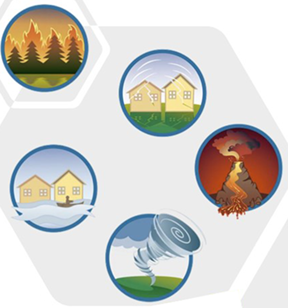 Are you ready to improve your survival skills and preparedness in a playful way? Join us for an educational and fun Disaster Scenario Game. This interactive experience is designed to prepare neighbors to work together on various disaster scenarios that could occur in the Pacific Northwest.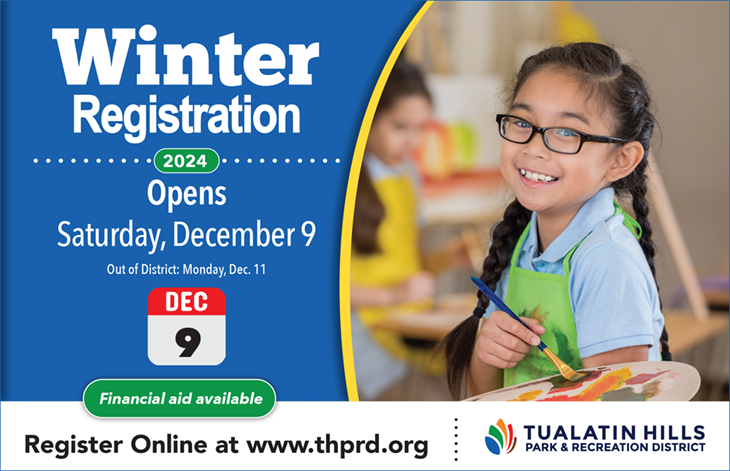 Participants will have the opportunity to collaborate as a team to solve common problems faced during a disaster. The experience will help prepare people for the unexpected. By simulating a disaster scenario, players can develop the necessary knowledge to respond effectively in a real-life emergency. After the game, we'll have short demonstrations of tools and techniques that will come in handy during a disaster, including examples of go bags and under-the-bed kits, utility shut-offs, sanitation stations, and a demonstration of a water purification method.
You can get your questions answered by experienced neighborhood hosts, learn how to become a host, and share your knowledge with your neighbors. Bring your go bags, if you have one, or your most important survival supply. Everyone is welcome. No prior knowledge required. Share and invite all your important people.
Questions? Visit at our website, or contact us at info.cedarhillsready@gmail.com. The mission of Cedar Hills Ready! is to create caring, connected and resilient neighborhoods. We are committed to making sure every neighbor is prepared and has the best chance of survival in the event of a disaster.
Washington County Forum
Founded in 1956, the Forum provides a place for the interchange of ideas on civic matters. Each week the Forum brings together community leaders, members, and guests who care about what happens in Washington County, the Metro region, and our state.
For some sessions we are holding "hybrid" meetings now, with an in-person and zoom option. See listings for in-person locations.
April 3, 12 noon, Beaverton City Library and online
Hillsboro City Manager Robby Hammond will provide an overview of City revenue sources; City services, projects, and programs; and how funds are allocated to cover the costs of those services, projects, and programs. You can join us via Zoom or in person at the Beaverton Main Library in the Cathy Stanton Room (the first room on the left in the entry hall). Tables will be set up if you would like to bring a lunch.
April 10, 12 noon, virtual via zoom only
Join us via Zoom for the Hillsboro School Board Candidate Forum. Come and hear what the candidates have to say about what they think is important followed by Forum members' questions.
April 17, 12 noon, virtual via zoom only
Join us via Zoom for the Tigard-Tualatin School Board Candidate Forum. Come and hear what the candidates have to say about what they think is important followed by Forum members' questions.
What you get when you call 988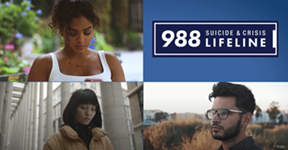 In Oregon, the 988 Suicide & Crisis Lifeline offers 24/7 access to trained crisis counselors who can help you or a loved one with any kind of mental health-related distress, thoughts of suicide or self-harm, or substance use crisis.
When you call 988, you will hear a pre-recorded message with several options to choose from. You can access the Veterans Crisis Line (press 1), la Red Nacional de Prevención del Suicidio for Spanish speakers (press 2), and for youth 25 and under who identify as LGBTQIA2S+, press 3 to receive specialized support. For all other callers, simply stay on the line. Most calls will connect with a trained counselor within 20 seconds of the greeting.
The Oregon Health Authority has created a one-minute video to help explain how a 988 call works. You can also text 988 or chat online at 988Lifeline.org.
A Time for Families Weekly Forum
Oregon Health Authority's Child and Family Behavioral Health (CFBH) program supports children and their families to help them advocate for their needs, navigate care systems, and get the care they choose. A Time for Families is a chance to provide feedback: it is an open forum that provides direct communication for parents and family members to talk with Chelsea Holcomb, director of CFBH. During this time, you can share your questions and concerns about mental health and addiction services for children and young people, and share suggestions for how OHA can support youth, young adults and their families to help them get the right service at the right time.
Please contact hilary.harrison@oha.oregon.gov if you have questions or need interpretation services
From OHA newsletter: sign up here.
Support Community Action and celebrate with us at Kaleidoscope!
Wednesday, April 19, 5 pm, Patricia Reser Center for the Arts, 12625 SW Crescent St, Beaverton, free (with option to attend virtually)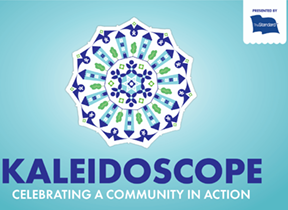 Join us for an inspiring evening of connection, storytelling, and a chance to invest in systemic and individual change for anyone experiencing poverty in Washington County. You can participate in one of two ways: in-person or virtually.
For in-person attendance, purchase your tickets by clicking on the "In-Person Tickets" button on the website. You'll be greeted at the center by Hillsboro School District Mariachi before you check in at registration. During social hour, we'll have food stations featuring light bites, beer, wine, and non-alcoholic beverages. We'll take a seat in the theater (open seating) just before we join our online audience for the program when it goes live at 6:30 pm. We'll hear from supporters and leaders and share how your support helps Community Action provide wrap-around services that help our friends and neighbors thrive. After we say goodbye to our online audience, stick around for more socializing, food, and drinks.
To join us virtually, tune in online for an hour-long broadcast of the program. Invite as many friends and family members as you'd like, the broadcast is free to watch! To get reminders and updates about the broadcast, click the "Virtual Event RSVP" button on the website.
We hope you'll join us for a powerful evening of community support. Together, we can ensure that more people have access to stable housing and economic opportunity. For additional information, email Hannah Cutter at events@centralbethany.com.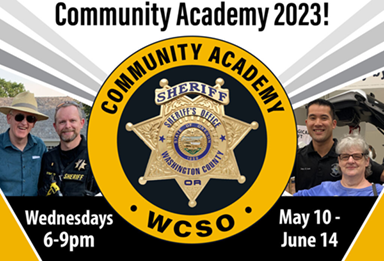 WCSO Community Academy
Wednesdays, May 10-June 14, 6-9 pm
Want to learn more about your local law enforcement? Join us for this six-class series. Capitalize on this unique opportunity to experience interactive demonstrations, specialized tours of our precincts, jail, training facility, and dispatch center, and various presentations designed to provide you with a comprehensive understanding of the inner workings of your Sheriff's Office. Registration is open now! Visit this web page to find out more about this program and to register.
Curtains up! A sampling of April events at the Reser
The inaugural 2022-23 Reser Presents season includes an eclectic international mix of artists and performances. This season, The Reser continues to be a vibrant cultural hub in the heart of Beaverton. See some of these April events below, and more by clicking here.
Young women: Explore a career as a firefighter at Portland Metro Fire Camp
Friday-Sunday, July 14-16, Portland Fire & Rescue Training Center, 4800 NE 122nd Ave., Portland; or Friday-Sunday, July 21-23, TVF&R Training Center, 12400 SW Tonquin Road, Sherwood, ages 16-22, free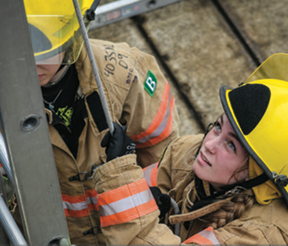 This camp is an all-encompassing introduction to a rewarding profession. The camp is designed to instill confidence while building leadership and team skills. Participants will learn what it takes to be a firefighter while completing hands-on training in hose and ladder skills, vehicle extrication, search and rescue, ropes and knots, live-fire operations, aerial ladder climbs, forcible entry, emergency medical skills, and other firefighting tasks.
They will also receive instruction from professional female firefighters from multiple agencies on how to prepare for interviews and gain insight on what it's like to have a career in the fire service as well as the importance of good nutrition and physical fitness.
The deadline to apply for both camps is May 1 at midnight. Space is limited. Applications and more information are available online here.
Sunset HS Marching Band Bottle & Can Drive
Saturday, April 8, 10 am-1 pm, Sunset Church, 14986 NW Cornell Rd
Drop off your redeemable bottles and cans to help us raise funds for marching band & music programs at Sunset High School. Bring them in any container (or use bags we provided), and we'll give you a new bag for next time. You can reach us at samba@sambanote.org with any questions.
Brought to you by the Sunset Apollos Marching Band & Auxiliary (SAMBA), this fundraiser helps pay for travel expenses, entry fees, uniforms, specialized performance instruction, show design, instrument purchase and repair, purchase of new music and arrangements, and scholarships for students who otherwise would be unable to afford to participate. SAMBA is a 501(c)(3) public charity and supports all the comprehensive Band and Color Guard programs available at Sunset HS.
TVF&R invites local scouts to register for Scouts Day!
Saturday, April 22, 10 am-noon, South Operating Center, 8445 S.W. Elligsen Road, Wilsonville, ages 1st-4th grades, free. To register please click here.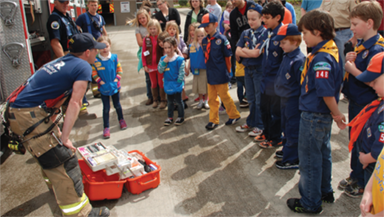 Local Boy and Girl Scouts from across TVF&R's service area won't want to miss an opportunity to learn about fire safety and emergency preparedness from professionals. Scouts will tour a fire station, learn about firefighting as a career, learn about fire safety and escape planning, explore first aid, and check out firefighting gear and apparatus.
Participants will be divided into groups and rotate through several hands-on and interactive stations. Scout leaders and parents are encouraged to move through the activity stations with their scouts.
We will start promptly at 10 a.m. and encourage groups to arrive 15 minutes early. For more information about Scout Day, call 503-259-1502 or email Events@tvfr.com.
Caption: Scouts will get an inside look at the fire service during Tualatin Valley Fire & Rescue's Scouts Day on April 22.
Viva Village April events
Viva Village is a Beaverton-area grassroots organization of members and volunteers who focus on enhancing and expanding the ways we can age well. We provide connections, programs, volunteer services, and referrals so members can lead engaged, healthy lives. Some events are open to the public as well. For more information visit our website. Please RSVP for all events by contacting vivavillageevents@gmail.com or 503-746-5082. Links for zoom meetings will be sent to those who RSVP. Members-only events are listed on the website and in the web version of The News.
Viva Village events open to the public:
Women's Coffee (In-person)
Wednesday, April 5, 12, 19, 26, 10 am, Jim & Patty's Coffee, 4130 SW 117th, Beaverton
Coffee and conversation. RSVP recommended.
Age Café
Friday, April 7, 11-12 pm, Beaverton City Library, 12375 SW 5th Street
Small group conversations exploring new topics each month of interest to older adults. Co-sponsored by Viva Village, Beaverton City Library, Beaverton Committee on Aging, and Wash. Co. DAVS. April topic: Listening. Registration optional.
Online Viva Village 101
Saturday, April 8, 10-11:30 am
A fun and informational session about Village life for prospective members and/or volunteers. RSVP for the Zoom link.
Viva Village Forum
Monday, April 17, 2-3:30 pm, United Methodist Church, Wesley Room, 12555 SW 4th Street, Beaverton, free
Topic: Community Safety Issues. A representative from the Department of Public Safety of the Beaverton Police Department will talk with us about safety concerns in our community. Refreshments served. RSVP recommended.
Men's Coffee Break
Monday, April 24, 10-11:30 am, Ki Coffee, 4655 SW Griffith Dr. #160, Beaverton
Conversation and coffee. RSVP recommended.
Online Viva Village Book Club
Tuesday, April 25, 1-2:30 pm
Selected book: Lucy by the Sea by Elizabeth Strout. RSVP for the Zoom link.
Viva Village events for members and volunteers:
Viva Village Nature Walk
Saturday, April 1, 9:30 am, Vista Brook Park, 6697 SW 88th Street, Portland, RSVP recommended
Online Mindfulness Classes: Befriend Your Inner Critic
Monday, April 3, 10, 17, 11-11:45 am
Learn how to live more mindfully. Instructor Martha McJacobs will focus on understanding the inner critic. RSVP for the Zoom link.
Online Women's Coffee
Tuesdays, April 4, 11, 18, 25, 10 am
Join members and volunteers for a morning of coffee and conversation. RSVP for Zoom link.
Online Tai Chi Classes
Thursdays, April 6, 13, 20, 27, 10-1 am
Practice Tai Chi technique with certified instructor, Richard Chew. RSVP for Zoom link.
Life Stories
Tuesday, April 11, 2 pm, Southminster Presbyterian Church, 12250 SW Denney Road, Beaverton
Viva Villager Joanne Wakeland will speak about her family's recent intergenerational travel to Antarctica and South America. RSVP recommended.
Dine Around Beaverton and Beyond
Wednesday, April 12, 1 pm, Reedville Café, 7575 SE Tualatin Valley Hwy, Hillsboro
Join members and volunteers for lunch and conversation. Participants must be vaccinated.
RSVP required by 1 pm on Tuesday March 7. Space limited to 15 people. Please notify the office if you need to cancel.
Online Living Solo
Thursday, April 20, 4 pm
Share ideas and insights about solo living. RSVP for the Zoom link.
Viva Village Annual Meeting
April 22, 1-3 pm, Southminster Presbyterian Church, 12250 SW Denney Road
Annual Meeting agenda: Governing Council elections, state of the Village, exciting new program for members. Volunteers are also encouraged to attend. RSVP required. Register on the website or contact the Viva Village office.
Thursday Evening Social Group
Thursday, April 27, 5:30-7:30 pm, Oswego Grill, 3211 SW Cedar Hills Boulevard
Enjoy an evening of dinner and conversation with Viva Village friends. RSVP required. Seating limited to 15. Please notify the office if you need to cancel.
Cedar Mill Scouts Troop 207
Tuesdays, 7:15 pm, Christ United Methodist Church, 12755 NW Dogwood Street, boys 12-17
Inviting all boys ages 12-17 to join us and meet our troop members. On Saturday, April 8, we'll have a day at OMSI. Email scouts.ortroop207@gmail.com for all the details about the day at OMSI and troop membership.
Ask WCSO: How can I protect myself from mail theft?
Unfortunately, mail delivery can attract common crimes of opportunity. With the continuous reporting of mail theft from personal and community mailboxes, we wanted to remind the community of some safety measures that you can take to help deter this crime.
Purchase a secure mailbox with a lock.
Have checks directly deposited into your bank account.
Use a P.O. Box or a similar service.
Do not have banking, financial, or personal identification mailed to you. Sign-up for paperless mailings instead, if applicable.
Check your mailbox daily.
Install a home security system with cameras that have your mailbox within view.
If you are out of town, have a friend or family member check your mailbox, or place a hold on your mail through the US Postal Service.
Sign up for the US Postal Service's Informed Delivery, a free program, that lets you digitally preview your mail scheduled to arrive that day, so you know if something goes missing. Visit usps.com/manage/informed-delivery.htm for more information.
If you have been a victim of mail theft, please file a report by calling the non-emergency number at 503-629-0111, or using our online reporting system.
Reser Gallery shows
Through May 10, Reser Center for the Arts, 12625 SW Crescent Street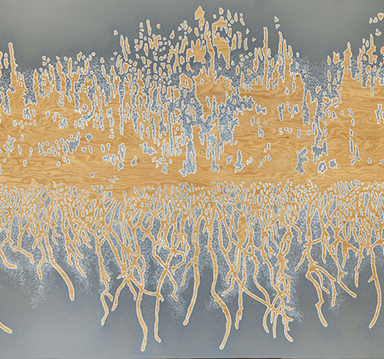 Two new exhibitions, Altered Terrain and RE:forms, bring focus to the land surrounding us. Artists Christine Bourdette and Michael Boonstra of Altered Terrain present new works referencing activity both below and above the earth's surface, while artists Alicia Decker & Elissa Breitbard of Lu Kynn sourced 'end use' fashion and fabrics to create one-of-a-kind abstracted visual stories of our local landscapes. Simultaneously resilient and fragile, the works encourage us to think about who and where we are in relation to place.
The Reser invites the community to mingle with the artists during our First Friday gallery reception on April 7 featuring Christine Bourdette and Michael Boonstra from 6 – 9 pm. On Friday, May 5 Lu Kynn artists Alicia Decker and Elissa Breitbard will share their works and host a Pop-Up shop in the upper galleries. Artists will be in attendance to celebrate their exhibitions and share their creative philosophies and practices.
Throughout exhibitions, the gallery hosts a series of Insights programs featuring an up close and personal look at the artists and their works. For more information about the Insights programs please visit www.thereser.org/gallery. Other inquiries may be made via email at gallery@thereser.org.