Business News May 2022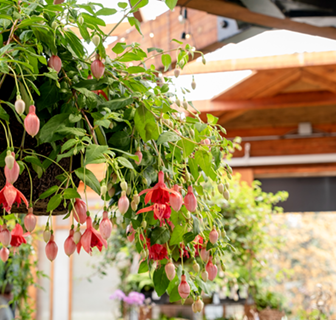 CMBA May meeting
Tuesday, May 10, noon-1 pm, The Ackerly at Timberland, 11795 NW Cedar Falls Dr.
Cedar Mill Business Association resumes meeting in person! Come network with other businesses, enjoy lunch, and hear from our speaker, Valia Eskandari, Edge Web Design Group, on reasons your website isn't converting viewers into sales and what to do about them.
Learn to take control of your website, how to choose a reliable hosting provider, how to avoid useless words, and how to avoid visual clutter on your website.
You may attend a meeting or two before you join! Learn more about the program here.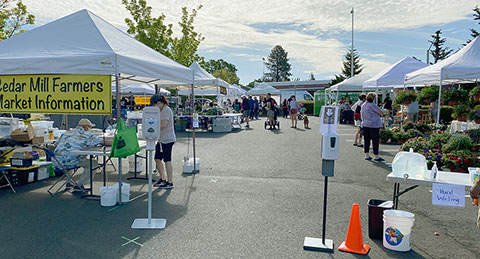 Cedar Mill Farmers Market opens!
Saturdays, May 7-October 15, 9 am-2 pm, northwest corner of Cornell & Murray
It is May, and the market is open! We are so excited to bring you the Cedar Mill Farmers Market this season. Music is back every week from 10 am-1 pm, Community Booths are back, and if you use your SNAP card, we will match up to $20! Yay!
We are so looking forward to a "more normal" season and hope you will join us and celebrate! Produce—fresh, local, picked at its peak—is what you can count on. You, our community, and our neighborhoods are what keeps this market going and we so appreciate you all.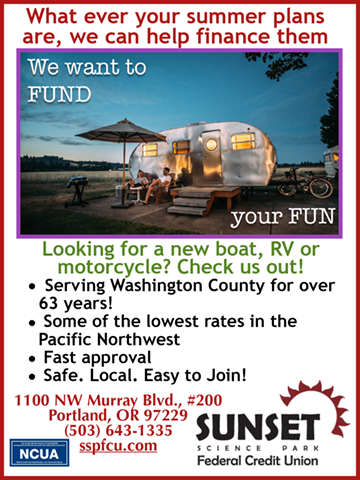 A big "shout out" to this year's Cedar Mill Farmers Market Sponsors: Tualatin Valley Soil & Water Conservation District, Farmers Market Fund, Sunset Athletic Club, Miller Paint, Oak Hills Dentistry, The Olive Branch and Cedar Mill News. If you are interested in joining the sponsorship team, contact us at ourcmfm@gmail.com. See you at the market!
Cornell Farm Nursery and Café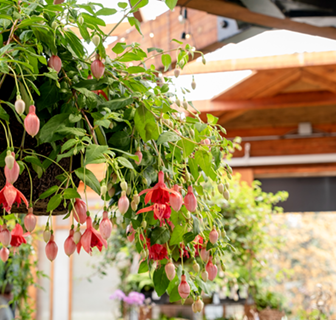 With the gardening season in full swing and Mother's Day around the corner, Cornell Farm Nursery & Café is excited to announce exciting changes to their business operations—the Nursery will be implementing its peak-season hours of 9 am to 7 pm. Additionally, the Cafe is pleased to share that it has begun taking reservations for its classic brunch service through the online system OpenTable, which they hope will simplify logistics for Mother's Day.
"Since we first opened on Mother's Day weekend in 1987, May has always been the busiest time of year for us," says Cornell Farm president Deby Barnhart. "Since opening the Café, it's only gotten busier. We hope our extended hours make it easier for guests to stop by to explore the eclectic collection of plants and flowers they've come to expect from Cornell Farm over the last 35 years. Our Cafe's reservation system should also smooth out planning for those looking to celebrate Mom." There will be tables available for walk-in guests to enjoy brunch staples if reservations fill up.
Secure important documents in a Safe Deposit Box
Even in today's largely paperless digital age, there are some occasions when you need the original copy of a paper document, such as your birth certificate or the deed to your house. As more emphasis is placed on protecting digital records and online identities, a need remains to secure your most precious physical belongings.
A safe deposit box is still the safest place to keep the originals of important personal records, including birth certificates (your own or your children's), marriage or divorce records, death certificate for a spouse or other close relative, property records, collectibles or jewelry, and vehicle titles.
Some things you wouldn't want to store in a safe deposit box include a COVID-19 vaccination card, emergency cash, a letter of instruction (including funeral instructions), a living will, an original last will and testament, a passport, and a power of attorney (financial and health). Remember, cash in a safe deposit box isn't protected by FDIC insurance. It makes much more sense to keep your emergency fund in an interest-bearing savings account. Once you pick a safe deposit box, let someone know where the box is. If you trust that person enough, put them on the safe deposit box's contract. If you pass away, this will allow the person access without unnecessary legal entanglements and court orders.
If you're ready to secure your important documents and items, check out Sunset Credit Union. They offer safe deposit boxes in a variety of sizes for all your secure-storage needs. Sunset Credit Union is open to anyone who lives, works, worships or attends school in Washington County. To learn more, stop by their office, visit their website or contact them at 503-643-1335. Sunset Science Park Federal Credit Union, 1100 NW Murray Blvd #200.
New online billing system for Tualatin Valley Water District and Clean Water Services
Tualatin Valley Water District and Clean Water Services are bringing customers a new online water utility billing system. Once available, customers will be able to perform a variety of account management functions including viewing their usage, easy payment options, requesting financial assistance, and managing multiple accounts under one login in an easy-to-use interface in both English and Spanish. Learn more at the TVWD website.
Village Gallery of Arts
Gallery show Wednesdays-Saturdays, 10 am-4 pm, and Sunday noon-3 pm, 1060 NW Saltzman Rd.
Art Dollars for Scholars—new community show open through May 29!
Come see the amazing variety of art created by our community artists of all ages! The net proceeds from entry fees will be used toward scholarships for graduating high school seniors who are planning to continue their art education in college.
Big and Bold: Phyllis Meyer: "Reminiscence," acrylic collage. Come see this striking artwork!
Classes and Workshops
Registration is online for all classes and workshops. Please see the Village Gallery of Arts' website for details and supply lists, and return for regular updates. Masks are required for all in-person classes.
VGA Instructional Team: Children's Art Classes
Thursdays, 3:45-5:15 pm, maximum of eight students per class, in-person, four-session class for ages 7-11
Join an exciting class learning a variety of art forms! A crew of rotating instructors from our gallery will provide students a chance to explore a variety of media and approaches while building their artistic concepts and skills. 2D and 3D projects will be included each month. Featured projects for May include Basic Drawing, Pop-up Cards, Sculpture, and Watercolor. All supplies provided.
Adult Instruction
Chris Meyers—Gelli Plate & Collage
Saturday, May 14 and Sunday, May 15, 10 am-1 pm, minimum of three and maximum of eight students per class, in-person, two-session class for adults, vaccinations required
On the first day, we will create beautiful hand printed papers using a gelatin printing plate. On the second day, we will use your papers to create cards, tags, wrapping papers and collages. Demonstrations and individual instruction will be given as I share tips, techniques and ideas. Some materials will be provided.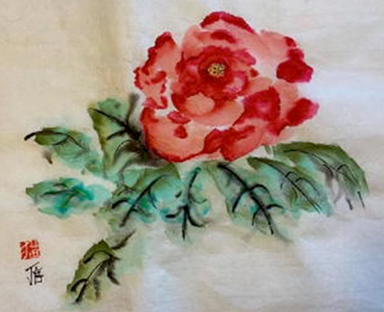 Joanna Brown—Introduction to Freestyle (Xie Yi) Chinese Brush Painting
Sunday, May 22, 10 am-1 pm, maximum of eight students per class, in-person, one-session class, vaccinations required
Freestyle (Xie Yi) Chinese Brush Painting is about personal expression rather than about accuracy or detail. It is a spontaneous technique, which appears simple, but has many elements in its process. It is about allowing the brush to flow, making a number of brush strokes to represent an object and create a personal symbolic expression. Express your impressions of flowers in this introductory class, where I will demonstrate the basic techniques and processes of the medium and you will practice and create your own Freestyle Chinese Brush Painting. Individual instruction will be given, sharing tips, techniques and ideas. Painting materials provided.
Joanna Brown—Introduction to Sumi-e (Japanese Ink Painting)
Sunday, May 29, 10 am-1 pm, maximum of eight students per class, in-person, one-session class, vaccinations required
Sumi-e means black ink painting. Using black ink and creating a white space on the paper, you will paint spontaneously to capture the spirit of nature. The focus of the art of sumi-e painting is on the quality of the line and the brush stroke to capture the forms of nature. In this introductory class I will demonstrate the techniques of sumi-e paintings and you will practice and create a sumi-e landscape painting. I will give individual instruction, tips and ideas. Painting materials provided.
Our Mission is: "To ignite the joy of learning, creating and appreciating art in our community. We support professional and emerging artists by providing high quality affordable art education to children and adults as well as providing venues for sharing their work."
Village Gallery of Arts is a non-profit (501c3) organization, receives no taxpayer money, and is staffed entirely by member volunteers.