Call Before You Dig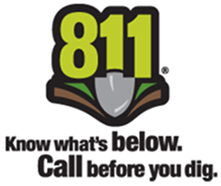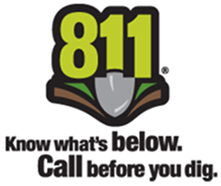 Tualatin Valley Water District (TVWD) reminds you to "Call before you dig." Many of us get outdoors when the Spring weather arrives and start projects like repairing or installing fencing and decks or planting trees. There are many underground utilities, water, wastewater, fiber internet and other telecommunications cables, and power and gas lines. Fortunately, the risk can be avoided. Two business days ahead of your project, call 8-1-1 or visit digsafelyoregon.com. Then mark the area of proposed excavation in white. A locator will come and mark the known utility lines.
After the locate is done, you should wait until the legal start time on your ticket and verify that all operators identified on the ticket have responded.
Make sure you dig parallel to the utility line and use precautions when removing soil. Use smaller hand tools while digging within 24 inches of the outer edge of underground utility lines. Watch for signs of a natural gas leak. If you smell something similar to rotten eggs, or hear hissing, whistling, or roaring, it's likely a leak.
In addition to the serious risks of death or injury from electrocution or a natural gas leak, consider the costs of repairs, fines, and inconvenience if you accidently hit an electrical, fiber optic, gas, or water line in your yard.