Business News August 2023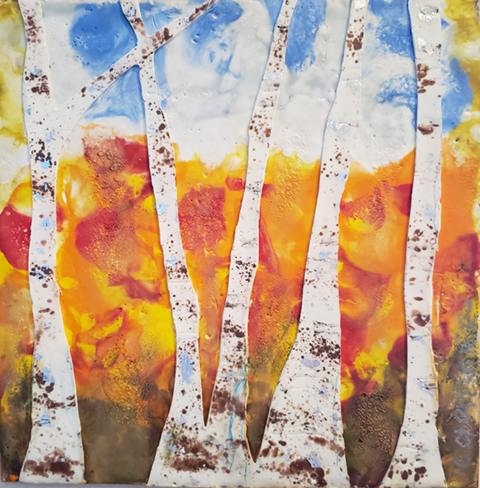 NW Restart Night Market
Friday, August 18, 6-9 pm, Summa Real Estate Group, 11830 NW Cedar Falls Dr, Ste 120, free, donations appreciated
NW Restart Night Market is held to benefit The Domestic Violence Resource Center (DVRC), and we ask the community to bring donations as they shop. NW Restart is founded by two passionate realtors—Bethany Marsh and Adam Peña—who are dedicated to bringing more awareness to DVRC while having fun along the way. Please visit the NW Restart website for a list of items that are in need at DVRC.
Are you thinking of selling your home in 2024?
By Jan Dempsey, broker
It's 90° and the sun is blistering, and I'm asking if you're thinking of selling your house next year? Am I nuts?!? Nope! 2024 is less than six months away, and if you plan on selling during our highest and fastest selling market, your house needs to be ready to sell somewhere between mid-January until the week before Memorial Day, May 24th, 2024. The optimum sales price achieved in our market is around April 15th.
The reason I'm asking now, is because of all the noise coming from the economists about what is going to happen with our mortgage interest rates. We don't know what the plans are from the Feds for the rest of the year: they have just raised the rates another .25% and are predicted to raise them at least once again. We know that our housing interest rates are being affected negatively. Many experts are predicting mortgage rates will drop by year's end, and it's anyone's guess where they'll end up. Word from experts, is it will be 6%, to maybe even just above 5%. The reason I'm asking about your plans is that the housing market is currently locked because our mortgage rates are hovering around 7%. If/when those rates drop, sellers will be eager to move up to their next home. Buyers will be lined up to take advantage of the plethora of homes available to them.
Last month I talked about the 91.8% of homeowners with mortgage rates at or below 6%. If mortgage rates drop, it'll be a whole new ball game. Our home sale prices, especially in Cedar Mill and Bethany, are -0.9% year over year, with seven days on the market before pending. Our available housing supply is -35.7% below 2022. With the lower rates, sellers will be in the financial position to buy their next home, opening up our inventory and creating a seller's market possibly similar to Spring of 2022. Will you and your house be market ready?
Next month I'll outline how to get you and your home prepared for our Spring Market. If you have real estate questions, it would be my pleasure to answer them. I have 38 years of real estate experience and would love to learn your plans and help guide you through this complicated process. Don't hesitate to call: 503-706-6358 or jdempsey@windermere.com.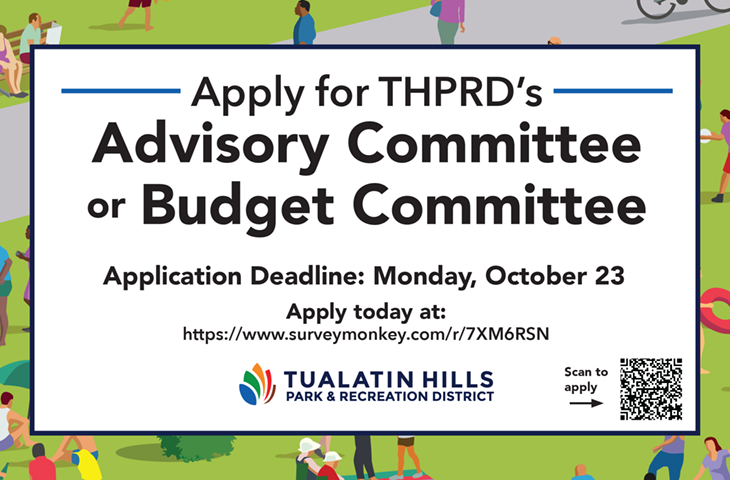 Openings at Wow and Flutterville Playgardens
Summer hours: Monday-Friday, 8-5. After Labor Day, hours will be from 7:30-5:30. 800 NW 107th
We have some open spots to fill, a number of which are for the 3–5-year-old class. One full time spot is open now and more will open on September 5, 2023. Cost differs for what kind of spot you need. Contact me for more questions at: antonette@wowandfluttervilleplaygardens.com or call 503-352-4983.
Village Gallery of Arts August news
For more information on any of our events and classes, and to register, please visit the Village Gallery of Arts website. Unless noted, all events are at the Gallery, 1060 NW Saltzman Road (just east of the library).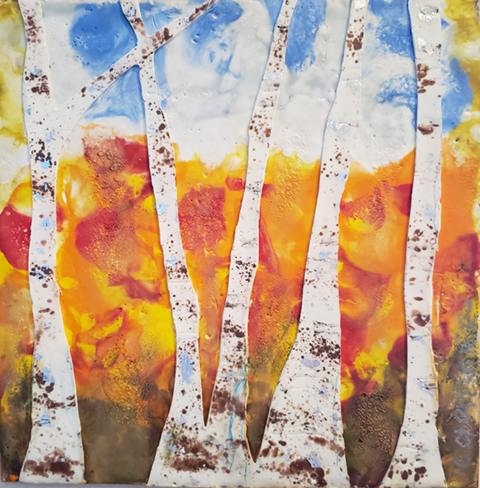 Art Chat and Refreshments
Sunday, August 13, 3-5 pm, open to all, free
Come meet the artists and enjoy refreshments while taking in the new show!
Featured Artist
Cheryl Carpentier: Birches, mixed media. "Always inspired by Mother Nature and all the wonder that surrounds us, I'm currently fascinated with birch trees and adding my own mark to each painting. My work is full of color and a variety of textures."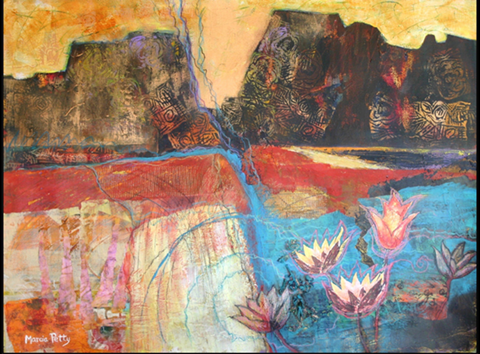 Big and Bold
Marcia Petty: Water Rights, 35.5″x 29″; mixed media— "No matter where we live, water will always be a point of discussion and dispute. There are only a limited number of ways such a valuable resource can be shared."
(All classes at the gallery)
Classes for children
Thursdays, August 3, 10, 17, 24, 3:45-5:15 pm, max 8 students, ages 7-11
Featured projects for August include: Book Folding, Drawing/Painting, Recycled/Upcycled Art and more!
Join an exciting class learning a variety of art forms! A team of rotating instructors provides a chance to explore a variety of media and approaches while building artistic concepts and skills. All supplies included.
Classes for adults
Intro to Watercolor with Debbie Teeter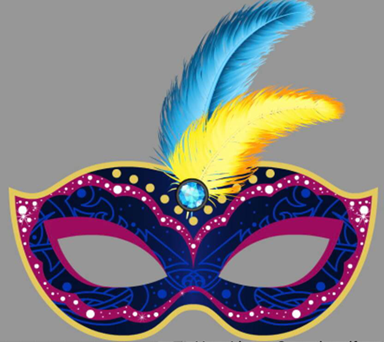 Wednesdays, August 2, 9, 16, 23, 9:30 am-12:30 pm, max 8 students
Appropriate for beginners or those with some experience looking for more guided practice. Learn the basics of watercolor and some creative approaches. Lessons will cover the unique properties of this medium, composition, color, and a few "bells and whistles."
Pastel Workshop: Gain confidence using luminous soft pastels with Gretha Linwood
August 4-6, 10 am-3 pm, with lunch break, max 8 students, open to all levels, however those with some pastel and painting experience will benefit the most.
Express your impressions of the natural world using soft pastels. You will apply the principles of color, value and design in this fun, informative class as you continue to develop your personal style and gain a deeper understanding of the medium. Note: this class is for soft pastels only, not oil pastels.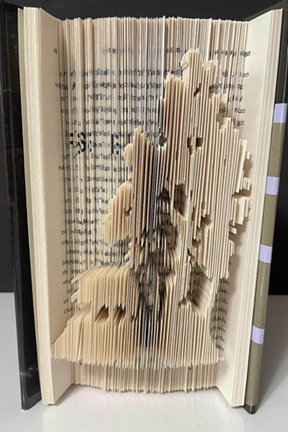 Book Folding II with Jeannine Bamberg
Saturday, August 12, 10 am-12 pm, max 10 students
Welcome to the second book folding class. The first class focused on a simple MMF (Measure/Mark/Fold) technique. This class will focus on the Cut and Fold method, creating a different three-dimensional effect. This project will take a few hours to fully complete, but we will get a good start on it and it can easily be finished at home. Don't throw away those old books, give them new life with book folding!
The Village Gallery of Arts' mission is: To ignite the joy of learning, creating and appreciating art in our community. We support professional and emerging artists by providing high quality affordable art education to children and adults as well as providing venues for sharing their work. Village Gallery of Arts is a non-profit (501c3) organization, receives no taxpayer money, and is staffed entirely by member volunteers.
Brave Care Pediatric Urgent Care
10 am-8 pm, 365 days a year, 2935 Cedar Hills Blvd, Ste 100, near Cedar Hills & Jenkins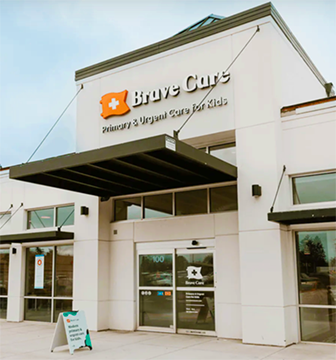 This new clinic is a great resource when your kiddo gets sick or injured. We provide immediate walk-in care staffed by pediatric providers, in a facility built just for kids. Brave Care is a complement to your child's Primary Care Physician, who may not have evening, weekend, or holiday availability. Conveniently located in Cedar Hills, we offer onsite x-ray, lab tests, and medications. Families can walk in to get care right away or visit Bravecare.com to reserve a spot in line.
Brave Care recently opened up additional access to urgent care services in preparation for the upcoming cold and flu season. COO and mom, Alex Buchholz, shares why improving access to care is so important to Brave Care's mission. "Last winter, local hospitals reached out to Brave Care overwhelmed by RSV surges in the ER. Recognizing the need to support our community and provide an alternative to the long waits, high costs, and inadequate facilities of the ER, we rallied our teams and expanded our capacity to care for sick kids that winter. During that season, we realized just how vital pediatric urgent care is to our families. We serve as a critical resource for children, ensuring they receive prompt care from our expert pediatric teams."
Brave Care also offers valuable parent tools on our website! This summer, we're here to help you keep your kiddos safe in the sun and water. Before you head out on your next adventure, check out our Sun Protection Tips for Kids as well as our Summer Safety Checklist, which covers water safety, as well as recognizing heat exhaustion and heat stroke. We hope your family has a fun and safe summer, but if you need us, our friendly team is here for you; we'll help get your kiddo feeling better and back in the pool in no time!"